Hello, boys! I'm Baaaaaaaaaaaaccccckkkkkkk!
So, after waiting all through the last damn near year for you maniacs to say something worth replying to, I've decided to take matters into my own hands and do something worth talking about. So, in order to play GoD and breathe some life back into this site, I have decided to do something I have yet to see on this site and perform a Let's Play. (If you have no idea what a Let's Play is (probably because you haven't opened a browser tab outside of BrikWars in five years),
this
will tell you the basics.)
Of course, this website being what it is, I chose the most
game I could think of to play: X-Com: UFO Defense.
Originally released in 1994 to the UK as UFO: Enemy Unknown, it later made its way to America after resolving legal issues arising from there already being a game by the name of UFO, and won over countless gamers with its deep tactical combat and permanent death rules, made even more personal by the ability to name your soldiers after friends and family.
Then 501st went on to make something behind my back, but he's playing the sequel so it doesn't really matter. Whereas his game will let you do all you RP stuff, this game is just here to get you killed.
But enough rambling! First watch the
intro
, and let's get started!
Of course, we need a game file.
Yes, we are playing on baby difficulty. Whywhywhy? Because:
1: I suck even at this difficulty.
2: The game resets to it anyway.
And with that, welcome to the geoscape, X-Com's world map. From here we will blast UFOs out of the sky in glorious displays of fire (implied but not seen), and then send our minions to die horribly against the survivors. But first, we need to choose where to put our base.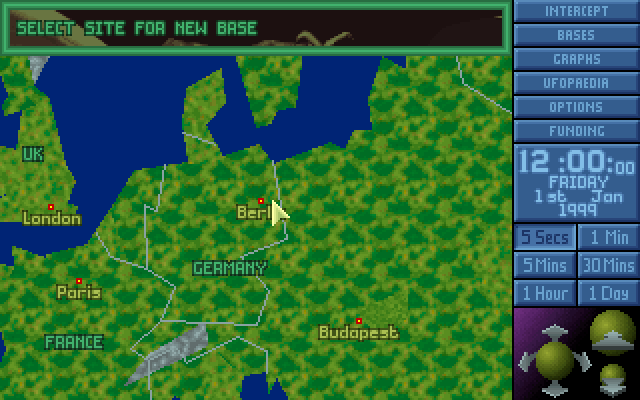 That said, I'm going to put us here, just east of Berlin. This will give us radar and fighter coverage over all of Europe, where most of our funding comes from.
XCOM is how any real military would abbreviate Extraterrestrial Combat Unit, which is what X-Com is supposed to stand for. CENTEUR stands for Central Europe. Yes, this is how militaries name things.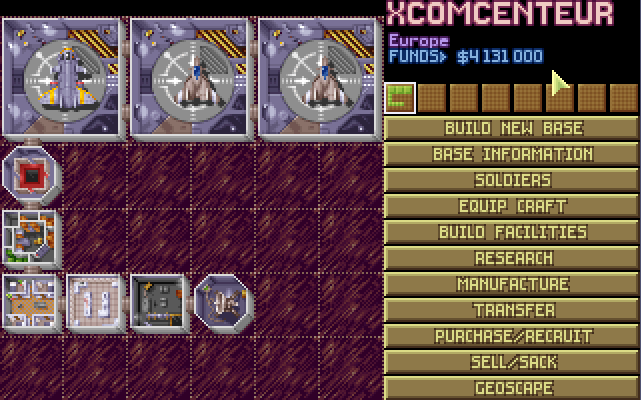 Welcome, one and all, to our first base! Now those of you who have played this game probably just went [dammitcantfindavid]HOLD IT![/dammitcantfindavid] That's not how the base was built! Let me explain. I am using (some) of the features of the XcomUtil mod, which fixes a few of the nastier bugs, and also gives us a base that gives us a fighting chance when we get invaded. Let's take a look around, shall we?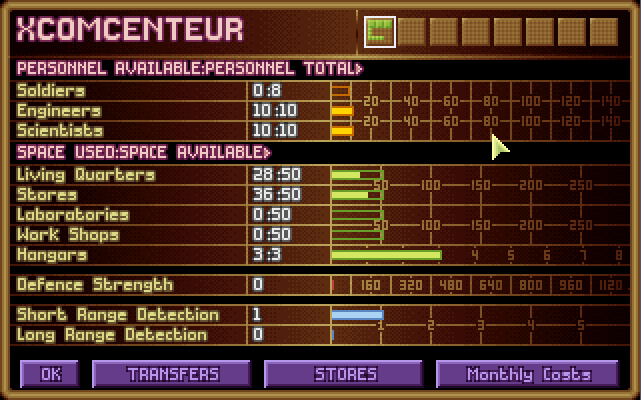 So, ten each of scientists and engineers, and eight troops, none of which are listed as available because they are attached to the Skyranger.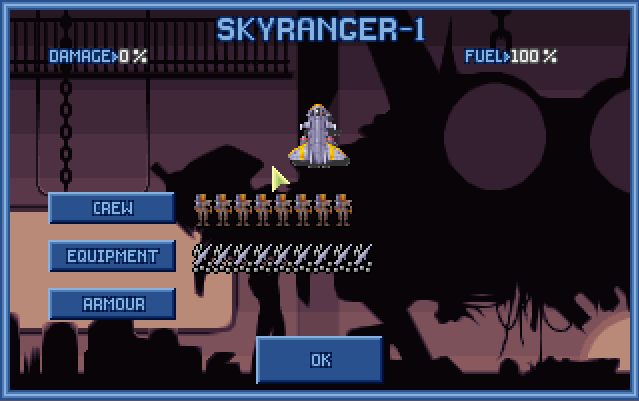 See? There they are. Let's take a look at them.
*Hrk!* Those names! They're so… BORING! Names, people! Give me glorious names that we may give to our helpless lemmings!