In the dark future of the Brikverse, big-ass scifi armies are killing each other, day by day, pitted in an endless stalemate on multiple fronts spanning across multiple planets and solar systems.This is no different in the case of the Galactic Patrol and the Space Teutons, who are fighting endlessly to wipe the other one out:
However, both sides decide that in order to put an end to this aggravating stalemate is to man up and BE AWESOME! Which means hiring mercenary space heroes and fighting until one side loses its reinforcement base!
HOW IS THIS GONNA WORK:

Pick a side! - both open, 1 player each-
Galactic Patrol
: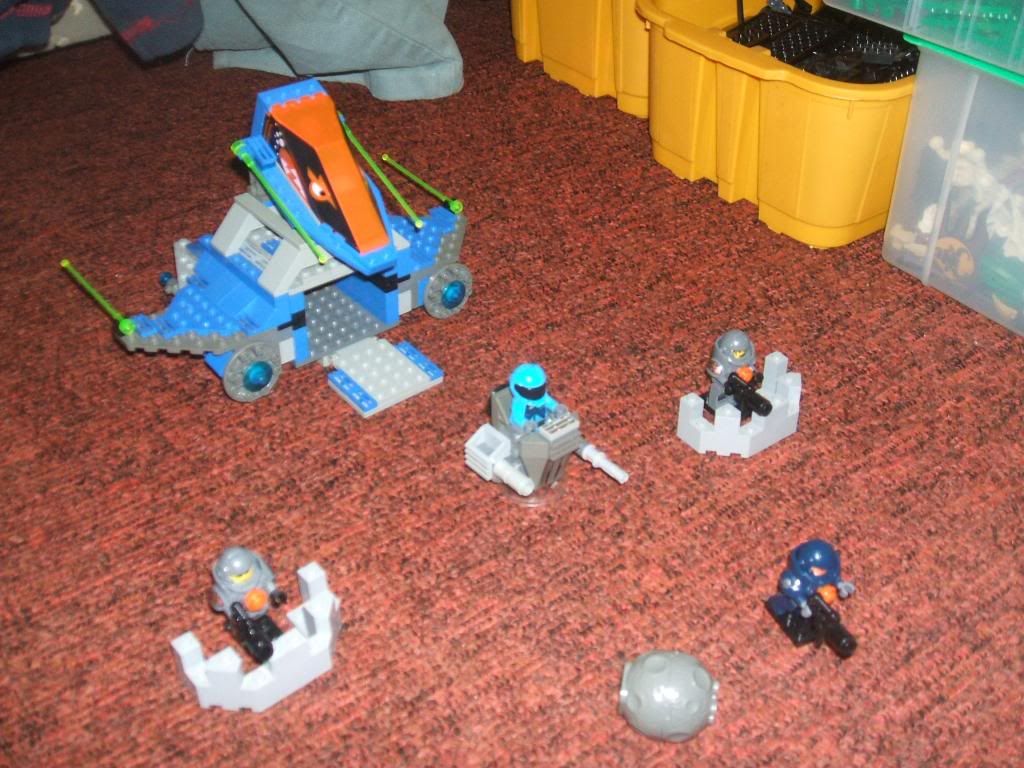 Space Teutons
:
Both forces have:
3 trooper figs (standard minifig stats, the power armor and jetpacks are only there to look cool), armed with standard short range guns (ur3, 6 inch range, 1d6 dmg)
Each team also has a heavy weapons platform (4hp, 1d10 AV, manned by a pilot minifig, armed with a long-range gun (ur3, 10inch range, 1d6+1 dmg) and a short range grenade launcher (ur3, 6 inch range, 1d10 explosive dmg in 2 inch radius)
Or pick a hero who fights for either side (6 heroes, 3 per team, write which team you side with)!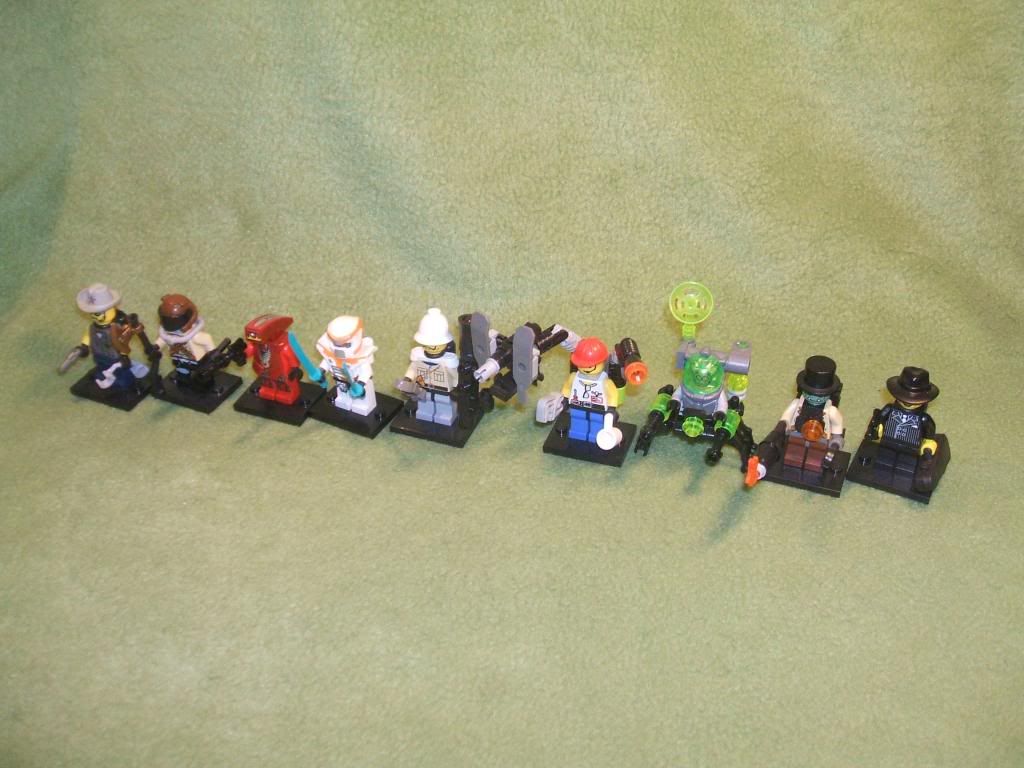 Left to right: Space Sheriff, Wasteland Scavenger, Rogue Vladtron Robot, Hitokiri Metal Hero, Astro-Aristocrat, CosmoEngineer, Toxic Cyborg, Space Ork, Galactic Mobster
Each hero has his own unique and awesome weapons and feats! However, they are different than Medieval heroes: they have 1 action/feat per turn, and 1 hp only!
Basically this will be a 4v4 team forum battle (1 player controlling GP/ST, and 3 heroes on each side), with respawns.
HOW DO RESPAWNS WORK:
Killing the enemy is fine. Killing an enemy hero is AWESOME: whoever kills one gets an Almighty Benny. Whenever a trooper or a hero dies, they disintegrate and enter the fight again on the following round, starting from the base area of their faction. Heroes can use their Benny (among many things) to cheat death and instantly respawn where they were killed.
Killing 3 heroes in a row without dying is VERY AWESOME, and is rewarded by 2 Bennies.
Gun platforms take 2 turns to respawn, however AB's can be spent to reduce repair time to one turn only.
THE OBJECTIVE:
The team objective is to destroy the opponents' Base Structure, which has 2d10 armor and 5 structure points. 4 SP can be whittled off by destroying components, highlighted here: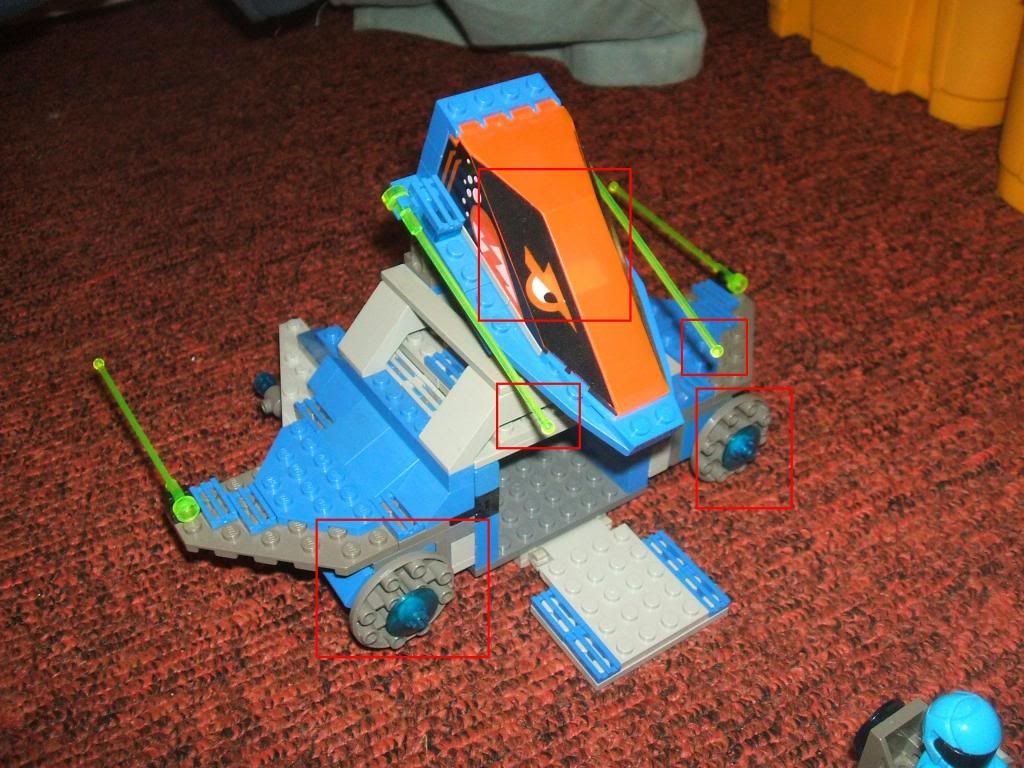 1. - Comms array - when destroyed, no reinforcements can be deployed the following round (after that things go back to normal)
2. - Weapons system - by eliminating this your heroes and troops won't get blasted constantly by ur2, 6 inch range 2d6 damage guns (duh)
3-4. - Side Doodads - they look interesting enough to be specifically picked off.
The final blow doesn't need to be specific, just blast that piece of junk.
Let me know if anything is unclear; otherwise, start putting dem dibs!