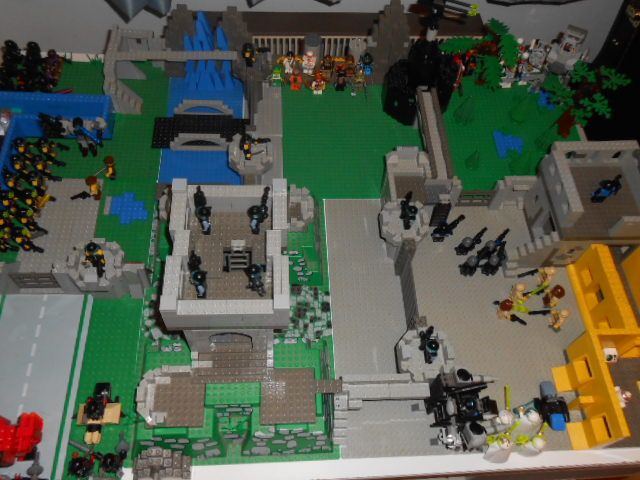 Fort Reichingrad, one of the shattered Neo-Prussian Empire's refuges, is under attack from the Immortal Alliance.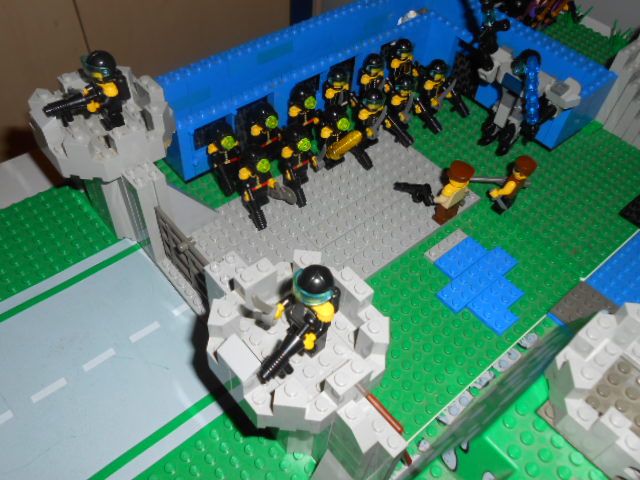 The
Colonial Militia
is rallied to hold off the attack. Their task is to hold the fortress, protect the access to the redoubt, defend the control room on their side and support their allies.
Troops:
Field Marshal Johnny Blitzkrieg (Hero, German Indiana Jones)
Arnold Schwarzenegger (Hero, Arnie Feats)
Engel Combat Suit
1 healbot (with access to the gate controls)
16 Colonial Militia (1 Officer)
"We'll see just how immortal these schweine are, men!"
The
Third Army
protects the redoubt. The top has 3 Wolves with Zerreisers and 1 Sniper on it.
The bottom is held by a squad of Wolves with Zerreisers.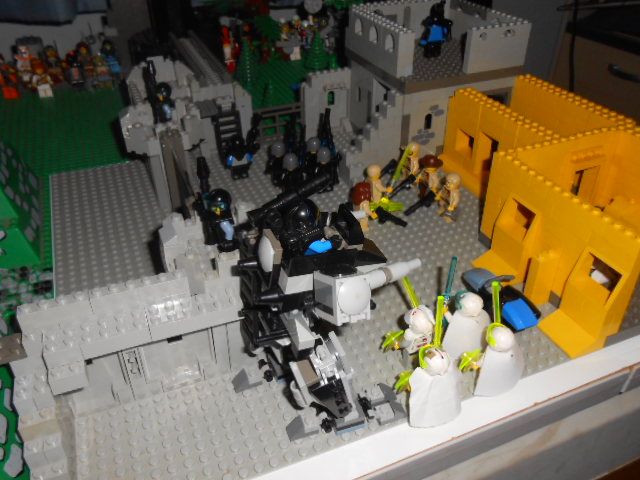 The Third Army also holds the eastern fortress and command centre.
Troops:
Der Kaiser (Hero, Farce Wielder)
3 special agents with officer
Sky Marshal Myrna (Hero, Farce Wielder, Crass Language)
3 Himmelsjäger
3 Psychobots
1 Schattenlaufer
1 Speeder
1 healbot (with access to gate and turret controls)
4 Jaeger Guard (2 with jetpacks)
2 Heavies (in the towers)
1 Wolf Sniper
7 'regular' Wolves
The Kaiser should survive. He may not be captured or killed by the Immortals.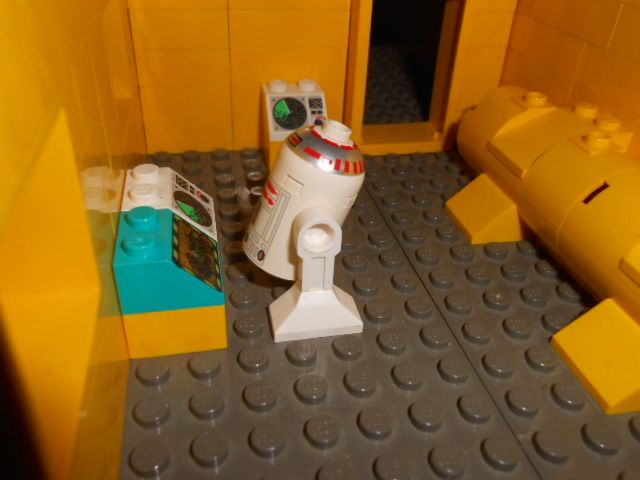 The control room mustn't be destroyed or fall into enemy hands.
Myrna: "Okay you sons of bitches, let's show these motherfuckers who's boss!"
The Jaeger Guard are the 'Mando Wolves' below, two of the psychobots are on the bunker and below in front of the ladder respectively. (The third one is piloting the Schattenlaufer)
These
Space Pirates
were stranded on the planet when the attack began. They don't much like being caught in the middle of a fight, but in the midst of chaos, there is opportunity. They'll do whatever they want and claim whatever they can get their hands on.
Valeera (Champion, Monster Slayer)
Adventurous Mark Antony (Officer)
Space Thug (Officer)
Pedodoctor (Medic)
6 Pirates (Regular stats, +1 armour)
The Immortal Alliance has one unified goal: to capture both command centres and capture or kill der Kaiser.
Sharane
leads her Terrorkhan in from the North-West.
Sharane Darkstar (Champion, Farce Wielder)
Serena (right) (Hero, Farce Wielder)
Officer (left)
8 Terrorkhan
An armoured company of
Inquistadores
arrives from the South.
Hero (to arrive)
2 pilots on Anubis Speeders
1 Elite Pilot in a Hyena Mech
4 Elite Troopers
7 Heavy troopers
They're in a bit of a tight spot, but their heavy armour may help them prevail.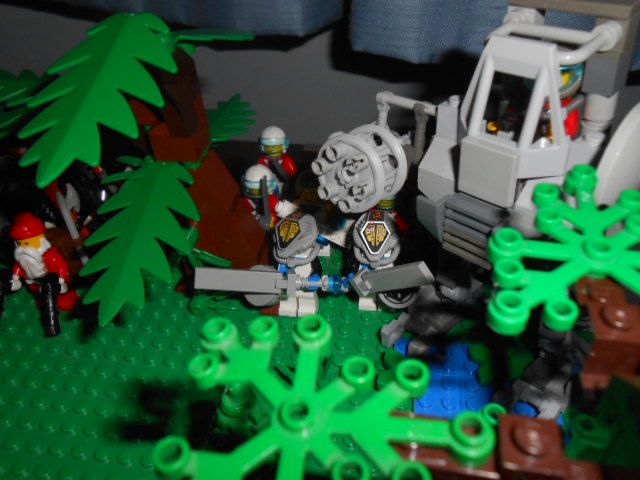 A squad of the
Brittanian League
's finest creeps onto the battlefield from the North-East.
1 Commando (Hero, Super Soldier)
3 All-Rounders
2 Heavies
5 Rocketeers
2 Pilots
1 Gatling Walker
Manly Santa leads
the Manly Men
and a few Rednecks onto the field.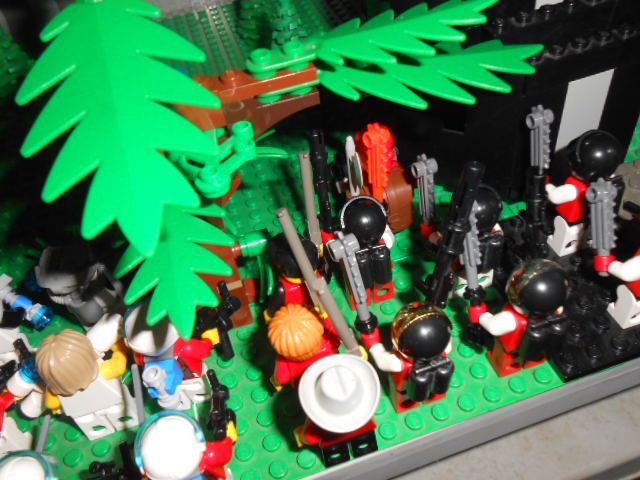 Manly Santa (Champion, Manly feats)
1 Hombre Fuerte (
OTC
) (Hero stats)
2 Tough Ombries (Officer stats)
3 Manly troopers
Psycho Dad (Hero, Wife-Slayer)
2 Rednecks
Some placement shots: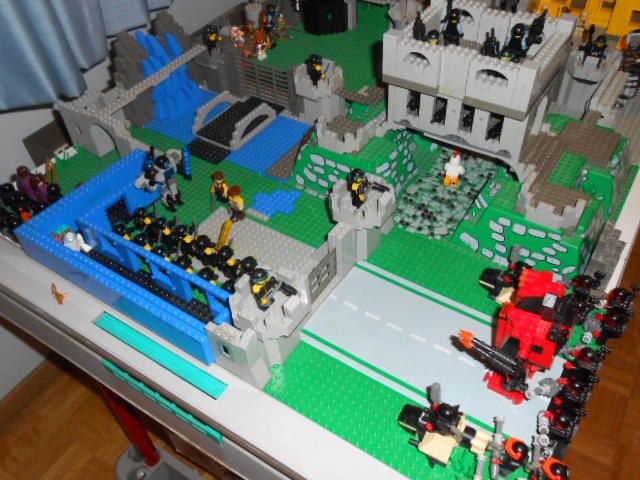 Factions:
Colonial Militia
- Scratch
Third Army
- theblackdog
Space Pirates
- piltogg
Sharane
- heavyfishcannon
The Manly Men
- lawmaster
Brittanian League
- Silverdream
Inquistadores
Zupponn
Commandos
Apollyon
Before the first round there will be a
deployment phase
for the Colonial Militia and Third Army in which they cannot attack or take feats, but all their troops may move into position and set response actions. This is done to give them the option to choose their own defensive strategy rather than me putting all their troops wherever I think is best from the start. If you're one of these factions, you can send orders for the deployment phase and round 1 simultaneously, or send them in two separate messages. At any rate, don't wait for me to post the deployment phase to send Round 1 orders, because that phase and round 1 will be uploaded simultaneously.
Turn order will be
random
. When you send orders, include your
faction name
and
round number
in the title. You can start sending orders as soon as you see your name next to a faction in this post. If you don't send orders, your faction will be given to one of your allies.
Most stats can be found here:
http://www.brikwars.com/forums/viewtopi ... 17&t=10691