Interlude:
http://www.brikwars.com/forums/viewtopi ... 16&t=12122
Sign-up / Round 0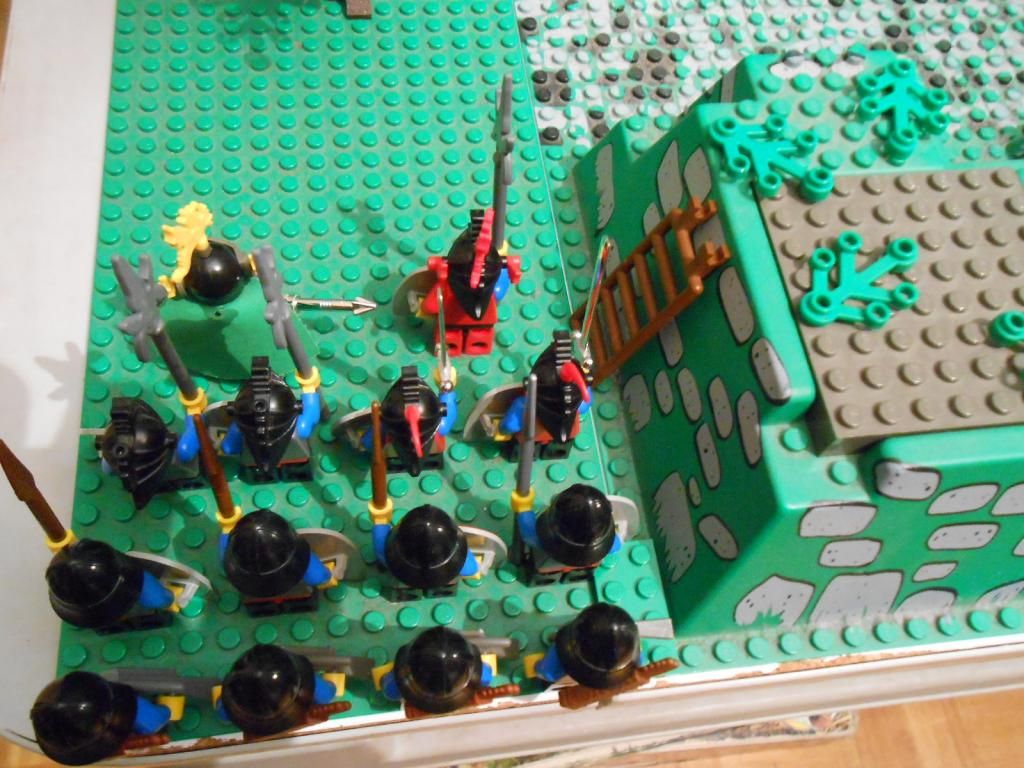 After about a week's march, Sir Garth and Brockram, accompanied by a small detachment of dragon knights, arrive in the ruined fortress they saw on the map Brockram 'acquired.'
- Sir Garth (Champion - weapons master, speed)
- Brockram (Hero - lucky bastard)
- 2 dragon knights
- 2 dismounted lancers
- 4 spearmen
- 4 archers
Before them is a cliff with a waterfall on the other side and a large wall. They have one way to go and that's through or over the ruins. The slopes are accessible. If there's a ladder you can get on, otherwise it takes 3" of your move. Minifigs can freely jump off the other side to the base of the slope. Units wearing (removable) armour (save for heroes) can't climb if they don't have a ladder, and they can't jump without risking injury either.
On the other side, the Crimson Knights are waiting for them. They've taken up position near a bridge, like they knew exactly where they'd be coming from. The Crimson Knights were dispatched by Junatan, the ruler of Kerrat, to stop Garth's expedition, and these particular ones have a long history of rivalry with the dragon knights.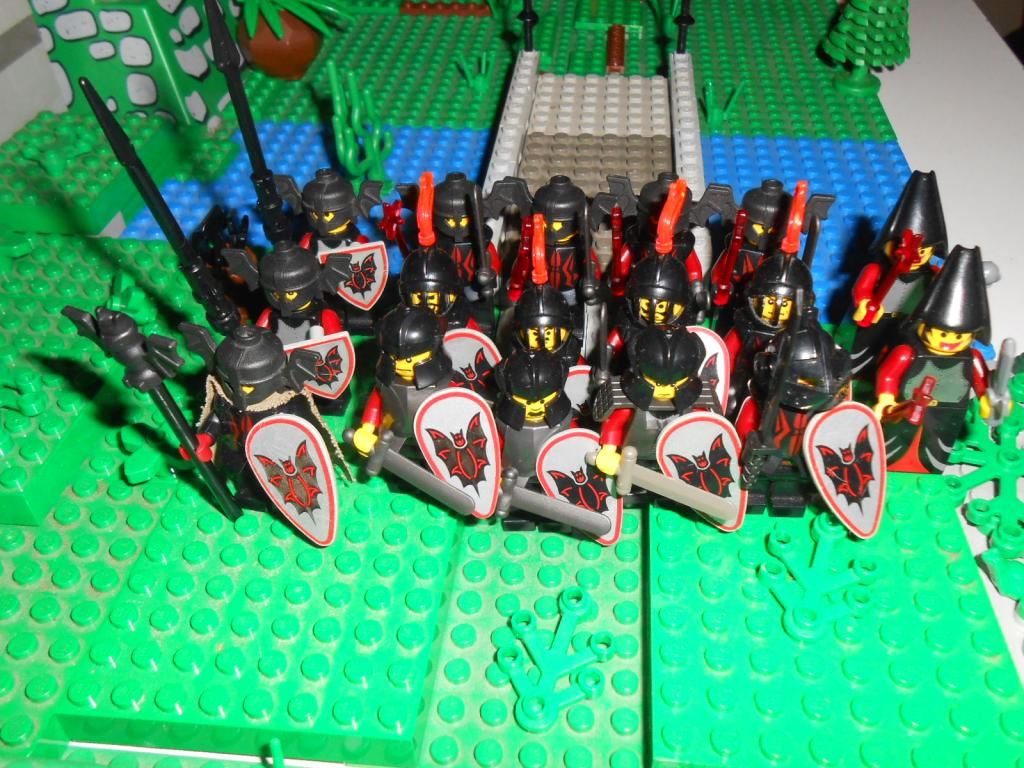 - Cassandra (Champion - dark magic)
- 3 heavy swordsmen
- 1 elite swordsman (hero stats)
- 2 harbingers (the pikemen)
- 4 crimson knights
- 2 iron grannies
- 4 mage knights
Luckily for the dragon knights, across the bridge, to the West, a warband of woad elves is coming in to assist them.
- Landor (Hero - half elf, ranger, warrior, barbarian)
- 8 warbands (spearmen)
- 4 hunters (mixed range and melee)
- 4 elite warriors
- 2 amazons (cavalry, officer stats)
To their right is another passage with accessible slopes.
And on the other side a group of ghouls and fire wraiths, led by the demon Inferno, are coming in.
- Inferno (champion - fire, warrior strength, ritual magic)
- 4 fire wraiths
- 17 ghouls (a fast but relatively weak attack creature)
They were sent to flank...
... the Rangers, led by Miranda Oneshot, who have snuck around the undead positions and are trying to find a way over the river that blocks their approach to Phineus' Black Citadel.
- Miranda (Champion - ranger, agile, combat ability)
- Mudi (Minor hero - dwarf, strength, engineer. Armed with a flamethrower, a pickaxe and his toolbag which holds anything you can imagine... as long as the rolls are successful)
- Giant (heavy melee unit)
- 5 rangers
- 6 peasant crossbowmen (ranged troops equipped with daggers for melee)
They have to get through this little holdout.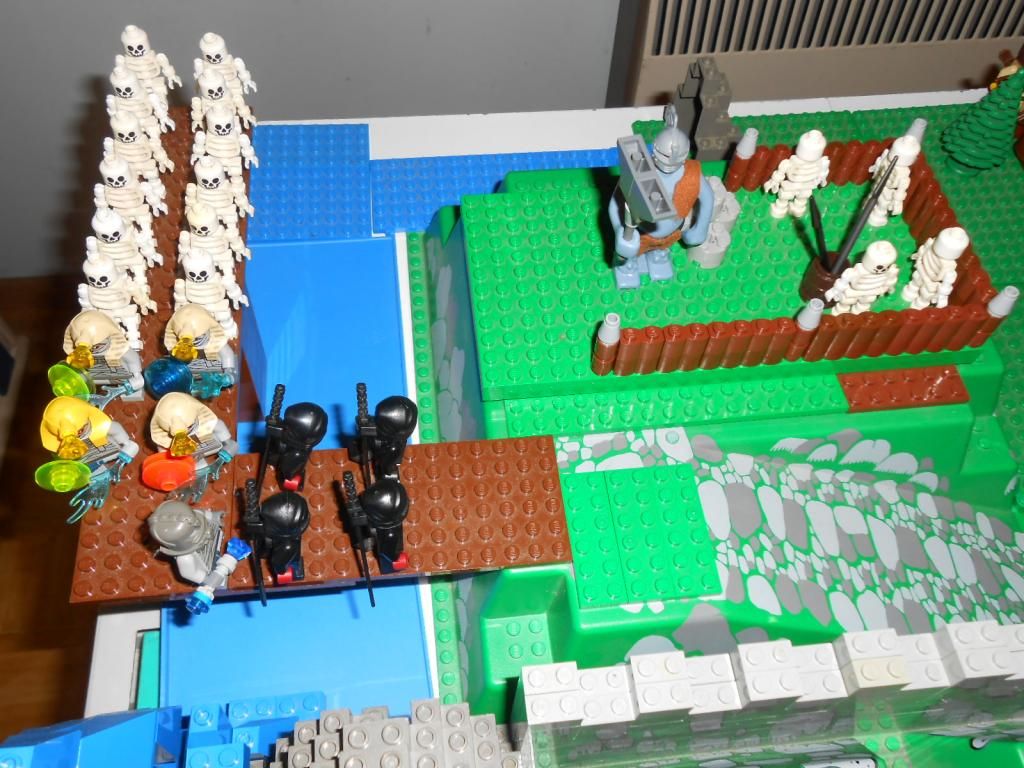 Which leads to this walkway built over the water, the only way to get over the river. Unfortunately for the rangers, it's like someone gave away their plans to the enemy, because undead reinforcements led by the dark elf Nimoë are already rushing in to corner them.
- Nimoë (champion - dark elf, arcane magic, nimble and agile, combat skills)
- 3 dark elves
- 1 wraith mage (minor hero, may cast arcane spells)
- 4 grave wraiths
- 12 skeletons
Overviews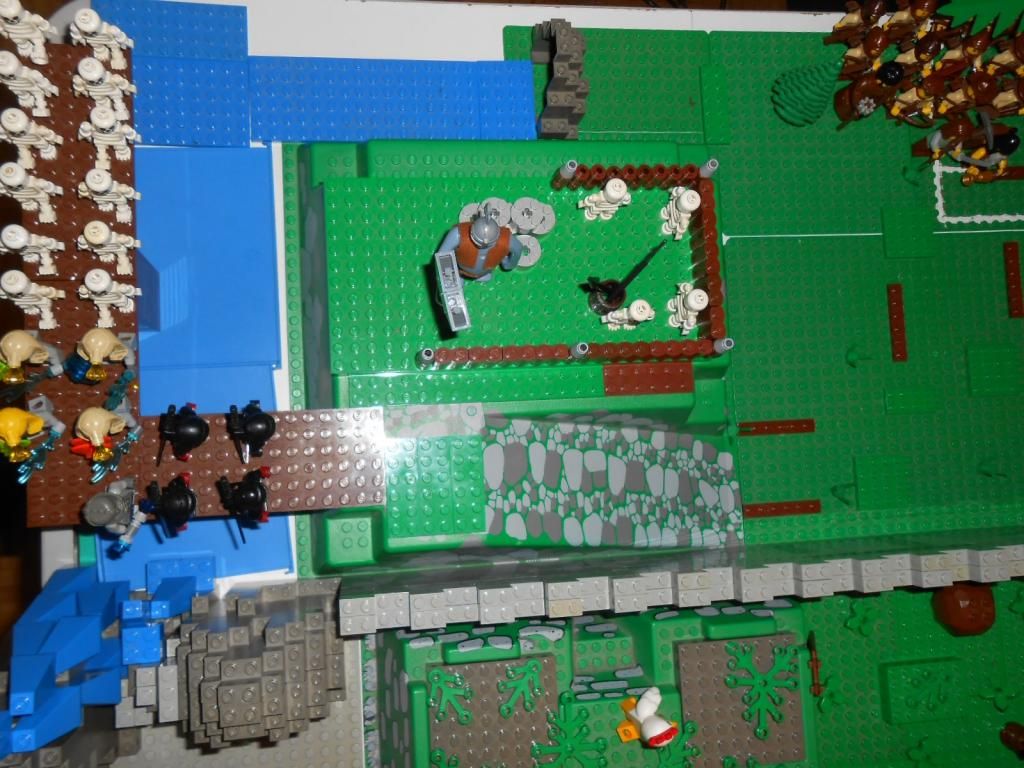 Factions:
(Garth's forces)
OBJECTIVE: get as many forces as possible across the bridge to the North.
Dragon Knights - Alex
Woad Elves - Scratch
Rangers - Brikguy
(Undead + allies)
OBJECTIVE: destroy the invaders. Do not let them cross.
Crimson Knights - Battlegrinder
Inferno - Zahru II
Nimoë - Silverdream
(Random)
Chicken man - Colette
Turn order will be decided randomly. Some, if not a lot of these units are new, but if you don't find anything on them in the Encyclopedia (I'll try to edit them in as fast as possible), just assume regular stats.