+ + + IMMORTAL MANIAC'S TURN + + +
Boomer, attracted to the gunfire spots the hated Wallies and instantly rushes into the fray.
He jumps onto the pipeline and fires his Maniac Canon!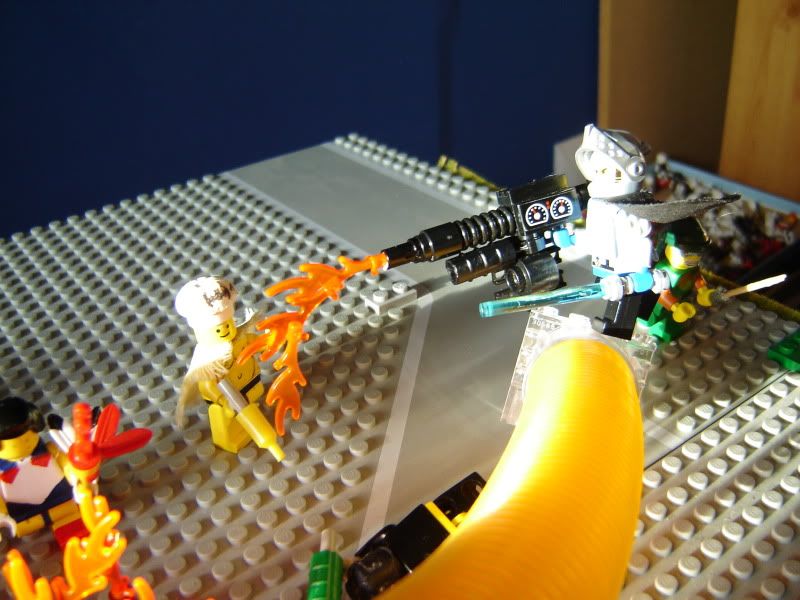 But the results are anti climatic to say the least. After rolling a crit fail all the gun can manage is a few limp dribles of sparkage...
Ignoring the titters and sideways looks of the Wallies, Boomer tries his luck with the Grenade launcher. He aims it for Amok hoping to wipe the smiles from their hated faces...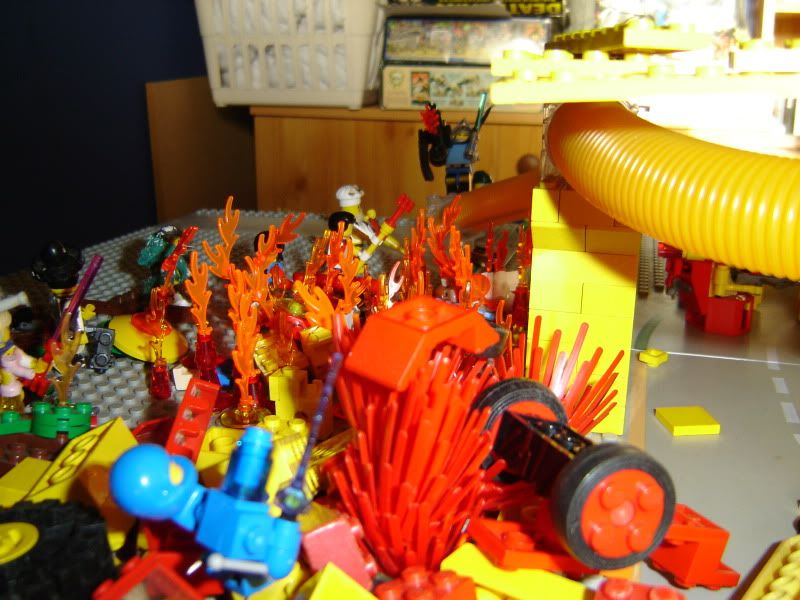 ...and misses. The grenade sails over the Wallies and lands near the blue DSM mutant. He's knocked down by the blast but otherwise unharmed.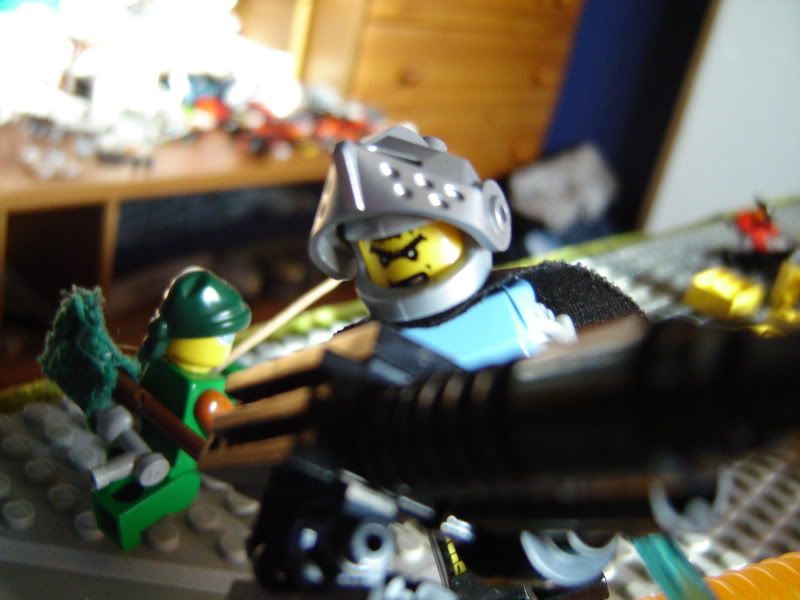 Boomer looks at his gun in sheer disgust, and tries to resist the temptation to eat it. Is it me or does this guy look like he's getting angry?
+ + + IMPERIAL TROOPS TURN + + +
Ever a helpful lad, BFenix applies copious amounts of leverage with his foot and a degree of force to kick Krus back on his feet.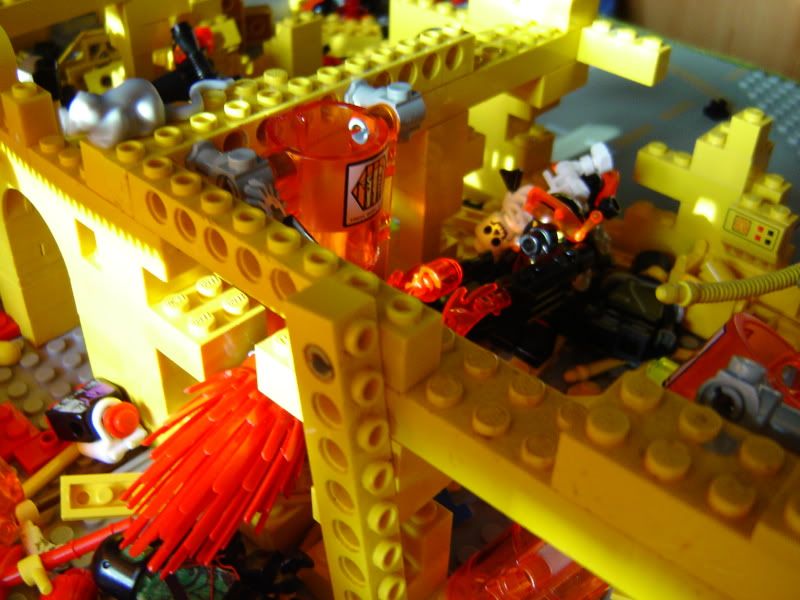 Krus finally gets up, more due to the fact that he wants BFenix to stop kicking him than any sort of fancy footwork on BFenix's part. BFenix, staying out of range of the heavy Scavs saw arm takes careful aim and blows all it's sploshy bits all over the walls.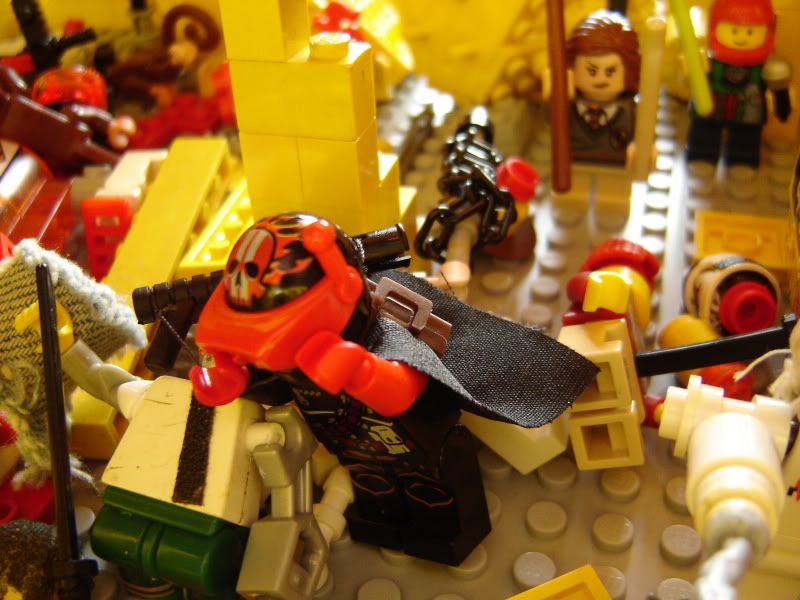 CrazyHorse fights to resist the infernal magically charged singing of the Scav Brat!..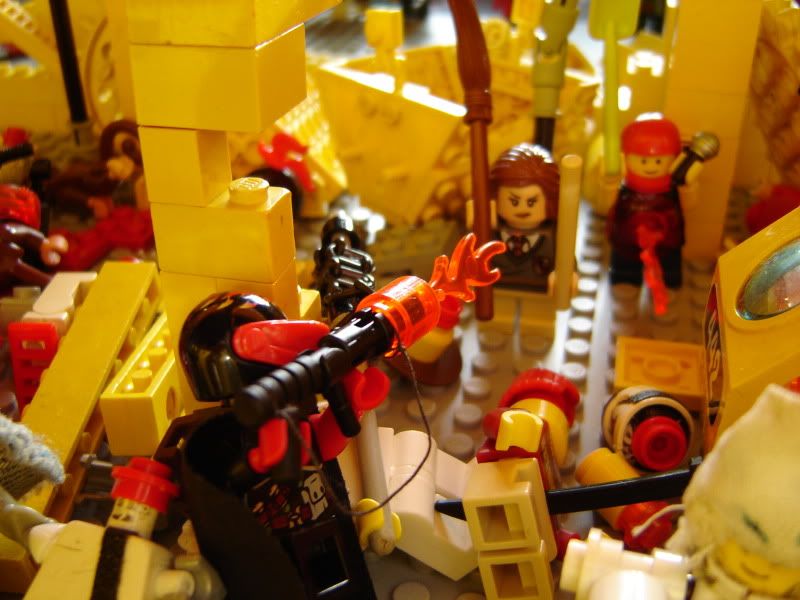 He may have dropped both swords but thanks to the technology of string he still has his SMG slung. With an appropriate negate modifier he still makes the shot count.
KAPLOWEE!!!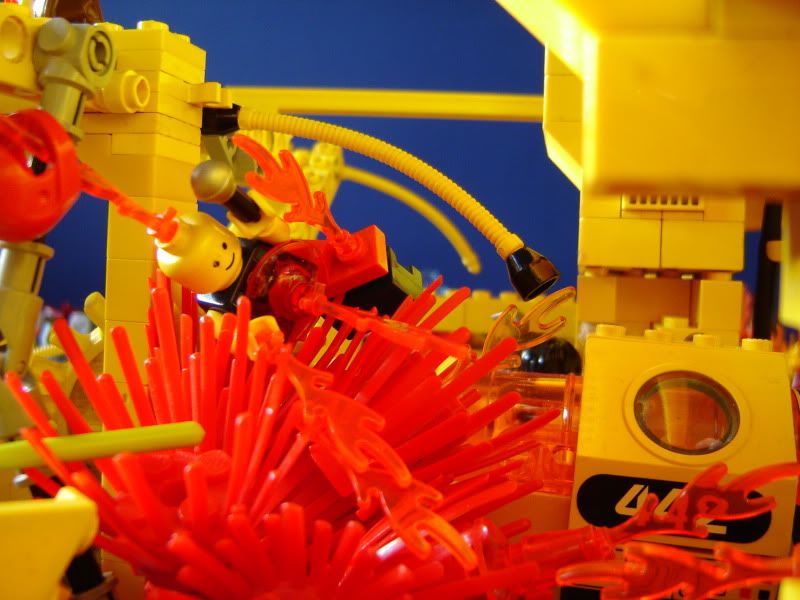 (It took ages setting this shot up and I took these pics so your getting them all, OK!)
Granger managed to bail out the way but is disrupted by the blast.
Recovering his swords and attached dead Scav, CrazyHorse ducks back into cover.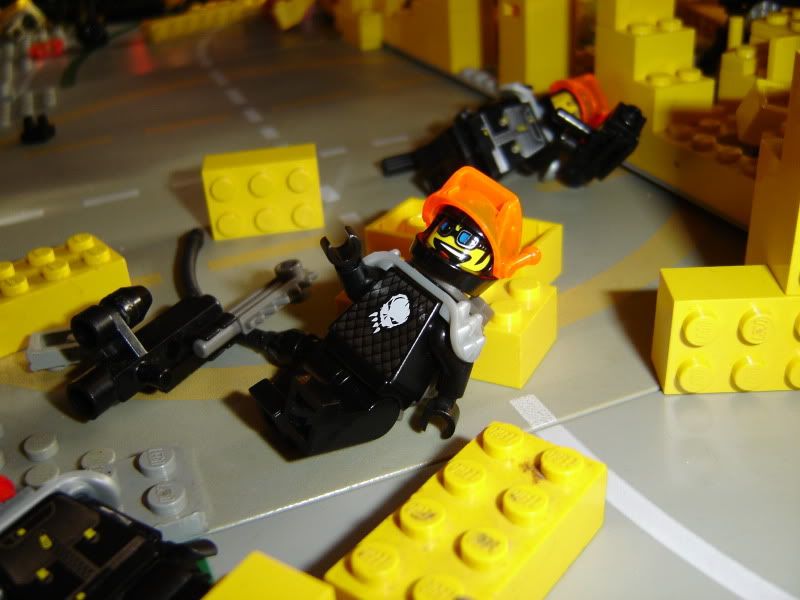 Hey Piltogg's Alive! And sort of conscious (critical success), from the look on his face I'd say he's a bit shell shocked.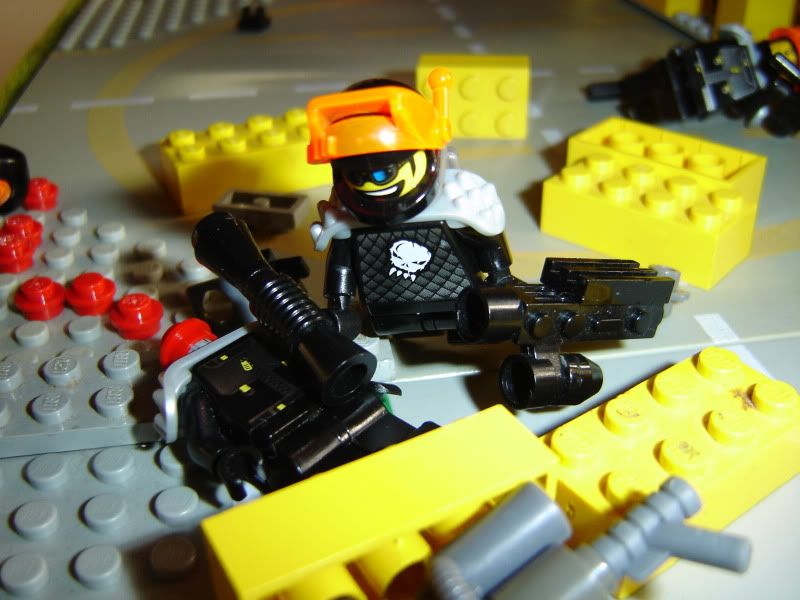 However, his training is hardwired into him and he sets out to arm himself.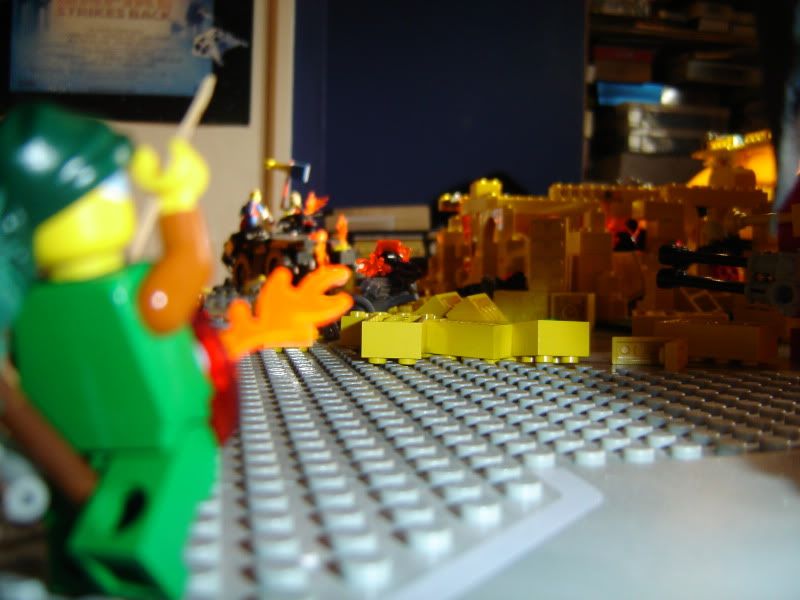 He even manages to hit the Wallie Teenage Mutant Ninja Turd! Not bad considering he's at half skill rolled. He got a three. Unfortunately due to a low damage roll he's only stunned and not dead.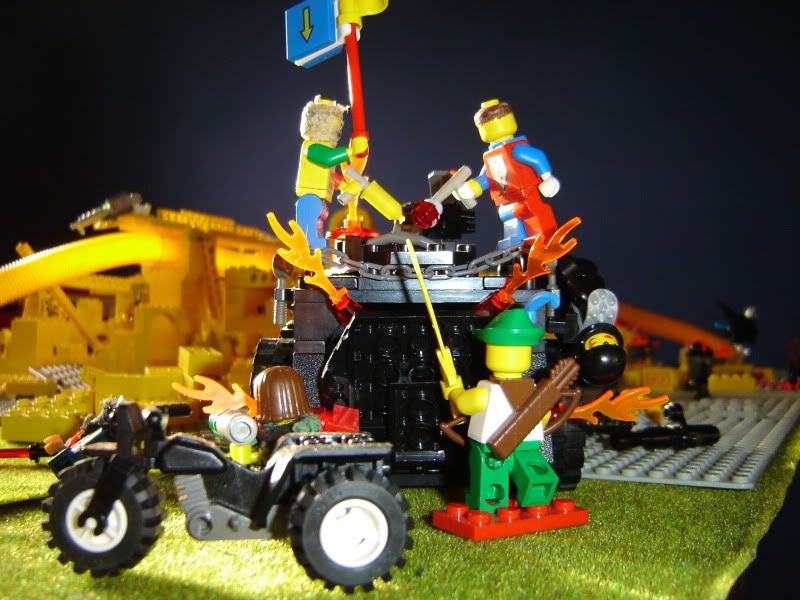 Acting like a bunch of Hollywood depicted comedy terrorists the Wallies are still vainly trying to gain entry to the APC. They don't notice the sudden flash as the main doors bolts explode!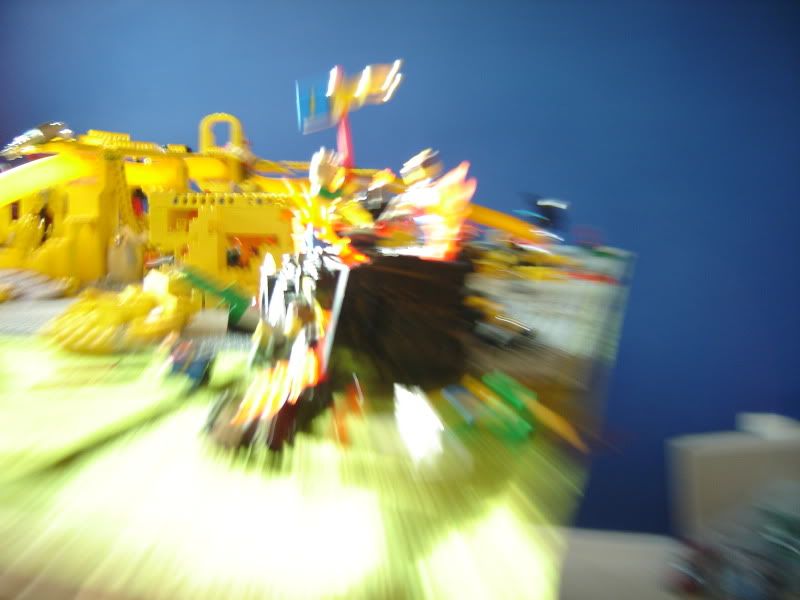 KRUUUUMP!!!
The Emergency Escape charges blow! But it's all too fast for description so here' it is in Slow-Mo...
The door shoots out hitting Dapper Hood in the face. The flash of flame sets Ooze's highly flammable slimy head on fire. The door has also wrecked the trike vehicle.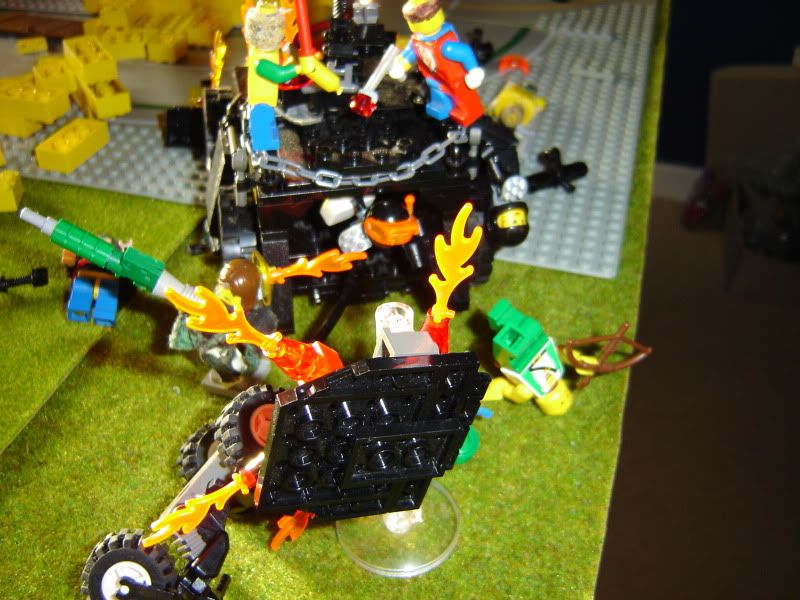 As soon as the door blows, Master Sgt Ecabob is already off and running!..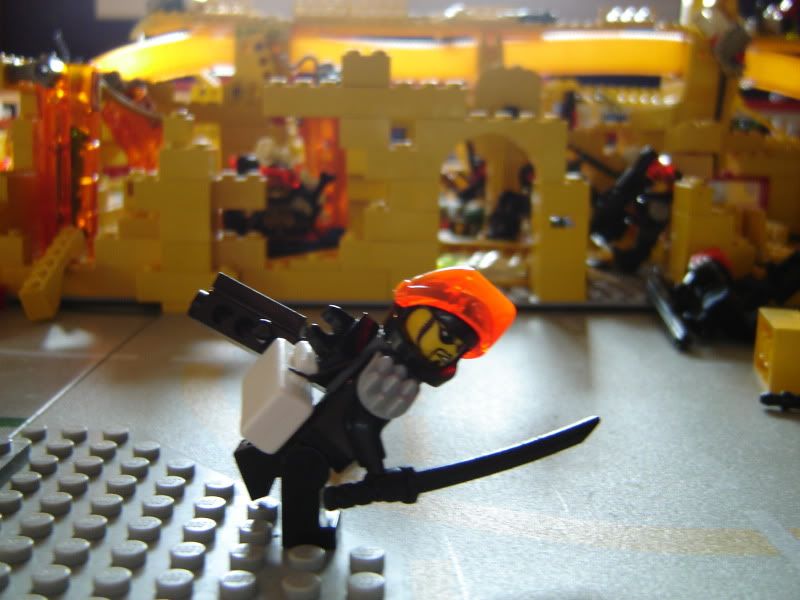 There he goes! Med-Pack slung. He's going so fast that...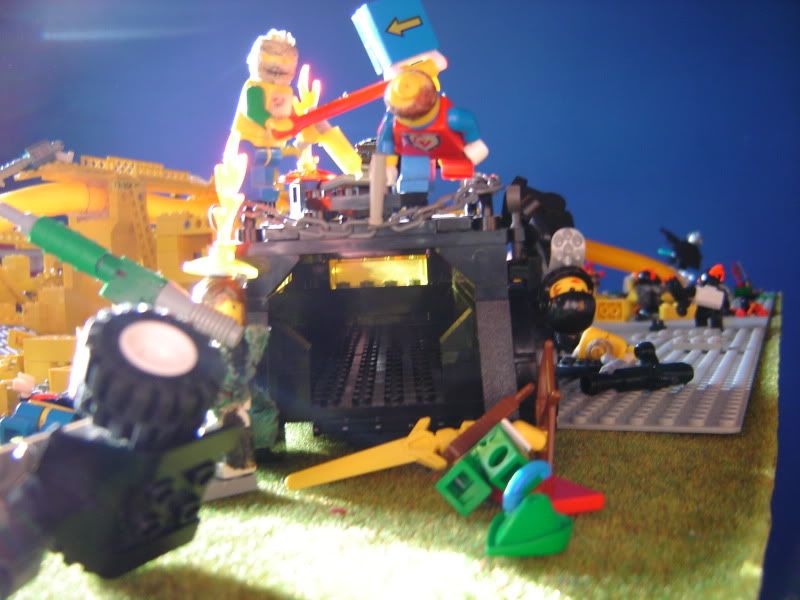 ...that the Wallies are still trying to figure out what just happened. That's Master Sgt Ecabob waaay off in the distance, see?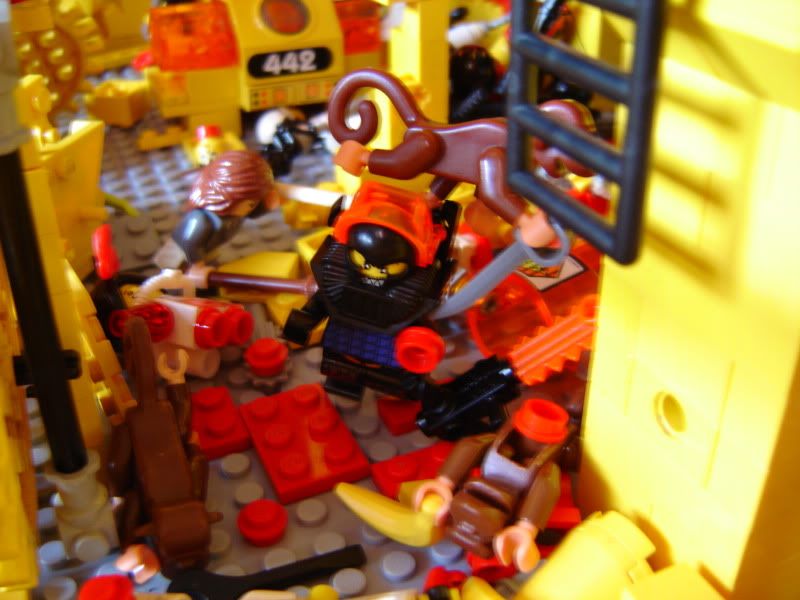 Sick of being constantly stabbed, Moron tries to quell his Berserker rage as he reaches for something...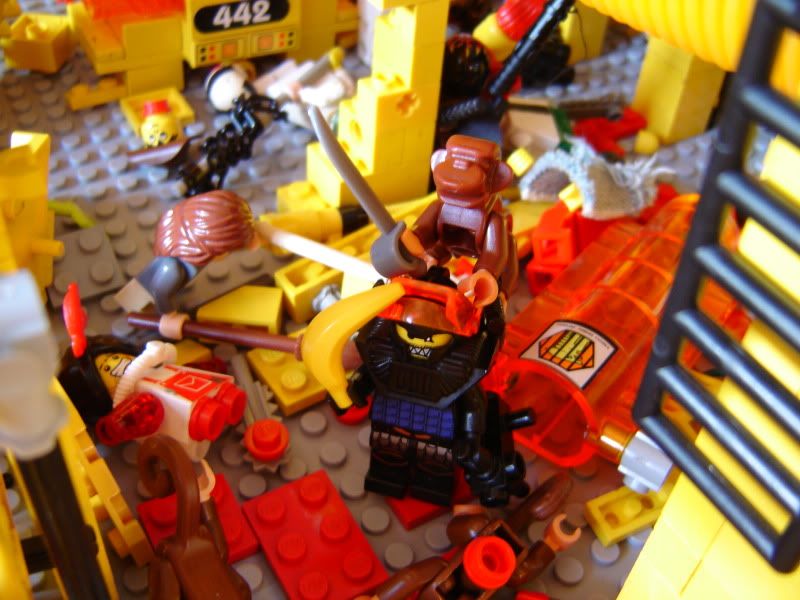 "Ba-nan-aaaah?.."
"Ook?"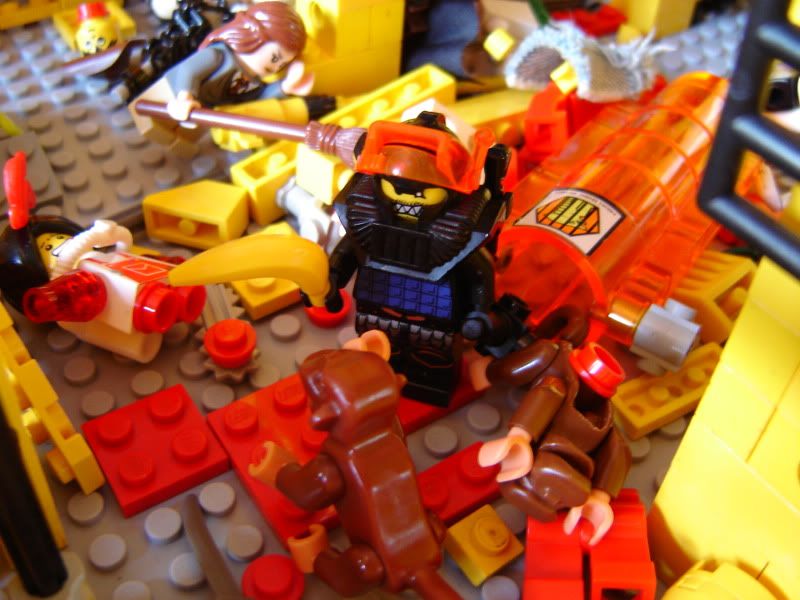 A suitable dialogue is reached...
"Ger off!"
"Ook!"
*sigh*
...and a new friendship built on mutual understanding and respect blossoms.
Silva continues his Heroic quest to save Piltogg.
He struggles to drag his fat laden down ass to safety...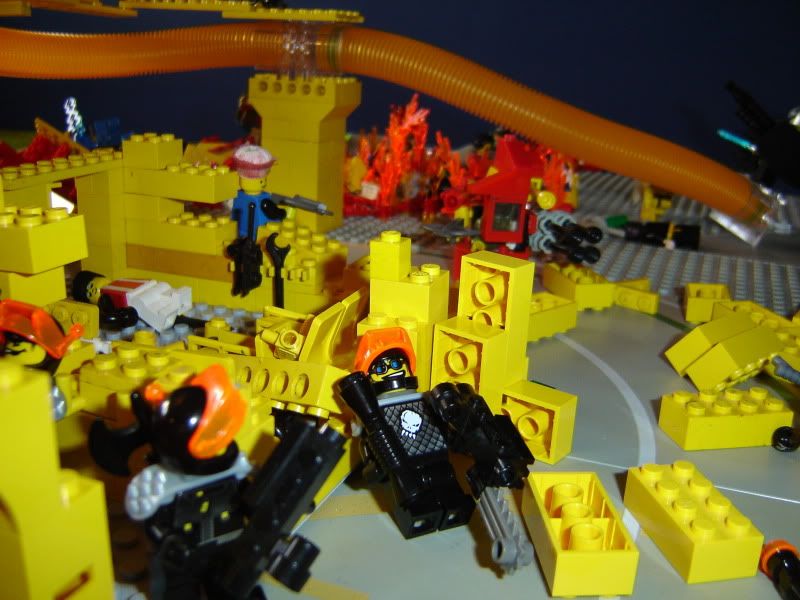 Dumping the fatass in cover he finds a covering position of his own and hunkers down on response fire.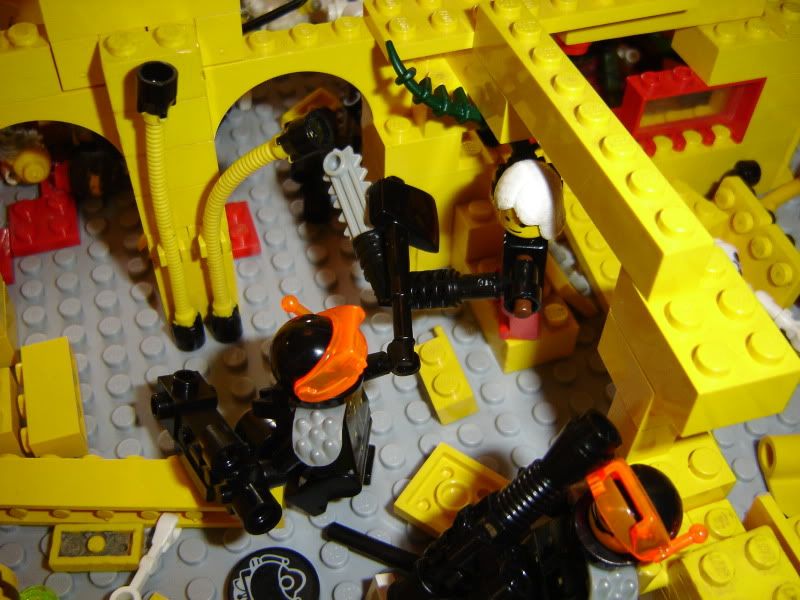 After a flurry of rolled critical successes in a row Aoffan (Ross) contemptuously manages to bat the Scavs chainblade arm to the side.
Before getting busy with the Power Axe on the Scavs body. She still isn't dead...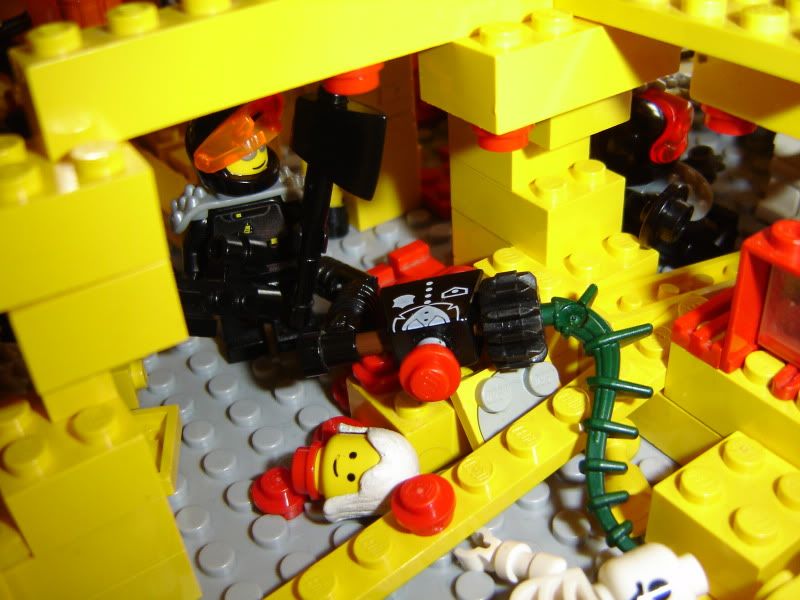 Oh, no. There we go. Aoffan (Ross) take time out of his chopping to pose for the camera.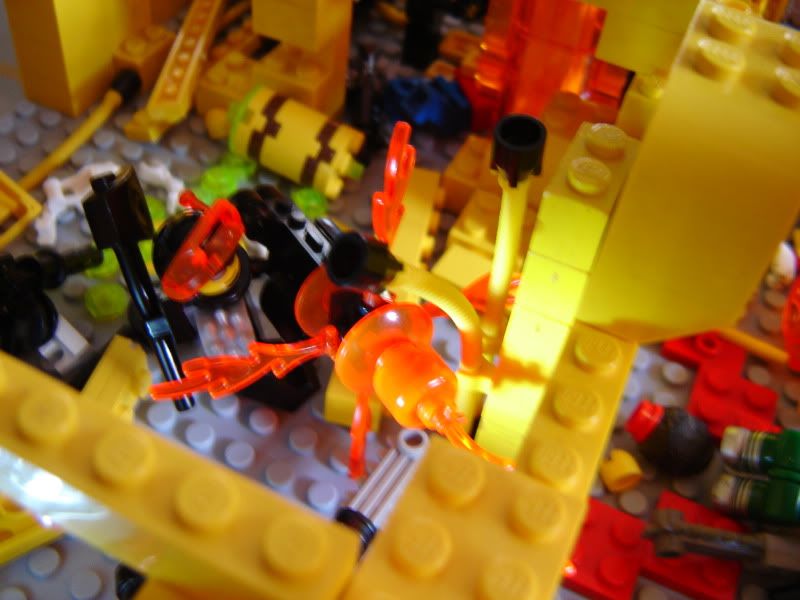 He then takes out his Heavy Maniac Auto-Shotgun and seeing a target blasts away!
The Heavy Scav on Killer K takes a hit!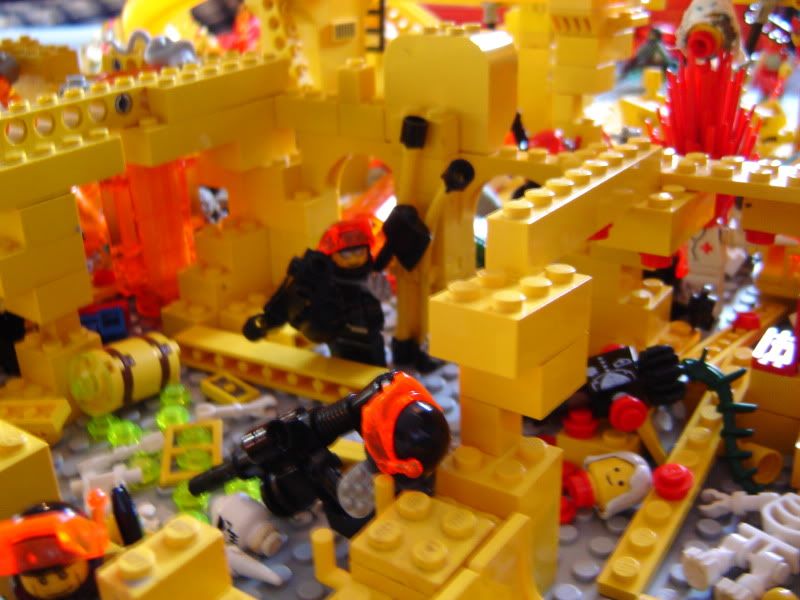 Before the blood stops spurting Aoffan (Ross) has got his back to some cover again.
+++++++++++AND NOW THE CONCLUSION OF TURN 4 +++++++++++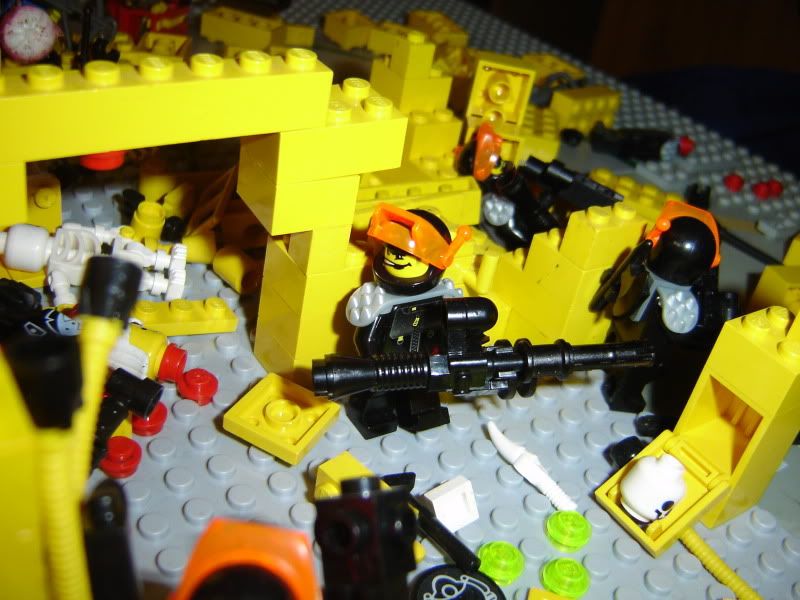 F!SH checks out his targets, the big Scav is dead and Granger the Magi is out of line of sight... what to do? H'mmm?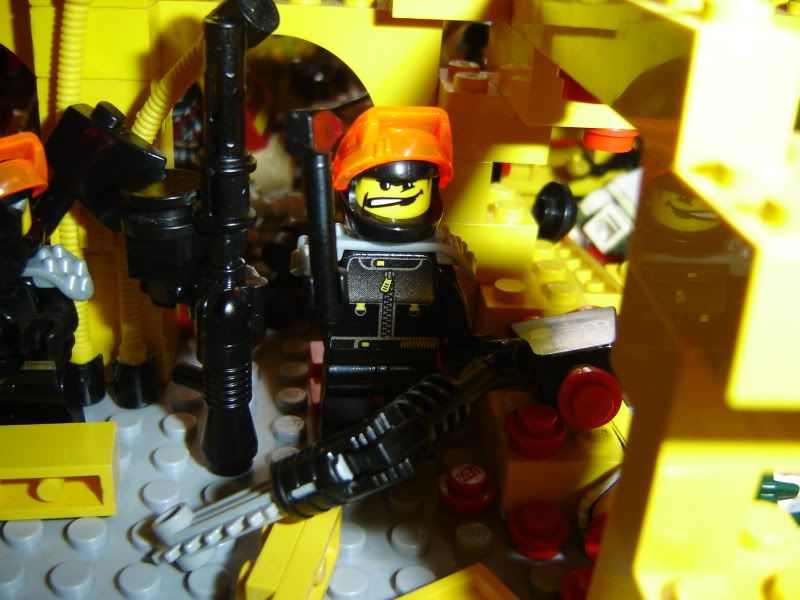 Making use of the lull in the action F!SH does his McGiver on the remains of the Large Scav's Chainsaw arm.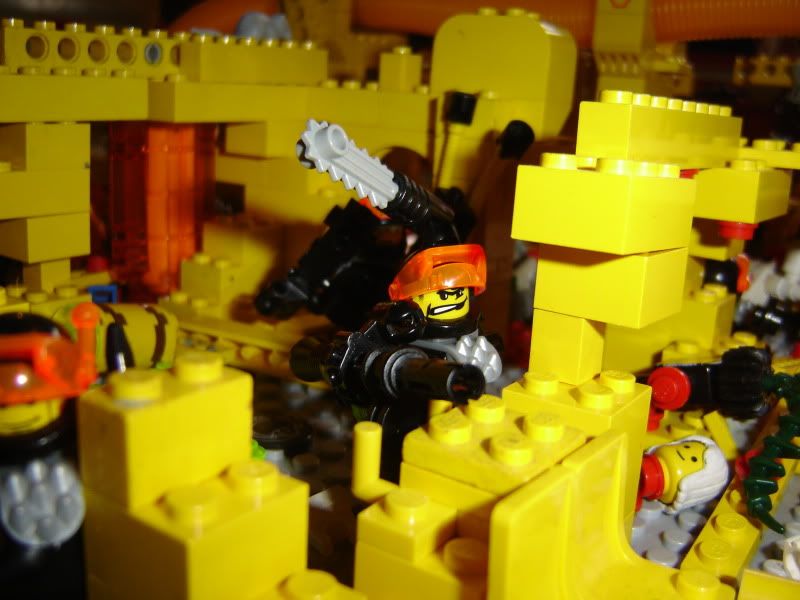 ...before returning to set up response fire now armed with a new exoskeletal chainsaw arm. (Range: melee, UR: 4+ Dmg: 2D6+1)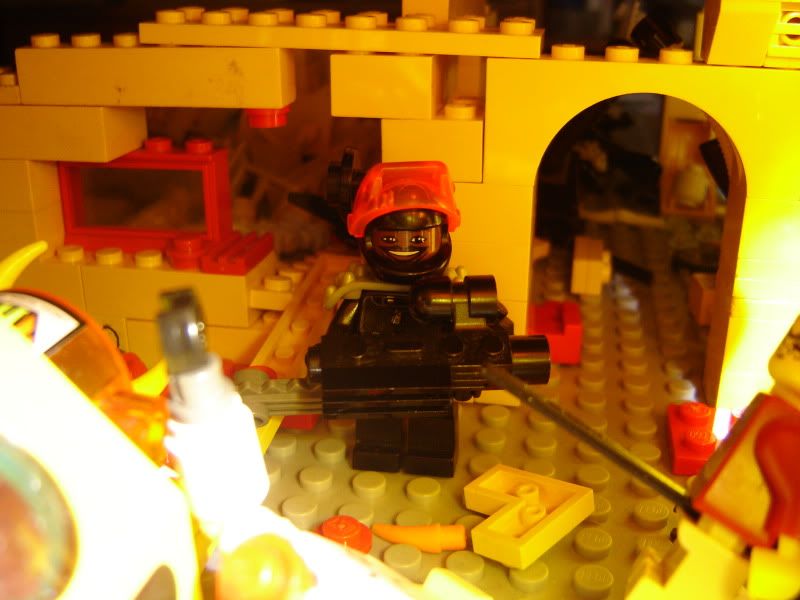 Killer picks himself up and looks for a target to vent his frustrated rage on. the Big Scav is in bloody bits but he spots Peach Magi Granger!..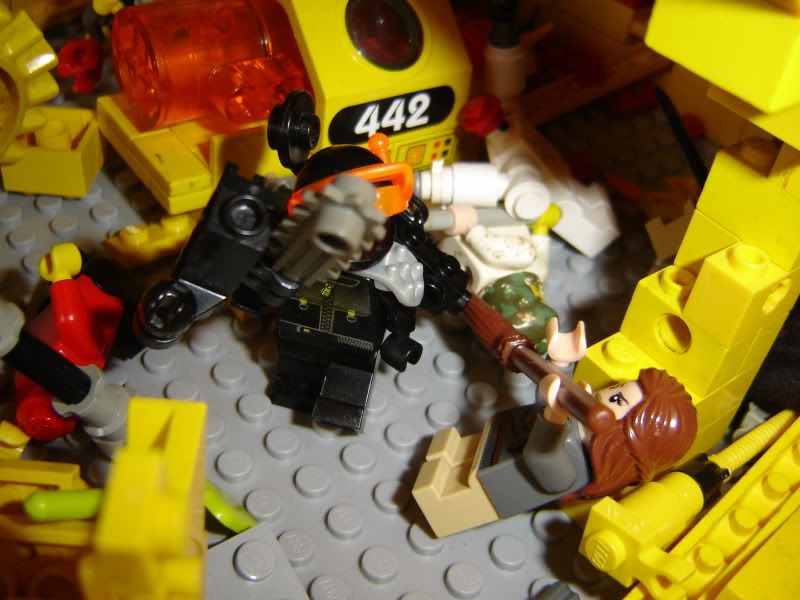 "Right Bitch! Eat my chainsaw!"
"HARRYEEEee
SKRRRRRRRRRRRRRRRRREEEEEEEEeeeeeeeeeeee!!!
...
Job done.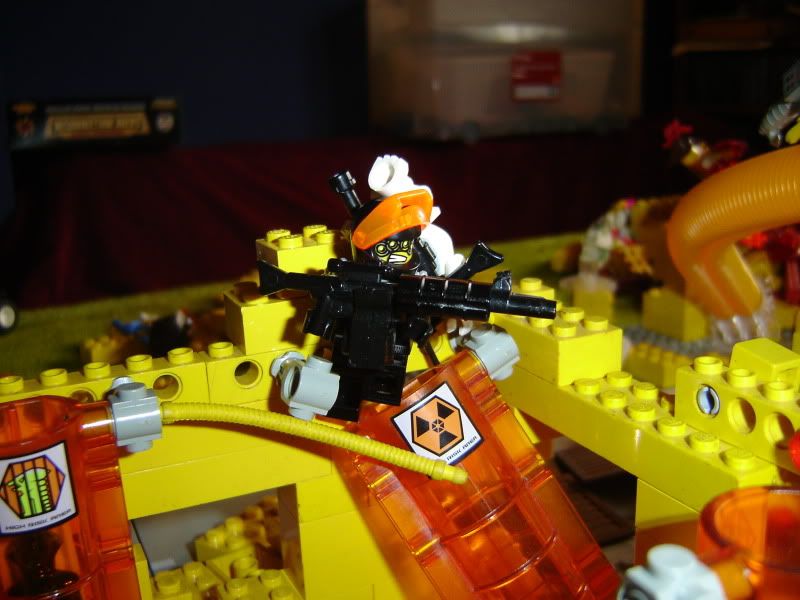 Krus takes up a better position to snipe from and protect Moron the Terrorkhans back. He'd have more protection at floor level but hardly any lines of sight.
Settling down with as much cover as he can get, Krus prepares a response action.
+ + + + + MUTANT LEGO WASTELAND SCAV's and their IMMORTAL WALLIE Friends TURN + + + + +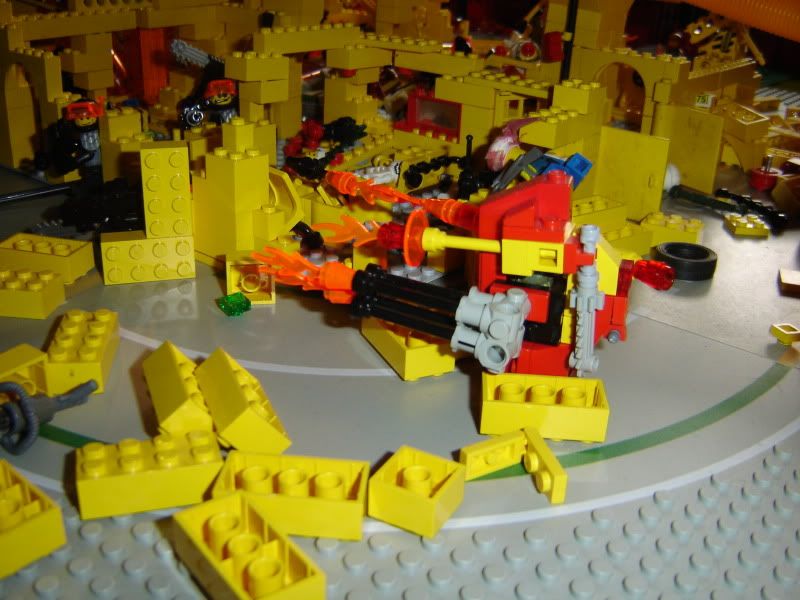 TwoHand-OneHand launches his one shot rocket and weapons at multiple targets.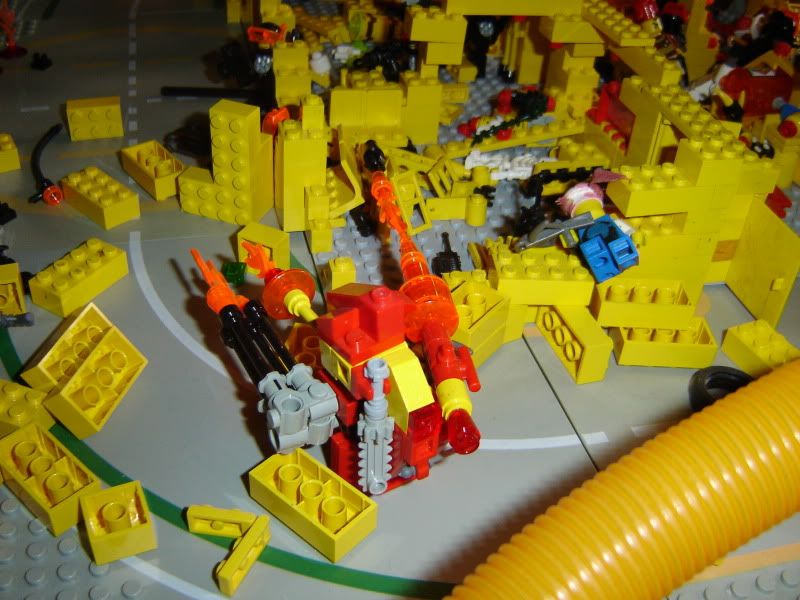 The rocket heads straight for F!SH, Piltogg and Silva! The Battle Canon and Autocanon fire at Master Sgt Ecabob, the Autocanon only manages a few shots before jamming...
Ecabob dives for cover!..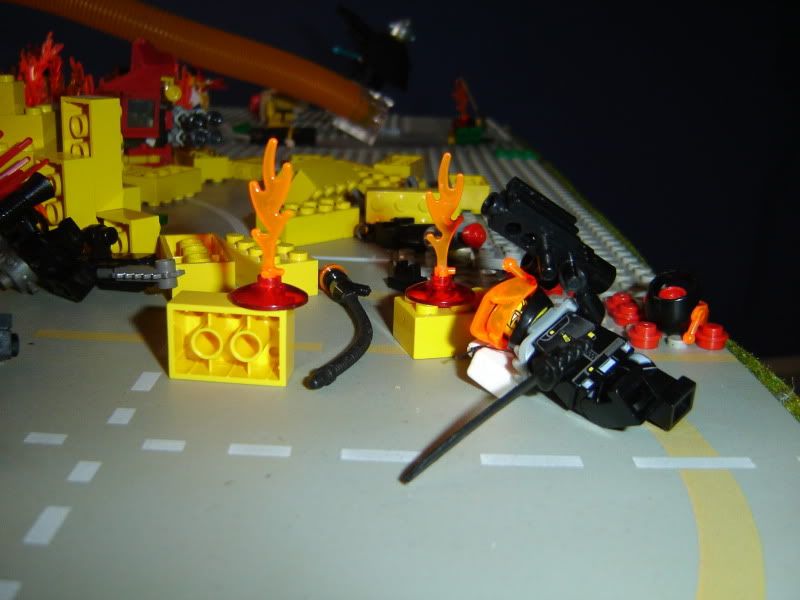 ...and successfully bails unharmed but disrupted for now.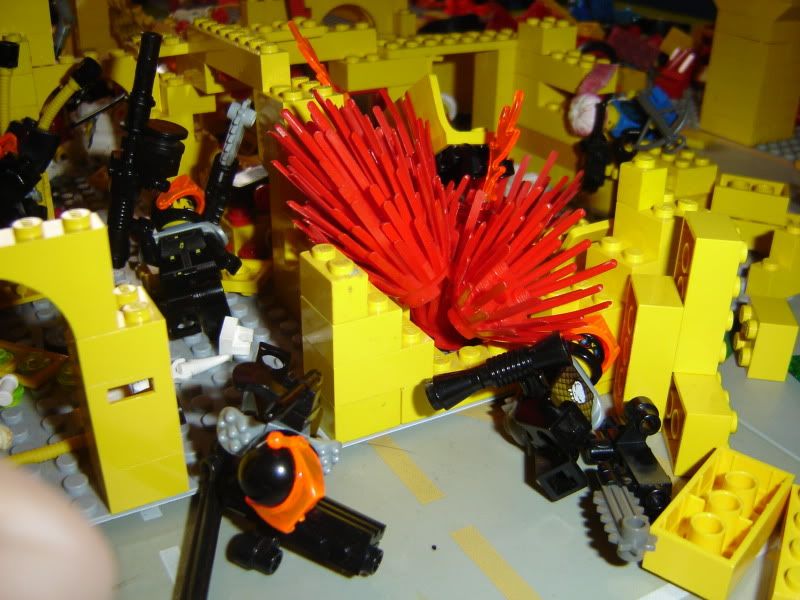 The rest of the lads make their bails too. They are also disrupted due to the blast losing their response actions.
A Scav on the walkway sees his opportunity.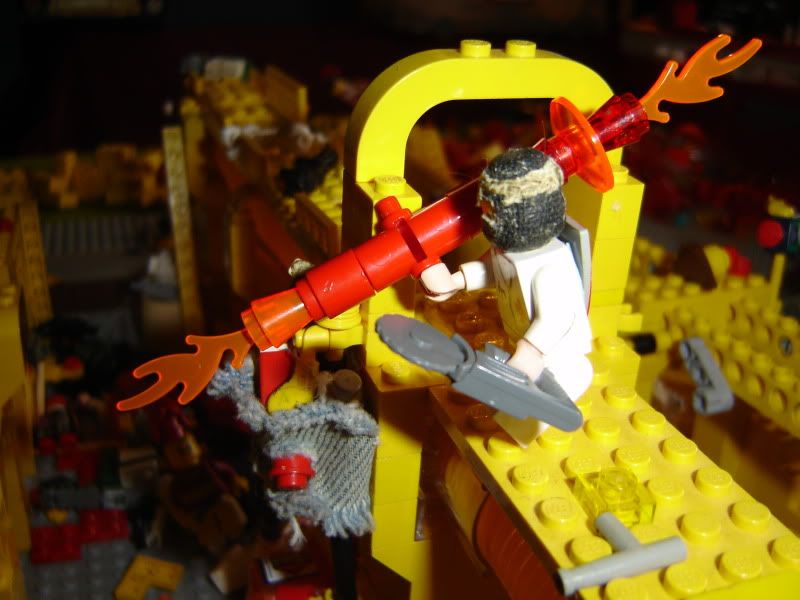 HE SHOOTS!..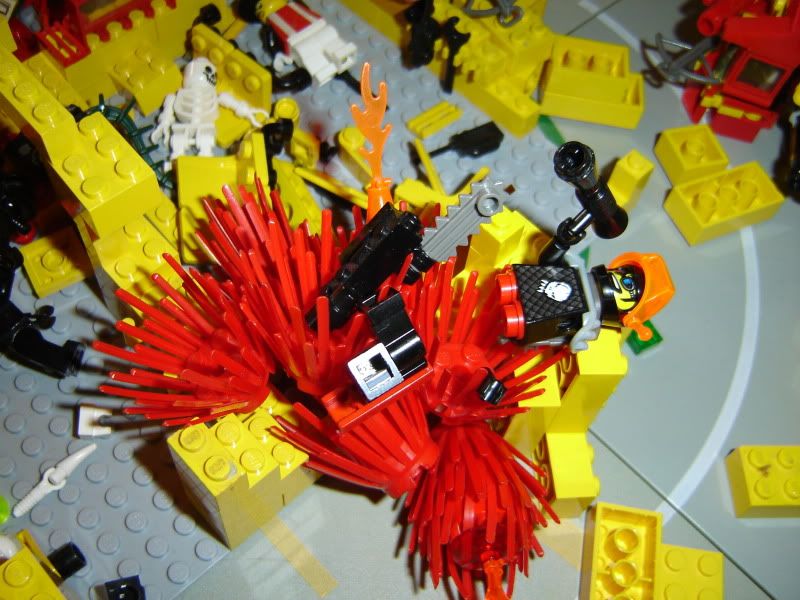 BLAM-OOOOOO!
He Scores! Scratch one Piltogg. The direct hit vastly exceeded his armour save.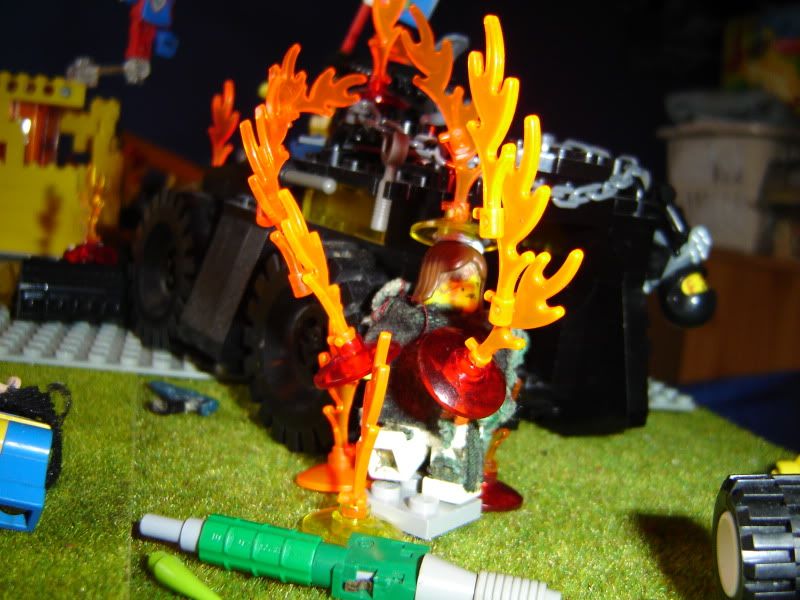 Meanwhile the Wallie called Slimey is finding it hard to extinguish the fire which has now spread across her body, mostly due to all the highly volatile and toxic sweat she exudes constantly... I think she may be in some trouble. Captain Vincible and The Incredibly Visible Man leave her to her fate and head for the Ruins.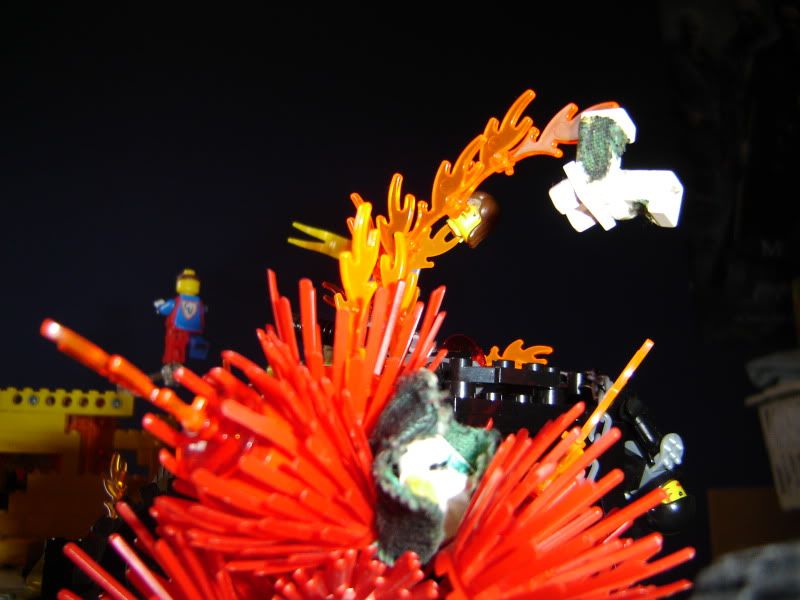 BAAAAH-BOOOOOOOOOOOM!!!
Oh, dear. I don't care if you're Immortal, that shit's gotta hurt.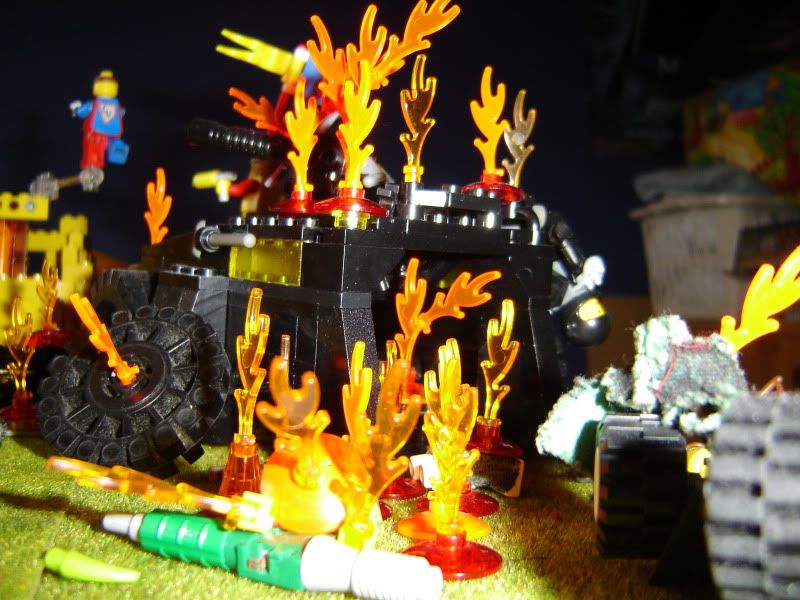 Hey guys! um, guys... the APC's on fire...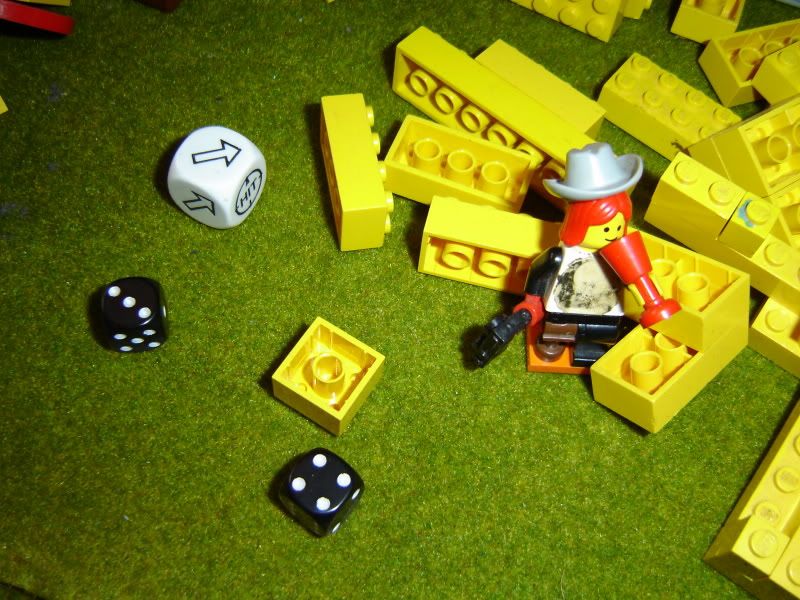 Sue Ellen and Mr Smarties also head over to the ruined factory, Sue Ellen more through luck. She keeps on drinking though.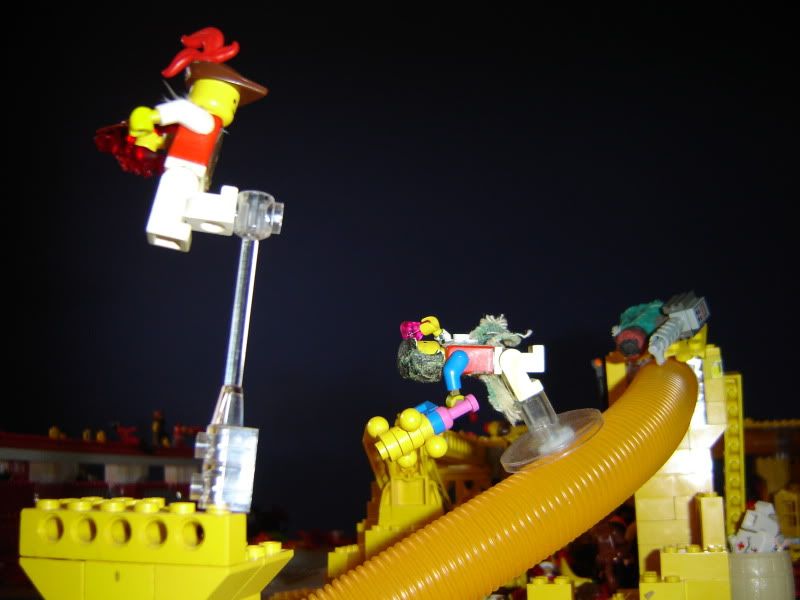 Panzy la-le-la's skipping up the wrecked tube onto the gantry. Meanwhile Chicken Man, with a Cluck-Cluck-Cock-a-doodle-do! shoots up into the air!..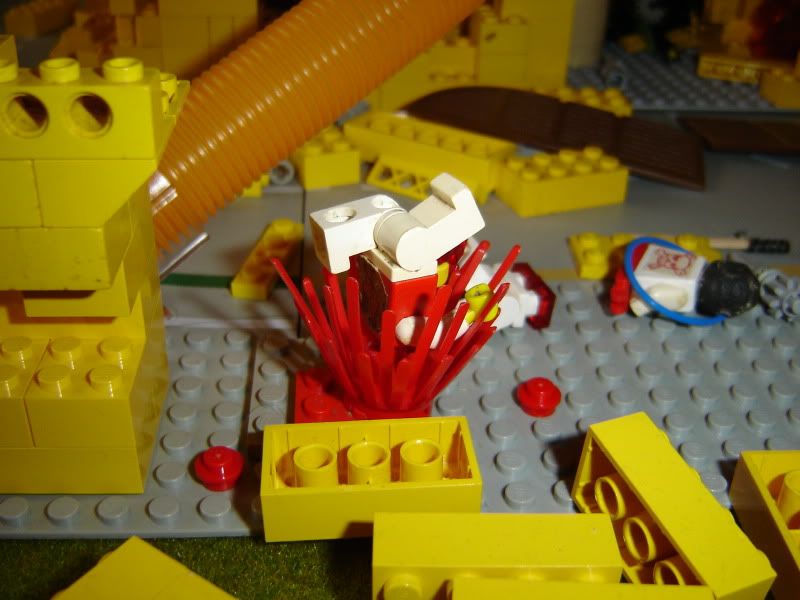 SPLUUUT!!!
Before face diving into the deck. Chickens, not very good fliers apparently.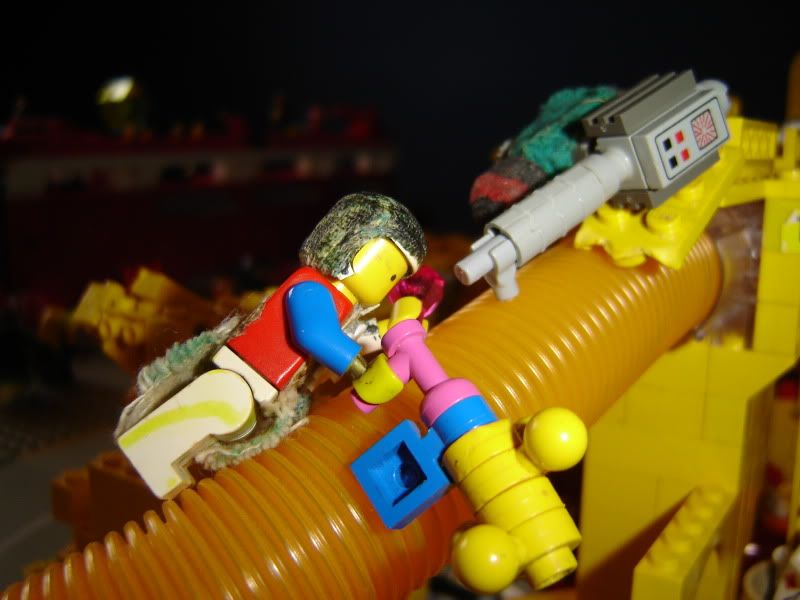 Panzy, ever the soft and sensitive sort gets a fit of vertigo, hold on there!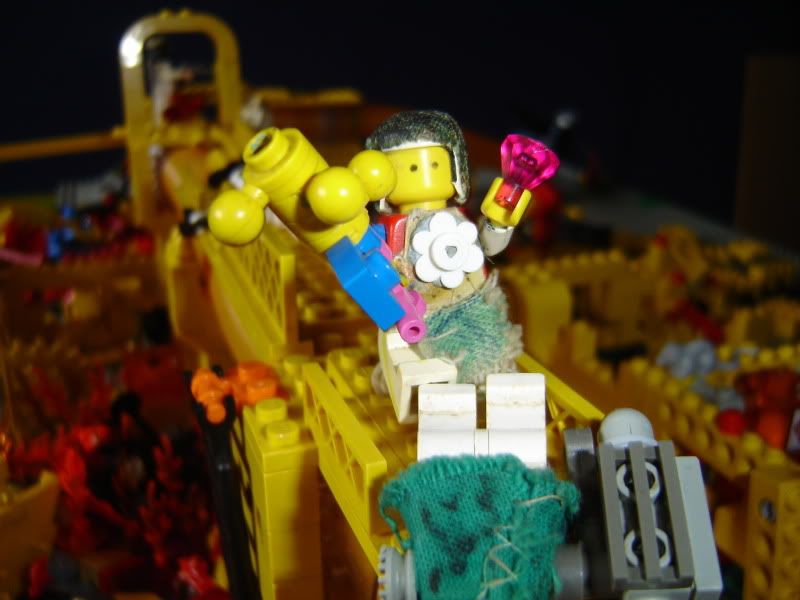 Yay! He made it to the gantry!.. but goosh, this Scav is dead! Oh, Boo-Hoo, how distressing. Panzy sets out to fix things as this will never do.
Panzy, using an ancient healing ritual passed down from Panzy to Panzy sets out to revive the poor Scav while singing a tra-le-la type song.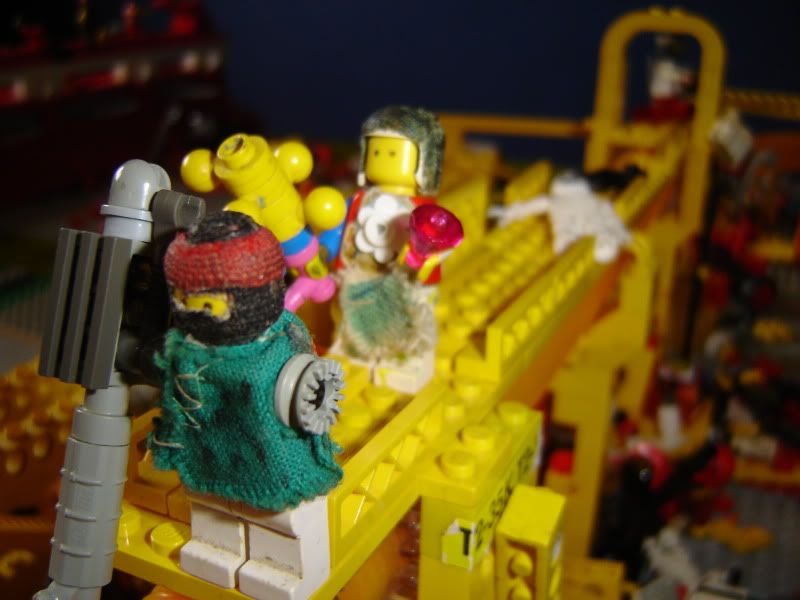 Oh happy day! The Scav's alive... but why does he look so, sad... and awkward?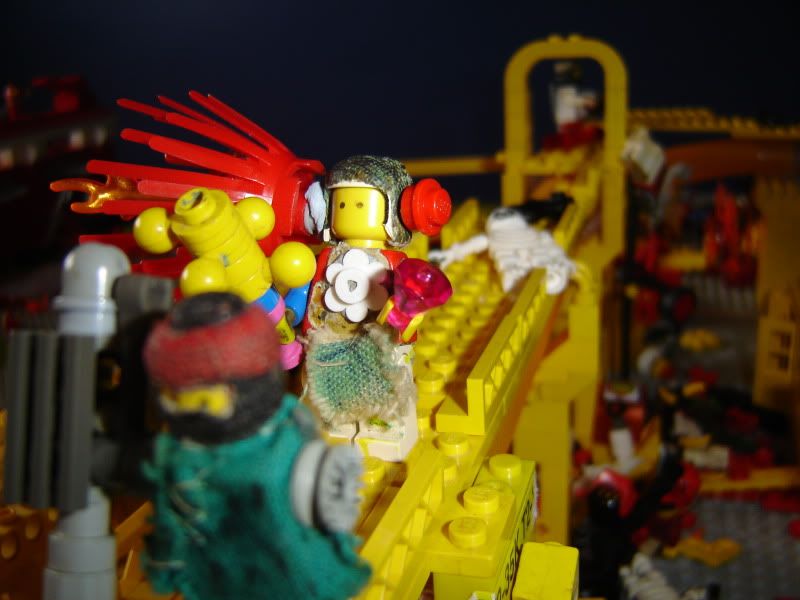 Fortunately we'll never know as someone thankfully blows a hole through the little creeps head.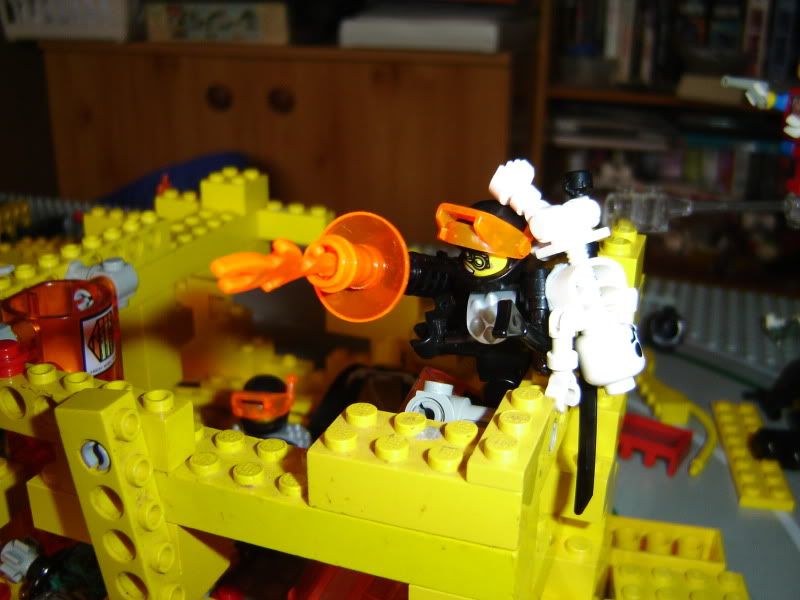 It was Krus, he just couldn't stand it any more. To hell with protecting the others, it was worth it!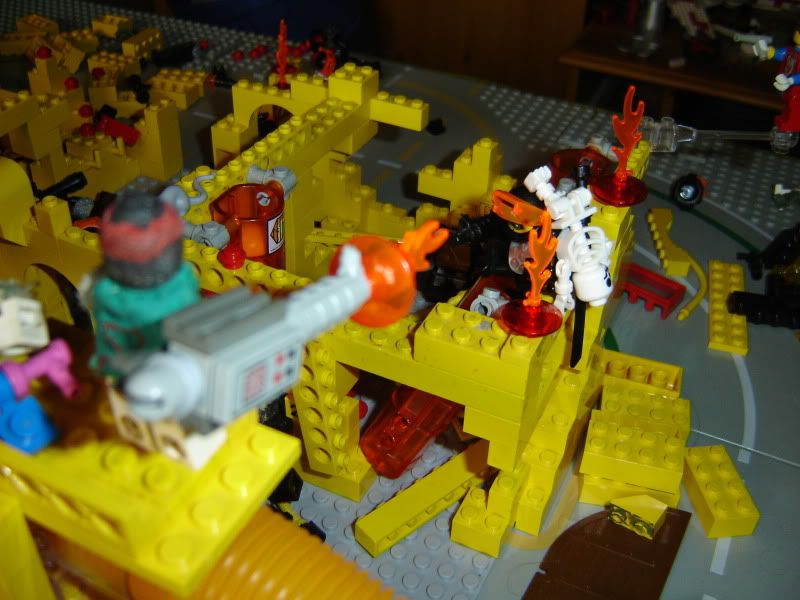 The newly revived Scavs return fire was well off. The Sore Arse?
The newly arrived Scavs and their Chieftain head towards the factory.
The Chieftain lets loose with his flamer!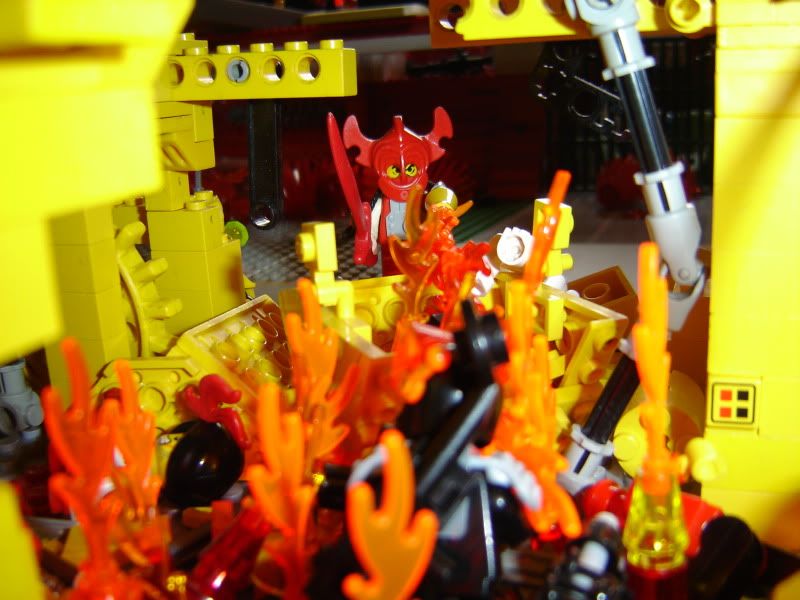 FFFFFWOOOOOOOOO
OOOOOOOOOOOOOSH!!!
Killer is caught directly in the blast of flame!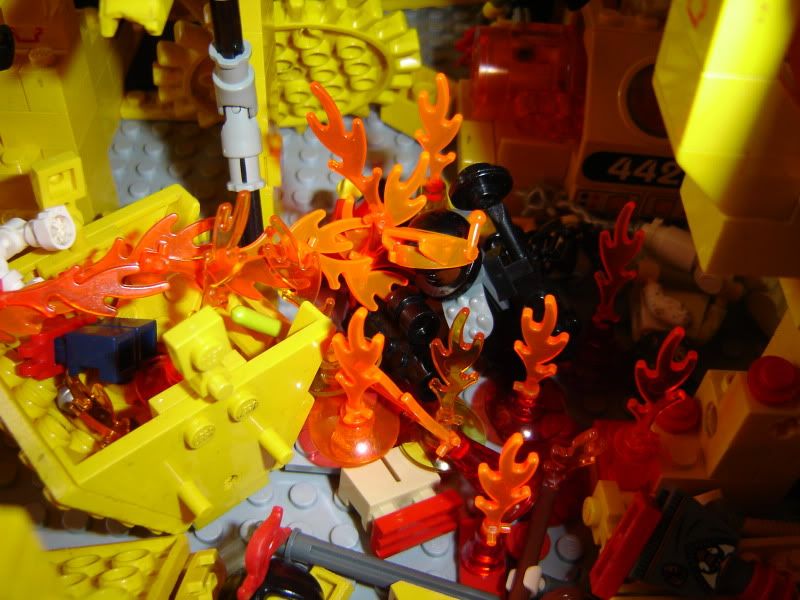 IT BURNS!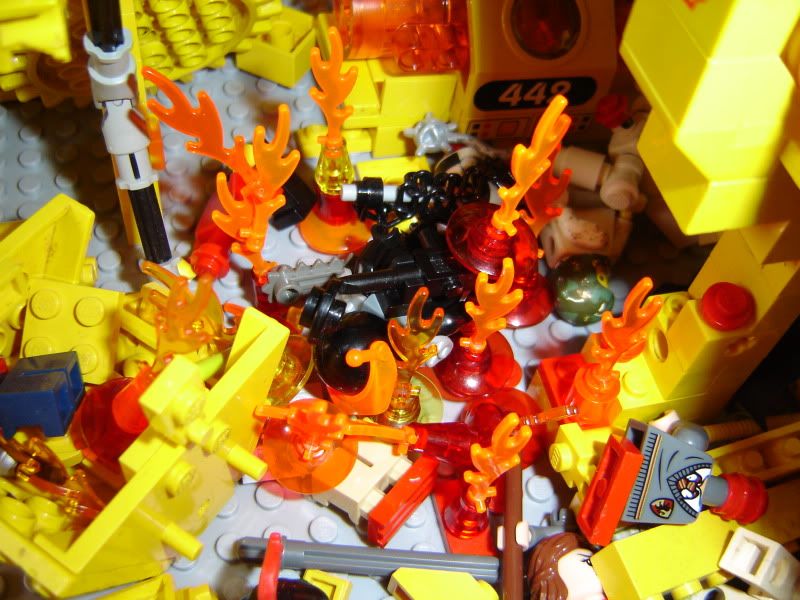 The inferno proves too much for his armour. Killer Keratsu has finally fallen...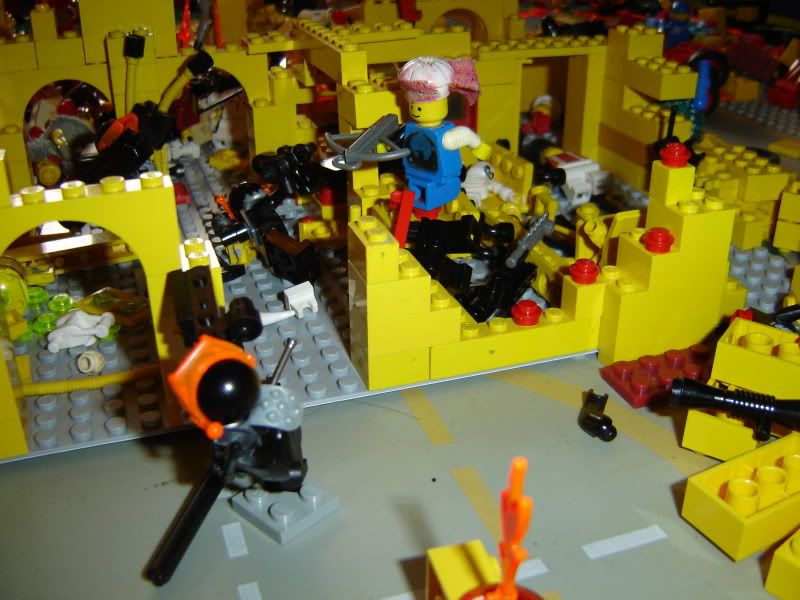 A Scav with a Crossbow makes a rush for the disrupted group and a toxic barb hits Silva piercing his armour. He's not dead yet but has only D6/3 turns to live or be healed. Stats suffer a -2 until he's healed.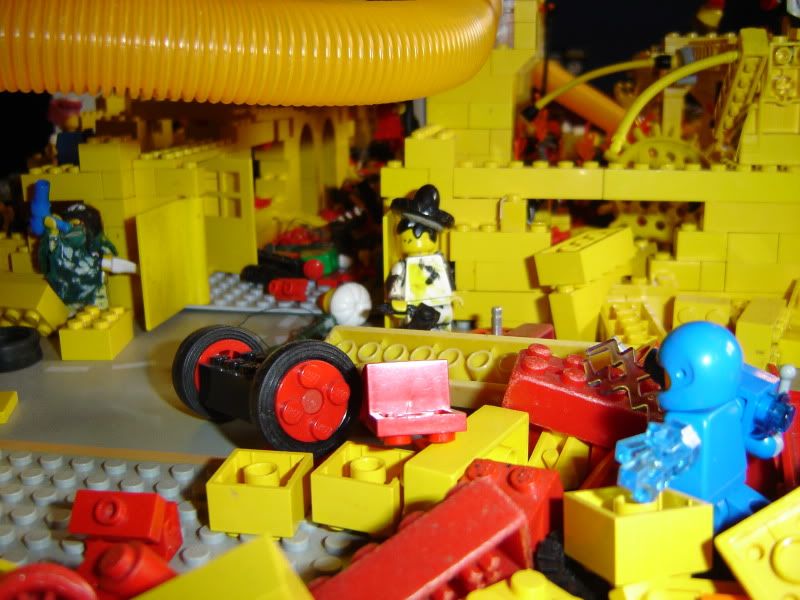 Scavs and Wallies move up to the factory.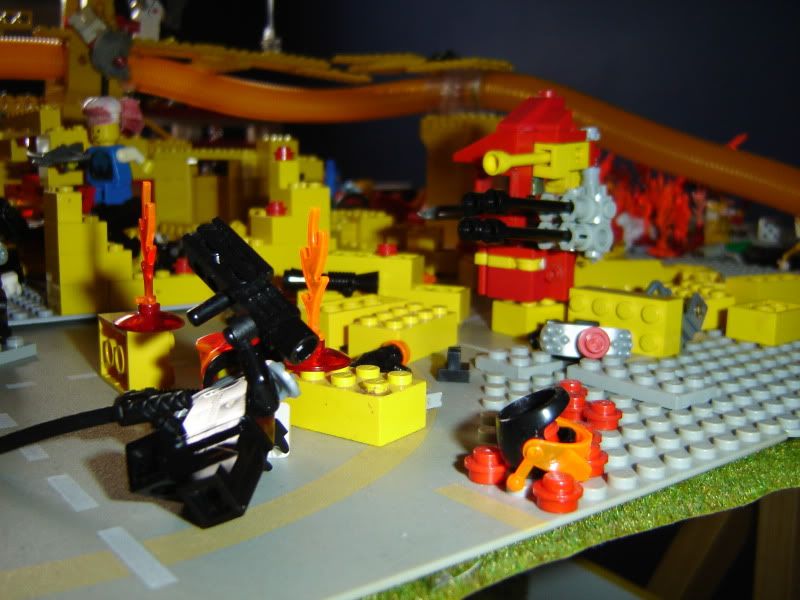 The Last Scav Crab, as yet unharmed looms above Master Sargent Ecabob as it ka-chunks forward.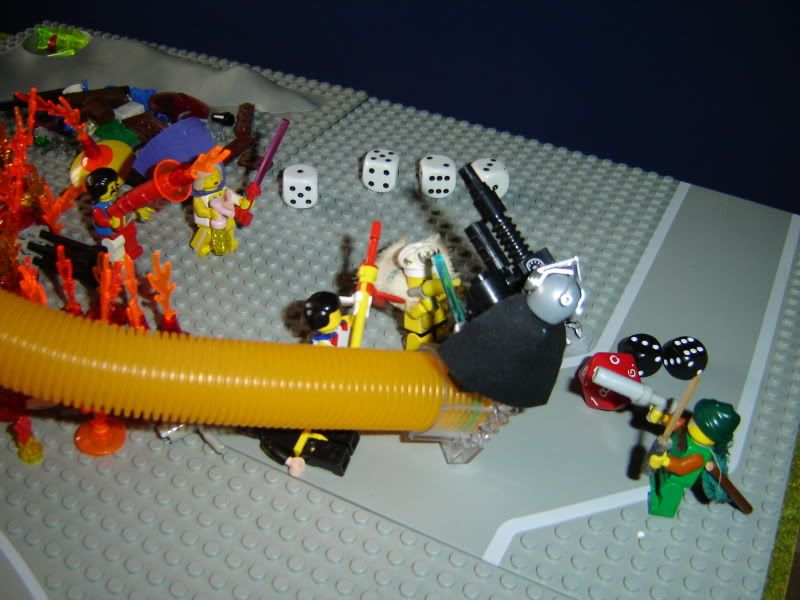 A barrage of Wallie attacks assault Boomer, who is less than impressed. What doesn't outright miss just glances from his armour. Boomers mood is steadily becoming apoplectic. (All violent actions by Boomer next turn will be even more exagerated than is the norm for Maniacs).
Overwatch