I've been neglecting my Austrians. There was more of them, but some of them became Americans which I suppose did happen from time to time in the real world, but doesn't help when I'm supposed to be making them one of the major players in Dinoreich local politics.
In a nutshell the Austrians lead by Baron von Blitzen (and his wife Helga the Baroness) came to Dinoreich from the Prussian Hegemony and settled themselves on the high snowy alpine pastures well above the rainforests and swamplands inhabited by far too many huge and hungry dinosaurs. Safe, but cold and very bored in the small colony township they'd built above the snowline the Baron began to plot and make plans as to how the warm and fertile lowlands might be wrested from Britannian control.
It's only fair that everyone should have a tank, so I dug out this old relic complete with Winter camouflage. Please note the
Wirklich sehr große Kanone
which is apparently 100% guaranteed to sort out troublesome dinosaurs.
The Baron also has a Krupp steam war walking machine as well which I built up from various assorted Bionicle parts, Lego and flexible plastic piping. It's operated by one of the driver/mechanics in the maroon overalls who sits behind what was formerly a white Bionicle faceplate with optics. (I always keep an eye out for those particular faceplates for my walking machines)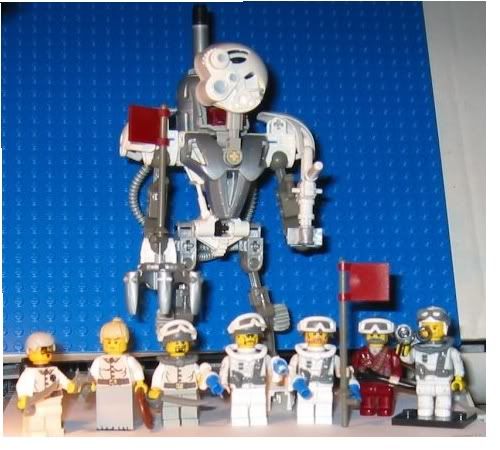 Ignore the blue and white Freeze-O-Zap rayguns in the picture btw, - it was an idea I had that I'm not going ahead with.