Hi guys - Quinn Murphy just tweeted a chunk from Radio Free Kaiju that summarizes his Rights of Play, and it's a lot of the stuff I've been trying to say lately in a much quicker and more concise form than I've been able to say it: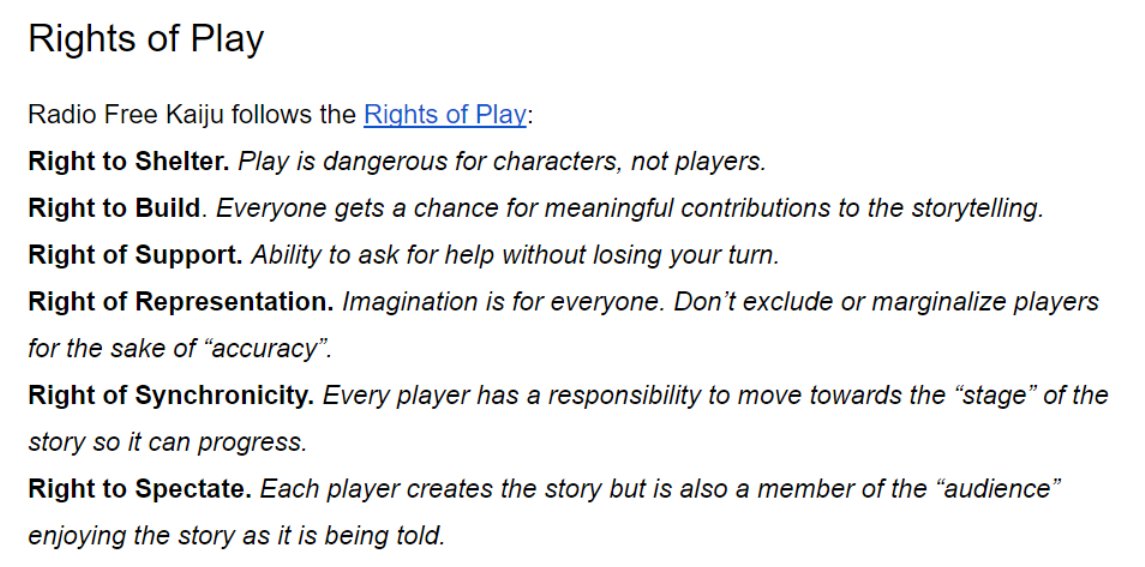 (The full Rights of Play are available free at this link, Creative Commons attribution license)
A lot of the bans I've been handing out over the past couple of years are because I felt like these rights were under threat, so I'm glad to discover that somebody wrote them all down somewhere. Attacking other forum members instead of their armies, wrecking other people's ability to participate, denigrating people for being here to spectate without contributing content, negating other people's attempts to participate, excluding people's contributions because their work is too rainbowy or too clone-brand or not close enough to some asshole elitist standard, etc. It's a lot of what I was trying to say with the
Everyone's the Boss of Their Own Toys
rule, and the full text is worth a read for whatever game you're playing.
It also has a link to Chris Chinn's
Same Page Tool
, which is also a whole bunch of good stuff to think about before any game.