So I was cleaning out files on my laptop, and guess what I found? Photos from an undocumented battle report! These photos were nearly a year old, and I was a little bit at a loss; I always post a battle report within two weeks of documenting it...how did I forget this one? So I jumped onto my photobucket account and, lo and behold, these photos showed up there too! Wonder of wonders.
So, ladies and gentlemen, welcome back to another addition of Rev's Battle Reports. This one is a game between me and McLovin. This is one of the several games that we had been doing campaign style. Victory points accumulate in each battle, the terrain changes progressively, and army composition must include figs who survived in the previous battle. "Exact" specifics on those rules can be found in the previous BarBar Crusade battle report. This particular match was interesting for several reasons that you will notice simply by looking at McLovin's deployment.
Turn 0: The Forces
This is McLovin's deployment in one shot. He is using his rag-tag Forestmen/Black Falcon/Crusader army that often skews heavily toward archers screened by melee infantry. His left and right flanks show evidence of this strategy. However, note some unique choices McLovin made in army composition. In the center of his lines he has a large horde of Munchfigs. He took these because in a previous battle (undocumented) I used a swarm of vermin to harass one of his battle lines. Note, also, that McLovin--for the first time ever--is using his own catapult. It's a classic build, counted as a Size 3 launcher and--with two arms--can throw 2 bombs a turn. Ouch!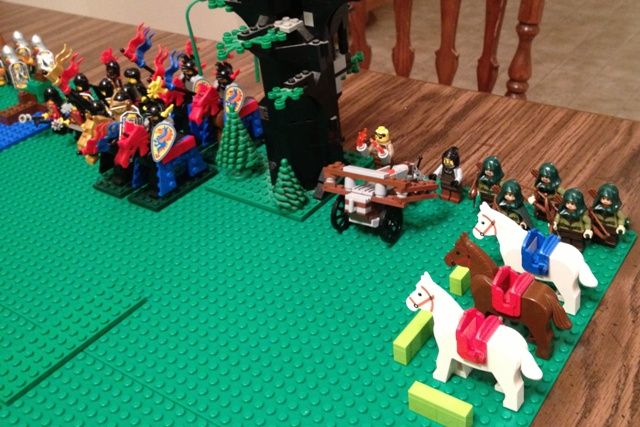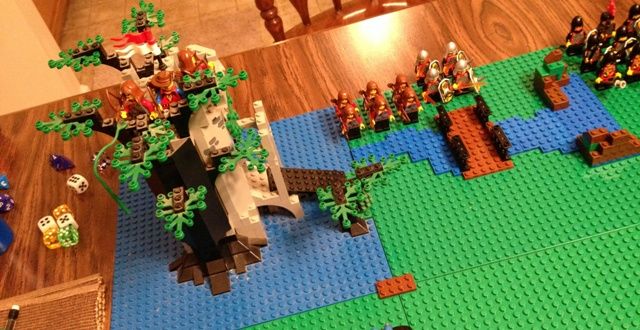 Dragon Guard Deployment is as follows. On the left flank I position some elves and a ballista. Those extra horses are ones I captured last battle. On my right flank, I squat 3 archers in the River Fortress, some more archers behind the river, and fireblades at the bridge. My center lines consist of spear and handweapon infantry (there might be a medik in there), as well as a few knights led by Darius.
Turn 1
Rev.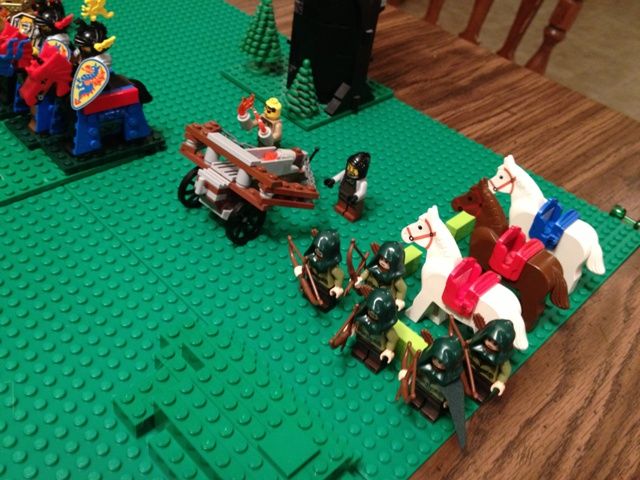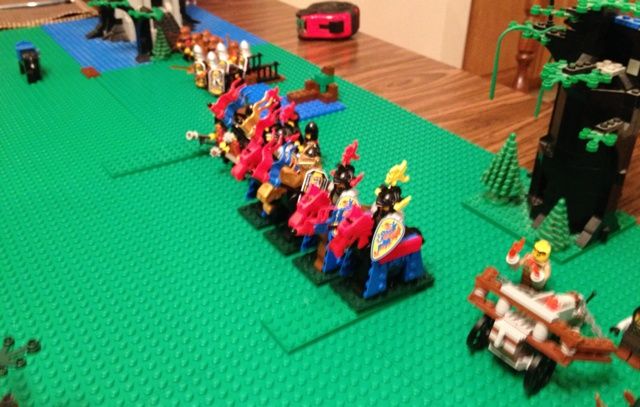 Standard first turn, everyone moves forward. I'm really excited to try these elves on my left flank. I've given them all the
Stealth
Specialty, and there are several places on this side to find cover to shoot from. Plus they have ballista backup.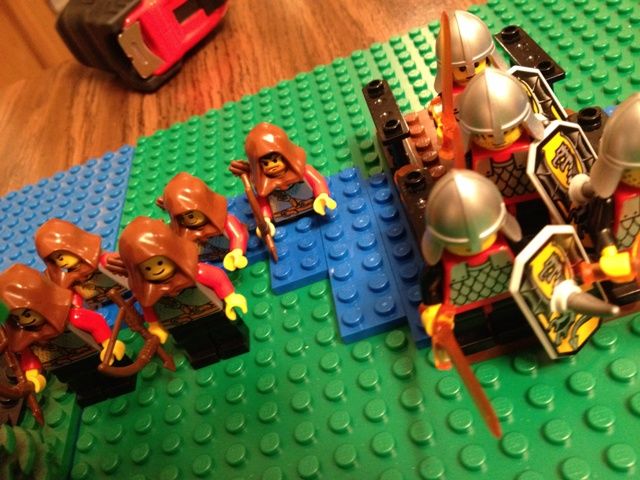 On the right, archers and fireblades wade the river. The archers up in the fortress simply wait for something to get in range.
McLovin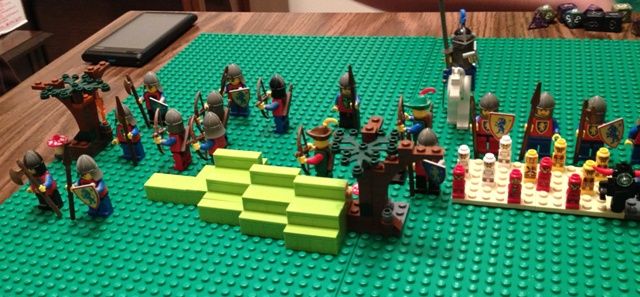 Again, simple first turn. McLovin moves up. You can get a better sense of the swarm of Munchfigs.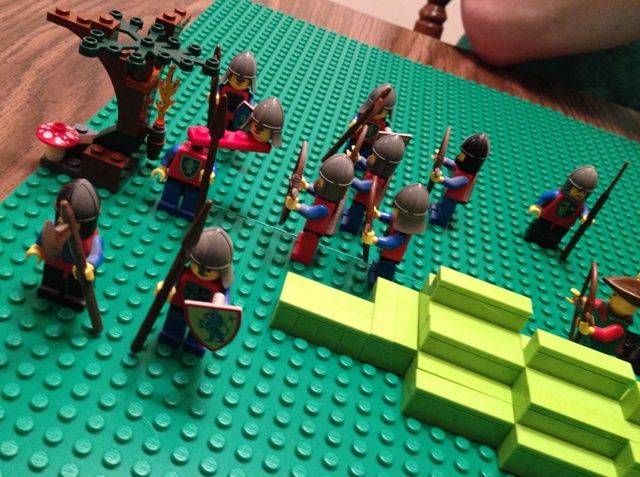 As he moves into range, my elves take a crack and decapitate the crusader by the tree.
Turn 2
Rev.
As the fireblades and archers cross the river, the archers pick on a lone spearman.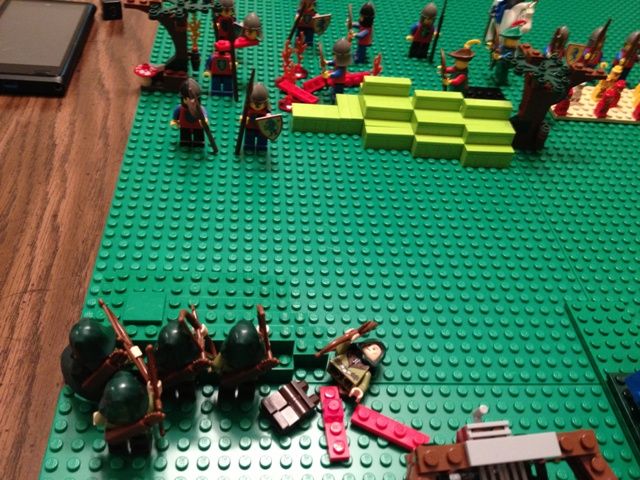 On the Dragon Guard's left flank, a fire-fight has erupted between the elves and the forestmen. An elf and a forestman kick the bucket. A little sad; the explosion did not accomplish much.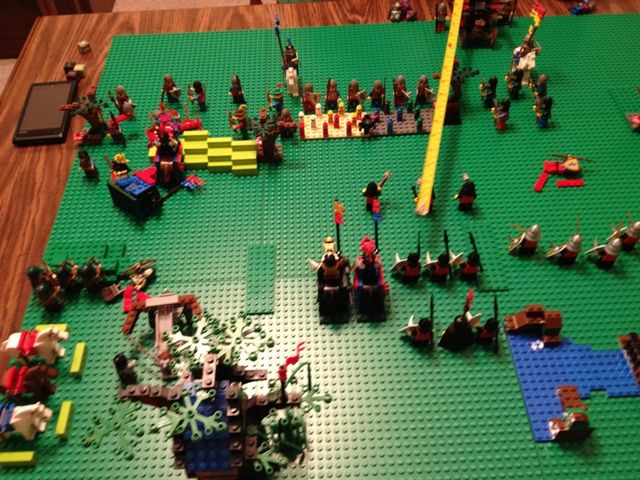 At the end of my turn, here is a little battlefield Overwatch. Two Dragon Knights peeled off to the left, claiming maybe one crusader but losing a horse to response fires. Hopefully you can also see in the center that I'm really trying to spread the infantry out a little. McLovin's catapult fires MKIII's, which means even deviating shots can hurt...a LOT. I'm hoping to give plenty of bailing options to minimize casualties. Notice how he is already measuring for the catapult...
McLovin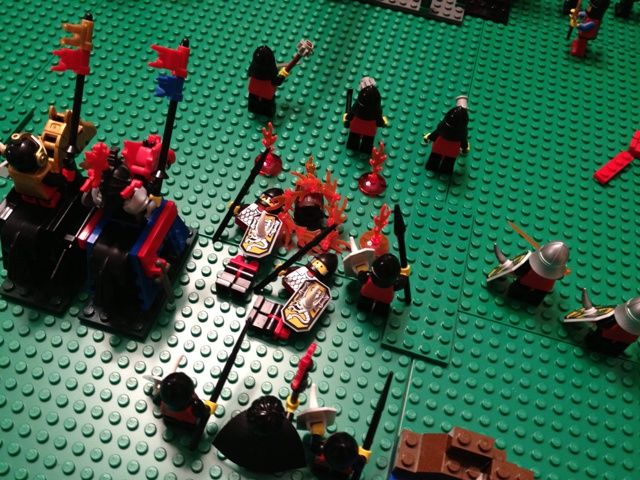 BOOOM!!!
Explosion number one claims two spears.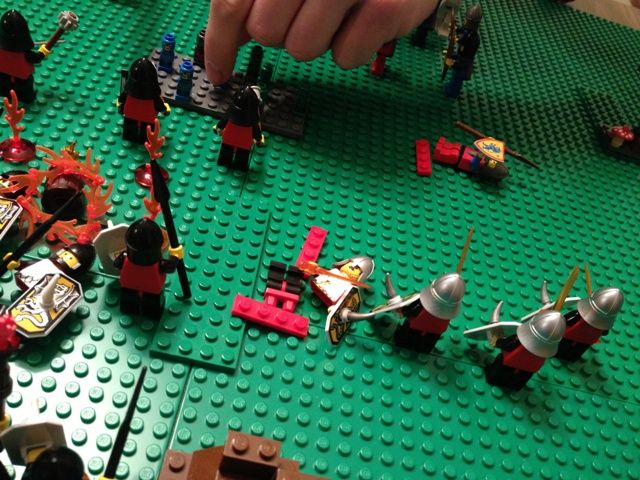 This fireblade is probably an archer casualty.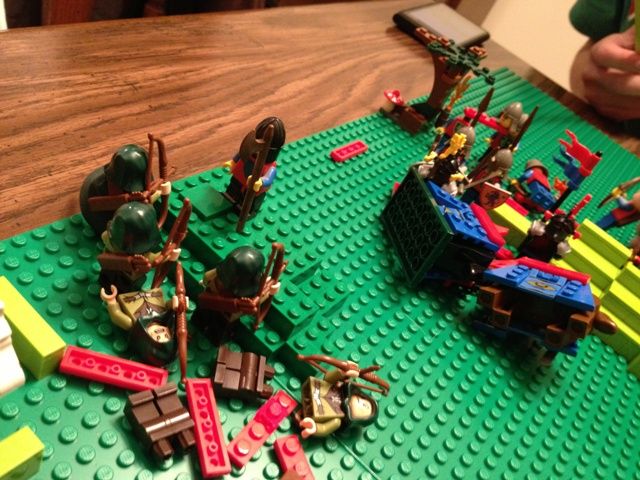 On the Dragon Guard left flank, things are getting aggressive. Another elf-has been shot down (so much for cover!), a halberdier is doing some crazy sprinting, and now both Dragon Knights are de-horsed. Great...
Turn 3
Rev.
So...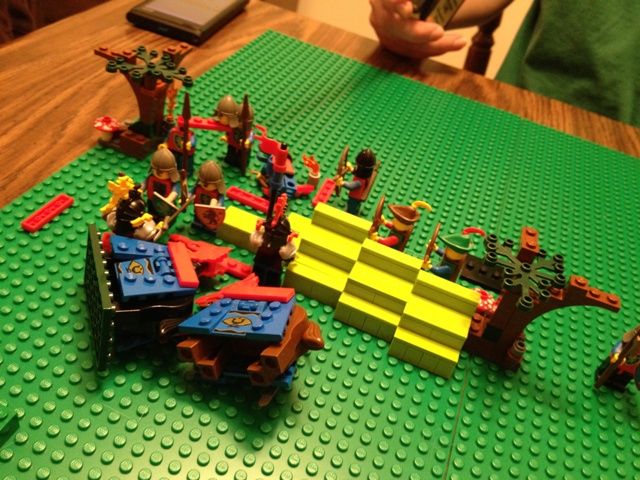 This is all the Dragon Guard accomplish at the beginning of turn 3. A whole lot of nothing. Missed shots and missed swings. I didn't even take photos of the right flank because nothing happened.
Until...
McLovin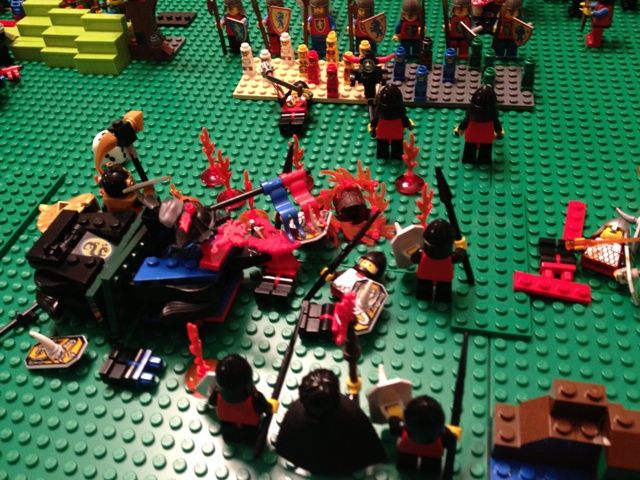 BOOM!!!
There go my horses in the center and some more infantry!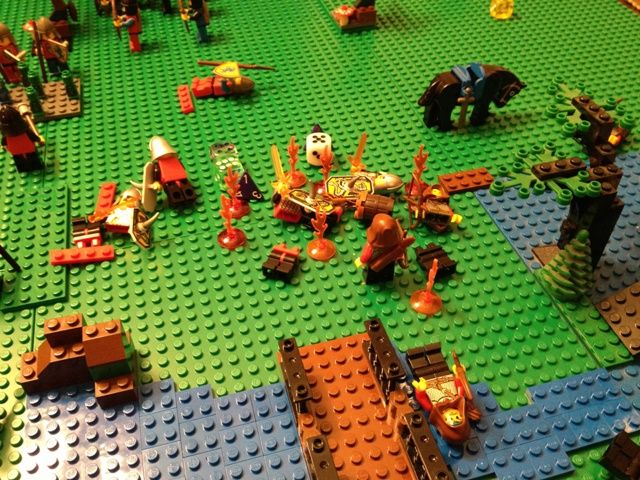 BOOM!!!
How about cutting the archers and fireblades in half!!! Bails saved a couple of them, but missed shots on an MKIII don't deviate quite as far as I'd like, and the kill zone is just SO LARGE.
But before everyone starts feeling sorry for the Dragon Guard, remember that I pulled a similar devastation on McLovin
about a year ago.
Turn 4
Rev.
So what can I do? The allied elves run up to take cover behind the dead horses whilst firing their panzy arrows. The de-horsed knights remain impervious to the weapons of the forestmen and crusaders.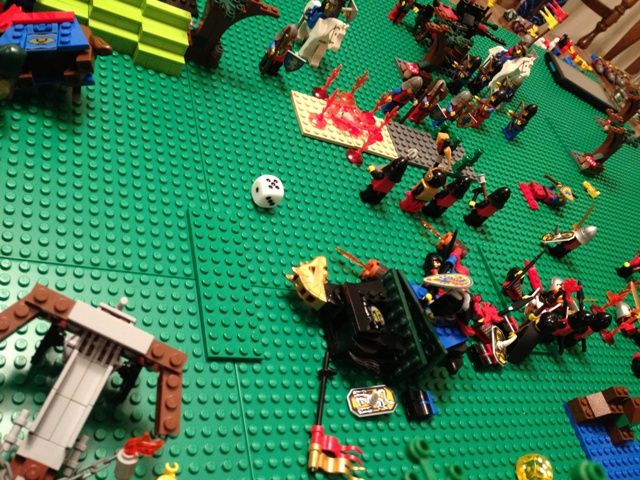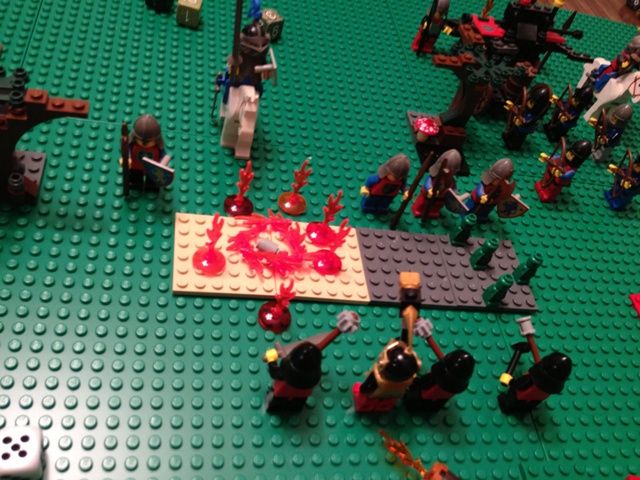 BOOM!!
Sorry if any of you were looking forward to the Munchfigs getting into combat. With an armor level of 0, the most effective ways to deal with vermin (it seems to me) is guaranteed damage. You can pull this off by trampling or crashing or--like I did--AoE damage.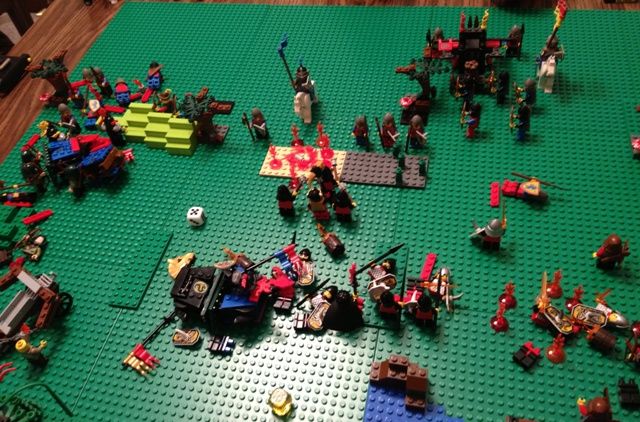 Field Overwatch.
McLovin
McLovin's reinforcements arrive. Notice the kegs of black powder to keep his catapult going.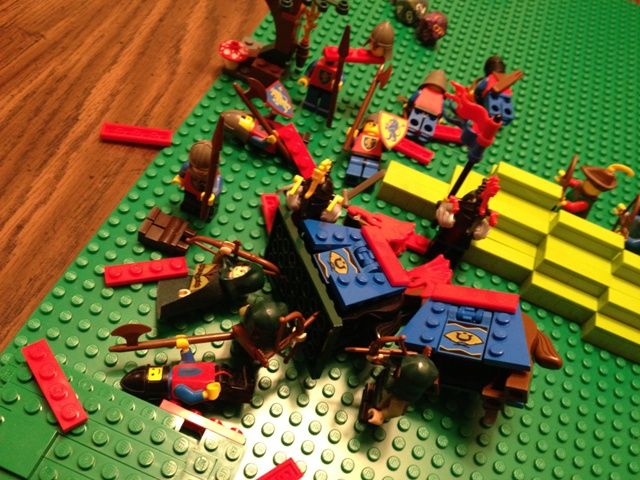 On the elven flank, a spear crusader downs another elf. Boy, stealth was not working out so well this game.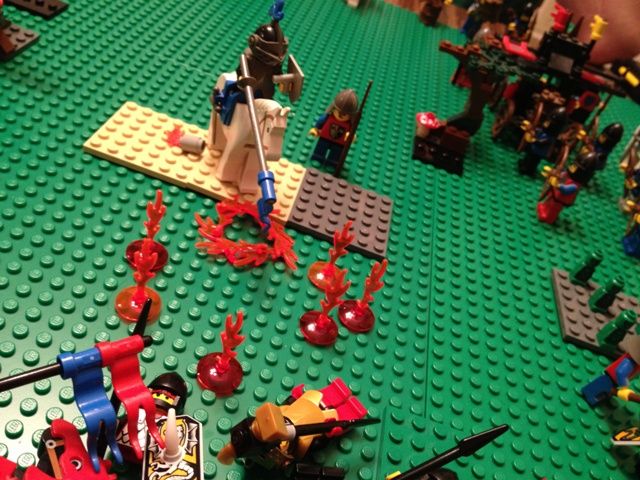 Um....not sure what this is depicting. McLovin's Black Falcon Hero seems to have attacked Darius, who maybe called for a red-shirt before receiving knockback? I have no clue...it has been a long time since the battle.
Crusader guy eviscerates fireblade with abandon.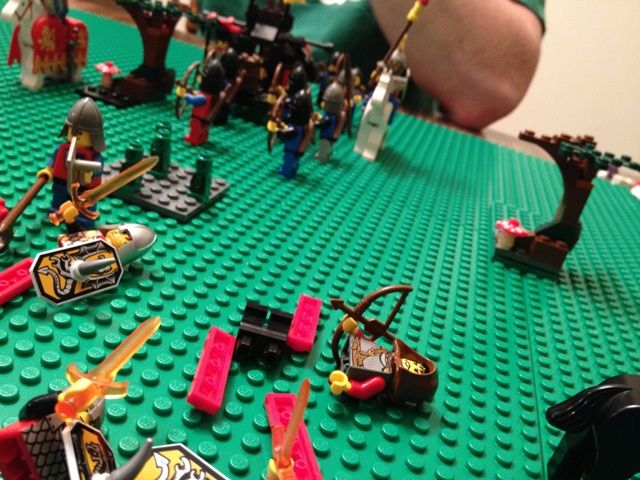 Archer guy is shot by other archer guys. With abandon.
Turn 5
Rev.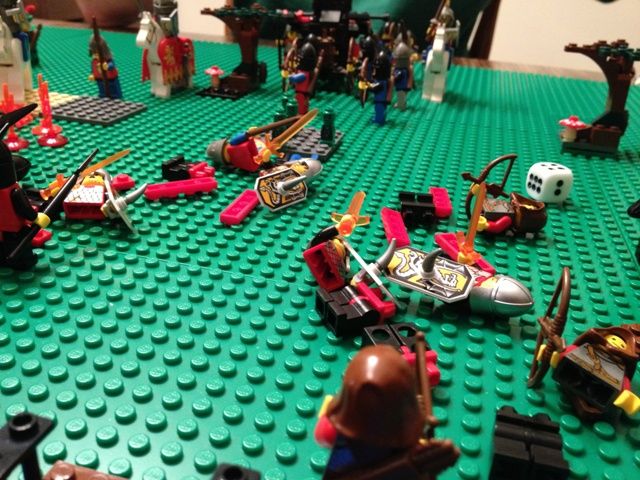 But that is ok; Dragon Guard Archers plink the crusader guy who severed the fireblade
And finally some Dragon Guard reinforcements arrive. They are substantial reinforcements, in the form of a Griffon carrying a squad of archers, as well as the infamous Dragon Cannon! Also, side note, it seems from this picture that the Dragon Guard medik met his end somewhere along the way. This must be why none of the exploded infantry were ever revived...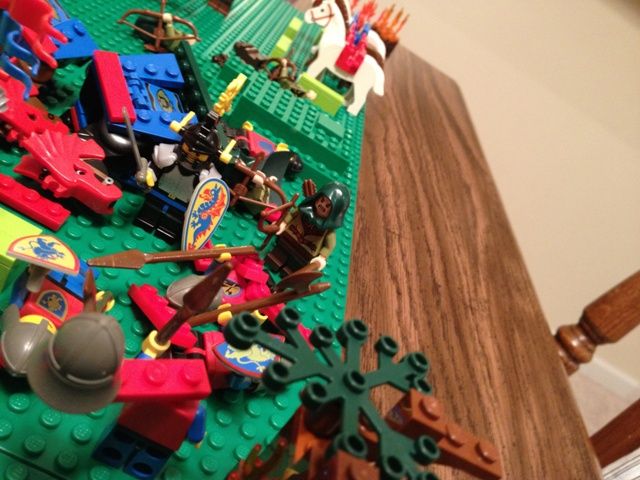 On the left flank, a very peeved elf--the only one to survive--cuts a crusader in half with a halberd that he picked up.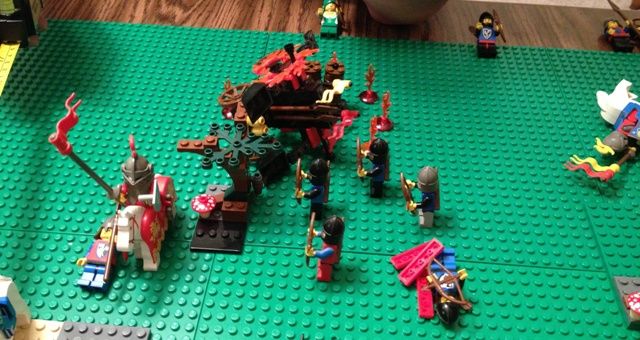 And remember how I said the Dragon Cannon just walked on? So the crew pushed it forward so that it could have a clear shot of all those black powder kegs that McLovin's reinforcements just brought on. The Dragon Rocket connects and causes a chain-reaction that obliterates all of McLovin's catapult's ammunition, the catapult itself, and about half of the forces that were once surrounding the catapult.
Bear in mind, I'm not really a fan of swingy games; and you can tell by the report so far, McLovin was working the Dragon Guard over pretty hard. Destroying his catapult, ammo, and infantry decisively brings the Dragon Guard back into the game! Whoo! Perhaps with a big advantage, too, since I now have the only working war machine on the field.
McLovin
Truth be told, this just wasn't McLovin's turn. The loss of lots of infantry of his own was also met with a plethora of whiffed attacks on both the right and left flanks.
And when McLovin's Crusader knights make daring charges that all miss their mark, McLovin becomes very demoralized indeed. So demoralized that he decides to call the game in favor of heading out to a local bar.
Field Overwatch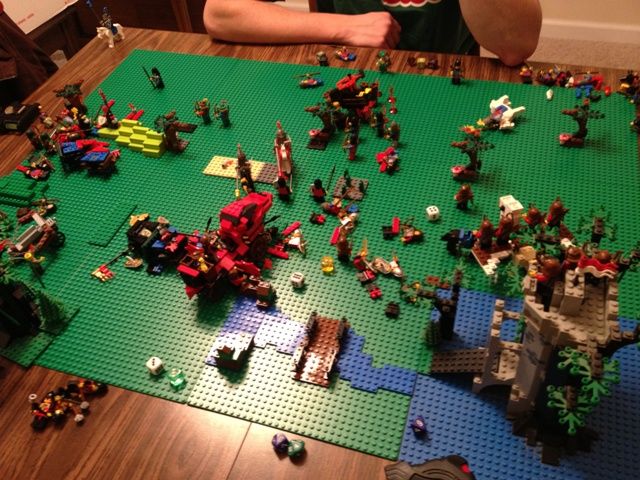 I want to do a quick tally because I'm not sure the swing in the Dragon Guard's favor was as severe as McLovin thought it was:
Left Flank: I have an elf, two armored infantry, and an empty ballista to his two archers and two spearmen.
Right flank: I have a griffon and seven archers unopposed.
Center: I have two infantry, cannon, and crew versus a hero, 4 munchfigs, 3 knights, and four archers.
Ok, so maybe the Dragon Guard did have an advantage...not impossible, though.
Victory to the Dragon Guard!
Tactical Assessment:
So, as many of my battle reports indicate, explosives in a medieval battle are quite potent and must be reckoned with. It did not cross McLovin's mind at the time, but crowding his own figs around a pile of explosives that I was able to shoot at was not a super-smart idea. That mistake swung the game. Foolishly, I left 3 archers in the tower the whole game and they never shot at anything. Likewise, I was underwhelmed by the stealth advantage the elves had. It seemed whenever McLovin's archers shot at them in cover, he simply rolled a critical hit anyway
. Can't really do much about that.
In another battle, if I had to think of ways to overcome a more well-protected Size 3" launcher, I'd probably dedicate some swift or flying units to sneak around and harass it from another angle. That or spread out my infantry even farther than I already felt I was doing. Trust me, a 6" diameter explosion covers A LOT of ground!
Anyway, I'm done rambling. Hope you enjoyed the battle report. I'm delinquent on a Forum Battle that I keep promising some people, so if you all could call my clients, ask them to stop having crises for a few weeks, I could actually get it set up :=).
~Rev.