Reeo IX, baseworld of the Ordo Orientium Flagrans, had been silent for weeks. Purgation squads had all but ceased; Freedom Fighters combed through the expansive marshlands, running into no hostile lifeforms. Least of all the Space Knights. The ragged band was become more close-knit, their tactics and resolver were growing rapidly. If this uneasy "peace" prevailed, their compounds might even begin to ease up a little, begin the construction of villages and outposts facilitate agriculture. Perhaps the mercenary planet hopping could cease and the Space Knights would finally let the "deserters" exist on their own. No more inquisition...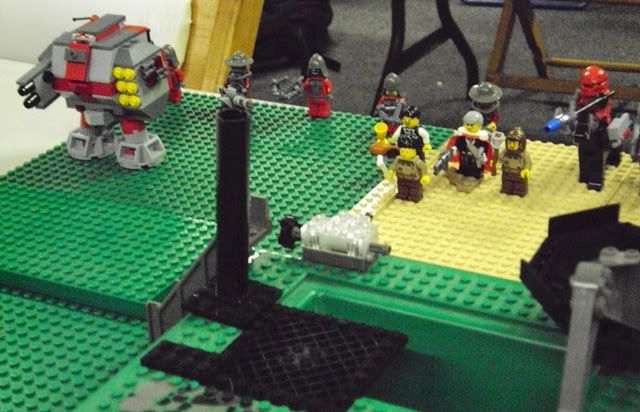 A fool's hope. The Space Knights were back and in force.
Perimeter zone Beta-7-Charlie. OOF squads on patrol could hardly believe their eyes. TWO Dreadnuts this time! A month ago, the zone three clicks south west had withstood the wrath of one of those lumbering sarcophagi; only just withstood. It took weeks to clear the debris and repair the devastated bunkers and defenses. The COM officer radioed command, but there would be no time to trust in reinforcements. The OOF would have to make due with a single Freedom Fighter Squad, one unit of commandos, a single speeder, only one Blue Knight, and the perimeter turrets. [I know that there is an extra squad shone here and in the next few picks, but my opponent - we'll call him Ned - decided to skip the Dreadnuts in favor of dragons after I took these photos. To try and keep CP close, I removed a squad of my own].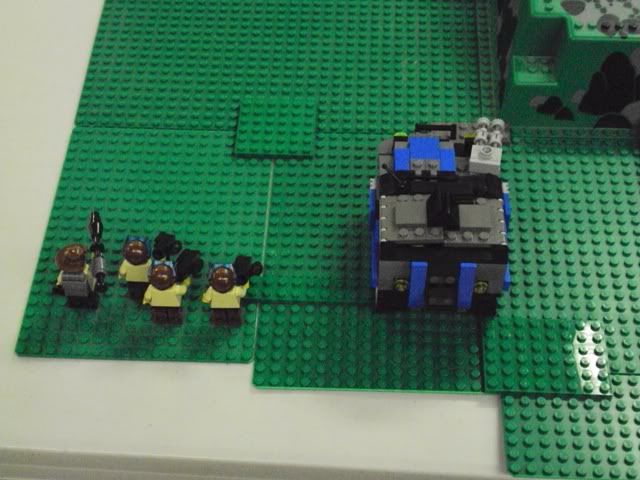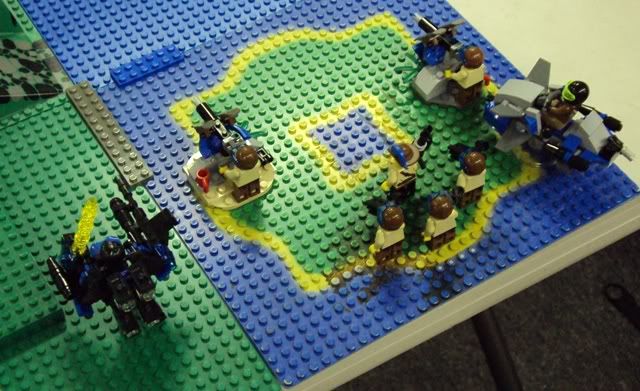 Objective: Survive. Maintain the Perimeter at All Costs.
So, enough with story fluff. Welcome to another Philly Brikwar with your host, Rev. Sylvanus. Today dirtycajun and I were gearing up for another slugfest when his boss called him and dirtycajun had to leave suddenly (he's an EMT/Ambulance dude). Being without a partner, a guy we'll call Ned decides he'd like to play. I say sure and give him use of my Space Knights. The battlefield is sparse. Didn't really have time to make it elaborate with dirtycajun's sudden departure and the fact that Ned was dividing his attention to this brikwar and a DnD MOD. Anyway, this is an intro game for Ned who had never played before. Stats were somewhat simplified, several rules completely overlooked (like compensating...and that eventually bit me in the ass), and we skipped heroic feats (i know, i know, I'm sorry, but Ned was so distracted going back and forth between two games that I never had a moment to explain it to him, lol). Anyway, let the battle commence! (Oh, and I apologize for some real shoddy photography this game. Lighting was bad and I just didn't put the effort in that I usually due; apologies).
Turn 1
The FF squad moves forward on the left flank. One of the Fighters has a Size 2" RPG. Urban Commandos drive forward and three of them disembark on the hill: a sniper, a CC specialist, and the Mechanik. The Blue Knight also pushes up.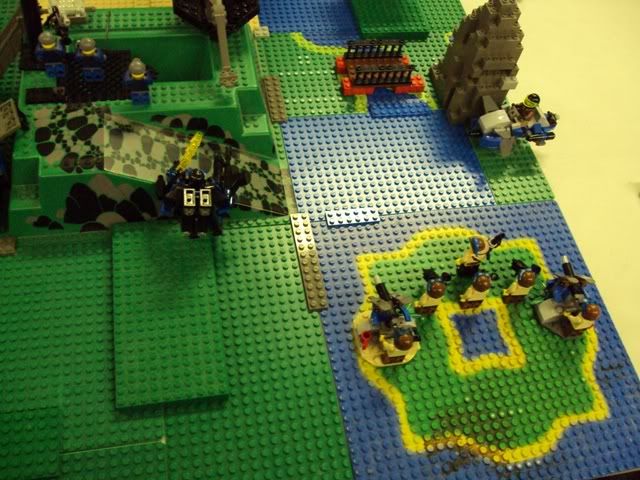 Not much on the right flank; the speeder shields himself with a cliff, and the squad that is eventually taken off moves up too.
The sniper took a shot at a peasant but missed.
On Ned's first turn, a minigunner on a Dragon swoops in and goes to town on my CC Specialist. A Rocket Knight has also boosted up on the hill, but his shotgun is ineffective.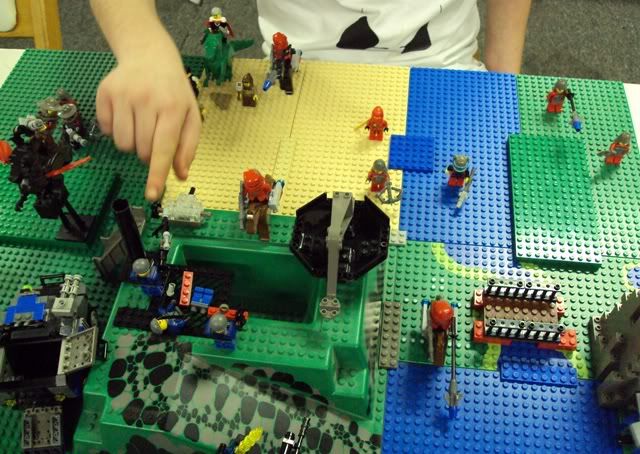 Here are Ned's general movements for the turn. Mostly, everything moves forward. A Rocket Knight is headed for my right flank. most everything else is bombarding the left. No other casualties this turn
.
Turn 2
Ordo Turn 2, and more movements forward. The RPG stays put to get a bonus to hit, the APC backs up a little, the Blue Knight jumps the hill. They are all taking aim at the dragon supporting the minigunner.
Combined fire gets the job done!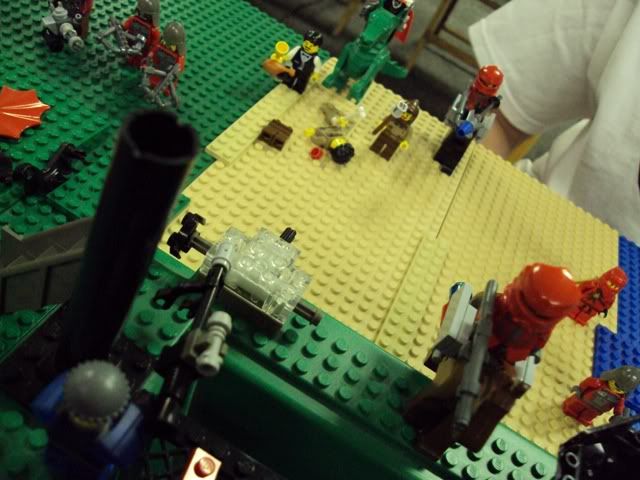 And the Urban Commando Sniper actually takes down the peasant he failed to kill last turn.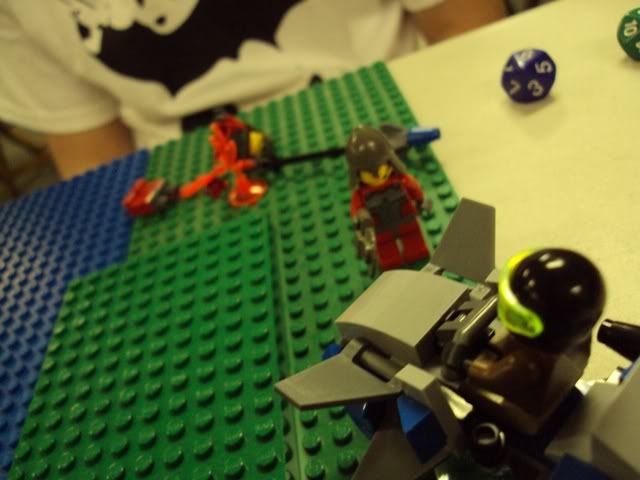 Here on the right flank, my Speeder moves way up to engage some of the Space Knight infantry. And here also begins a bunch of concessions on my part.
Ned wanted to try and "hack" at my Speeder with a handsaw like the Mechanik does. And being a nice guy, I decided to missile the guy in the background rather than flamethrower both figs. It's not about winning, right? It's about making others excited about the game, right? Lol.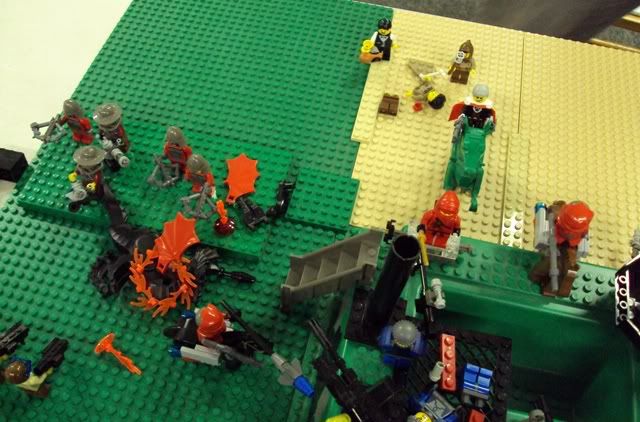 Ned's movements for turn 2. Razorbows and Gunners move up. His ninja makes it to the hill and is in Angry Inch range of my sniper.
On the right flank, Ned does his saw thing and decides it'll be funny to "hack" at the remaining missile on the speeder. Guess what happens when you use a power tool on an explosive device? Eeyup.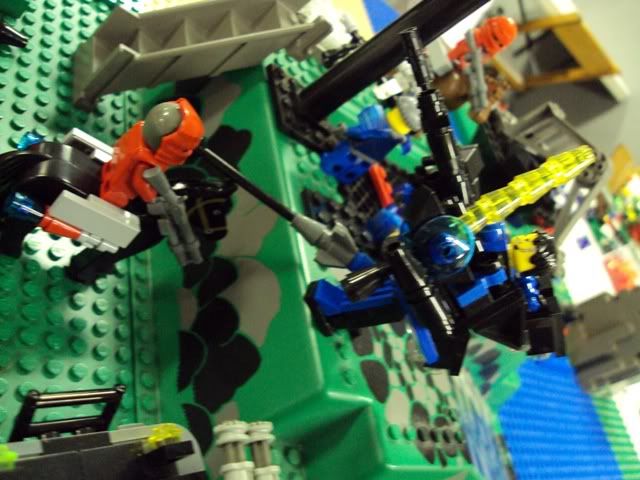 On the left, a rocket knight goes for the Blue Knight's crotch. The attack damage is pitiful
Also, the ninja was completely incompetent at killing the sniper. The attack whiffed, and the sniper successfully pushed the bugger into the pit. The Rocket Knight on the hill still fails at using the shotgun.
The third rocket knight tries to lance one of the turret's but drops the lance instead (crit fail). Hahahahah, silly knights.
BUT...either a minigun or a razorbow was in range, and dealt lethal damage to the sniper.
Turn 3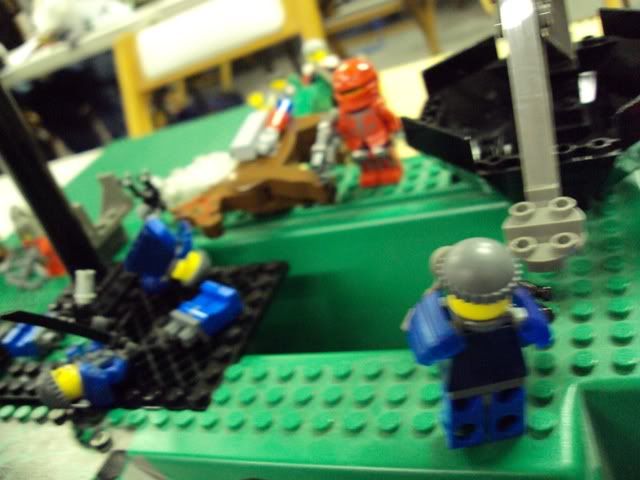 OOF Turn 3 and the commando Mechanik machine guns down a horse. In retrospect, I probably should have shot at the prone ninja or the knight himself, but...meh
...like I said before, I'm not trying to win this game.
On the right flank, the turret soldier decides not to swivel his gun. Instead, he runs over, picks up the downed lance, and tries to boink the Rocket Knight with it...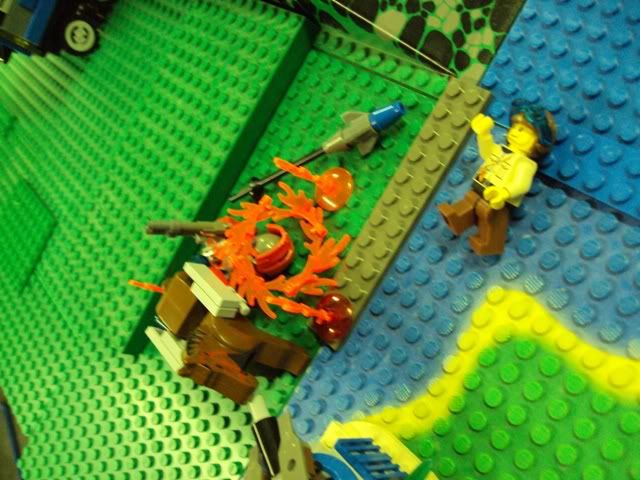 SUCCESS!! The OOF soldier is just disrupted, though.
The blue knight guns down the Rocket Knight on the hill.
And the APC, after failing an attempt to ram the horse across the battlefield, concedes to just gunning his rider down also. A productive turn, I'd say.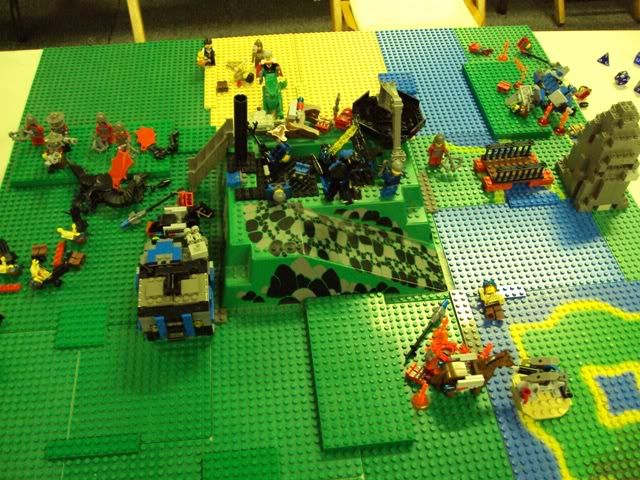 (An Overwatch of the field since I haven't proffered you one in a while).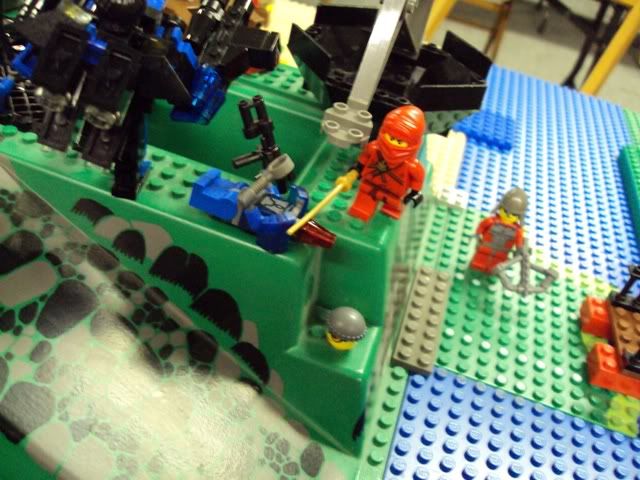 Ned's Turn 3. Remember when I said I should have gunned down the ninja. I should have. He leaps out of the pit and hacks at the Mechanik. She won't be needing her head for a while.
OH! And I guess I didn't get an explicit shot of it, but last turn, one of Ned's mini guns completely hosed 3 of my Freedom Fighters in one shot! And so on this turn, the RPG guy is also laid waste. Man...I'm running out of infantry FAST!
Ned's movement's forward.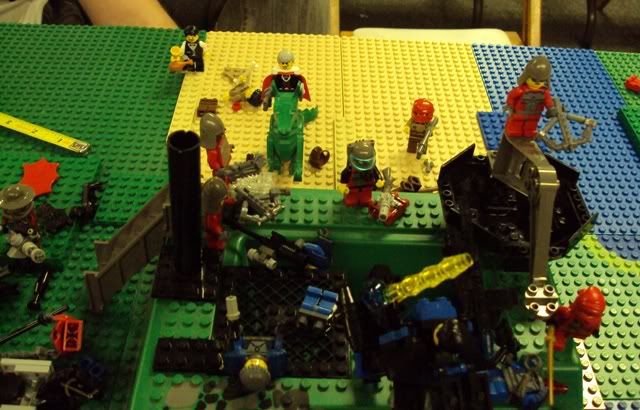 Here, Ned has successfully clumped 3 razorbows and a commando of his own on the hill. They all combine fire on the Blue Knight and bust off on Size HP.
Turn 4
OFF Turn 4. The APC backs up and drives into a razorbow who is still on the plain. That razorbow is split in twain
.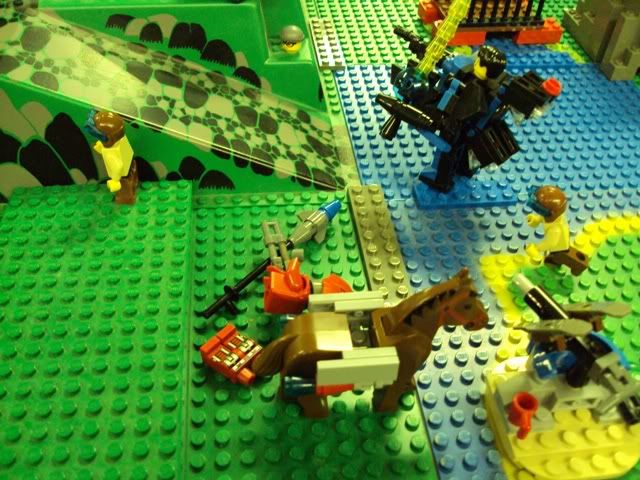 On the right flank, the turret soldiers abandon their posts; for one thing, Ned has had no other units in their vicinity to shoot at. So they book it toward the main carnage to try and find some weapons to join the battle.
The Blue Knight leaps back off the hill and launches a rocket at two razorbows...
They do not survive! But also note that in the background, a Space Knight peasant has seized the helmet and shotgun of a downed knight.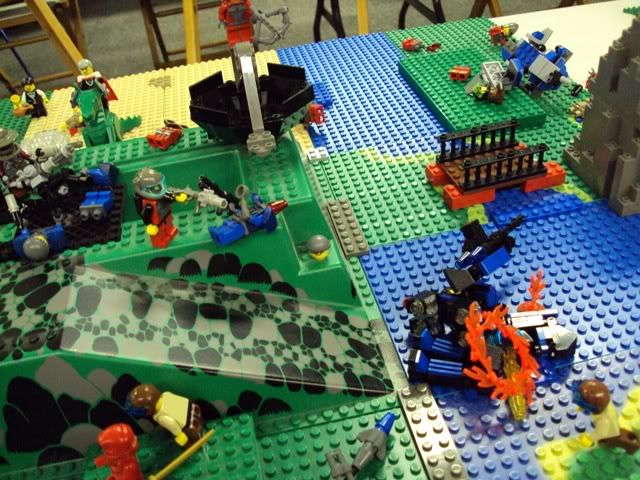 Ned's Turn 4. Yup. More combined fire. I've been such a nice guy this game, giving my opponent good advice on what to shoot, when to shoot, how to shoot, how to take out my "best units." Hahaha, the Blue Knight goes blammo!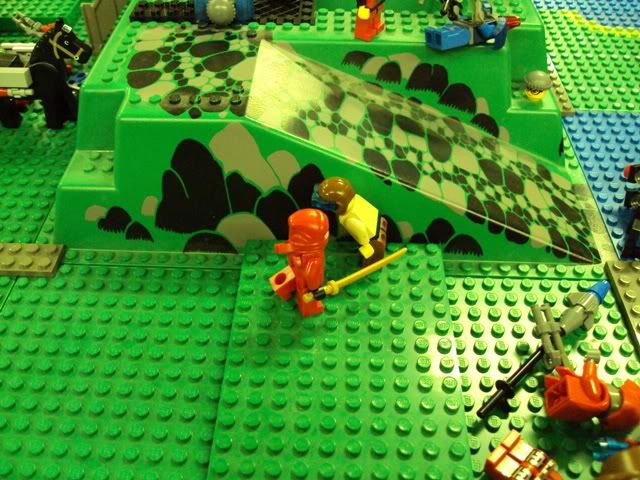 And Ned's ninja tries to go for one of my two remaining Freedom Fighters. This is a REALLY incompetent ninja, though.
Turn 5
The APC guns down the last Space Knight heavy (with the minigun).
Kicks it in reverse to pick up his buddy who just narrowly escaped death...
And then hits the NITRO off the table (Ned had to leave, and very well may have taken the game at this point. He still had two razorbows, a ninja, Sebastian with his SMG, a peasant, Bonswa, and a commando. I only had the APC, driver, and single Freedom Fighter. I might have been able to drive around taking little damage and picking off his guys, but we called it there in Ned's favor).
Epilogue
The ground lay soaking in oil and blood. Perimeter zone Beta-7-Charlie was overrun. Sir Sebastian, leader of this Space Knight contingent lazily kicked at the boot of a Freedom Fighter who was face down in the mud. Realizing that he just scuffed his shoe in the process, Sebastian made a face and yelled at the top of his lungs: "Bonswa!"
"Coming sir, coming!" The butler automaton sped to his masters side. No words were needed. He knew instinctively what his master needed at this moment. Bonswa undid his ascot and began buffing Sebastian's pennyloafers.
"A splendid victory today, sir! I quite liked the use of holoprojectors to make it look as if we brought Dreadnuts!"
"Yes, me too, Bonswa. Good heavens, when will these ruffians learn that how expensive Dreadnuts are! We can't just field them all day, can we? But the dragons were a nice touch. Very classy."
"Shall we pursue?"
"No...I think I'll have some tea, first. Give the Royal Space King a telephone for me. I'd like to chat while I sip."
Thanks again for stopping by for another of Rev's Battle Reports. As of today's session, I've roped two more interested people into giving brikwars a try. Hopefully the ones who just watched this week will play next week!
~Rev.