Greetings forum dwellers,
For those who have been following my most recent Bat-Rep, you know that I've been training up a few new brikwars young-bloods. Well, one of my opponents from last game, Paco (not the Duck Ninja), and I decided to pick up another game tonight so I could show him some more of the rules. It also gave me an opportunity to field my entire Hii'mboredagain Raider Horde, something I had never done before. So without further ado, I present the lastest edition of Rev's Battle Reports: Drakhirri vs Barbarian Horde
SPOILER: This game was very tactics heavy (my friend and I love war games), and I'm going to pause from time to time in this report to talk about "strategy" - at least as much as you can in a brikwar. If "strategy" bores you, ignore my walls of text and just look at the pretty pictures
.
Turn 0/Setup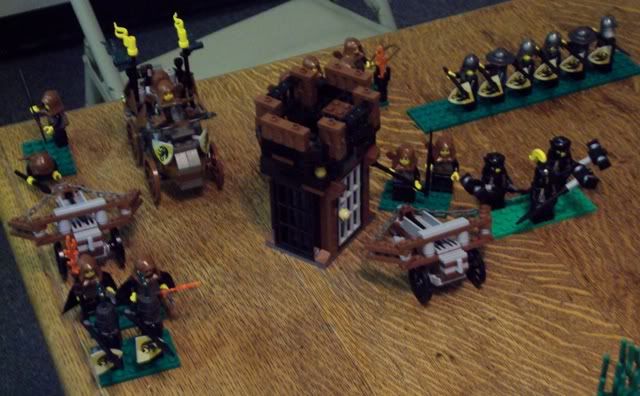 Here you can see the Drakhirri Forces that Paco has put together (for the record, my friend is using my own collection, customizing and swapping out parts from my Dragon Guard army to fit a dark-green-black color scheme instead; he's done a good job). He loaded his right flank with siege equipment and archers, plopped spearmen and heavies in the center, and has aligned his left flank with cavalry. His hero is a knight errant in gold armor.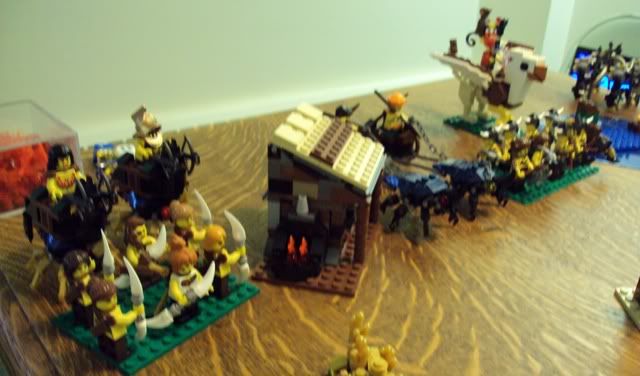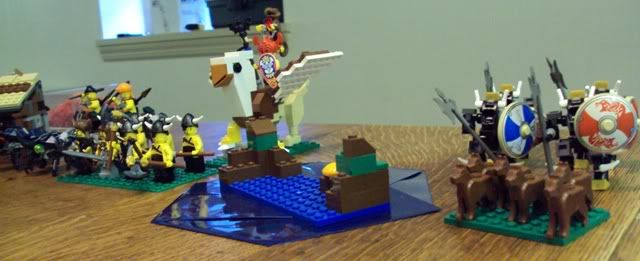 And here we have the full force of the Hii'mboredagain plus a wild griffon (caus I love my griffon!). On my right flank, I've placed two beetle walkers with repeater crossbows, a squad of amazons. In the center I have a block of marauders, two scarab chariots, and a VooDoo Shaman on the Griffon. On my extreme left flank, I have a unit of warhounds being backed up by 4 minotaurs.
Barbarians Turn 1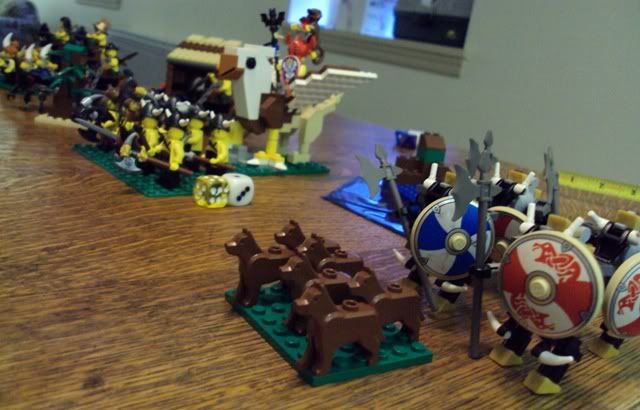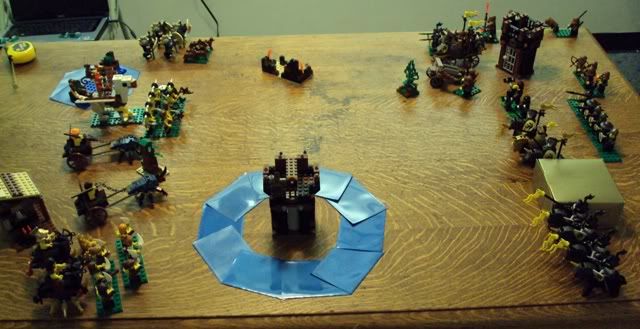 Turn one for the raiders only involves forward movement. No one sprints...everyone just moves up. My VooDoo shaman is testing IVhorseman's summoning rules, and attempts to summon swarms. Attempt fails. Using it's supernatural dicepool, the shaman does augment the armor of the marauders with the strength of Spirits from the Past. Here you can also see a layout of the battlefield and my corresponding movements.
Strategy: You may or may not be able to tell, but I've almost completely out-deployed my opponent (we did this Warhammer style where each person places 1 unit at a time). I've got a unit of swift dogs and Minotaurs to roll down his war machine flank, his cavalry are misplaced across from a moat that will prevent him getting behind my lines, and I've got an anvil unit in the center, augmented by a caster, that has charging-chariot backup.
Drakhirri Turn 1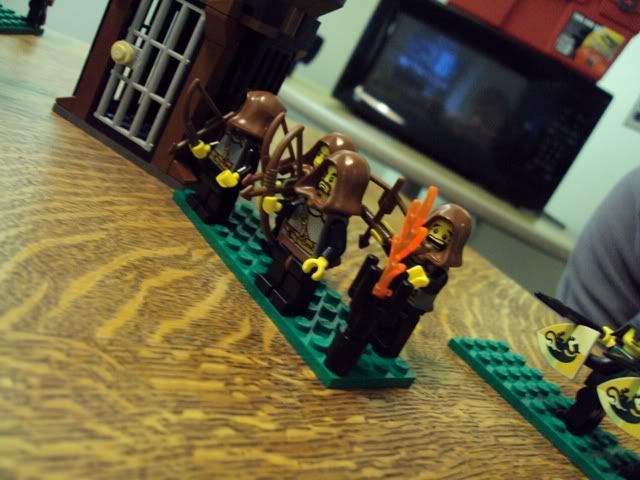 Just a neat little photo of his archer squad who brought a brazier with them. That is, on turns when the unit aims, their arrows gain +1d4 fire damage.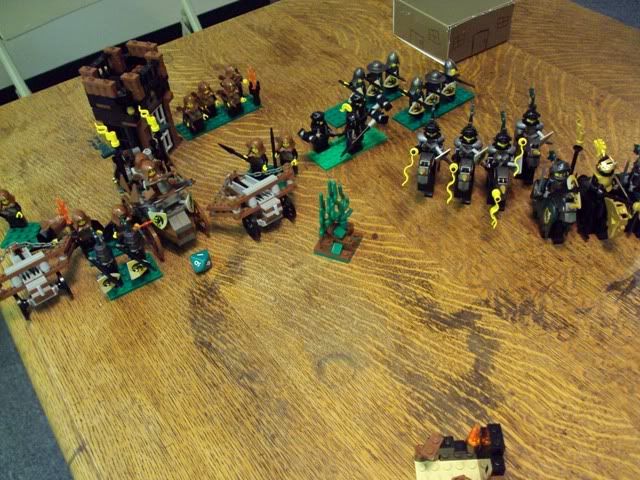 Paco moves the Drakhirri line forward, and swings the cavalry from the left flank into a arc in the center of the battlefield. Archers approach the tower.
Strategy: This was probably Paco's biggest mistake, and one that I've seen others make before. The way he's angling, his cav are making for my Marauder block, which is just fine to me. I'll have an entire round of shooting to de-horse a bunch of his knights and make the charge that much less devastating. Plus, my shaman has left his Supernatural dice with the Marauder unit to buff them (while he suffers -2 skill).
Barbarians Turn 2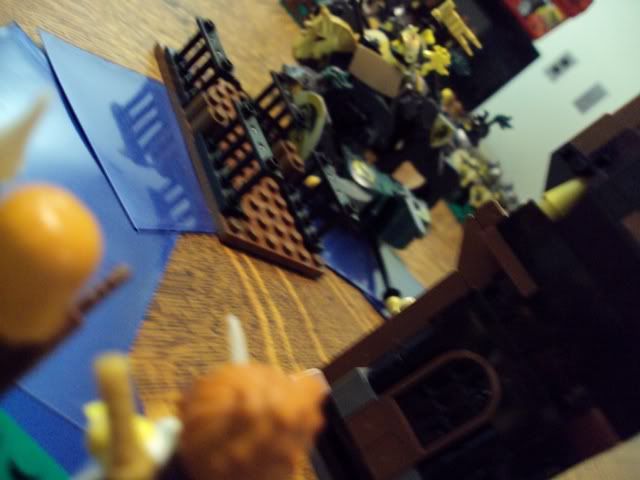 As the barbarians continue to press forward, the amazons hit the tower moat. Using combined fire, they gun down one barded horse. A Scarab chariot makes a gutsy sprint charge and eliminates the knight-errant hero's horse.
And even with skill minuses, the VooDoo Shaman successfully activates his summoning staff and brings a total of 6 vermin onto the field (2 vermin per plate).
Elsewhere, the marauders, minotaurs, and the wolves just advance; the wolves and minotaurs will be in charging range for next turn.
Drakhirri Turn 2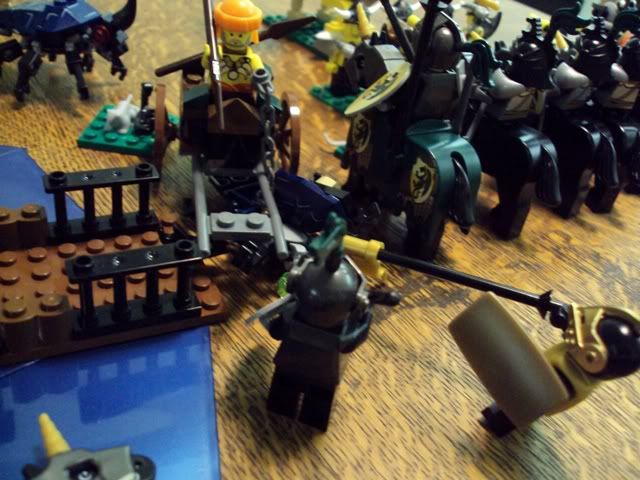 Even though they are unhorsed, the Knight Errant and the Drakhirri knight use their lances as two-handed weapons. They wipe out a Scarab.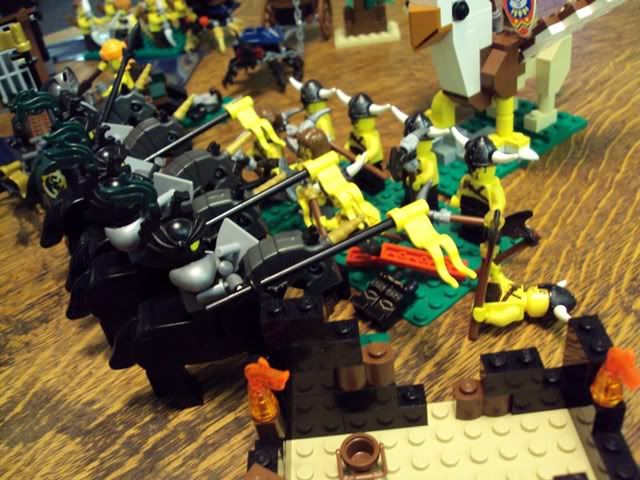 In the center of the field, the remaining Drakhirri cavalry charge in against the buffed marauders. I believe that the Knight Errant hero gave them an inspiring speech, too, giving their lances a little extra damage. BUT, my VooDoo enchantment really helped out; I only lost TWO marauders to the charge and my hero Conrad took 1 wound.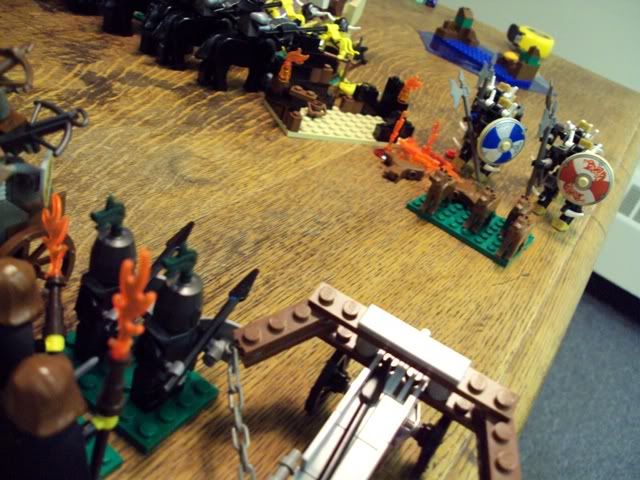 On my left flank, volleys of war machine fire eliminate two wolves and bust 1 hp off of a Minotaur.
Strategy: So, here is the predicament Paco is in; his cavalry charge did not do near enough damage and they have absolutely not infantry support right now. All his spearmen are 10-12 inches away. Moreover, his ranged units are tied up trying to keep my minotaurs from rolling the flank. That means if I can eliminate his mobility (his horses), his knights won't be able to get
carried away
to set up more charges.
Barbarians Turn 3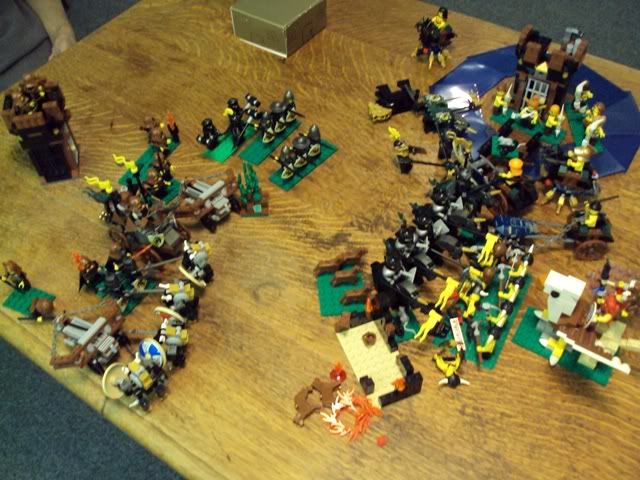 Here is an Overwatch with the Raiders' movements for turn 3. And from this angle, you can see the predicament Paco is in: both of his flanks are in serious danger. The minotaurs got their charges off against the war machines and their few bodyguards, the amazons have seized the tower grounds, and I've moved a Scarab walker to threaten machine gun shots against the exposed infantry in the back line. Both of my threatenings of the flanks make it less likely his Drakhirri knights will receive support = dead knights rather soon.
The minotaurs slam into the ballista and one of the heavy guards.
The remaining wolves - aided by a vermin swarm - poison a horse to death.
The second Scarab Chariot gets a 4-inch charge off against a horse.
The Amazons combine fire to take out one of the barded horses (the barding we used this game was the 1d10 armor from the 2005 rules).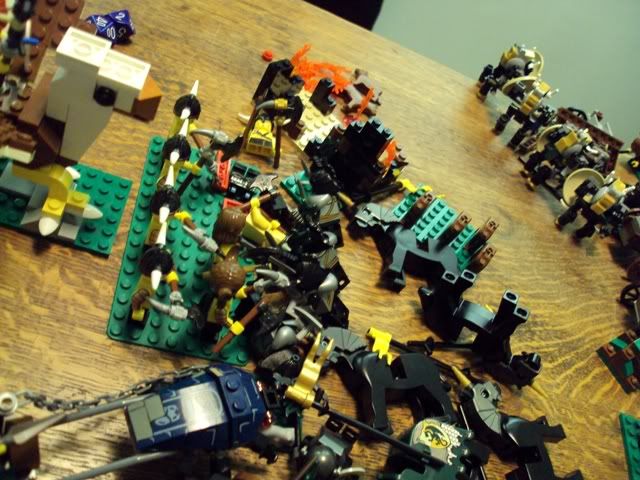 And the squad of marauders hack down the final Drakhirri Knight's horse. Any threat of mounted charge attacks is now moot, and the knights will not be able to run away effectively since they are
armored.
To add insult to injury, the Scarab walker on the extreme flank guns down two spearmen.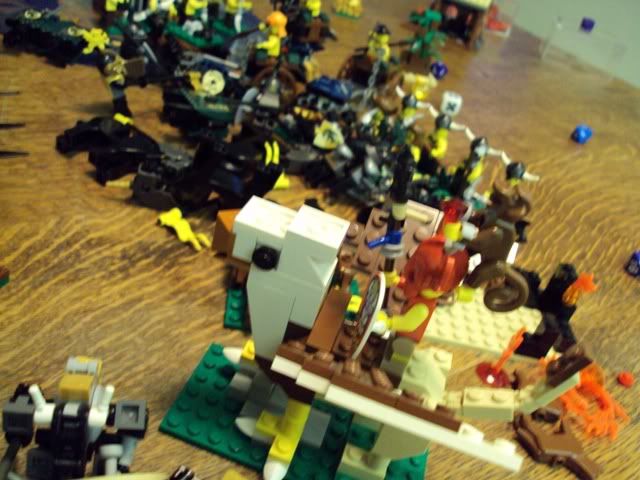 And finally, the VooDoo shaman wings over to the left flank to assist in bringing down the war machines. Before he leaves he uses his supernatural dice to lay a VooDoo curse on the Drakhirri Knights: -1d8 skill!!!
Drakhirri Turn 3
Desperate times call for desperate measures; the Knight Errant attempts to inspire the rest of his fellows against the oncoming wave of barbarian blood lust. To no avail (feat failed).
On the left flank, battle ensues with the minotaurs. After a round of CC attacks and shooting, one of the minotaurs is dead, and three spearman rush the griffon to take off one of its HP. Honestly, Paco should have done more damage this round, but he was insistent about trying to attack everything, rather than combining (especially ranged) attacks on single units. And against high SL minotaur, you really do need to combine attacks and whatnot.
But despite the whiffs against the minotaurs, the catapult on his war wagon slays the Shaman outright!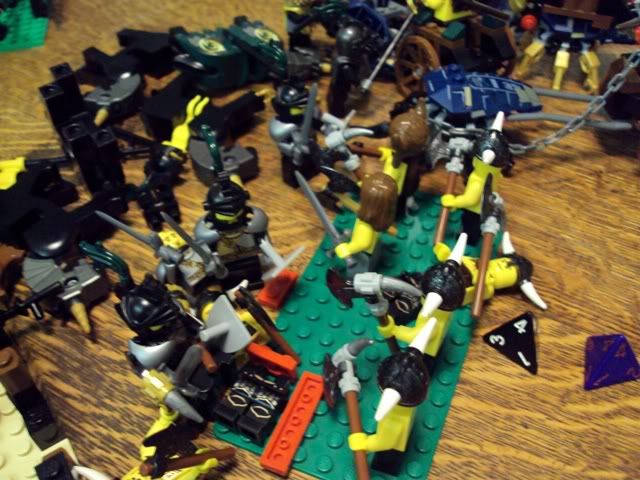 In the center combat, the cursed Drakhirri are only able to make one casualty. Conrad the Barber takes down one of the knights in retaliation.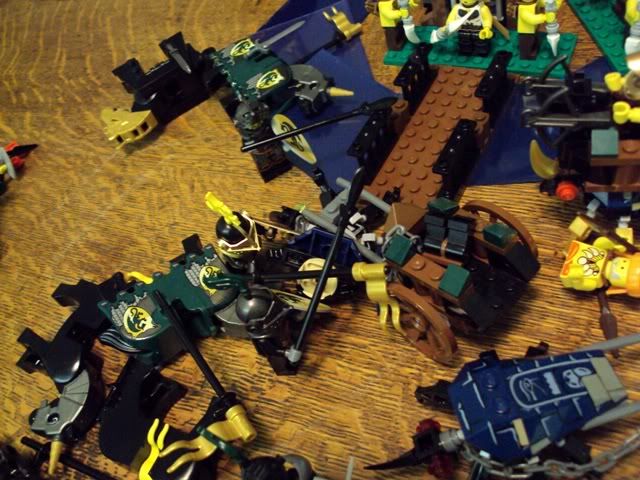 Slightly off-center, the Errant and his man eliminate one of the chariot riders.
Barbarians Turn 4
On the right flank, the amazon mounted on the scarab walker guns down a heavy while the beetle charges into the fray.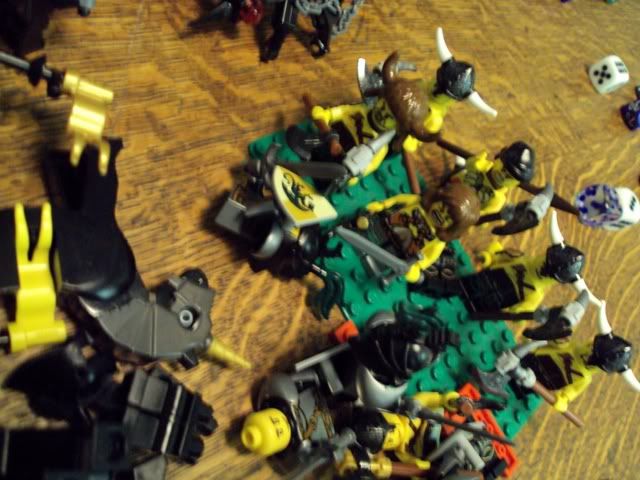 In the center combat, Conrad pumps himself up (feat successful) to deal more damage to his armored opponent; one more knight slain.
Wolves eat a spearman.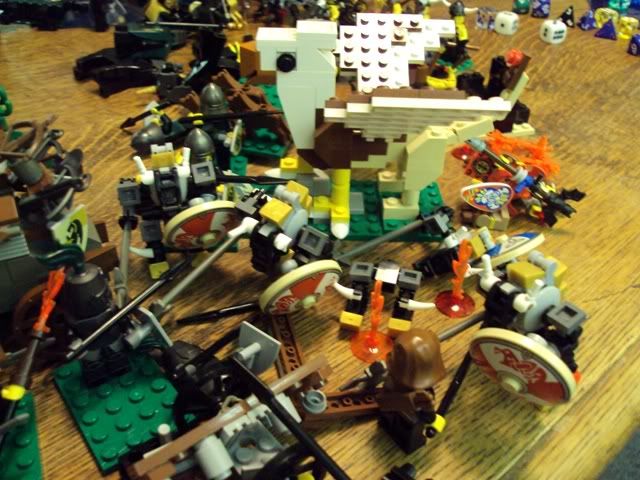 While this round of combat, the Minotaurs generally whiff their attacks; one or two might have an HP busted down at this point...
As combat on the left ensues, a war machine crew is slain in counterattacks.
This spearman tried to tango with the Griffon...but that did not end well...
And at this point, the course of the game was becoming pretty obvious. 3 heavy knights had just charged my flanking Scarab walker, but for the most part elsewhere, combats were all going in the Hii'mboredagain's favor. And for most of his last turn, Paco was rolling VERY below average on his dice. So being hungry, wanting food, and having had our fill of brik carnage, the battle...
... turns ...
... into ...
... a ...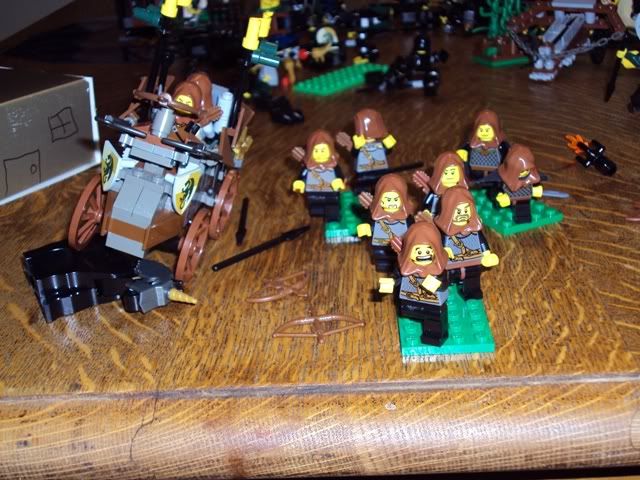 ROUT!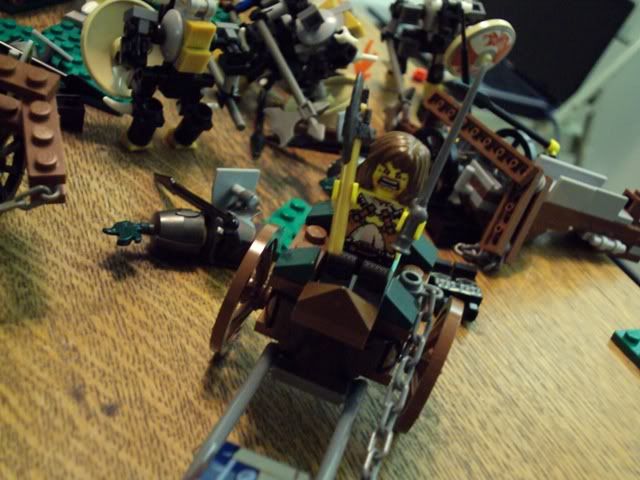 ... as Conrad mounts a chariot and pursues the fleeing archers and war wagon of the table!
As you can tell, tactics and decisions played a pretty big roll in this game. My opponent Paco made a mistake that I've made WAY too many times, trusting cavalry to just cream an infantry target. But if that doesn't happen...well...bad things start happening quick, fast, and in a hurry. I'm not sure he was out of the game as badly as HE thought he was, but my forces were definitely up on points and power by the time we called it quits...
Also
- combined fire on everything that isn't
armored
, especially multi-inch targets that have high Structure Level. Taking two bows against a 2d10 construction just won't pierce the plating like 70% of the time.
Hope you enjoyed another edition of Rev's Battle reports. Should have more to come as both Ronald Reagan and Paco continue to learn more about the game.
~ Rev.