Welcome to the Endgame, friends. Only a couple more rounds to go. Fight now with all the joy and imagination that is in your fucked up little minifig hearts and minds. For the glory of BrikWars! For Great Justice!
Round Nineteen
Initiative:
Grey, Orange, Green, Yellow, Hunter, Blue
Extras:
Each team will earn +1 CP at the end of Round Nineteen.
Grey Turn 19a
Demon Bear exhales a furious gout of flame, filled with all the hatred it can muster, while the Oni leaps from its back. The flames boil around the steel enclosure and burn the fleeing Ninja to death.
Grey Turn 19b
The Oni attempts to scissor the remaining Ninja with his twin mastercrafted katana. The black clad assassin drops a smoke bomb and Ninja Vanishes, however.
The Ninja Vanish will work like the Grey Phasing, except the Ninja may not move through walls while Vanished. He is simply invisible. Foes may attempt to target him (or, rather, the spot they think he is in) at the usual -5 penalty to hit. As a note on strategy, the Ninja Vanish is somewhat more useful for setting up an offense than it is for responsive defense due to the low SN die type (as we have just seen).
The rest of Grey's turn is Hidden.
Grey Turn 19c, Originally Hidden
UtiliGrey becomes Grey's new Hero! He gains the Heroic Cliché of Flashstepping, or super speed. It works by folding Phasic Space and allows him to cross virtually any distance near instantaneously while phased. He puts the ability to use directly and begins by Stepping over to the other Grey.
Grey Turn 19d, Originally Hidden
He hands him his Golden Gun and knife, then whisks him off to the other side of Green's safezone.
Grey Turn 19e, Originally Hidden
Continuing his journey, he sweeps by Little Jack's corpse and loots everything he can, immediately offering things up for sale. The Tower Admins can barely keep up.
Grey Turn 19f, Originally Hidden
He then sweeps past Gold12's corpse and loots it as well, directly under an unwitting WageMage's nose.
Grey Turn 19g, Originally Hidden
UtiliGrey ends his speed run out of sight of the other teams, behind Blue's safezone and near the Inner Ring. All told, he has managed to score 24 CP from his sales, combined with the 2 CP the other Grey got by selling his knife. A good haul, and one that robs the other teams of some very powerful options. UtiliGrey keeps Gold12's Suit (and tries to determine what color he wants to make it now that it is his), transfers the Rite of Worth to himself, holds onto 2d12 Magic and a d4 Phasic SN Dice, and equips the Heroic Artifakt.
Grey Turn 19h, Originally Hidden
The other Grey turns from his new position, decides to reuse an old trick, and fires a Phasic Guardian into Green's safezone near the Computer Console. The Guardian uses Grey's new CP to purchase 2d6 Phasing, 3d6 Magic, and 1d8 Magic SN Dice. UtiliGrey is now flooded with unrelenting power.
Orange Turn 19a
The Orange Turret fires its last laser beam into another Stasis Chamber, slicing the minifig inside apart and scoring its Third Gate Kill.
Orange Turn 19b
Orange Gate dings open, showing Green Lights and allowing the way through for members of Orange Team.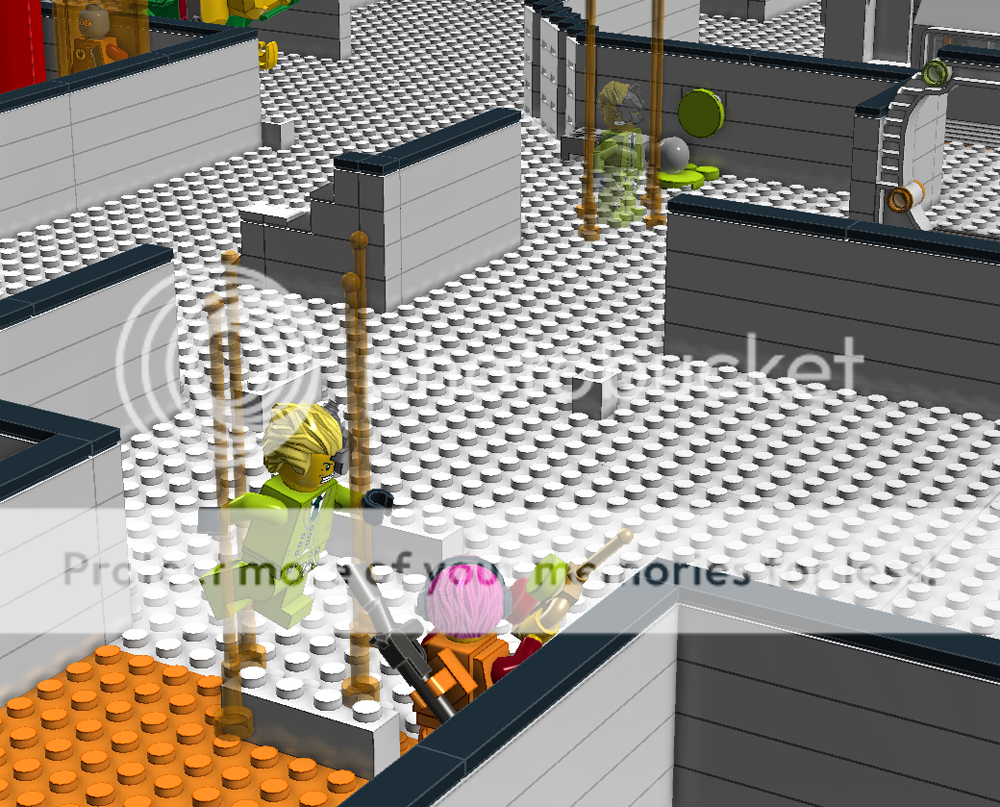 Yellow Response Turn 19a
WageMage turns with a wicked grin on his lips and raw fucking murder in his eyes. He, still a temporary member of Orange Team, combines his feat with the team's 1337 H4x Ability and teleports the distance to Orange Spy, striking at her with deadly intent. Someone on Orange Team shouts, "Oh, curse your sudden but inevitable betrayal!" The Tower displays the message WageMage received from Snake Yellow last turn:
"If you want violence and carnage to unfold, join the yellow snakes and backstab orange. Just think of those turrets at the palm of your hand. Our kill score is six greater than Oranges, and our alliance may be temporary, it may last only one turn before we begin fighting each other, but it will show Orange how unpredictable and great violence can be. I request that you betray Orange and join Yellow for the greater Red."
Yellow Response Turn 19b
But Orange Spy knows a little Krav Maga too. She grabs him out of midair, flips him, and lands him flat on his back. Moving quickly, she begins to spin out of his reach.
Yellow Response Turn 19c
WageMage leaps to his feat and throws a hammer blow of a punch toward Orange Spy. Her Pistoleer successfully RedShirts and teleports in to take the hit. His sternum is shattered on impact and he is hurled against the wall with unusual force. Obviously, WM has combined his Inevitable Betrayal Instant Benny into this attack.
Yellow Response Turn 19d
Undeterred, WageMage streaks a second rage-powered strike toward Orange Spy. She continues spinning out of the way as her Shotgunner successfully RedShirts and teleports in to take the hit for her. His body, too, is broken and hurled back down Orange's entrance hall. Apparently, he has increased and split the number of IB dice he received by spending Yellow Snake's 4CP bribe on another die. He has no use for a mere 4CP so he has used it to increase bloodshed.
Orange Turn 19c
Orange Spy stops spinning abruptly, nods to her sole remaining member, and they both bolt straight past WageMage splitsville, angling for the exit and the win.
Orange Turn 19d
As she runs, Orange Spy summons the second of her four available Turrets on this level directly ahead of Yellow Team. It opens fire on Medikbro. However, the shot ricochets off of his shield.
Green Turn 19a
The final Green Stasis Chamber on Level 3 hisses open of its own accord. The tearful inhabitant strides forward into the room. It is unclear whether he is crying because he has been telepathically fed overwhelmingly inspirational images of his hero's deeds, whether it is because he knows he can never fill Little Jack's boots, or because of something he knows he must do.
Green Turn 19b
The answer comes a moment later when he is incinerated in a massive anti-personnel explosion. The Tower Mages gather up his spiritual energy in preparation for a potent ritual.
Green Turn 19c
They direct the ritual's energies into Little Jack's cooling corpse. Green bands of energy swirl around his body, lifting it from the floor and infusing it with life. Little Jack again becomes Green's Hero.
Green Turn 19d
Jack notices that all his stuff is gone. But he shakes it off, grinning madly, and thinks to himself how he doesn't need any of that shit anyway. He makes a prodigious leap across virtually the entire distance of Level 3, smashing through everything in his path, including Orange Spy (who is hurtled into the back wall of Blue's safezone and is now Disrupted), the back wall of Blue's safezone, and one of Blue's Stasis Chambers (along with the poor soul inside of it).
Yellow Turn 19e
Yellow Team pours out onto Level 3, the Hydra bringing up the rear. While the rest of the team makes for the safezone, the Hydra welds the trapdoor shut.
Yellow Turn 19f
Yellow Snake uses his momentum in another trademark snake tail spring and lands in front of the Console in Yellow Safezone. He activates it and a new snakebro moves forward to join him.
Hunter Turn 19a
The Hunters use their Unstoppable Ability to traverse the Underworld and appear on Level 3. The Revenant Monster appears directly in front of the Hydra and with a swipe of its Ice Claws, opens the monster's gut. Firebeard falls out. It is unclear whether or not he is still alive. He's probably not, though. Right? In any case, the Hydra has Three Lives remaining.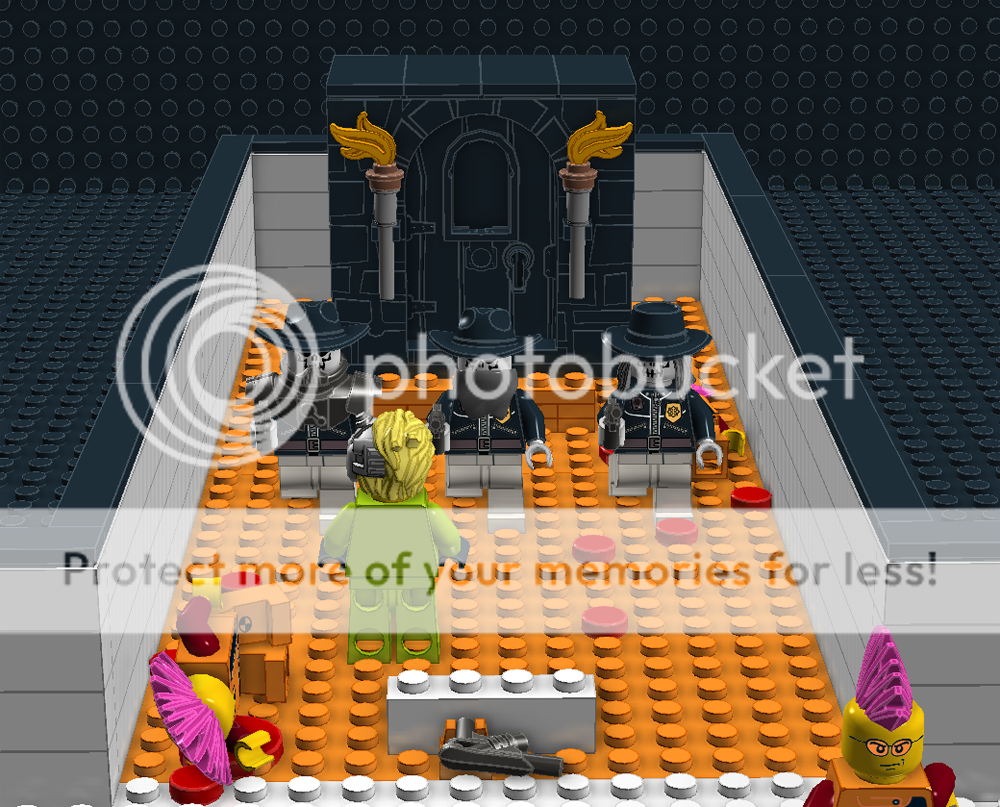 Hunter Turn 19b
The three HeadHunters are together at long last, stepping out from the ebony portal to the UnderKingdom. The gate slams shut with an ominous boom, a portent of doom. The WageMage greets them. "Well, it's about time you lot showed up! Now, we've…hey, wait, what are you doing…?"
Hunter Turn 19c
"No!" the WageMage screams, throwing up his hands to forestall the inevitable, "you…you can't! We're on the same si…" The Hunters advance implacably and fill him with undead lead. His body is torn apart by the onslaught and he falls over backward, dead as a coffin nail.
Hunter Turn 19d
Armor Hunter moves forward with the aim of eventually looting Gold12's corpse but he can see from here that, somehow, there is nothing left to loot. Bandanna moves up as well and can see that Little Jack's situation has changed also. Hair moves over to loot WageMage's riddled corpse but finds nothing of value. Probably he keeps all of his assets secure in holdings offsite. Orange Gunman is notably unnerved by the sudden appearance of these harbingers of doom.
Blue Turn 19a
Blue's Medik knows that there is no reason to leave Blue Android dead, head or no head. They have the teknology, they can rebuild him. Medik opens up the Stasis Chamber and forcibly decapitates its inhabitant. His features light up with manic glee. Finally, a task befitting his skills! He sets about grafting the head onto Blue Android's hardsuit body.
Blue Turn 19b
Meanwhile, Blue Pistoleer makes a run for the Level 3 Key.
The Ninja's turn is Hidden.
Blue Turn 19c, Originally Hidden
In a Hidden move, the Ninja moves toward a better ambush position.
Blue Turn 19d
Medik puts the finishing touches on Blue Android Mk. II. Mark Two stands up, transforms his arm into the Heroic Chain Bolter his predecessor intended to use (this change is permanent), and points his new gun toward the ceiling. He grabs up Medik in one hand and says, "Hell with this, Robots make their own entrances."
Blue Turn 19e
He cuts a hole through the ceiling and follows it up with a powered leap that smashes him and medik all the way through to the next floor. He has appeared directly before Little Jack and lowers his gun directly at the Green Hero. Let the Clash of Titans begin.
Round Nineteen Overwatch A
Round Nineteen Overwatch B
Level Three Kill Tracker to Unlock Gates shows that Orange Gate is open with 3 or more Kills, Green and Yellow are each 1 kill away from opening their own gates, and Blue trails behind with 0 Gate Kills. Grey and Hunters are at 1 each, as WageMage counts only as a member of teams for offensive purposes. Again, though, this is academic, as Hunters and Greys have their own agendas to pursue.
Overwatch Breakdown
Yellow Team
Abilities
6CP
Snake Bonded
Equipment
Snake Yellow:
Fang Dagger (Poison Shiv 3, Sheathed), Longbow
Medikbro:
Medik Tool, Shield, Pistol
Mr. Daggers:
Pathfinder, Half Dead (+1+1d6 Armor), Dagger, Dagger
Undeadbro:
Pistol
Baby Hydra:
Beastie, SN 3d4
Purchased and Spent Explosive
Loot Score: 5
Kill Table
13 Kills
4 Deaths
Kill Score: 9
Badass Moments
Yellow Turn 3a, Snake Coil Leap Attack
Yellow Turn 3b, Improbable Dagger Throw
Yellow Turn 4b, The Angry Arrow
Yellow Turn 6c, Arrow Explosivo
Yellow Turn 11a, Serpentoxin
Yellow Turn 13b, UnUndead
Yellow Turn 14b-c, Super Ker-Triage
Yellow Turn 19a-d, Sudden but Inevitable Betrayal
Badass Score: 8
Objectives Obtained
Level One Key, Level Two Key
Headhunters
Abilities
4CP
1d6 SN, 1d6 +1d4 SN with Pistol
Unstoppable
Equipment
Armor Hunter:
SuperNatural Pistol, 1 Grinding Damage Taken
Bandanna Hunter:
SuperNatural Pistol, 1 Grinding Damage Taken
Hair Hunter:
SuperNatural Pistol, 1 Grinding Damage Taken
Revenant Mutant:
+1 Skill, Loyalty Penalty 25%, Ice Claws (+1 Damage), 1 Grinding Damage Taken
Loot Score: 2
Kill Table
9 Kills
4 Deaths
Kill Score: 5
Badass Moments
Hunters Turn 10b, Tipping the Scales
Hunter Turn 11a, Long Shot
Hunter Turn 11b, Ribbed for Pain
Hunter Turn 13e-g, A Jackhammer In Motion Tends to Stay In Motion
Hunter Turn 14a and f, The Dragon Maneuver
Hunter Turn 18, It's Alive!
Hunter Turn 19, Implacable Advance
Badass Score: 8
Objectives Obtained
9 Kills
Grey Team
Abilities:
2CP
Phasic SN d6
Rite of the Hunter
Equipment
UtiliGrey:
Unknown
Grey:
Unknown
Oni:
Bid 4, Demon Bear Mount with SN 2d4, 2 Katanas, Body Armor
Purchased and Spent Explosive
Loot Score: 13
Kill Table
8 Kills
5 Deaths
Kill Score: 3
Badass Moments
Grey Turn 4h, The Wall Grab
Grey Turn 6d, Phantom Ride Kill Assist
Grey Turn 8a, Phantom Switch
Grey Turn 11a-c, Tactikal Advance
Grey Turn 12d-e, Blood Blade
Grey Turn 13, Disbelieve the Illusion
Grey Turn 16, An Almost Perfect Ambush
Grey Turn 18a, If a Tree Falls in the Forest…
Badass Score: 8
Objectives Obtained
Accessed Level Two
Accessed Level Three
Blue Team
Abilities
15CP
Equipment
Mark Two:
Chain Bolter (Heroic Artifakt), Hardsuit, SN d6
Medik:
Medik Tool
Pistoleer:
Pistol
Ninja:
Bid 2, SN d4, Katana
Purchased and Spent Explosive
Loot Score: 7
Kill Table
6 Kills
6 Deaths
Kill Score: 0
Badass Moments
Blue Turn 1, Wasting the Pathfinder for temporary gain
Blue Turn 3a, Casual Chasm Redshirt
Blue Turn 4a, This Is BrikWars!
Blue Turn 7b and Pirates Turn 7, Mecha Madness!
Blue Turn 11a, With Casual Ease
Hunter Turn 12b-c, Spiritual Catapult
Blue Turn 17a-b, Fooonk!
Blue Turn 19a, We Have the Teknology!
Badass Score: 8
Objectives Obtained
Level One Key
Orange Team
Abilities
1CP
Map Dominance
Energy Requisition
1337 H4x
Equipment
Orange Spy:
Piloting, Heroic Item (Cloned Controller), Shotgun
Gunman:
Submachinegun
Purchased and Spent Explosive
Loot Score: 4
Kill Table
10 Kills
5 Deaths
Kill Score: 5
Badass Moments
Orange Turn 4a, A Perfect Shot
Orange Turn 5a-b, Graceful Execution
Green Turn 6b, RedShirt to Beam Up
Orange Turn 7b-c, Modified Turret
Orange Turn 8b-d, Command Cascade
Orange Turn 10a and c, Divide and Conquer
Orange Turn 11d, The Old Switcheroo
Orange Turn 15b, Ask and Ye Shall Receive
Orange Turn 16a, Fight the Power
Orange Turn 18b-e, Office Space
Yellow Response Turn 19a-d, Wall of RedShirts
Badass Score: 11
Objectives Obtained
Level One Key, Level Two Key
Green Team
Abilities
4CP
Fleet Foresters, Trapmasters
Equipment
Little Jack:
Cool Haircut, Movement, +1d10 Armor, Last Man Standing, Heroic Artifakt (Master sphincter's Soul)
Loot Score: 3
Kill Table
8 Kills
6 Deaths
Kill Score: 2
Badass Moments
Green Turn 3a and 5a, Pathfinder Trapmaster
Orange Turn 4b, Medik Redshirt
Green Turn 4c, Puts on Shades
Green Turn 6a-b, Tactikal Supremacy
Green Turn 8a, Ninja Moves
Green Turn 9a-b, Staging an Icy Reception
Green Turn 11, The Green Mile
Green Turn 13 and Hunter Responses, A Jackhammer in Motion Tends to Stay in Motion
Green Turn 15a-b, Problem Solved, Problem Staying Solved
Green Turn 17a, Jack Smash!
Green Turn 18, Aggressive Maneuvers
Green Turn 19, Jack's Back, Fuckers!
Badass Score: 12
Objectives Obtained
Level One Key, Level Two Key
Overwatch Comparison
Construction Points
Yellow: 6
Hunter: 4
Grey: 2
Blue: 15
Orange: 1
Green: 4

Loot Score
Yellow: 5
Hunter: 2
Grey: 13
Blue: 7
Orange: 4
Green: 3

Kill Score
Yellow: 9
Hunter: 5
Grey: 3
Blue: 0
Orange: 5
Green: 2

Badass Score
Yellow: 8
Hunter: 8
Grey: 8
Blue: 8
Orange: 11
Green: 12

Objectives
Yellow: Level One Key, Level Two Key, 2/3 Gate Kills
Hunter: 9 Kills
Grey: Level Two Access, Level Three Access
Blue: Level One Key, 0/3 Gate Kills
Orange: Level One Key, Level Two Key, 3/3 Gate Kills
Green: Level One Key, Level Two Key, 2/3 Gate Kills

Total Scores
Yellow: 16
Hunter: 11
Grey 22+1=23
Blue: 0
Orange: 19
Green: 14

Scores rise this turn across the board. Grey takes a commanding lead in first place with Orange trailing a short distance behind. They've Phased out again but it doesn't take a genius to see what they're up to. Orange is also the only one of the four colored teams to have its Gate open. Yellow pulls up in third only a little behind Orange but currently commands the largest army. Green is in fourth just behind Yellow. It is also worth noting that Green is on its last man on Level 3. They have two remaining Heroic Replacements remaining down on Level 2. Green should also take note that the Resurrection Spell is spent. The Tower Mages no longer have the ability to resurrect Jack from death. Hunters pull in at fifth place with an impressive showing this turn. Blue breaks even but still comes in dead last thanks to that massive CP debt. It's clear that they are planning something big but they better act fast or be landed with it in the final scoring.

As a continued reminder, if you need CP dumps, keep Tower Personality and Initiative Bidding in mind. Especially as we close in on the end here.
Send Orders for Round Twenty!