The end is nigh! Prepare to die! We hope you enjoyed your flight and thank you for travelling with ToJ airlines. You are now arriving at
Round Twenty-One
Initiative:
Green, Blue, Yellow, Grey, Orange, Headhunter
Extras:
Each team will earn +1 CP at the end of Round Twenty-One. The Tower would like to again remind Players that a 1 CP Grace will be removed from your final scoring. Thus, the one CP players earn at the end of the final turn will not count against their final score.
Extras Turn 21
The horde of Zombies finally breaks through the door at Blue Level 2. It looks as if the two that were on fire finally succumbed to their fiery final deaths but the two that were trying to break through Orange have joined ranks to fill the gap.
Green Turn 21a
Little Jack wastes no time in making a break for it. He smashes through walls on his way toward Green Gate. His trapmaster abilities give him plenty of notice concerning the acid pit trap on the other side of the gate and he leaps upward, using the Gate to swing safely over the pit.
Green Turn 21b
In the process, his strength and bulk rip the Gate from its moorings and send it splashing down into the acid. The Force Field surrounding the Inner Ring is revealed and destabilized here. Anyone may now pass through Green Gate (or rather where it used to be) freely, though they must still navigate the difficult terrain and acid pit in the area.
Blue Turn 21a
Blue spends 5 CP to steal the Bid on the Demon Bear from Grey. There is a sharp electrical discharge at the base of the bear's skull and its ferocious glare toward the Ninja switches to one of disinterest almost instantly. The ninja considers riding the bear but decides not to tempt fate. Then another thought occurs to him. He reaches up to touch his own neck and is shocked to discover an unsettling bump there. While he is considering this turn of events, the bear trundles past him and lights the Captain's corpse on fire with its demonic breath, dropping the necrotic creature for good.
Blue Turn 21b
The ninja decides to help the bear dismantle the zombies and moves off in that direction. He picks up several fallen katana along the way.
Blue Turn 21c
Blue pistoleer makes his way, finally, onto Level Three and proceeds down Blue's Safezone toward the action.
Blue Turn 21d
Blue Android abandons his pursuit of Jack and jets over toward the grand melee. He opens up on Yellow team with his chain bolter, gunning down both the newnewbro and Mr. Daggers.
Blue Turn 21e
He continues to blast away in a secondary arc of fire at Medikbro. The damage is enough to obliterate the healer but the Snake Bond between him and Snake Yellow causes the damage to be transferred to the Hero instead, saving Medikbro from certain death. As the bullets slam into the medik's body, blood spurts from the hero. It's nothing Snake Yellow can't handle, though.
Yellow Turn 21a
Medikbro runs for the concealment provided by the smoke pouring out of a nearby destroyed turret and fires off a shot at Blue Android. The laser bounces harmlessly away, however.
Yellow Turn 21b
Snake Yellow turns his attention back to Orange Spy, whips out his poisoned fang dagger and slices her arm open with it. The poison seeps into her veins. Neither the cut nor the venom drop her this round but will soon begin grinding on her and wearing her down if she doesn't make it out to get an antidote. Should the poison's cumulative effect be the reason for her demise in the future, Yellow will score kill credit.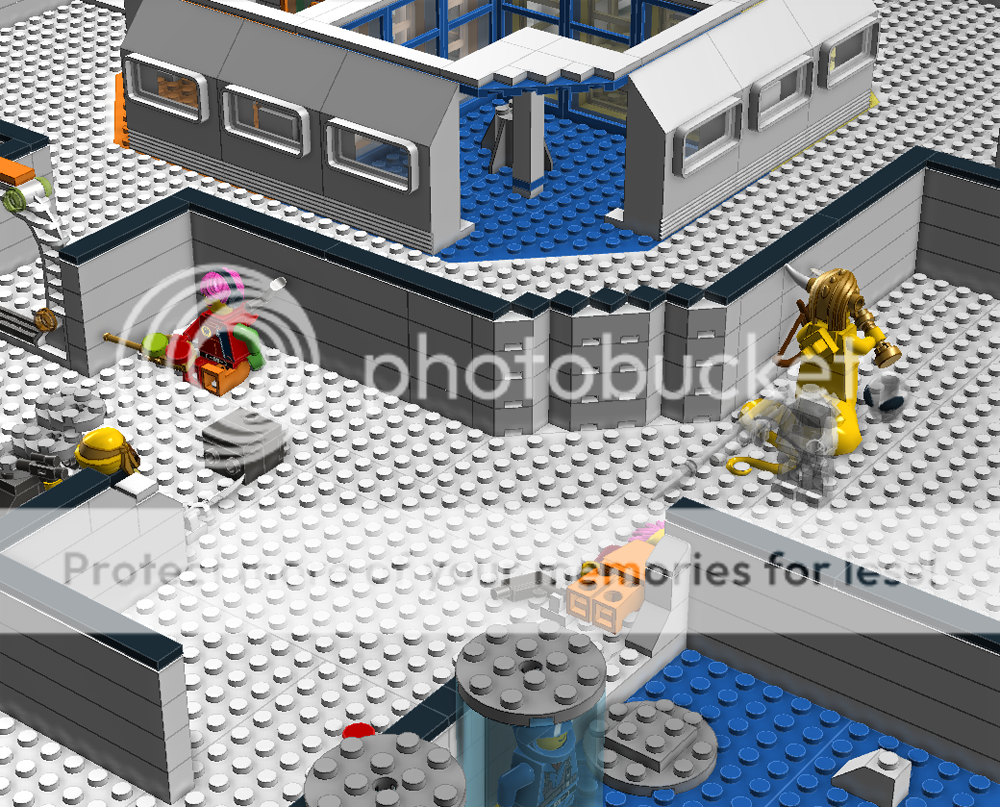 Yellow Turn 21c
Snake Yellow slithers off around the corner, headed no doubt for his own Gate. On the way, he encounters a just visible UtiliGrey and takes the opportunity to heroically separate the Grey Hero's head from his shoulders. The attack is almost too easy to pull off, however, and as the Grey dissipates into nothingness, Snake Yellow suspects he's been had.
Grey Turn 21a, Hidden Turn
The Grey with the Golden Gun moves toward the Inner Ring wall and takes stock of the situation.
Grey Turn 21b
The real UtiliGrey suddenly appears out of nowhere, moving at blinding speed. He makes to grab at Orange Spy but she again proves her intense focus and dexterity by avoiding the maneuver. UtiliGrey stumbles past her as she makes her way to her feet.
Grey Turn 21c
He spins quickly around and lines up a perfect headshot on the slippery spy and is again foiled as his attack slices cleanly through a well placed holographic displacement image. The real Orange Spy is actually already several paces ahead of the shot.
Orange Spy will not have access to her Heroic Feat on Turn Twenty-Two.
Orange Turn 21a
Orange Spy stabs desperately at her Controller, summoning the last of her available turrets on this Level. It, in turn, opens fire on medikbro but misses the shot entirely. It has enough power to fire twice more.
Orange Turn 21b
Orange Spy turns, ducks quickly under UtiliGrey's GunSpear, and bolts inside the safety of her Gate. Sadly for her, it wasn't so safe after all as the floor drops out from under her feet and dumps her into a pit of acid. Her screams are like music to the ears of the other contestants. She barely survives the initial damage, however, and begins clawing her way toward freedom.
Hunter Turn 21a
Bandanna Hunter tosses poor Yorrick's head at Firebeard and grates something that sounds vaguely like "here, hold this." The Pirate Lord is so surprised by the creature's almost intelligible speech that he doesn't have time to notice the shotgun blast that follows it. The Lord is thrown back by the blast but isn't otherwise seriously harmed. He is, however, now quite pissed off.
Hunter Turn 21b
Armored Hunter Revives but suffers a Half Movement penalty. He moves over slightly to fire around the android at Orange Gate. The shot hits one of the lights, shattering it and exposing an unknown weakness in the wiring. It's a one in a hundred shot and the Gate clicks off, going red and barring access to anyone. Unfortunately for the Hunter, Orange Spy has already made it inside.
Hunter Turn 21c
Hair Hunter also Revives but suffers the loss of an Action this turn. He gathers up his things and moves toward Armored Hunter in the hopes of covering his ally next turn.
Firebeard Turn 21
Firebeard lunges forward and locks Bandanna in a grab. He stabs at him with his gleaming hook but the attack does no significant damage to the Hunter's skeletal frame.
Grey Turn 21d
RegGrey surveys the winding down action as he looks first left…
Grey Turn 21e
And the devastation that has been wrought as he looks then right.
Grey Turn 21f
With a nod to his leader, who nods in return, RegGrey bails through the Inner Wall, triggering Grey's Exit Condition. Teleportation Beams spring up around the Grey and he is lifted from the Tower of Justice Arena.
Grey Turn 21g
The Beams also spring up around UtiliGrey and he, too, is removed from the Game. Grey Team has achieved their final objective, proving their superiority as hunters par excellence and passing into adulthood. They remain as crowd favorites among the viewers at home and continue to be ranked at Number One on the long list of Tower Personalities and Guests according to social media polls.
Grey Team has exited the field. Congratulations, Scratch! Thank you for playing Grey Team. Please stay tuned for the final results and the Rewards and Nominations post-game.
Players, while Grey Team secured their objectives first, please note that they were a guest faction and had their own goals separate from the four colored teams. The game goes on until one of the four initial colored teams obtains their Level Three Key. The first to do so will end the game and win the Tower of Justice competition. That Player will then be rewarded by becoming the main protagonist of For Great Justice Part Two, as well as with some minor narrative control over those future events. I encourage everyone else who exits the field, either by elimination or via the game ending, to stick around for post-game rewards which will affect Part Two.
Round Twenty-One Overwatch A
Round Twenty-One Overwatch B
Round Twenty-One Overwatch C
Level Three Kill Tracker to Unlock Gates shows that only Blue Gate remains unlocked with 2 Kills. Hunters also possess two kills. All other Gates have been unlocked. However, events this turn have caused changes to occur in Orange and Green Gates. Orange Gate has been relocked and Green Gate now allows any Player to freely pass through it.
Overwatch Breakdown
Yellow Team
Abilities
4CP
Snake Bonded
Equipment
Snake Yellow:
Fang Dagger (Poison Shiv 2), Longbow
Medikbro:
Medik Tool, Shield, Pistol
Purchased and Spent Explosive
Loot Score: 5
Kill Table
14 Kills
8 Deaths
Kill Score: 6
Badass Moments
Yellow Turn 3a, Snake Coil Leap Attack
Yellow Turn 3b, Improbable Dagger Throw
Yellow Turn 4b, The Angry Arrow
Yellow Turn 6c, Arrow Explosivo
Yellow Turn 11a, Serpentoxin
Yellow Turn 13b, UnUndead
Yellow Turn 14b-c, Super Ker-Triage
Yellow Turn 19a-d, Sudden but Inevitable Betrayal
Blue Turn 21e, Living by Inches
Badass Score: 9
Objectives Obtained
Level One Key, Level Two Key
Headhunters
Abilities
4CP
1d6 SN, 1d6 +1d4 SN with Pistol
Unstoppable
Equipment
Armor Hunter:
SuperNatural Pistol
Bandanna Hunter:
SuperNatural Pistol, 1 Grinding Damage Taken
Hair Hunter:
SuperNatural Pistol, Pistol
Loot Score: 3
Kill Table
10 Kills
6 Deaths
Kill Score: 4
Badass Moments
Hunters Turn 10b, Tipping the Scales
Hunter Turn 11a, Long Shot
Hunter Turn 11b, Ribbed for Pain
Hunter Turn 13e-g, A Jackhammer In Motion Tends to Stay In Motion
Hunter Turn 14a and f, The Dragon Maneuver
Hunter Turn 18, It's Alive!
Hunter Turn 19, Implacable Advance
Hunter Turn 20a-d, A Head of the Game
Badass Score: 9
Objectives Obtained
10 Kills
Grey Team
Abilities:
0CP
Phasic SN d6
Rite of the Hunter
Equipment
UtiliGrey:
Total of SN 2d12 + d8 + 3d6 Magic, SN 3d6 + d4 Phasic, Rite of Worth, Armored Suit (+1d4 Armor, Currently Gold), GunSpear (Heroic Artifakt)
Grey:
Golden Gun, Knife
Purchased and Spent Explosive
Loot Score: 13
Kill Table
10 Kills
6 Deaths
Kill Score: 4
Badass Moments
Grey Turn 4h, The Wall Grab
Grey Turn 6d, Phantom Ride Kill Assist
Grey Turn 8a, Phantom Switch
Grey Turn 11a-c, Tactikal Advance
Grey Turn 12d-e, Blood Blade
Grey Turn 13, Disbelieve the Illusion
Grey Turn 16, An Almost Perfect Ambush
Grey Turn 18a, If a Tree Falls in the Forest…
Grey Turn 20, Ghostly Murderers
Badass Score: 9
Objectives Obtained
Accessed Level Two
Accessed Level Three
Exited Arena First
Blue Team
Abilities
7CP
Equipment
Mark Two:
Chain Bolter (Heroic Artifakt), Hardsuit, SN d6
Pistoleer:
Pistol
Ninja:
Bid 2, SN d4, Katana, Katana, Oni Katana
Demon Bear:
Bid 5, SN 2d4
Purchased and Spent Explosive
Loot Score: 8
Kill Table
10 Kills
7 Deaths
Kill Score: 3
Badass Moments
Blue Turn 1, Wasting the Pathfinder for temporary gain
Blue Turn 3a, Casual Chasm Redshirt
Blue Turn 4a, This Is BrikWars!
Blue Turn 7b and Pirates Turn 7, Mecha Madness!
Blue Turn 11a, With Casual Ease
Hunter Turn 12b-c, Spiritual Catapult
Blue Turn 17a-b, Fooonk!
Blue Turn 19a, We Have the Teknology!
Blue Turn 20a, Ninja Ambush
Blue Turn 21d-e, Mow Them All Down
Badass Score: 10
Objectives Obtained
Level One Key, Level Two Key
Orange Team
Abilities
1CP
Map Dominance
Energy Requisition
1337 H4x
Equipment
Orange Spy:
Piloting, Heroic Item (Cloned Controller), Shotgun, Last Woman Standing
Purchased and Spent Explosive
Loot Score: 4
Kill Table
12 Kills
6 Deaths
Kill Score: 6
Badass Moments
Orange Turn 4a, A Perfect Shot
Orange Turn 5a-b, Graceful Execution
Green Turn 6b, RedShirt to Beam Up
Orange Turn 7b-c, Modified Turret
Orange Turn 8b-d, Command Cascade
Orange Turn 10a and c, Divide and Conquer
Orange Turn 11d, The Old Switcheroo
Orange Turn 15b, Ask and Ye Shall Receive
Orange Turn 16a, Fight the Power
Orange Turn 18b-e, Office Space
Yellow Response Turn 19a-d, Wall of RedShirts
Orange Turn 20a-c, Orange Shall Deliver
Yellow Turn 21b, Grey Turn 21b-c, Orange Turn 21b, Survival of the Fittest
Badass Score: 13
Objectives Obtained
Level One Key, Level Two Key
Green Team
Abilities
1CP
Fleet Foresters, Trapmasters
Equipment
Little Jack:
Cool Haircut, +4 Movement, +1d10 Armor, Last Man Standing, Heroic Artifakt (Master sphincter's Soul)
Loot Score: 3
Kill Table
9 Kills
6 Deaths
Kill Score: 3
Badass Moments
Green Turn 3a and 5a, Pathfinder Trapmaster
Orange Turn 4b, Medik Redshirt
Green Turn 4c, Puts on Shades
Green Turn 6a-b, Tactikal Supremacy
Green Turn 8a, Ninja Moves
Green Turn 9a-b, Staging an Icy Reception
Green Turn 11, The Green Mile
Green Turn 13 and Hunter Responses, A Jackhammer in Motion Tends to Stay in Motion
Green Turn 15a-b, Problem Solved, Problem Staying Solved
Green Turn 17a, Jack Smash!
Green Turn 18, Aggressive Maneuvers
Green Turn 19, Jack's Back, Fuckers!
Green Turn 20, Pathforger
Badass Score: 13
Objectives Obtained
Level One Key, Level Two Key
Overwatch Comparison
Construction Points
Yellow: 4
Hunter: 4
Grey: 0
Blue: 7
Orange: 1
Green: 1

Loot Score
Yellow: 5
Hunter: 3
Grey: 13
Blue: 8
Orange: 4
Green: 3

Kill Score
Yellow: 6
Hunter: 4
Grey: 4
Blue: 3
Orange: 6
Green: 3

Badass Score
Yellow: 9
Hunter: 9
Grey: 9
Blue: 10
Orange: 13
Green: 13

Objectives
Yellow: Level One Key, Level Two Key, 3/3 Gate Kills
Hunter: 10 Kills
Grey: Level Two Access, Level Three Access, Accomplished Rite of Passage, Exited Arena First
Blue: Level One Key, Level Two Key, 2/3 Gate Kills
Orange: Level One Key, Level Two Key, 3/3 Gate Kills
Green: Level One Key, Level Two Key, 3/3 Gate Kills

Total Scores
Yellow: 16
Hunter: 12
Grey 26+2=28
Blue: 14
Orange: 22
Green: 18

Grey exits the field with a strong lead in Total Scoring. Orange continues to trail closely behind in second place (first among the colored teams). They are through their Gate and have accessed the Inner Ring. However, their sole remaining member is on death's door. Green stands in third by a small margin (second colored) but is easily the closest team toward winning the Game. Yellow pulls fourth (third colored), barely sandwiched between Green and Blue. However, their score went up this turn and their Gate is now open thanks to Maintenance. Unfortunately, their large army is lessened and they are second farthest from accessing the Inner Ring. Blue leaps ahead into fifth (last among the colored teams) from its dismal placing last round thanks to a large CP expenditure. They still need a kill to open their Gate (should they wish to go through it instead of the open Green Gate) but they cleverly kept just enough CP to command the coming round. Hunters come in dead last thanks to a damaging revival process. Still, all three are up and about now.

It's a close game, with some complicated twists and a whole lot of ridiculous dice rolling at the end here, each team hanging on for dear life. Who will pull the win and earn their freedom? Who will prove their worthiness to rejoin galactic society? We'll find out soon enough on…Tower…Of…Justice!

As a continued reminder, if you need CP dumps, keep Tower Personality and Initiative Bidding in mind. Especially as we close in on the end here.
Send Orders for Round Twenty-Two!