So, it's friday, my roommate is out of town, and I have absolutely nothing to do. I decided that instead of sleeping out of boredom, actually doing homework, or reading, I would build a SHIP. I recently put together a crew of space raiders with the idea that the Speiss Vikings I had went off into the cosmos to explore, but met with a frightening Space Raider Lord who, alongside his crew, killed the viking king, as well as most of the other vikings. Instead of introducing them as just the figs, I thought a SHIP might be appropriate. I also recently dismantled my old
ship, so I have almost my entire reserve of parts at my disposal.
So, my poker table is set up in my room, ready for the build. My three containers of LEGO are arranged around my chair on the one side, and I'm ready to get at it...
Err...but I'm not entirely sure what to go for, which is where I'd like some tips.
I've always liked stuff with outrigged sections like the Galactica: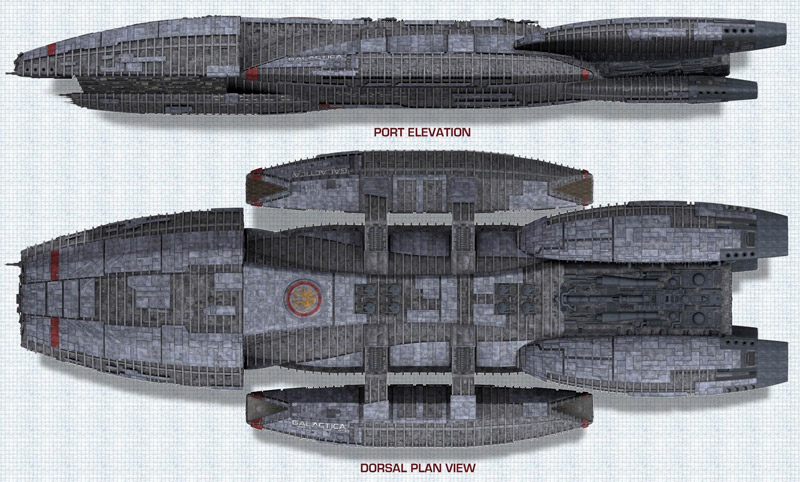 But I'm not sure if it's appropriate. I also have the basic frame from the newer Viking Longboat set at my disposal:
So, that's another option.
Any ideas/inspiration to share with me, Brikwarriors? I pretty much want a brigand's mobile home, I guess somewhat similar to the way the Serenity functioned for her crew in Firefly, except, of course, it needs guns. Living quarters, bridge, maybe a common room to gamble in, a good cargo hold, possibly some smaller scout ships fitted into it.
Halpz?