Kalibar Labs, another Brikion Valley startup, has just released the first in its line of HAVs (Hovering Assault Vehicles). The line is, according to spokesminifig "AJ" Madel, "fast, safe for the pilot, and deadly to others, all without breaking your CP budget."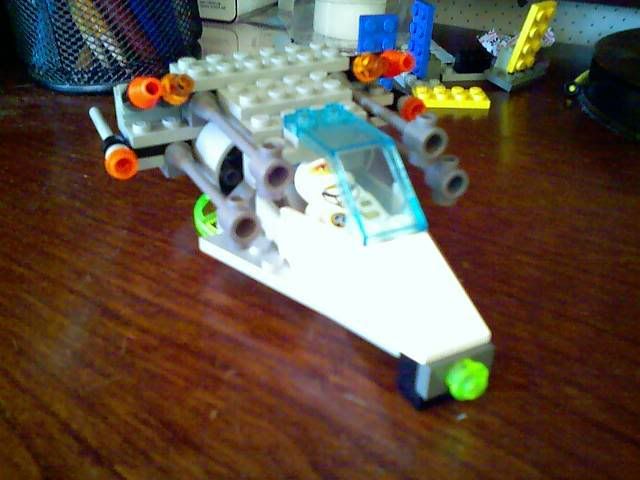 Forward production shots, with the test pilot demonstrating the cockpit position. Note the headrest security and ample, if a bit short in height. The mechanics pulled our tek reporter aside to explain the Bail mekanics: there are none.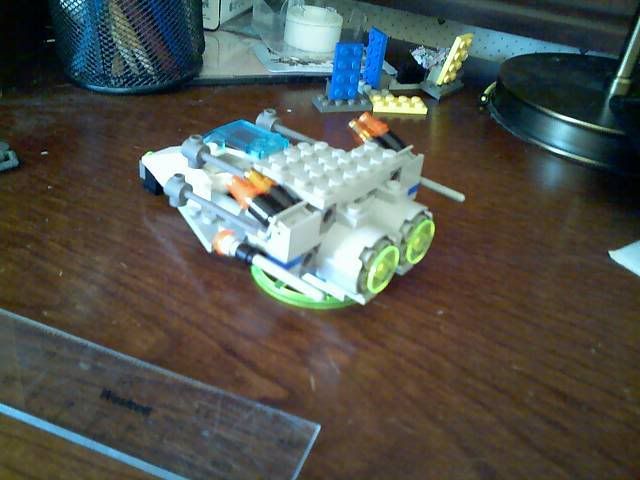 Rear shots. You can see the hovering engine and its projected wire/net-like field, as well as the two engines that give it a legendary 16" movement. "Or, that's what our unmodified, off-the-shelf versions run. Who knows what street gangs and armies will do with [the HAV]?"
"It has a full assortment of weapons: four linked cannons, two to a wing. Two smaller lasers, mounted one at the end of each wing, along with four of the latest X42 Rocket Launcher from our good friends at XireOne."
All in all, I like it. I added the no-Bail because it took more
oomph
to get him out than I was willing to put forth, so he can just die in the flames.