DAY 0
Plans drawn up, these will be added later. No! No spoilers.
DAY 1
The Curtain Wall...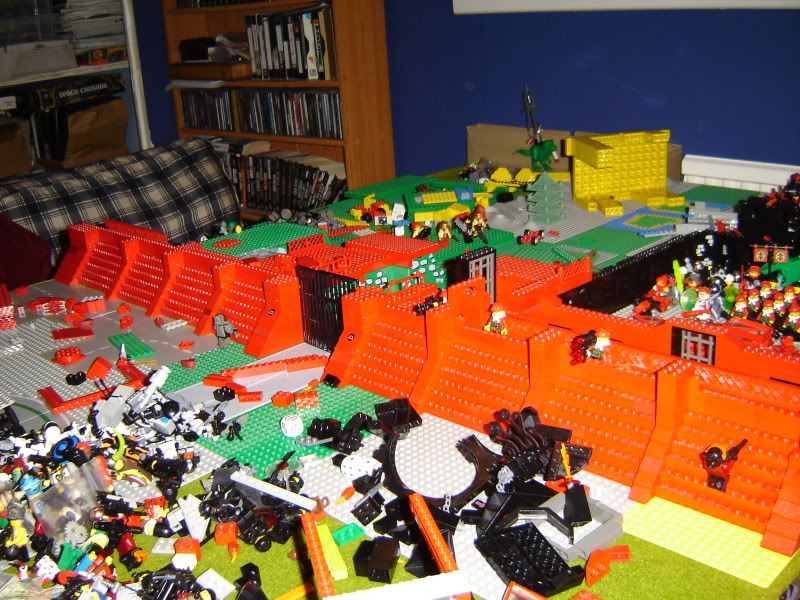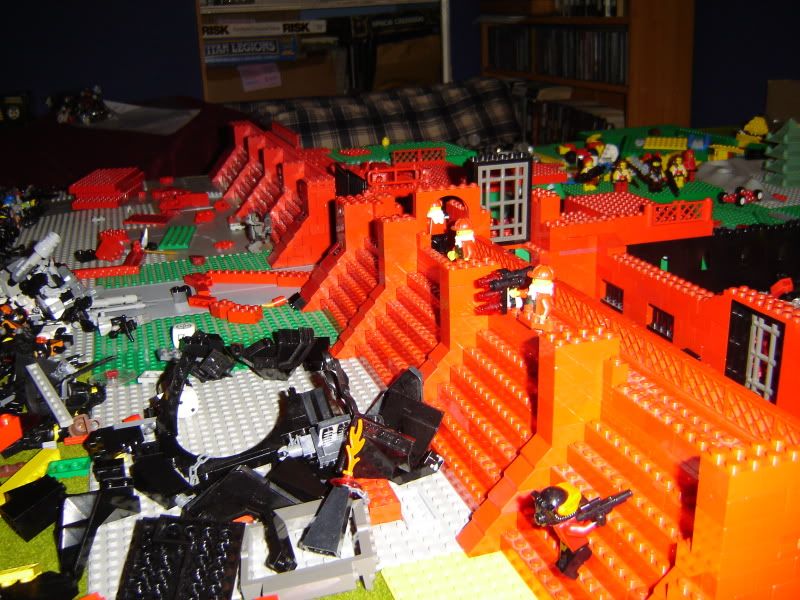 Side shots.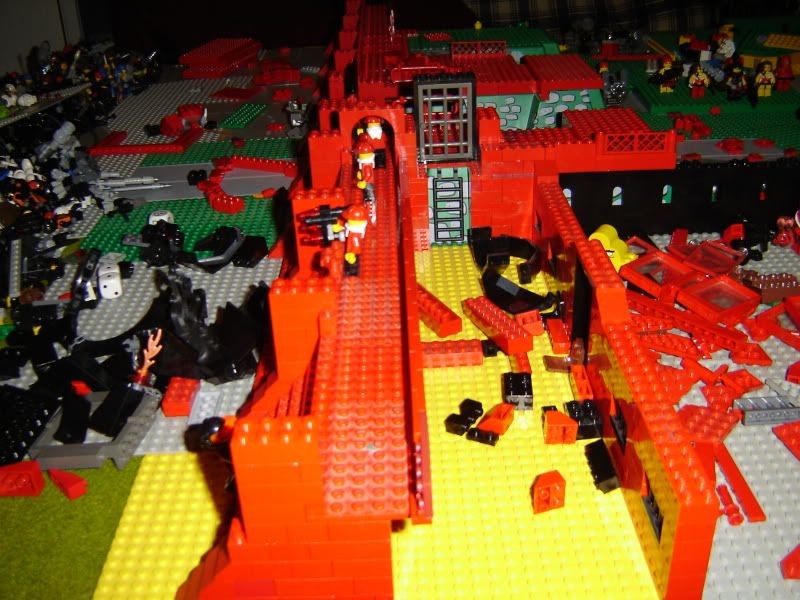 Holding pen for Slave Gladiators who die at the whim of The Mighty Elmagnifico, for his amusement and pleasure!
DAY 2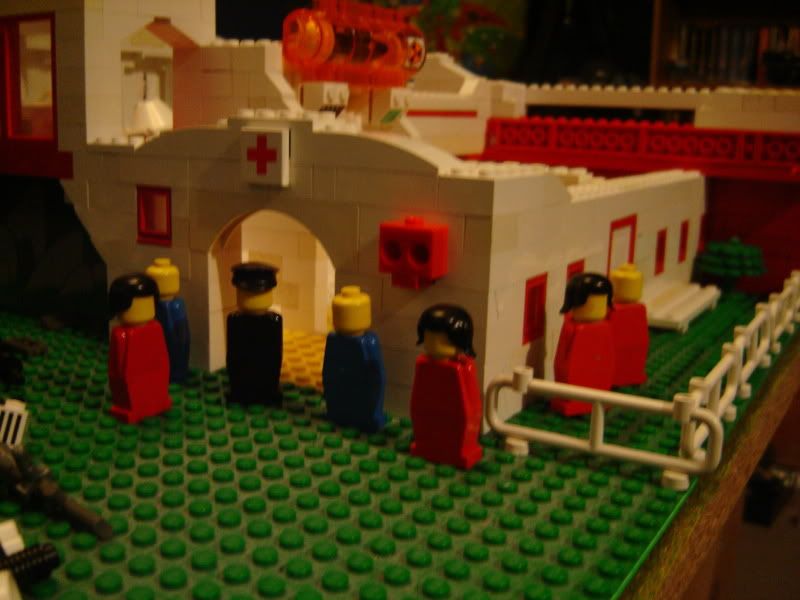 As inspired by Stubby from his latest picture from last night. The Gamma Corps infirmary... and research facility, Area 551. I have skull transfers to add to the Proto-Figs chests still to do. In game this facility will allow casualties to be returned to duty between assaults or during the fighting depending on dice rolls.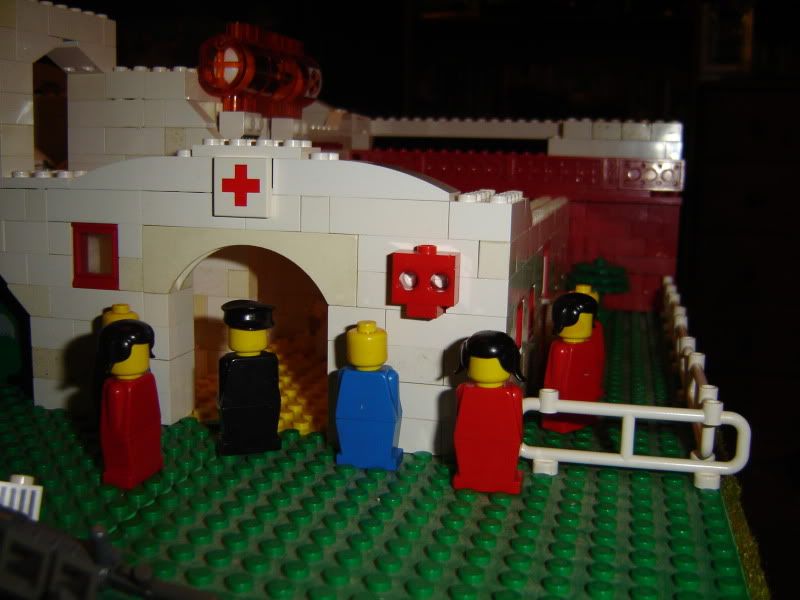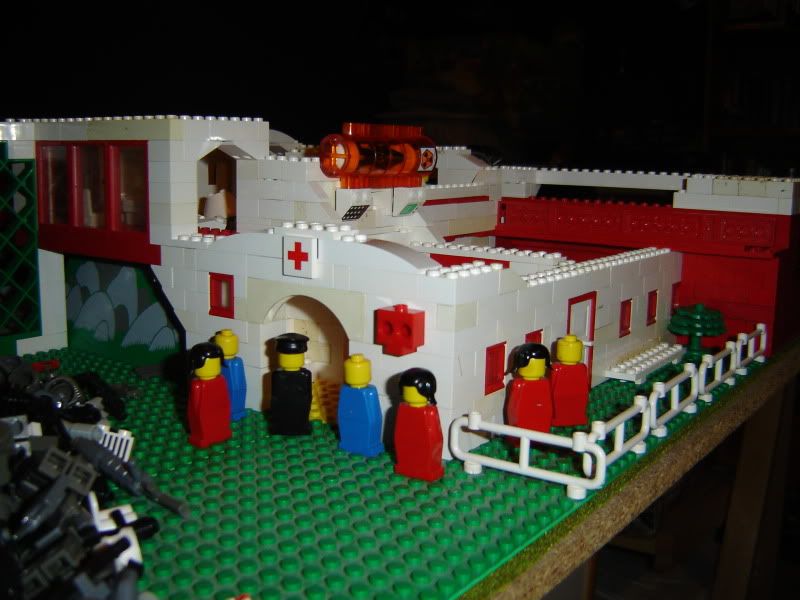 Trying to stay true to the Gamma Corps Fleet colours and the angled shape of the ships. It was all I could think of. Anyway, the guards room and keep are expanding.
Is this multi levelled enough for you so far Elmagnifico + Shadowscythe, there will be more.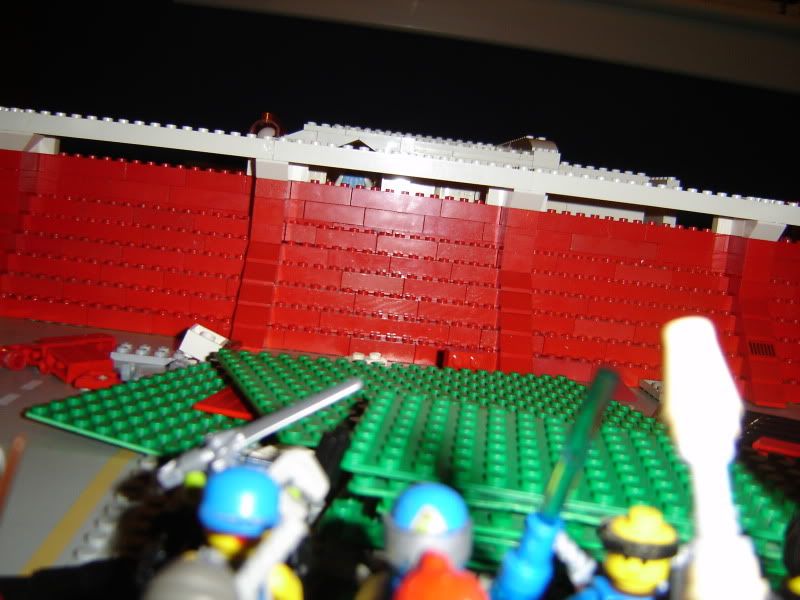 Attackers eye view.
DAY 3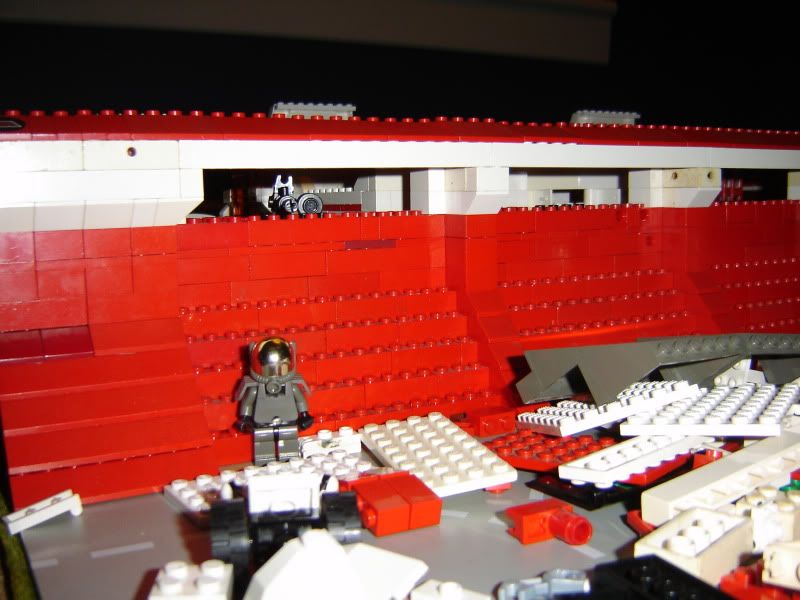 The wall needed some modifications, steeper drop and higher firing slit...
...and a couple of small spots of battle damage, just like I've seen done elsewhere.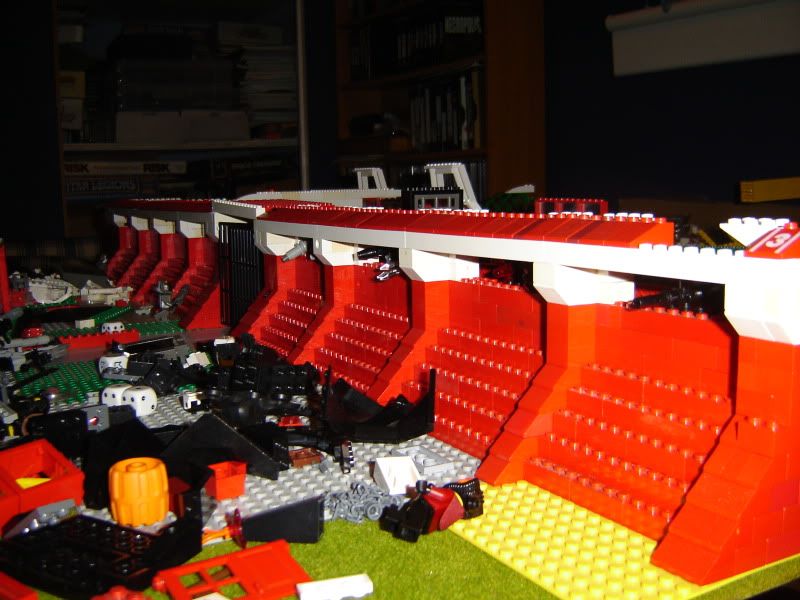 I had thought of a higher walkway above the wall but I think I'll just have some automated weapons and gubbins up there (so as to speed this bit along), I'll cover it over slightly just so it's not too hard to imagine a reinforced roof protecting the defenders, obviously it will need to be open for ease of play.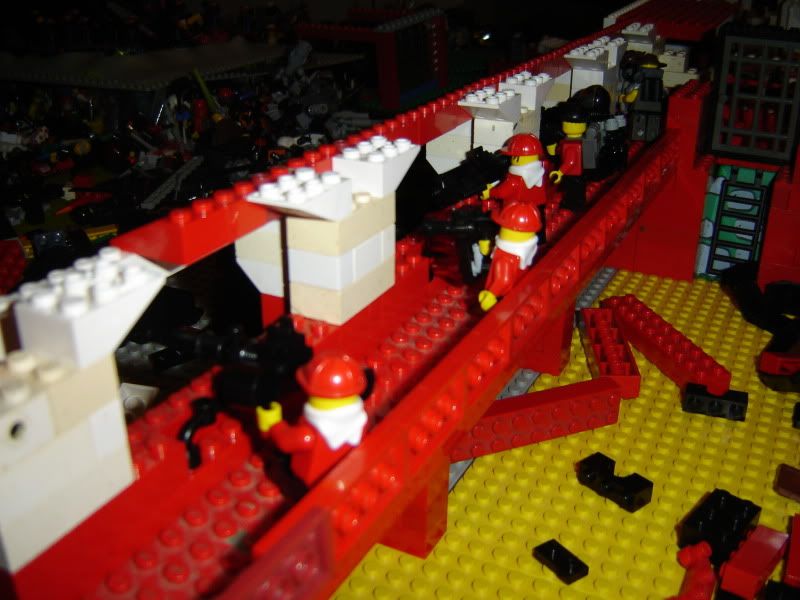 As you can see there are some small emplacements for heavy weapons all along the wall, at every slit. Importantly the Gamma Corps style of weapons all fit the firing steps fine.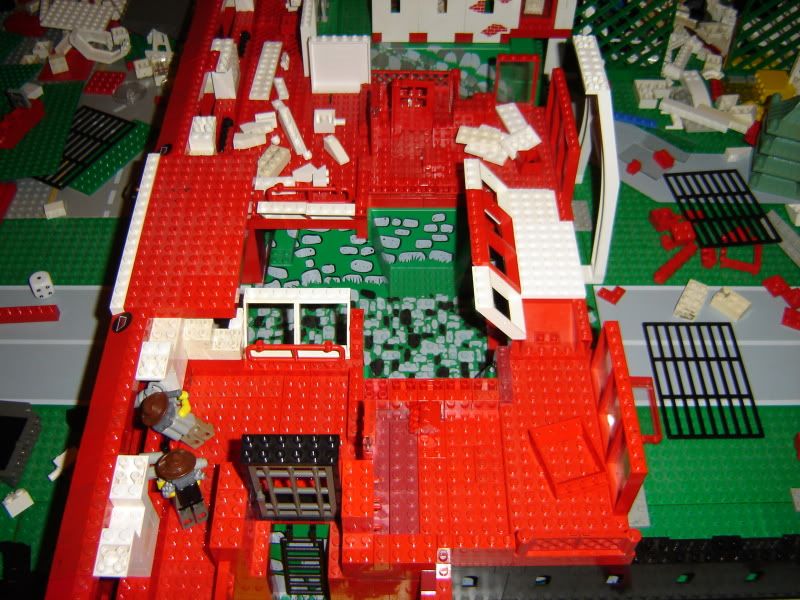 The main gates killing ground, I'm waiting for some more briks here.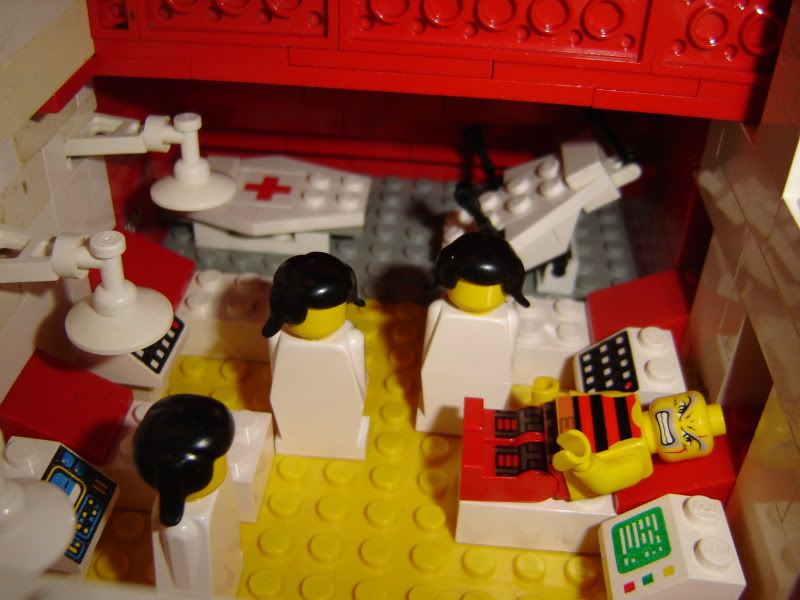 New recruits, Proto-Doctors. Again, I've still to look out and stick on the angular transfers I have to make them more like Stubby's Hospital 555 picture.
Some of the Gladiators and Arena creatures, Girlface (Silva), Some Space Commie (for Capt Zipps, I need a name for this dude NEARER the time, mate), a large Blockbot (Who is THE Blockbot instigator and Batrep forum member, I can't recall because of all the forum members players..? Speak up!) and a T-Rex (that'll be NPC'd), there will be many more still to come but these where close to hand.
Update:
Day 4 - 5
...ish.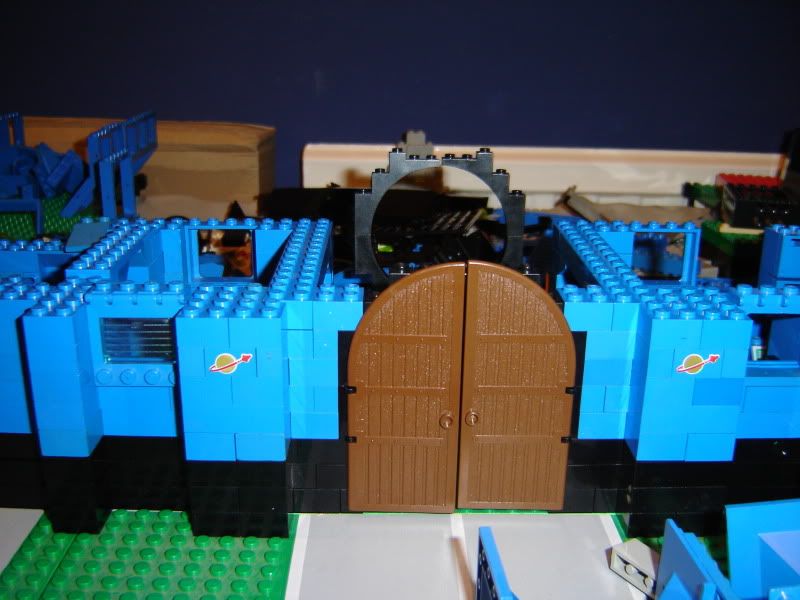 The main gates to the Palace courtyard, and the walls of Elmagnifico's Keep which protects the palace.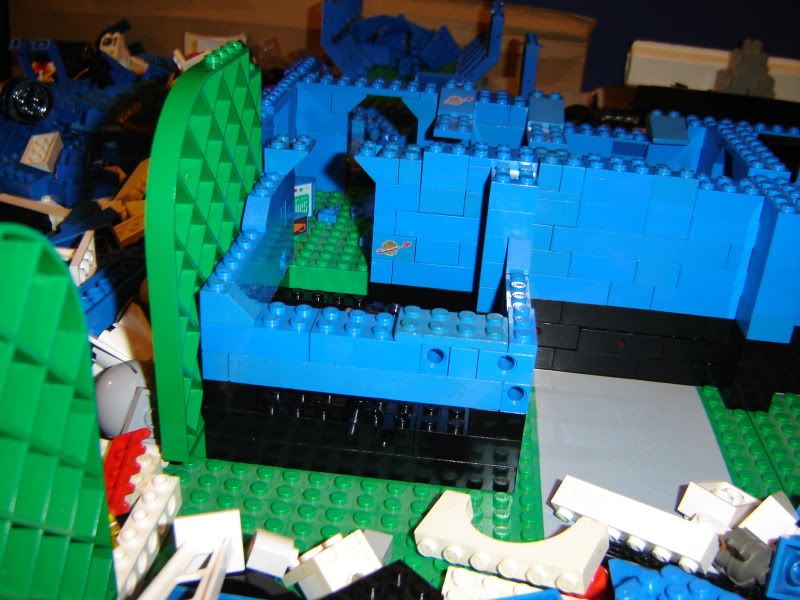 Enfilading Fire Bunker protecting the entrance from/to the fort and the Royal gardens.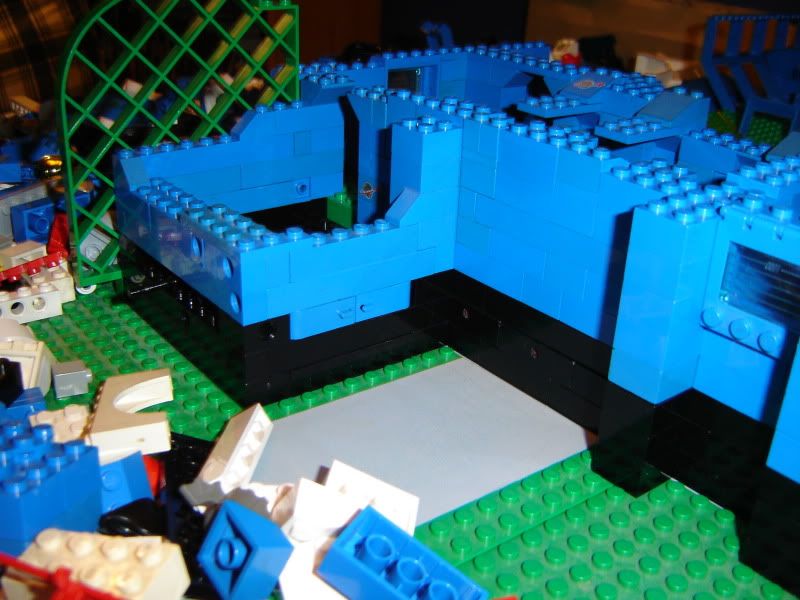 Bits of battle damage...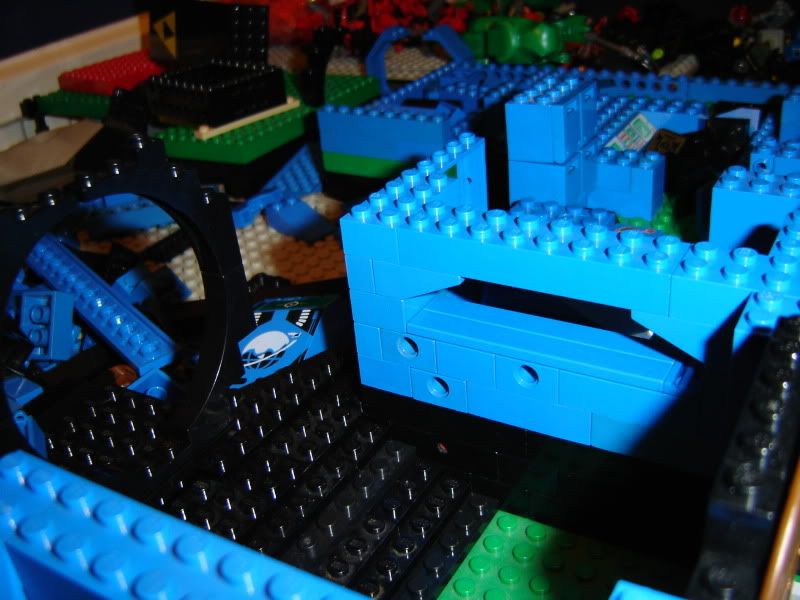 Once through the gates there are two internal bunkers allowing for a cross fire into the Palace entryway.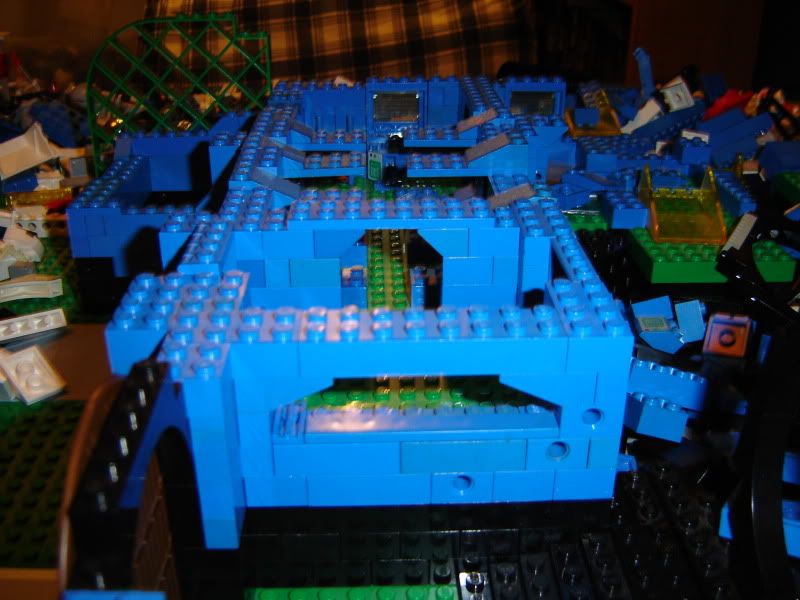 The guards quarters may just be seen behind the bunker.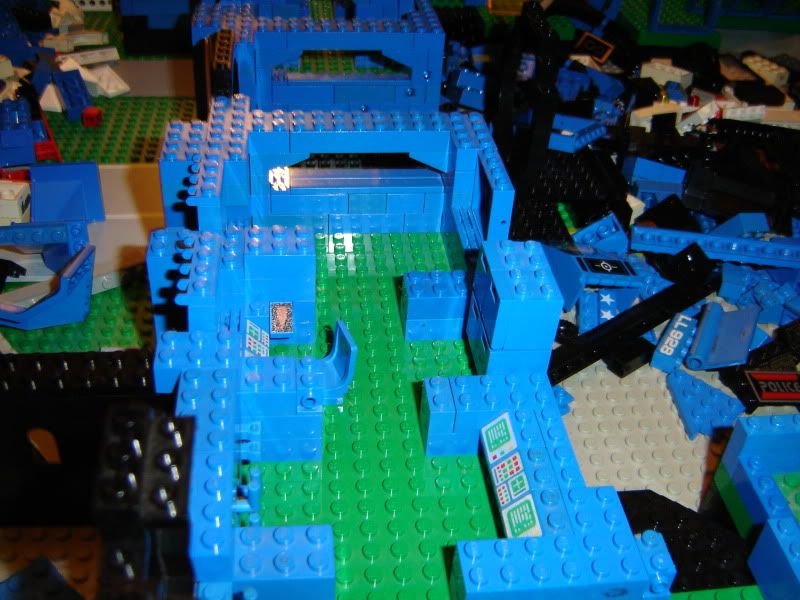 Computer complex that controls the Palace defences and doors etc.
Day: 6 + 7 ish
I managed to get some work done, bit by bit over the last week, enough to constitute a few days work. I even got some ideas down and sorted out some of the fiddly bits, but now I'm even running out of the more common briks and I'm no where near done yet... rainbow or Briklink?
The Gladiators armoury and ready rooms, there are even a few contenders here too.
The CIC and central control room for the entire base. Lots of computers and work stations, even tools and lockers etc all.
Fully stocked armoury near to the Guards Room Barracks.
Another armoury within the walls main keep. Lots of missiles in crates.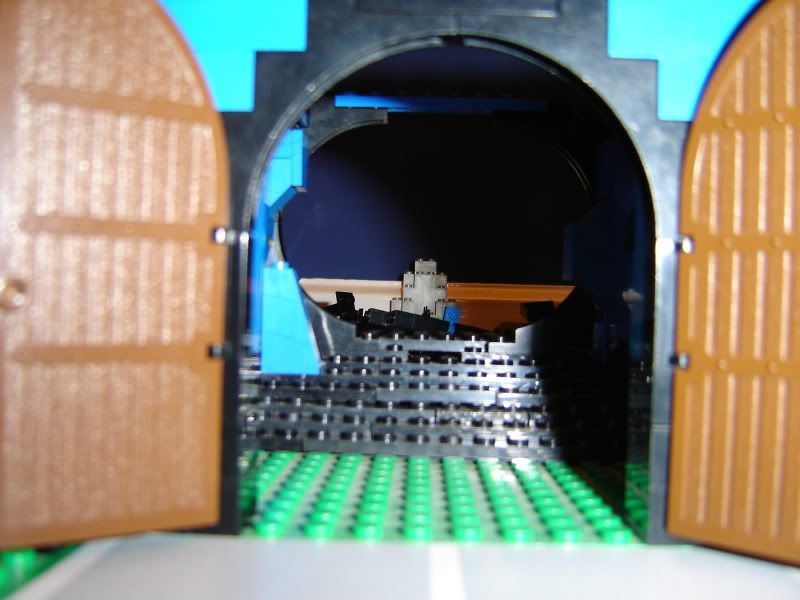 The main gate inside the Palace, come on in!..
What the!!!...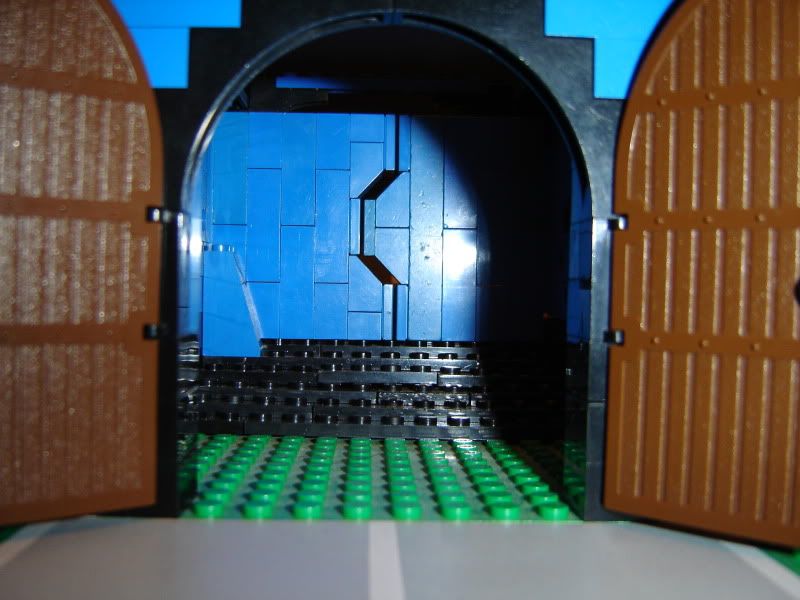 *KLANG!*
Sliding SNOT Blast doors, thick enough to give even a Maniac trouble.
DAY: 8 + 9 (I got some work done although it doesn't look it much).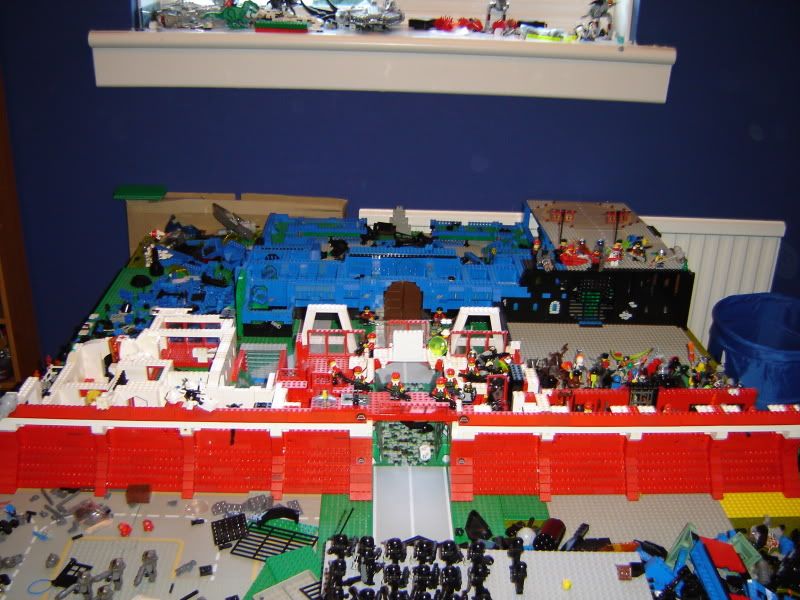 The landing pad and hanger are almost done and the Gladiator arena needs some tweaking.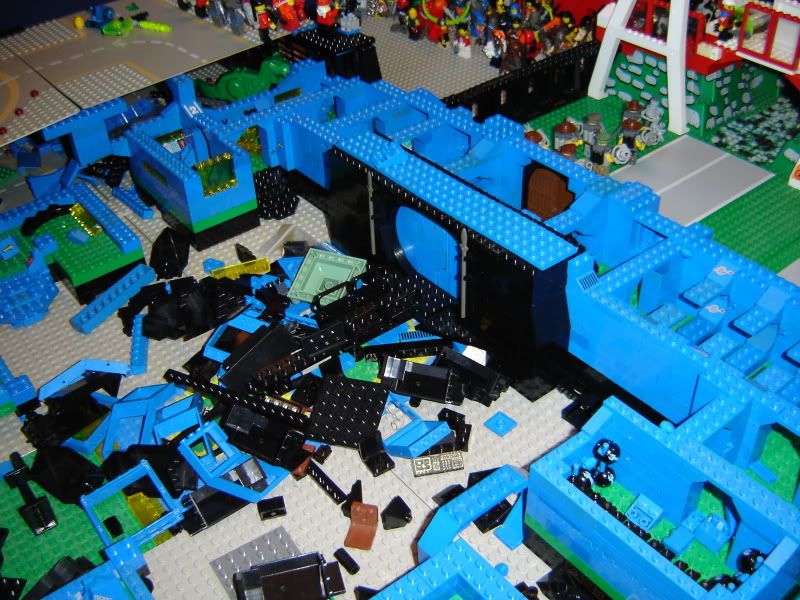 The Palace Doors are housed now and I'm working on the back of the palace itself.
DAY: 10 - 20
I'm just beginning to see this begin to resemble some sort of bunker complex, not so sure about Palace but definitely a fortress of some description.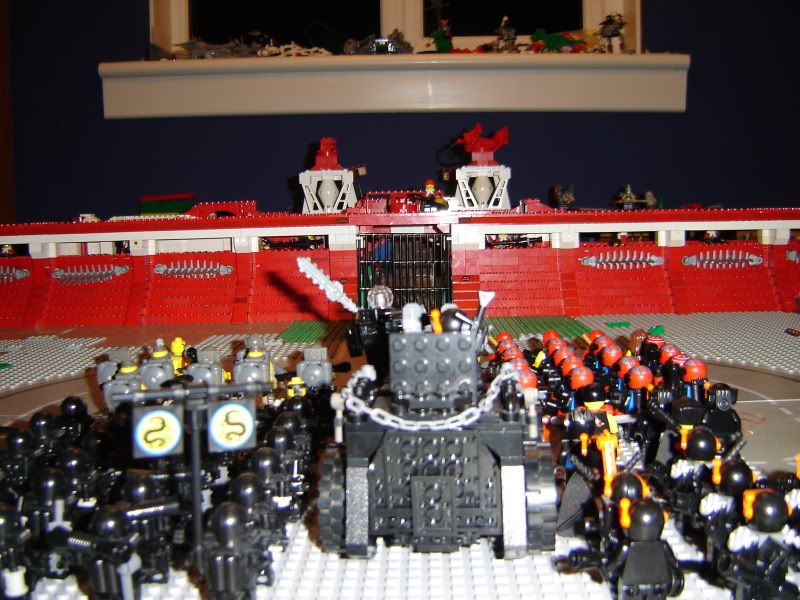 Um, I think I'm gonna need a bigger army!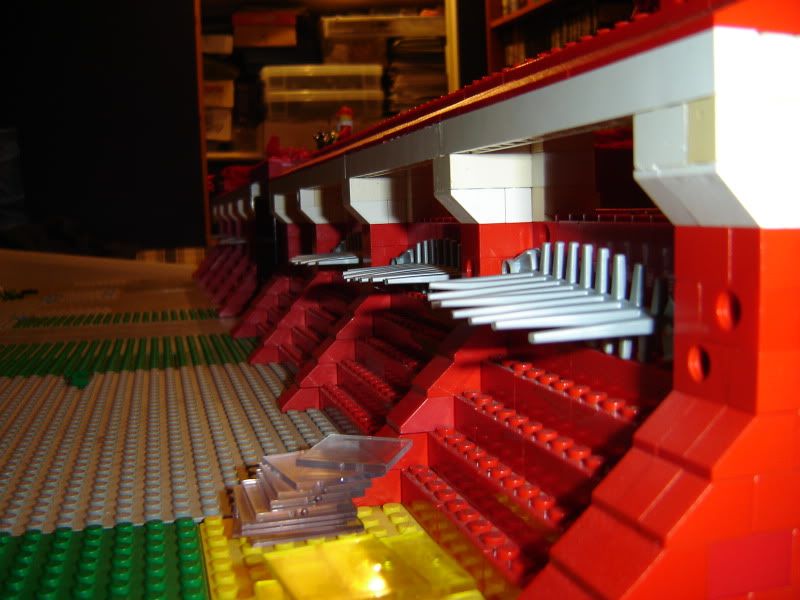 What were you all saying about stairs and easy to assault? Stairway to Hell.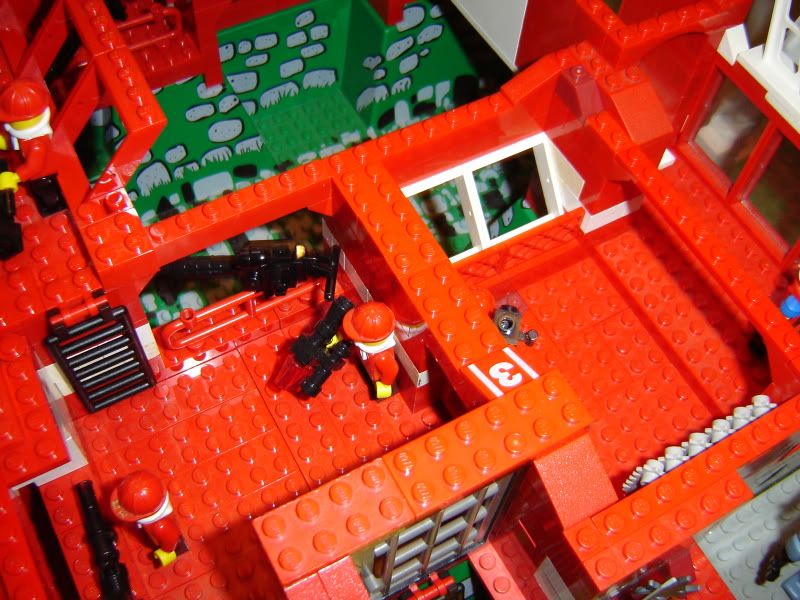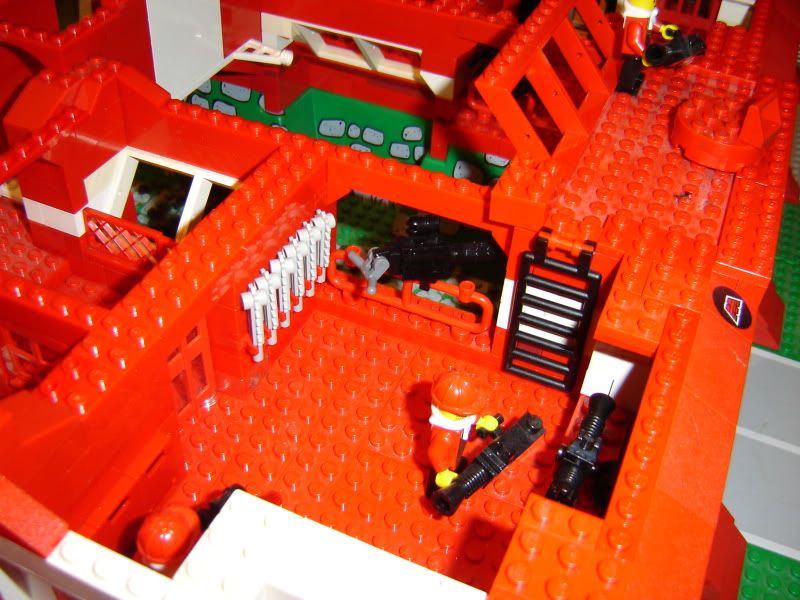 Main entrance and guard rooms to either side.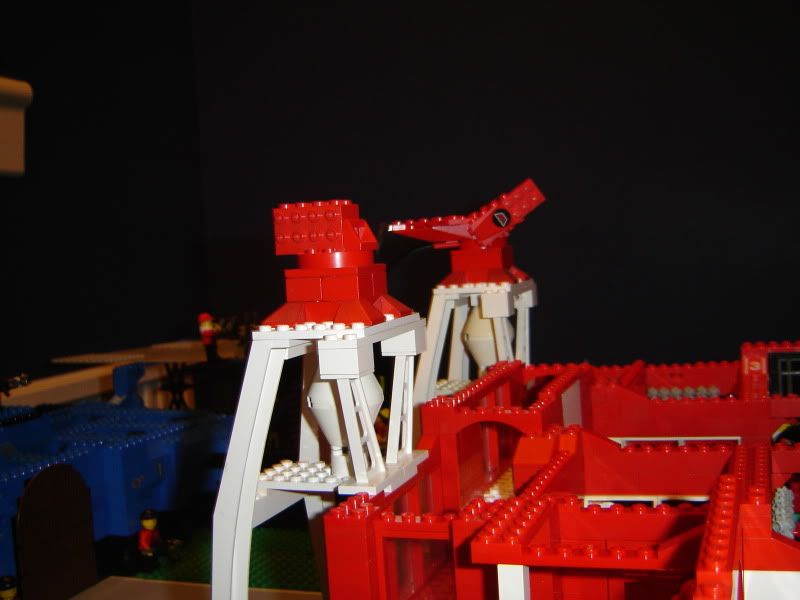 Two Hardpoint Capital Ship Class weapon mountings for defence. Weapons are still to be sorted.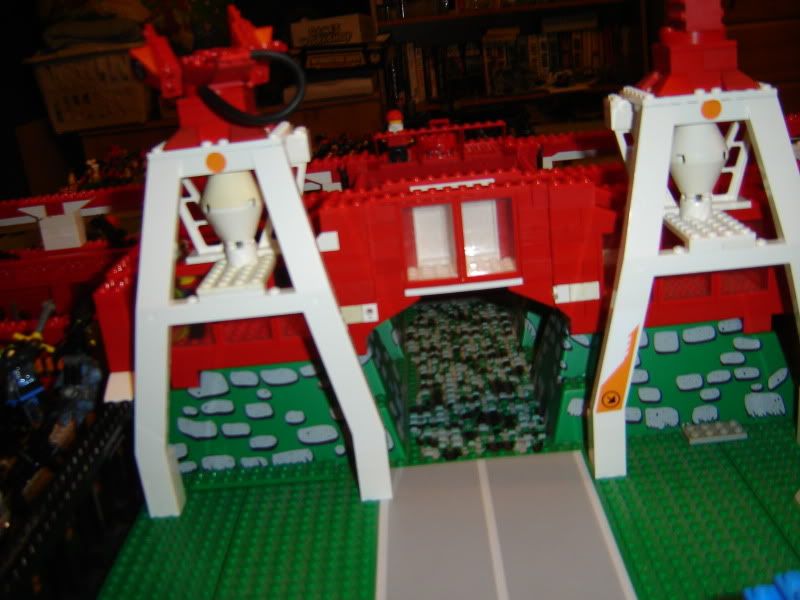 The hardpoints from the rear and the main gateway exiting into the first courtyard.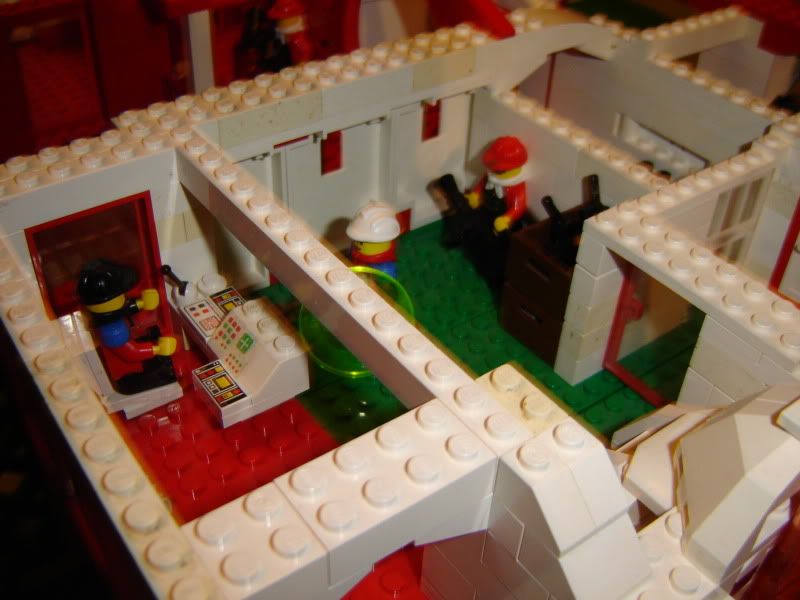 Fortress CIC (Command Information Centre), I've still to finish off putting in more work stations. The shield generator also resides underneath the fortress at this location.
Code Name Aegis checking up on the defences is entering through the forts main gate.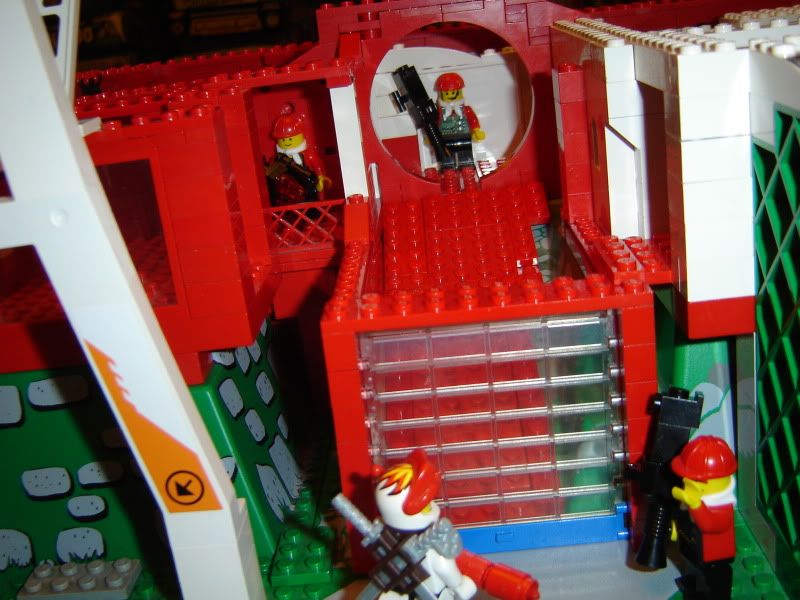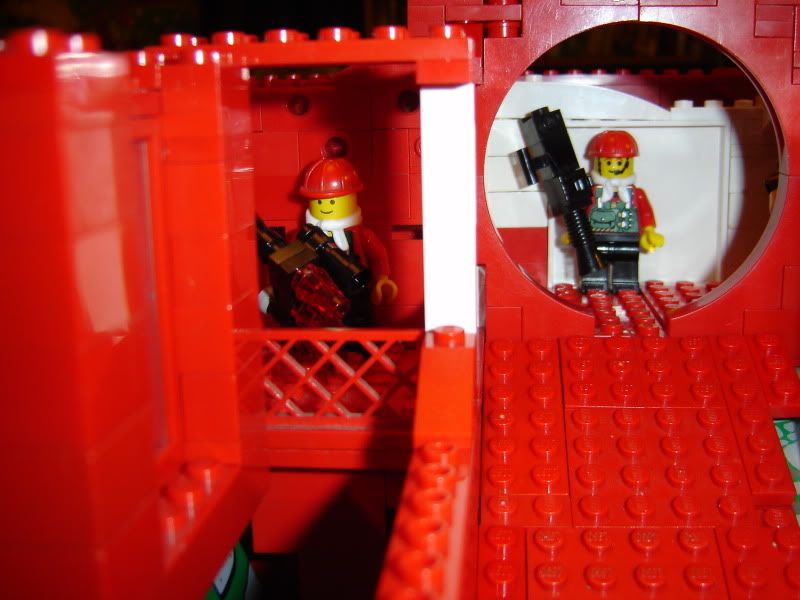 The guards stand to and look busy.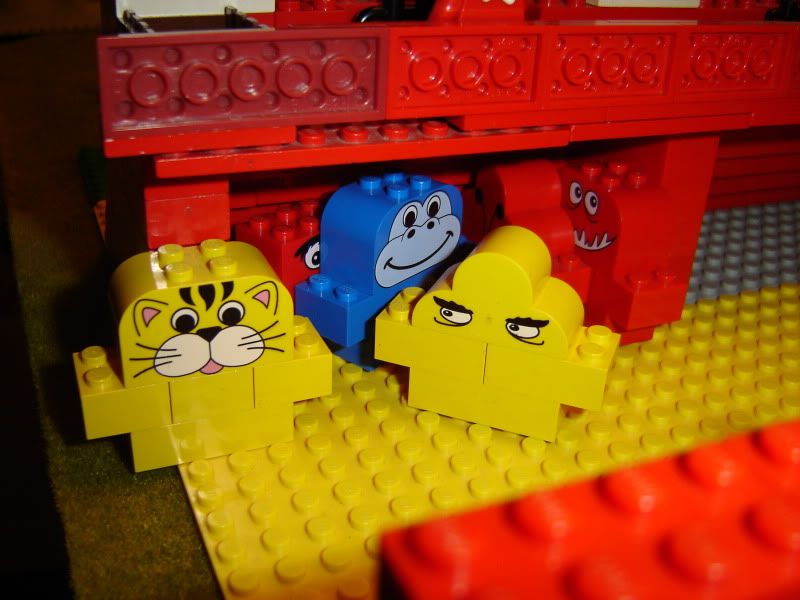 Meanwhile Blockbots plot within their prison cell...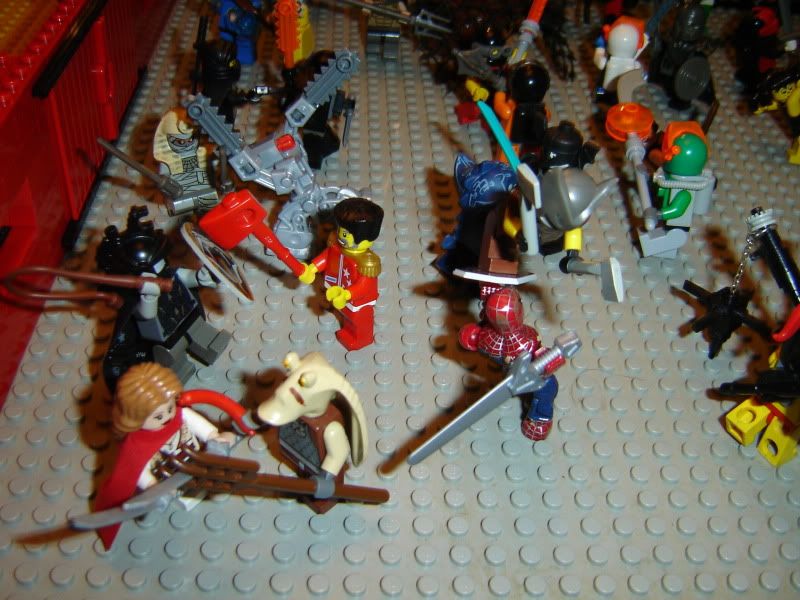 Outside in the arena the Gladiators are training.
"Eat my salami yah Elvin bitch!" The Dungan shouts.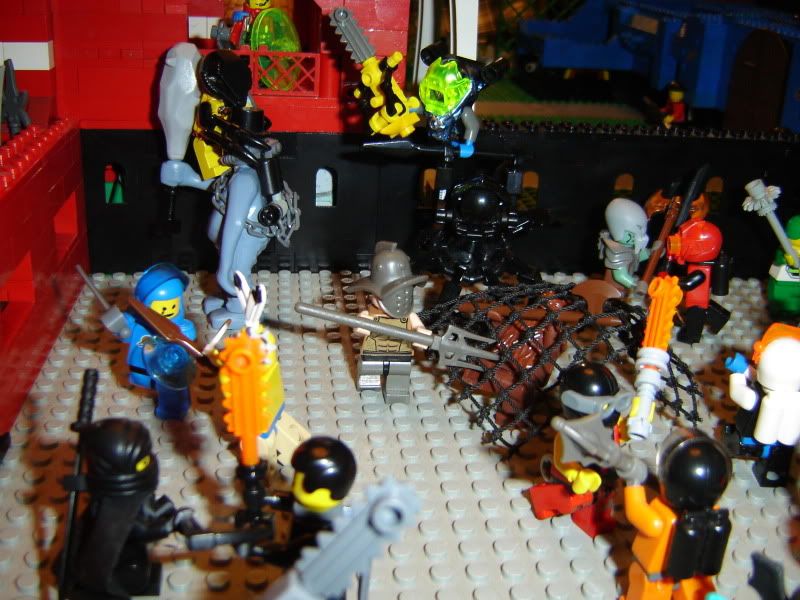 "Hey! Let the Wookie win!"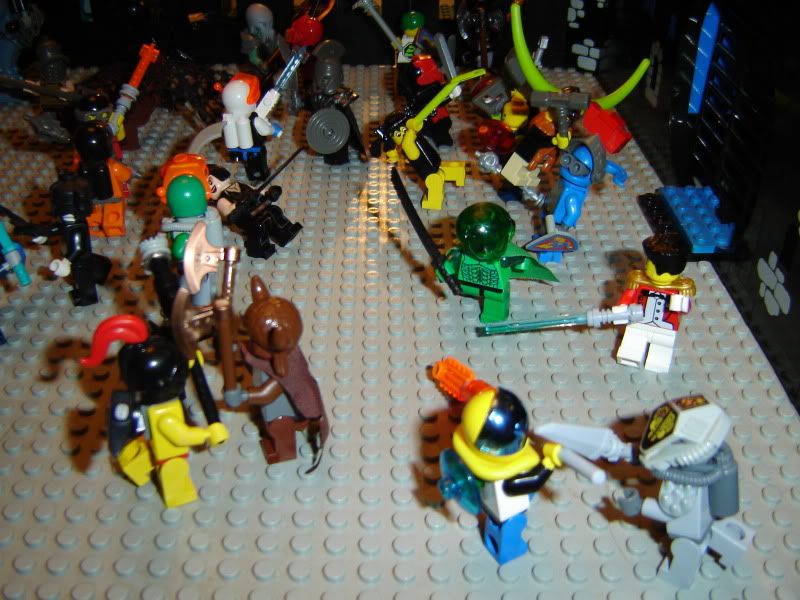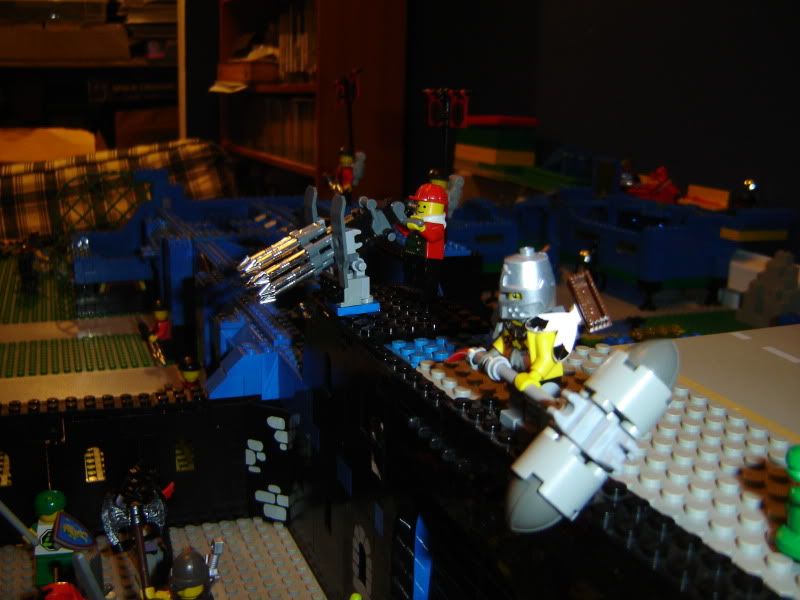 Ever watchful, Stubby glares in malignant hate.
The view from underneath the landing pad in the hanger bay.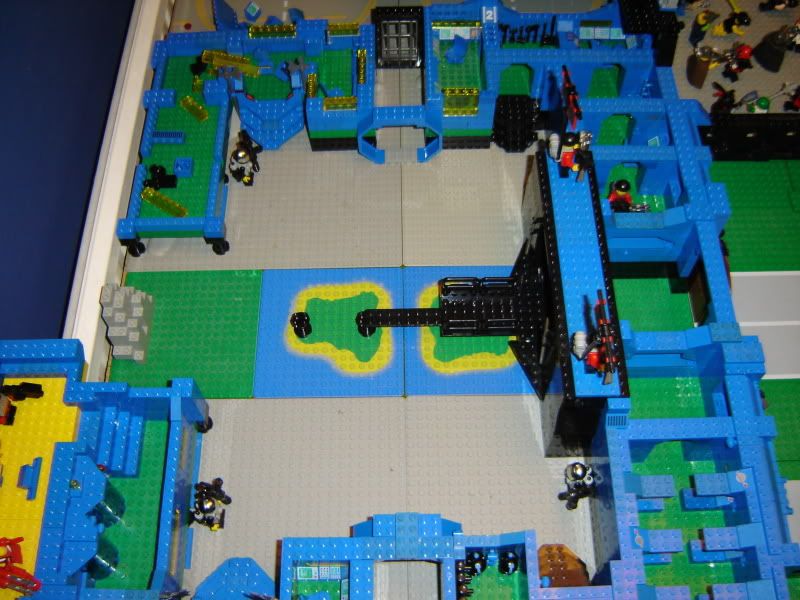 The Palace courtyard, their will be a pool and waterfall and Japanese stone garden and shit.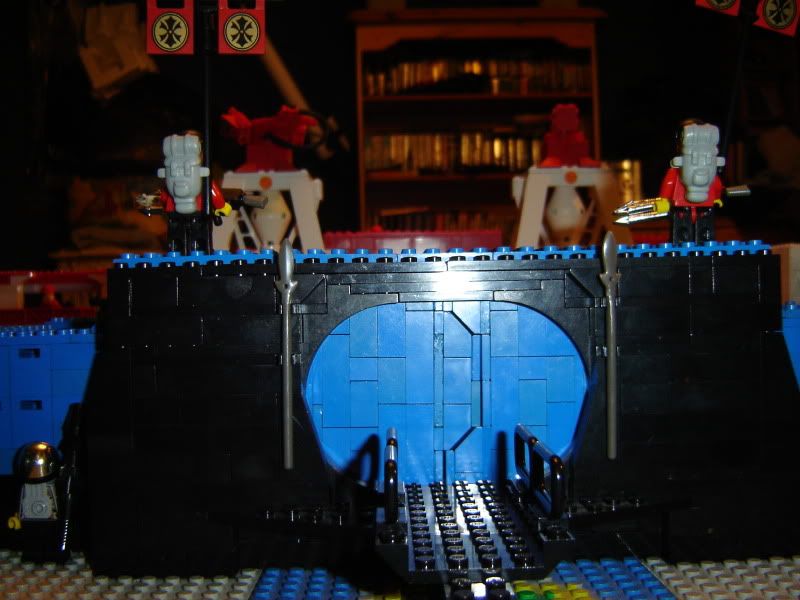 Open the blast doors!
The East Wing, still to do.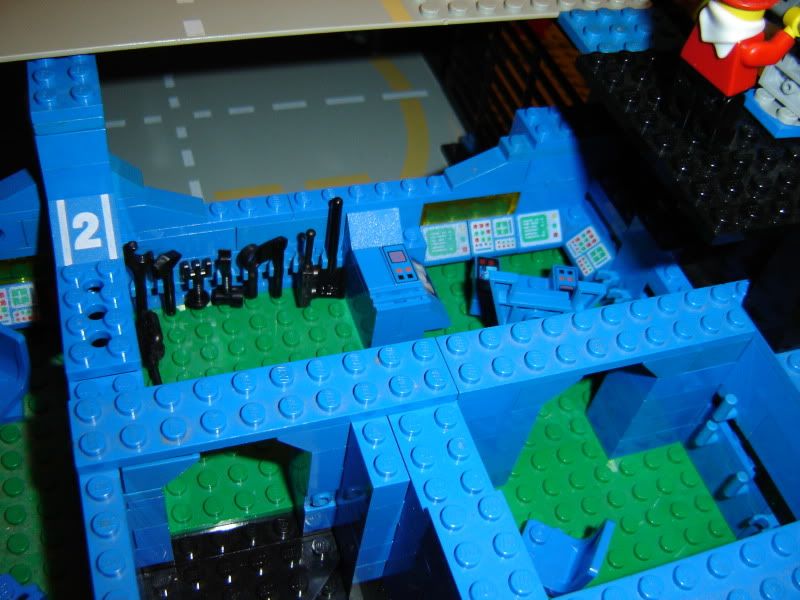 Ooo, tools and stuff. Handy.
The West Wing, almost complete.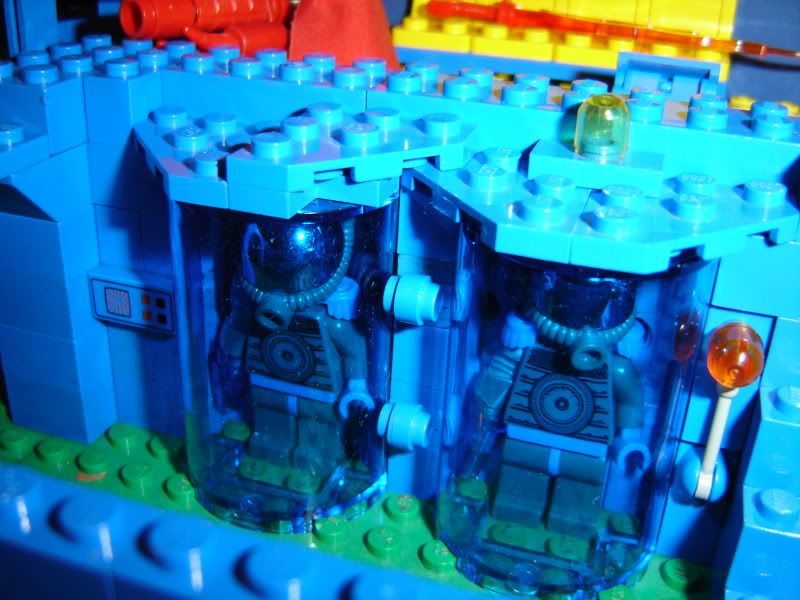 Cyborg Experimentation or Storage or something, for when their not making balloon animals out of spleens.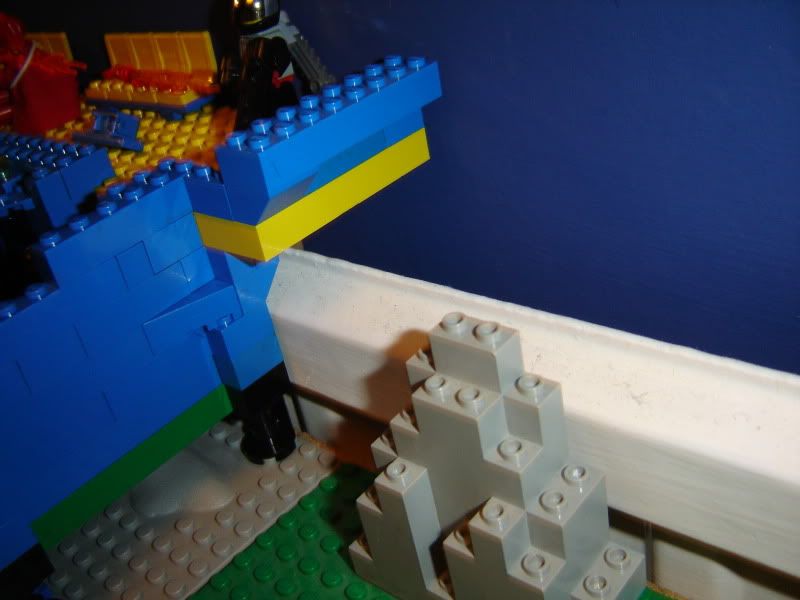 What you don't seem to appreciate is that I've built up and over the radiator so as to sit flush with the wall. The West and East Wings will join above the tranquil Waterfall in the Japanese garden, dawwww! This will be where Elmagnifico's mighty throne room (no, not the kazie) and bed chamber et all shall be placed...
...Until then, he can chill with Code Name: ??? (no idea, sorry but so tired)
A unit of Sand Phantoms have returned after a successful mission.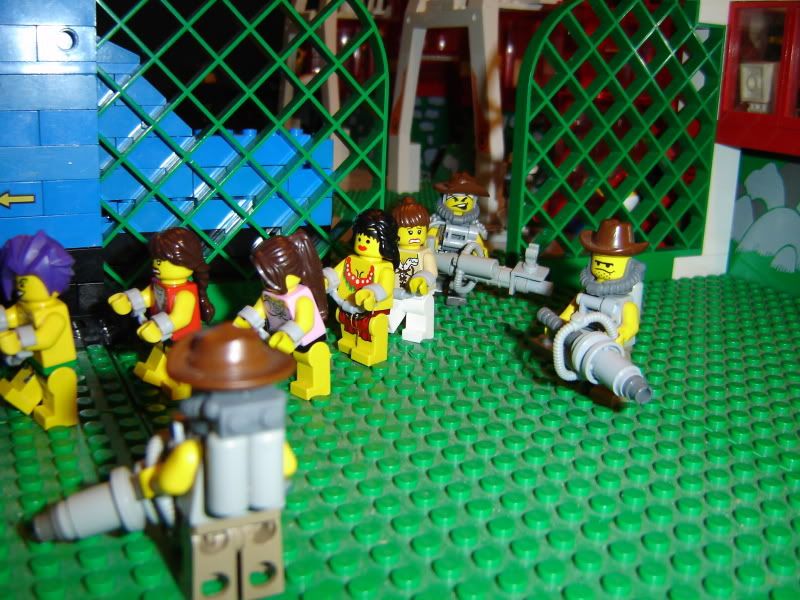 I think that Bed Chamber better get built pretty damn fast, don't you?
Day: ??? Wha'd'eva! ???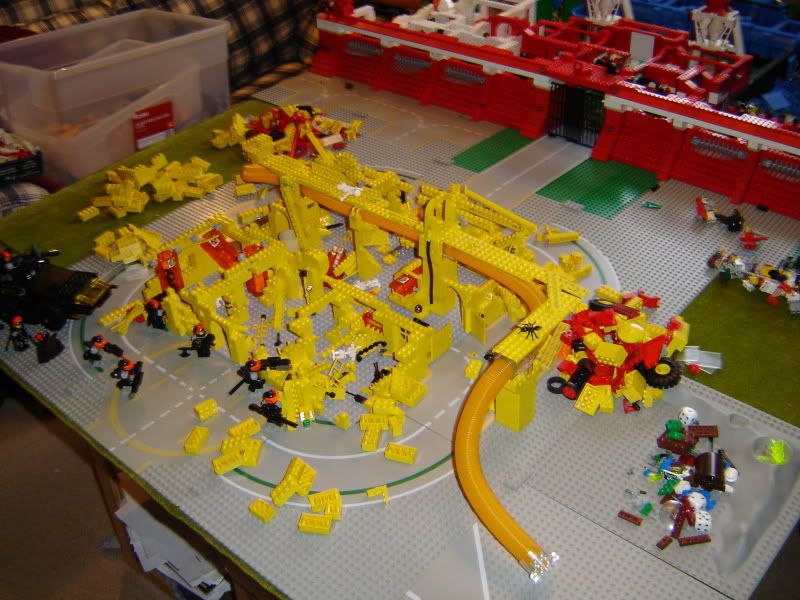 See link for more details, it'll become clear why when you get there...
http://www.brikwars.com/forums/viewtopi ... 031#146031
This'll be the wrecked Industrial complex before the walls of the Elmagnifico Palace, there used to be a proper killing field with an anti-tank ditch and cleared area for uninterrupted fields of fire but over the millennia this practice has given way to an encroaching sprawl of Industrial complexes. The ditch was also filled in for ease of access.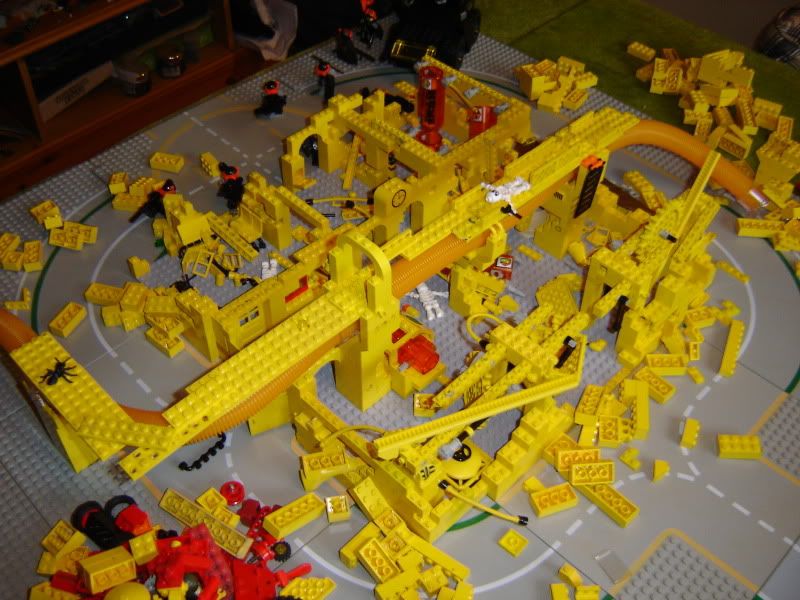 I'm quite pleased with the way the rubble and industrial look went having been limited to one...ish colour and a few bits here and there. I think I've learned lots just by looking on the net.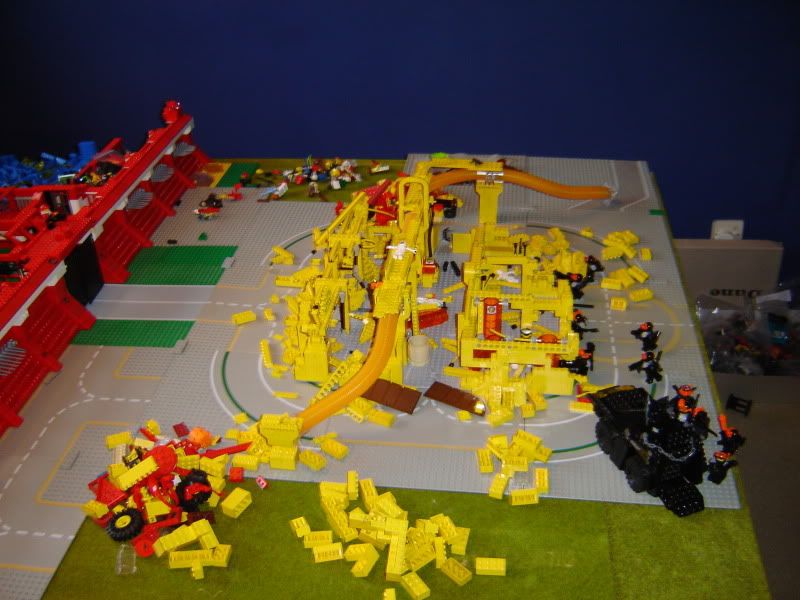 DAY *cough* er, hummm, oh, look at that! *runs offf*
PLANETARY DEFENCE SUPER LASER
1st prototype, I may improve it as I have two of the barrels and the hard point weapons mount needs some finessing.