Where all Roads Lead: Part I
Location
: War Room, Damocles Command Spire, Streaus Orbit
Synopsis
: It has been less than a year since
Brootalz were spotted in the Magenta Sektor
. In that time their destruction has spread through the sektor like an invasive species. The Imperial Magikstrate is among the few yet to be touched by the invasion, but witnessing the carnage of the rest of the sektor has them scrambling for a solution for survival…
Names Starting Bottom and going clockwise:
Admiral Stone - Admiral Beck - General Stewart - General Harrison - Admiral Glaskov - General Crawford
General Stewart -
"We cannot let these green-skin warmongers steam roll us like the rest of the sektor! We need to gather our ground and naval forces in a preemptive strike!
General Harrison -
"Stewart! That's suicide!"
Admiral Glaskov-
"I agree with General Harrison, a preemptive strike would leave many of our systems defenseless and has no guarantee to work"
Admiral Stone -
"We should evacuate outer-rim systems and set up a strong defense in our core!"
General Crawford-
"That sounds like a logistical nightmare that we don't even have the time for!"
Admiral Stone -
"Then what do you recommend? Abandoning all those systems!?!"

General Crawford -
"Maybe we can call on some RC reinforcements to bolster defenses and provide counter strike power!"
General Stewart -
You are all a bunch of pansies! No one is going to help us, they are probably dealing with the same thing. You call yourselves General and Admirals!?!? You're underestimating our Glorious Imperial Magikstrate!
Grand Archmage Ibeus Pendragon -
"Excuse me for Intruding on this riveting debate, but it appears you are all underestimating our enemy.."
General Stewart -
"Your highness, my apologizes"
Other Generals & Admirals as they bow in honor -
"Your Grace… Sir… My lord…"
Ibeus -
"No need for formalities, you know they make me feel uncomfortable."
Grand General Julias Marten Tift -
"You heard him! Stiffen up, stop the squabbling, and let's get down to business."
Everyone stands in silence as they trace Ibeus' steps towards the War Room's windows. Despite the chaos and urgency of the situation they are all in the stress doesn't show in the Grand Archmage's movements.
Ibeus gazes out the window, collecting his thoughts.
Ibeus -
"Streaus, such a beautiful planet. Billions of lives, living in harmony and flourishing. My father would be proud of what we built here."
Ibeus -
"I can not properly express my deep gratitude for the contributions of each and every one of you. Along with countless others, we have built a beautiful and thriving empire. An empire marked by peace, stability, kindness, and prosperity. An Empire unlike most in this Brikverse of ours. An Empire my father would have been proud of. We cannot let this exemplar fade! Into the dusty tomes of history!"



Admiral Beck - "Beautifully stated, your Grace. What course of action would you propose?"



Ibeus turns his back to the room and stares back out at space. As if it were some sort of pre reversed cue, General Tift jumps in
Grand General Tift - "Generals, Admirals, if you can turn your attention to the holo table"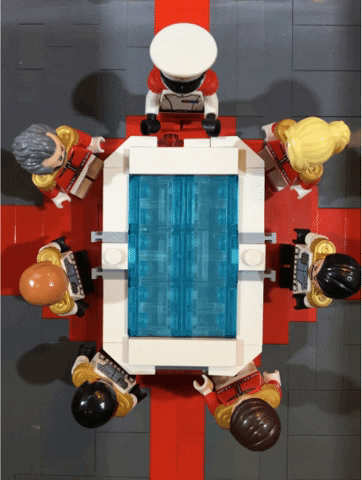 Grand General Tift - "The Brootalz and other forces of Ragnablok are closing in on our boarders. They have destroyed almost every system in their path, leaving both the Technocrats and the Housing Bloc barely alive. Using data our intelligence has collected, we have mapped what appears to be their trajectory. It seemse, there is a pattern in the invasions, they are converging on a localized point on the outer edge of Imperial space."



Admiral Stone - "That is strange, there is nothing in that quadrant!"
General Stewart - "What do you mean nothing!?! Why would those green-skins be converging on nothing?
Admiral Beck - "What Admiral Stone is saying is that deep space scans show no planetoids or celestial bodies in that quadrant… just empty space."



Ibeus - "That's what we thought… While you are correct about the scan readings, Admirals, they do not properly reflect quadrant."



Admiral Stone - "But how? Our scans have never failed before??
Admiral Glaskov - "Not only do they employ the cutting edge or matter and energy detection but they also have our magic sensing tek! What out there could hide itself from that?"



An unfamiliar voice chimes in from the other side of the room
??? - "Now it looks like we are asking the right questions!"

To Be Continued…