The sun had barely risen above the tallest reaches of a mountain range somewhere in the Norselands as a group of warriors and villagers alike set off on a journey that would, hopefully, change their very lives. It was a caravan so to speak, a trio of wagons pulled by both oxen and horses. Guarded by a handful of wary militia, this caravan was on an important quest to settle below their mountainous home and establish an encampment that would commune and trade with the people of outside factions.
The wagons carried lumber, building supplies, gold, and food. Enough food to last them a few weeks, enough lumber to build their post and small dwellings, and gold to be used in the future for trade. Two of the wagons were quite nearly over encumbered with supplies, while the wagon hauling the gold was left purposefully light. Who knew what sort of bandits they would come across, the less valuables they had the more of a chance they wouldn't face unnecessary hostilities.
"How far are we supposed to be going?" Shouted Grith, an apprentice blacksmith. He sat at the back of a wagon full of lumber as if he were making sure the wood would stay secure, but he was really just tired of walking.
"When the mountain becomes level with the ground," growled his uncle through gritted teeth. "Don't you ever pay attention, boy?"
Most of the pilgrims had been silent during the course of the morning, many of which were probably still groggy from the near-sleepless night of preparation before. Most of the words that were spoken were traded between the villagers, almost all of them being quiet observations that received even fewer-worded responses.
The day dragged on, as did the caravan. Night would be soon upon them so Farcus, the leader of the band of wagons, issued an order to stop for the evening and rest up to arise early the next morning. Bed rolls were opened and a cook fire lighted, and just as the dark of night crept upon them they were already fast asleep.
Morning arrived all too early for the pilgrims, but they set off with gusto and continued down the mountainside. Compared to the day before, the group made impressive progress. They could feel the climate very slowly change, the cold they had grown so used to begin to deteriorate into something a little warmer. The feeling it left on their skin and the surprise that they could no longer see their very breath left them curious. What other weatherly changes would they encounter along the way?
By mid-afternoon, rocky outcroppings began to appear along their path. Sure, rocks weren't an uncommon sight when on a mountain, but the route had been almost completely clear of obstacles until this point. At first, they looked like normal clumps of stalagmites and stone, but the same cluster of similarly formed outcroppings had soon become more and more common. A few of them even gave away to strangely shaped slabs of stone underneath, almost as if years of erosion and rock slides had unearthed something underneath. This made some of the journeymen a little nervous out of old superstition.
Farcus motioned toward his squad of militia to follow him, leading them just a little ways ahead of the caravan to scout out the strange ruins.
"What the hell is under here?" One of the militia ranger said as they approached another stalagmite.
"Hard to say. Perhaps there used to be a temple or castle here? Whatever it was, it's just a bunch of rocks now," replied the ranger officer.
A piece of rock from the mountainside just in front of the caravan burst apart, raining down debris and snow. From the resulting hole now in the mountainside stepped an armored corpse, an ancient and long-dead warrior. It raised it's brutish sword at the militia and spoke in a raspy tongue unknown and more than likely lost through time. How the corpse could even produce such speech from rotted vocal chords and lips further shocked the party.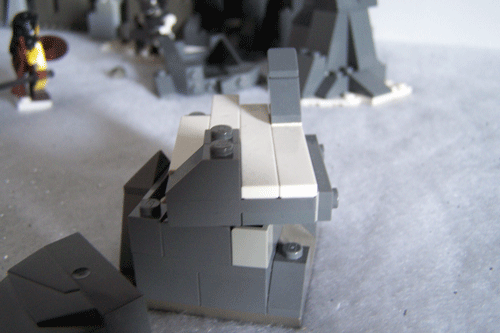 Then as if on command, a number of stalagmites burst apart and more undead warriors awoke from their slumber.
"Damn," cursed one of the militia, "It's a tomb!"
~End Chapter One~
(Chapter Two to be posted in the next post.)