So, I've finally converted the
Morlock
into a full-fledged SHIP. Besides that, tl;dr story fluff time!
The Squidhead Dominion -
A vast empire consisting of a galaxy distant in the Brikverse. Originally native to the oceanic planet Seeworld, the Squidheads quickly established control over their singular planet and expanded rapidly across their galaxy. A species of narcissists, all Squidheads suffer from delusions of grandeur. As a result, Squidhead society is hyper-competitive and incredibly hateful towards other species and themselves. Squidhead dominated planets reap the bounty of grand interstellar trade, as the cost of loss of autonomy.
Despite the vastness of the Dominion, the Squidheads are a divisive minifig lot. Squidhead society is set up in a feudal way. The minor nobles; the Squid Knights, will claim a warship (Such as the
Rial
as their fief. They are in turn subordinate to a Squid Baron, who commands a powerful warship (Such as the
Morlock
) and leads a fleet. Using these assets, a Squid Baron will often dominate and administrate a planetary body, claiming it for the Dominion. The Squid Barons in turn serve a powerful Squid Overlord, who resides in a massive Squid Station. A structure of enormous power and arrogance, Squid Stations are used as homes for most Squidheads and to oversee entire star systems. Overlords and Barons are constantly fighting other fiefdoms while they're not subjugating the local species; a Baron might break off his fleet and jump into unknown systems or attack a rival's planet at a moment's notice.
Instead of colonizing worlds, prospective Squid Barons will compel insurgencies or otherwise dominate a planet, ruling from orbit. Its citizens tend to assimilate into Squidhead society as second-class citizens. Due to the sheer amount of Byzantine scheming Squidheads conduct on one-another, they rarely have much time to deal with their underlings. Rather ironically, these subjugated species tend to be better off in the dominion than the actual Squidheads.
Races Subjugated by the Squidhead Dominion (Examples) -
Warewolves, Bedouin Space Orcs, Skeetermen, Patrackians
Relations with the Galaxy -
As a foreign species, the Squidheads have had little contact with standards minifigs. In the great wars of antiquity, some Squidheads found themselves in this galaxy, where they were often oppressed by the authoritarian Space Police. In G.R 2009, one subject was found in the criminal underground. Oddly enough, his claims as "King of the Squidheads" was a delusion shared by many of his contemporaries. Now, sphincter fleets of the Squidhead Dominion have stumbled into the Galaxy, ready to expand their ancient and fracturing empire...
With that out of the way, let's look at the updated
Morlock
! At 105 studs long, she is classified as a SHIP now.
Equipped with four beam projectors and two cannons, this vessel is adept at taking on numerous enemies or training its beams on a singular target.
Its most powerful weapon is the Amplified Beam Projector, a concentrated beam that pulses through enemy shields, causing extensive damage.
The thruster, equipped with four dual-linked pulse lasers ideal for point defense.
Frontal view, showing part of the hangar.
Disassembled.
The bridge. Here, the Squid Baron commands from his throne, along with a staff of a Squid Knight and four underlings.
The Pirate Radio Station. These guys are used to promote propaganda and compel insurgencies on target worlds. And play terrible pop music.
The hangar. Most of it is covered by the bridge, but it can carry four
Vector
starfighters.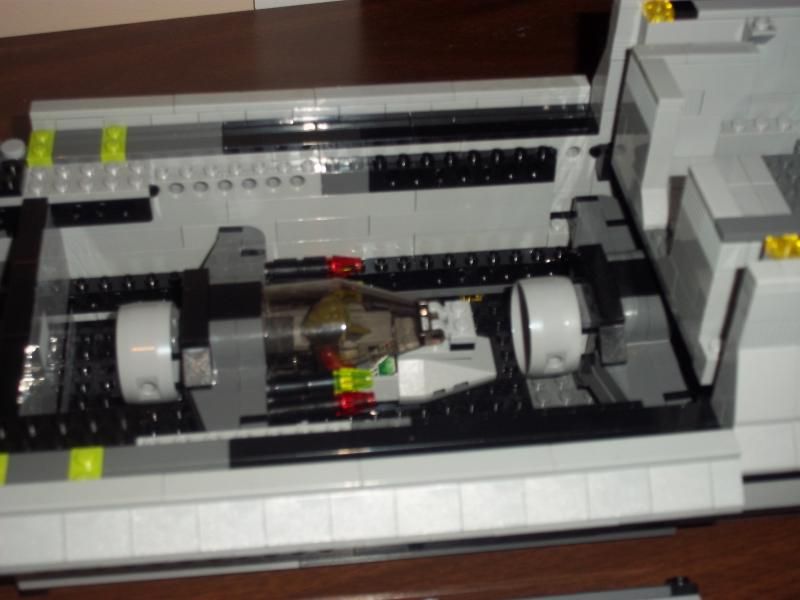 Some empty space that I haven't decided what to do with yet.
Living quarters.
The administrative section.
Engineering. The Squidgineer handles all the technical nonsense here.
Supply and terranium. Warewolves hold a revered position in Squidhead society, due to their reknown as experts in warehousing and administration.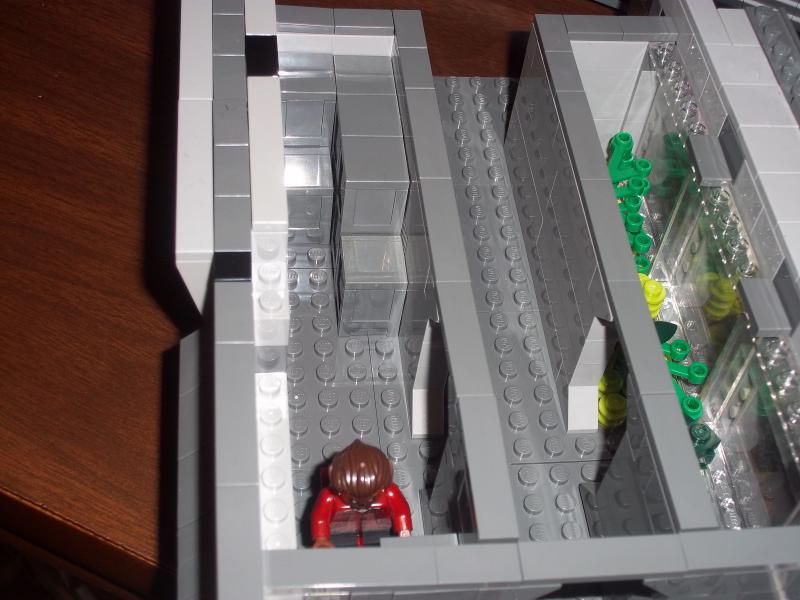 Finally, a size comparison with the
Rial
and a
Vector