Okay, this is the intro & sign up thread for my Death War project. It's styled the same way Pesogoras styled his. Here I will list the forces involved and I have a big Overwatch of the battlefield.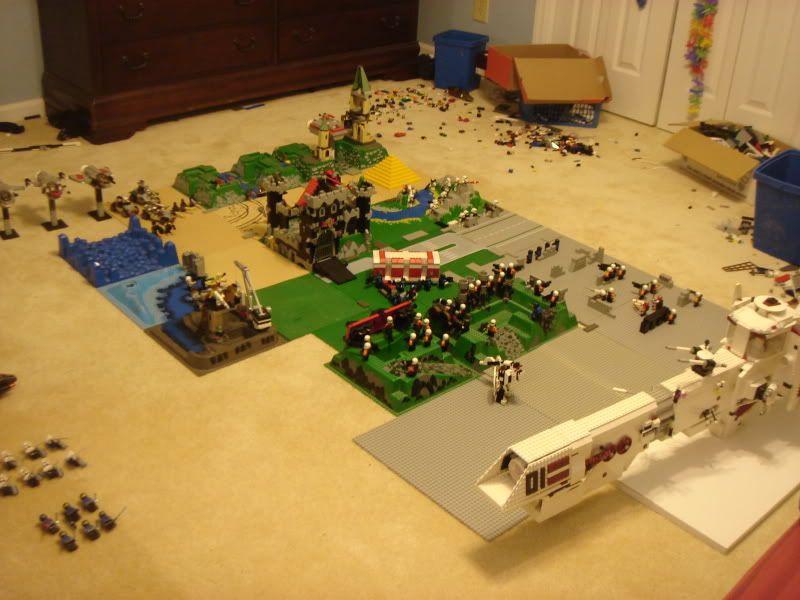 - Click for larger picture -

Yes, this massive battle covers most of my room!! It will involve everything you see here, including the big Longinus IV star cruiser and the Czech-politician fleet you see top left.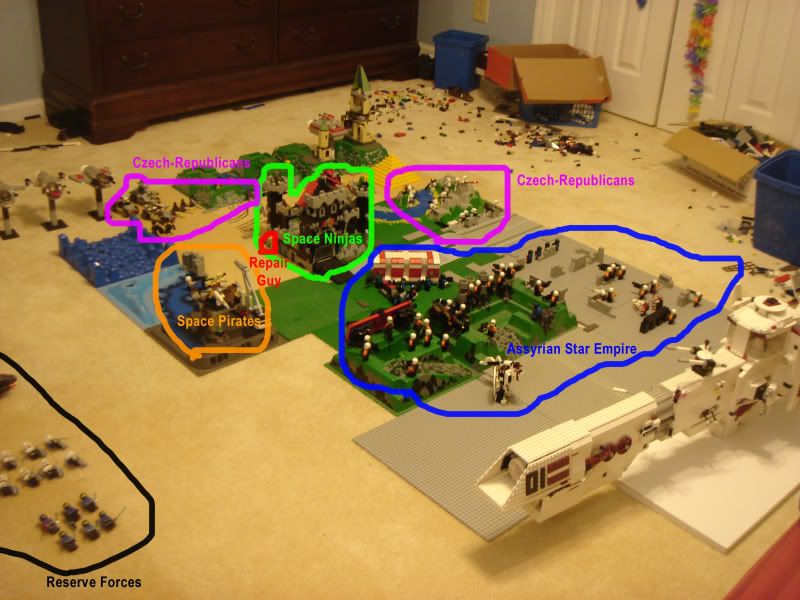 - Click for larger picture -

Here you can see the force names.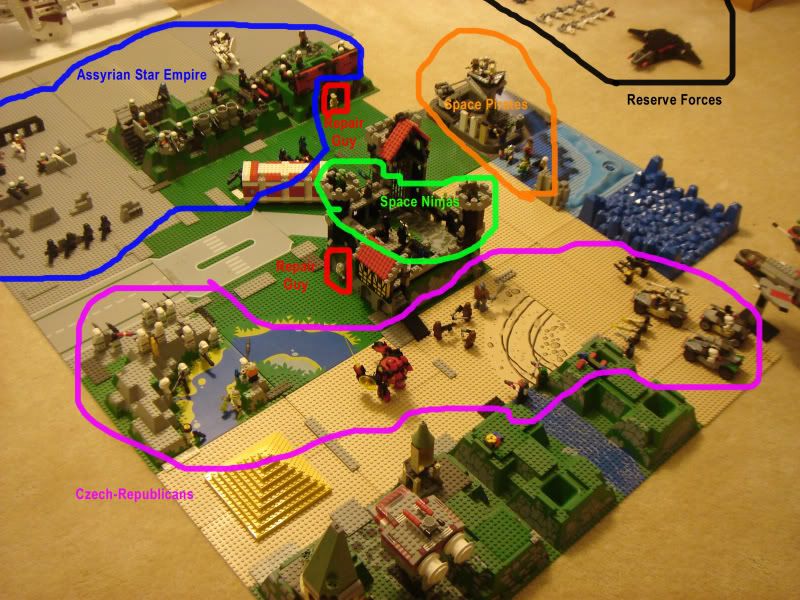 - Click for larger picture -

This is from the opposite angle. The Repair Guys are neutral. Players can convince them to help repair or rebuild damaged vehicles. There are three on the battlefield.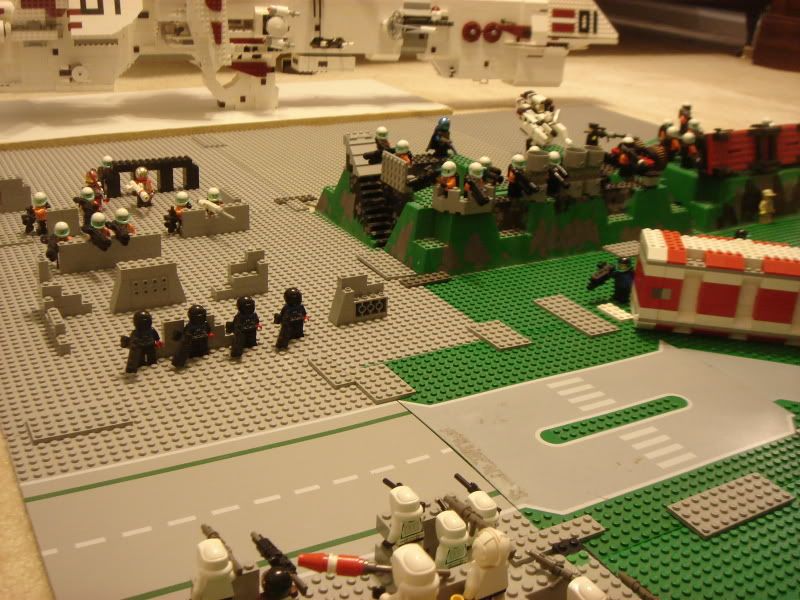 - Click for larger picture -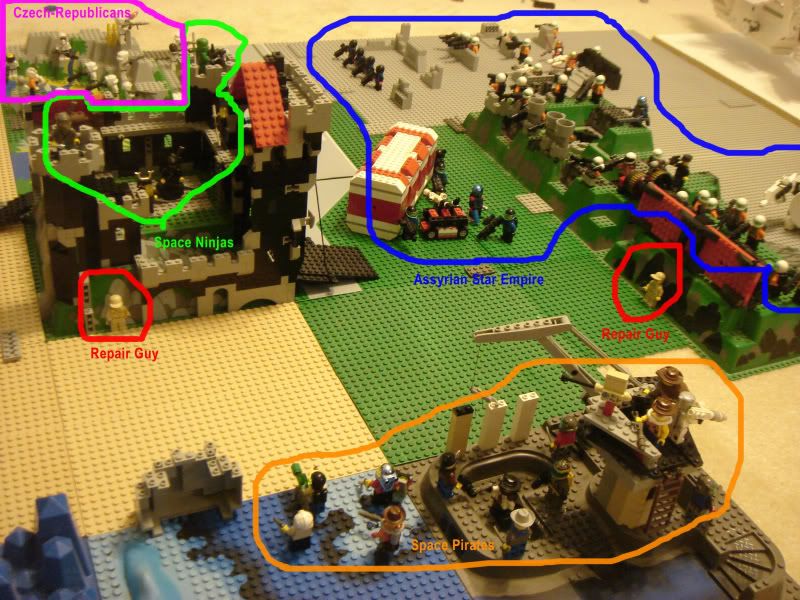 - Click for larger picture -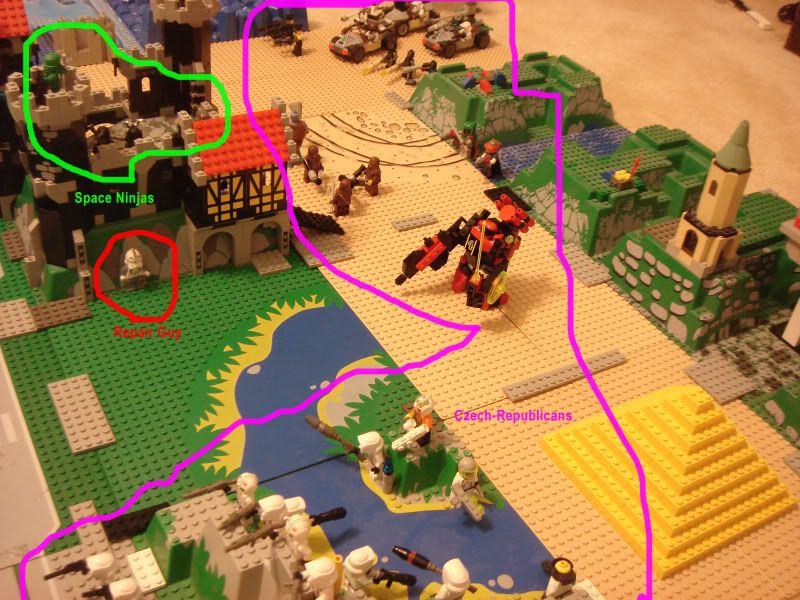 - Click for larger picture -

That's it for overviews... Now we move onto the specific factions that will be involved in this massive battle.



The Assyrian Star Empire




These guys are the biggest force on the field. The majority of their soldiers are the orange guys. They aren't too special. Here I've pointed out what most of their weapons look like so that whoever commands them will be able to make some more calculated moves. Also in this picture is Major Smith, one of the Assyrian heroes. He's not to special though. Note that for this game, heroes won't have a negative effect upon eachother if there are more than one per team.

The Assyrians also have the big star cruiser.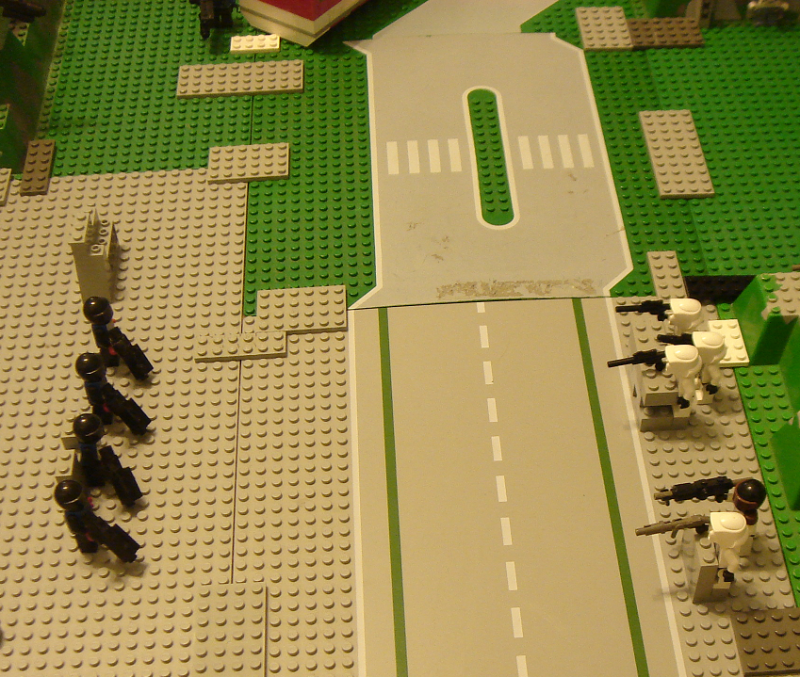 This will likely be the first combat in the game. On the left are four 2nd-Type Assassin Droids. Extra points to whoever tells me where that name comes from. These are deadly killer robots that have superhuman strength and are tough to kill. The guys on the right are Czech-politician Commandos. We'll get to them later.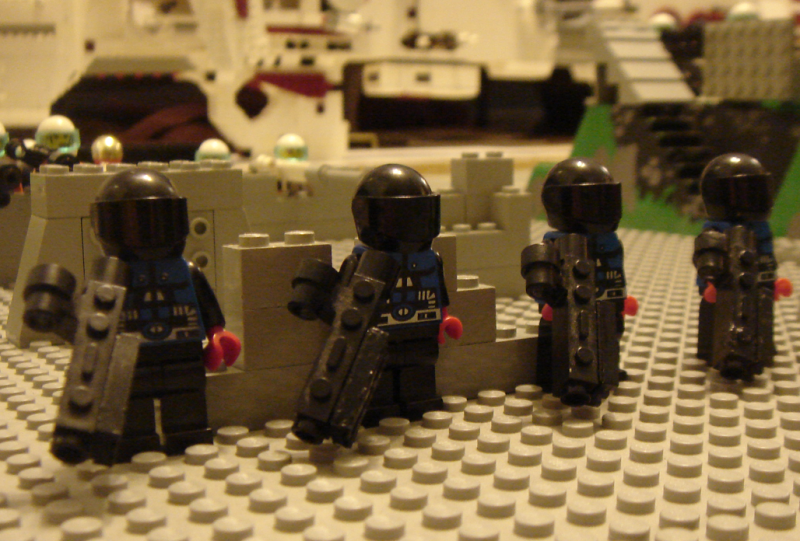 Again, the Assyrian Assasin Droids.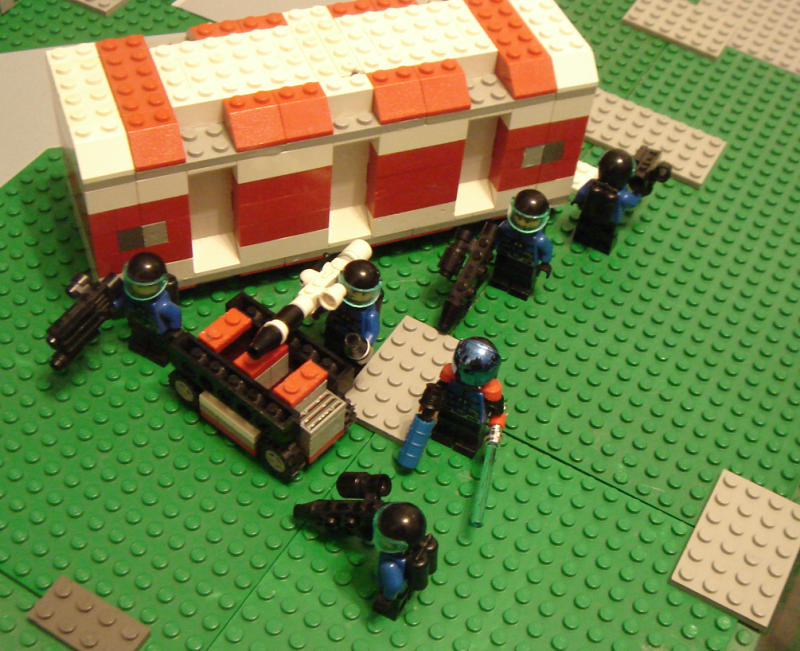 Not to be confused with the 2nd-Types, these are Assyrian Commandos. They are a special forces unit and have a skill modifier. You can tell them apart from the 2nd-Types because these guys have blue arms and black hands and wear translucent visors.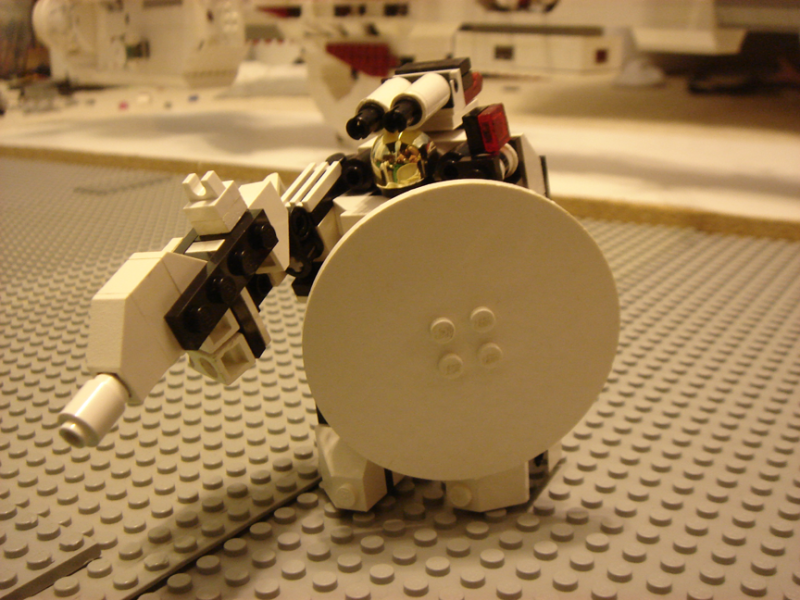 The Assyrian Light-Foot Mecha. The Czechs have one of these as well. This one is tougher but does not have as many weapons. On top you see its machine guns, it's holding an auto-cannon, and then you can't see it but it also has 2 MKII missiles on its right arm. It also has rocket engines so it can jump over stuff and move 15" each turn. Same for the CR mecha which we will see later.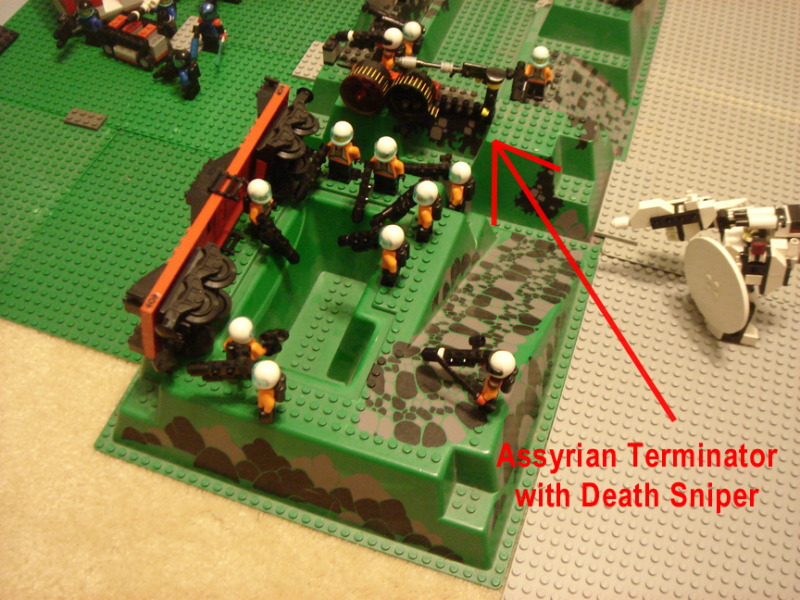 More Assyrian soldiers. Marked is an Assyrian Terminator robot. They're much like the terminators in the movies.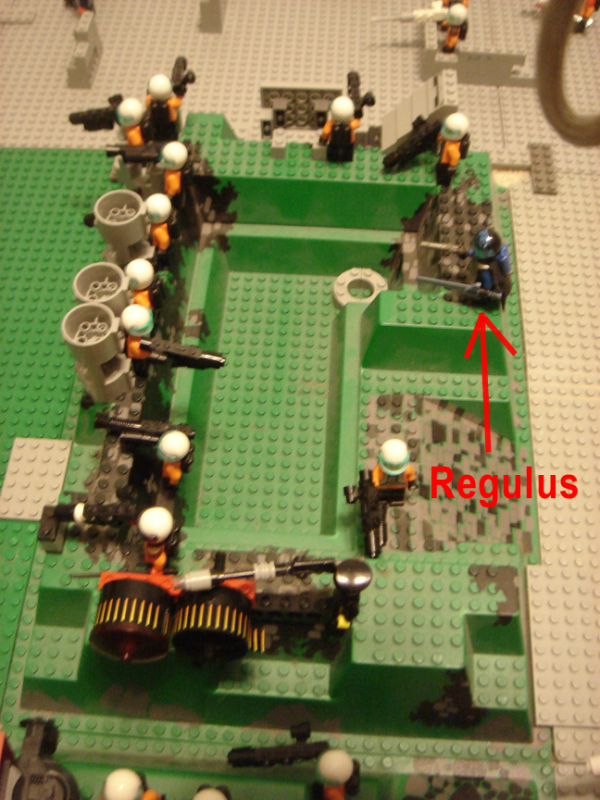 The last of the Assyrian forces. Marked here is Regulus, the other Assyrian hero. He carries a .44 magnum, the most powerful handgun in the world. Again, points if you know the reference.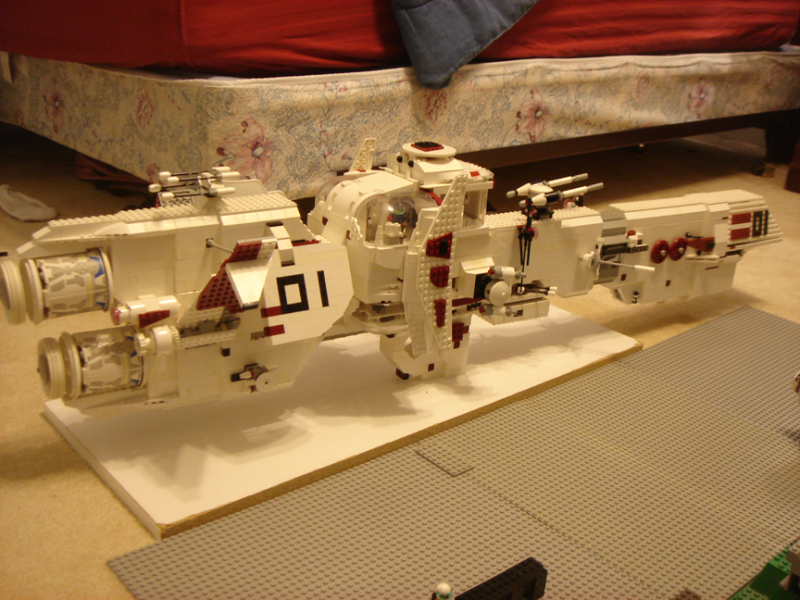 The Assyrian's Longinus IV-B Corvette. It will take part in this battle. It is obviously the most powerful item in the game, but it is not invincible. I've given the other teams enough missiles and heavy weapons to take this thing down, but it will require a concentrated effort.



The Czech-Republic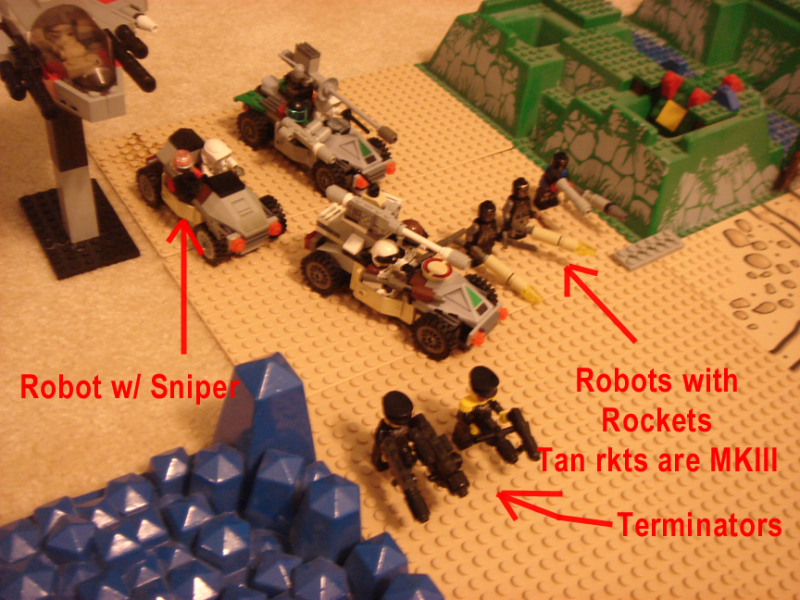 The second largest force in this battle, the Czech-politicians are constantly at war with the Assyrians. Their numbers are not as great as their foe, but they have a more diverse force and make better use of vehicles. The cars pictured here have an auto-cannon and a phase-cannon as turrets. The Czechs will need all their firepower to overcome the Assyrian's advantage in numbers, and of course the Longinus IV cruiser.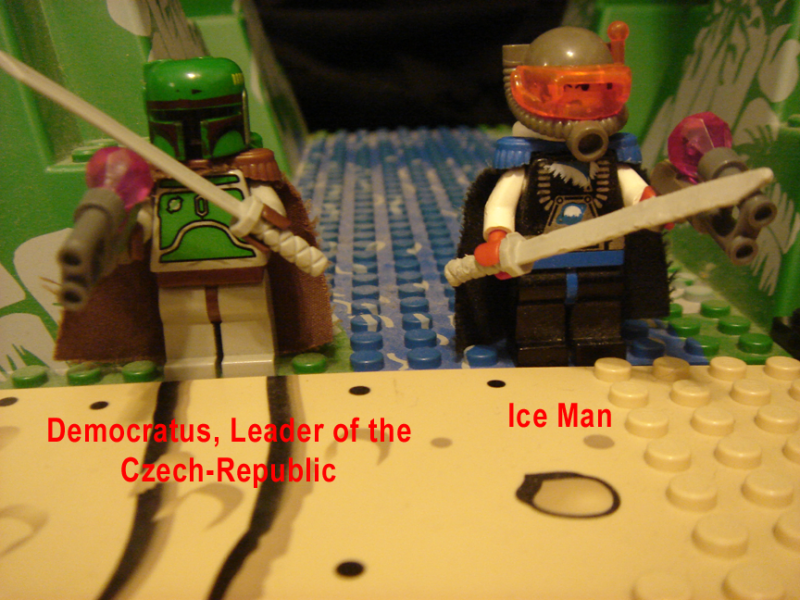 Democratus and Ice Man are the heroes for the Czech-politicians. Their crystal guns shoot explosive crystal shards into their enemies, which are also laced with poison.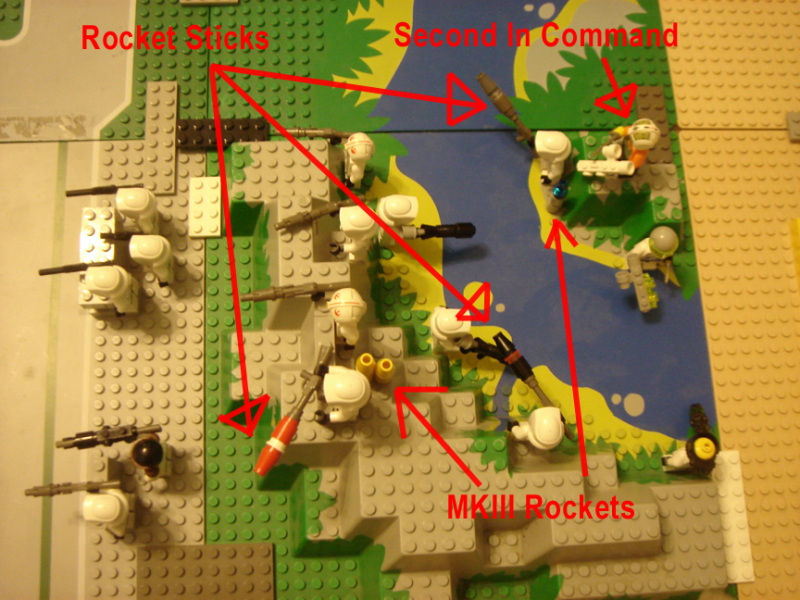 The mainstay of the Czech-politician army is their Commandos. Their legacy as a rag-tag militia continues with them and is visible here... Notice their lack of standardized weaponry, and their use of rocket-sticks. A rocket-stick is an automatic shotgun that can be set to fire off a missile or RPG. When no missiles are available, it can again be used as a shotgun. How clever. Extra missiles are on the ground.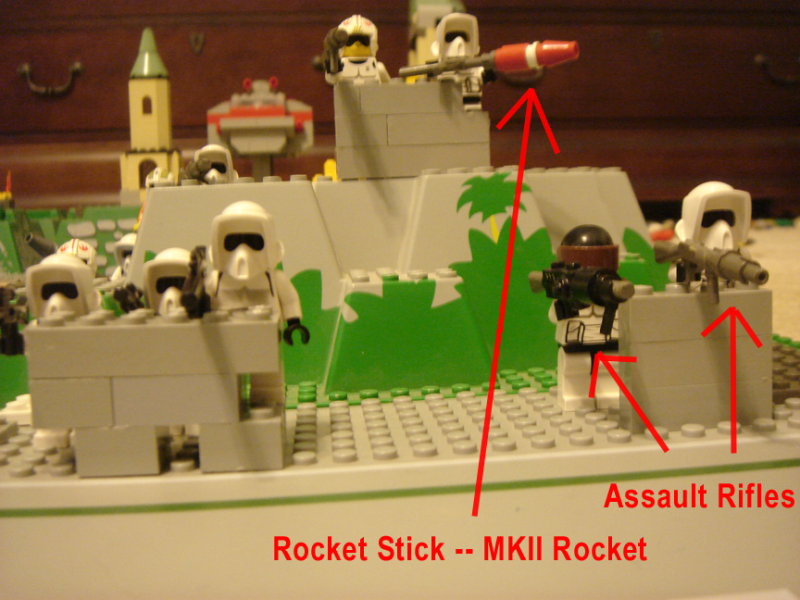 Same guys, different angle.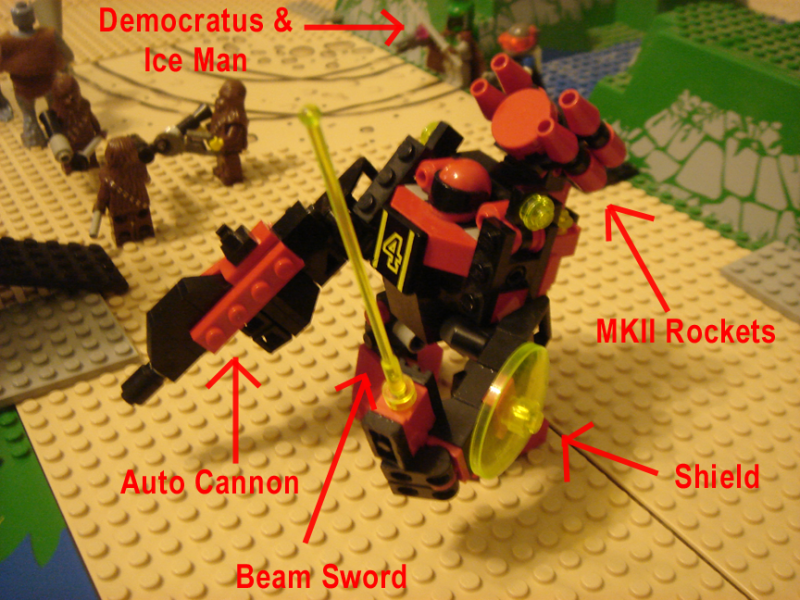 The CR Light Foot mecha. This one is a little weaker, but has a powerful beam sword and extra missiles as well as a grenade launcher not seen in this picture.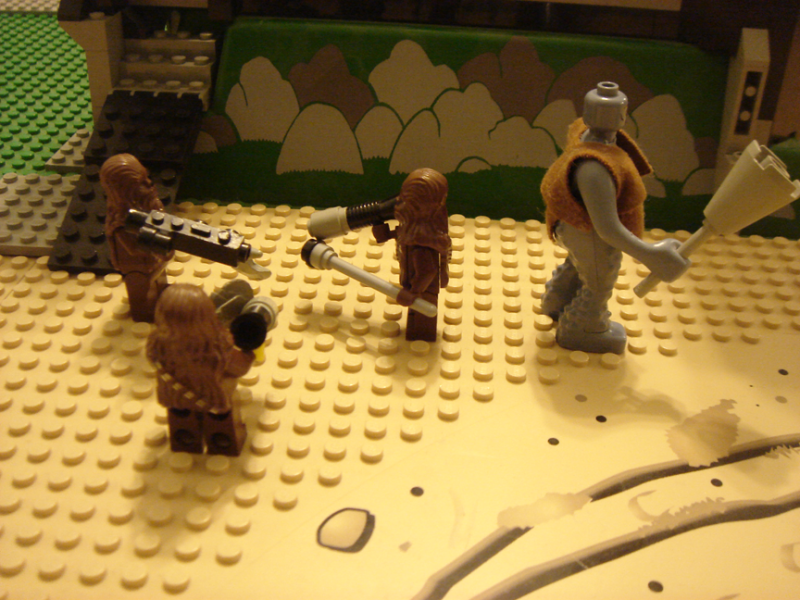 The Czechs are known for using wookies and trolls in their armies. This battle is no exception.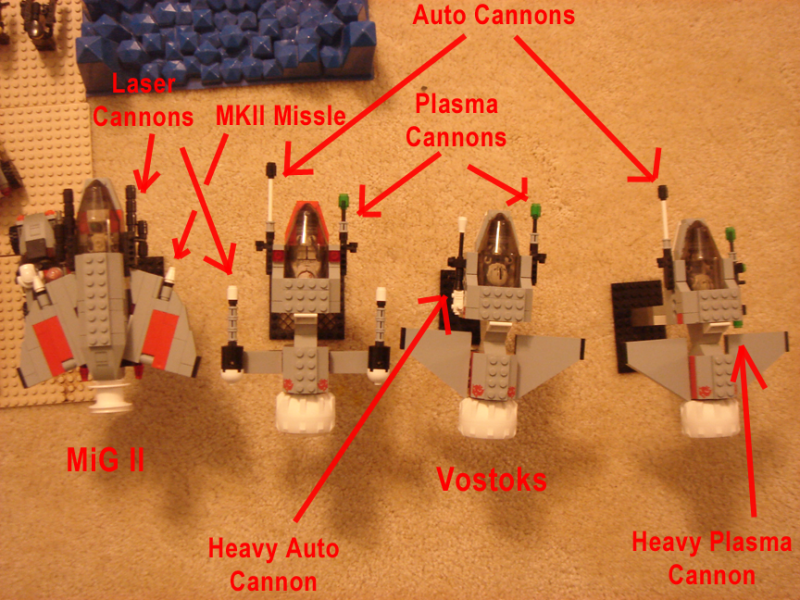 And now for their air force. Three Vostoks and one MiG II. The flying vehicles in this game can fly around the battlefield or over it if needs be, so they're starting just over it. These fighters will be needed to take down the Assyrian cruiser.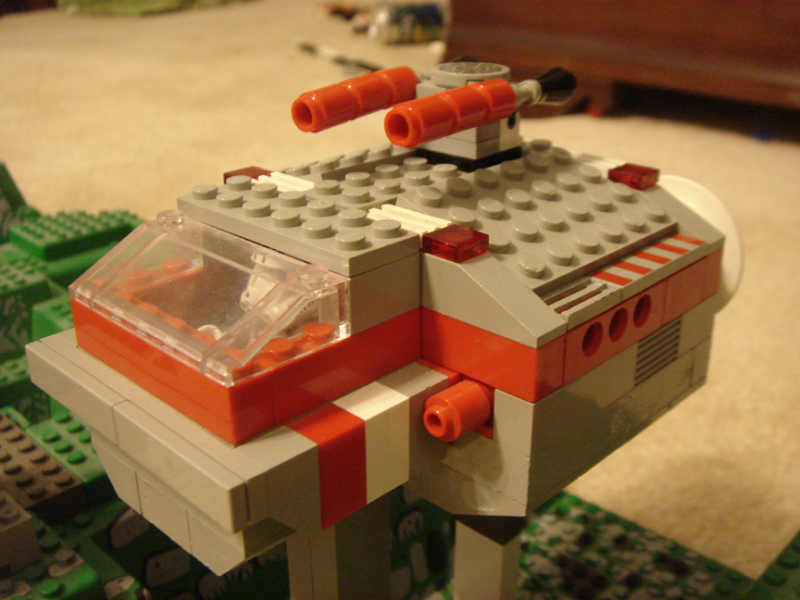 The Czech supply dropship. It's starting at the other end of the field.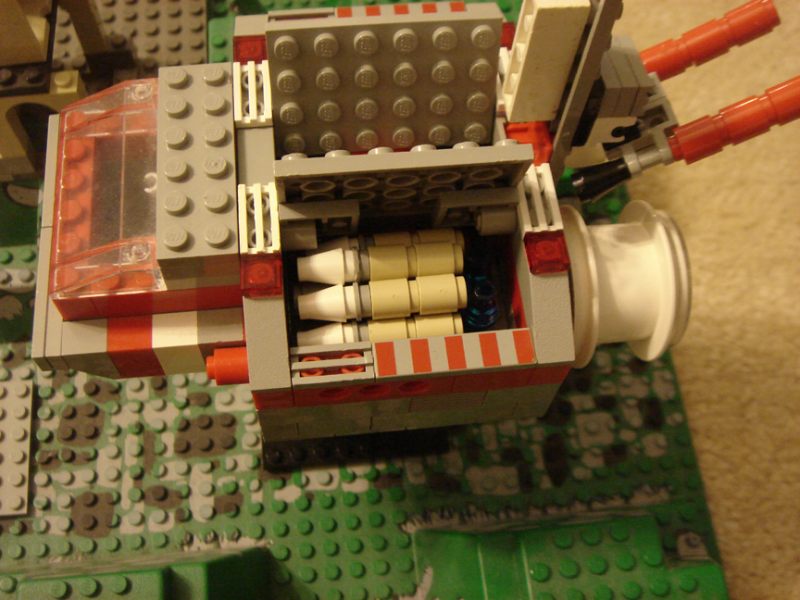 It's carrying a ton of missiles to re-supply the commandos in front of it. The tan missiles are MKIII.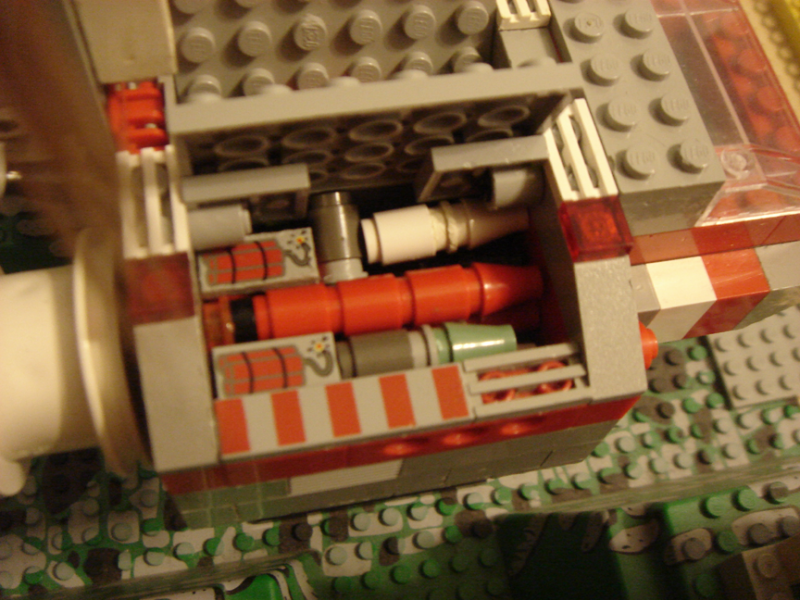 It also has a pair of MKIII Brickonium bombs as well as a red MKIV missile, along with some MKII's.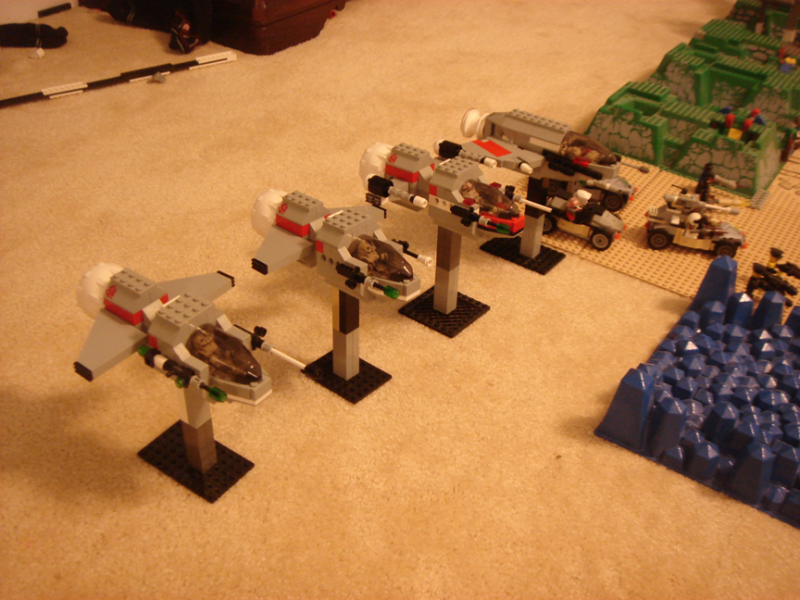 That ends the section on the Czech-politicians.



The Space Pirates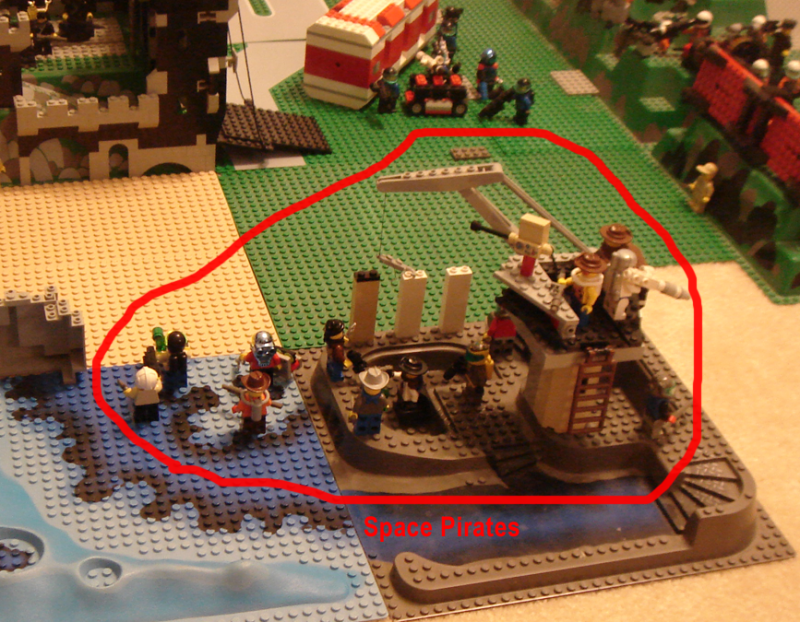 One of the smaller teams, the Space Pirates are a group of scum and villainy that decided to enter the fray. No one knows which side they will choose, but they typically side with the Czech-politicians because of their arms deals with them.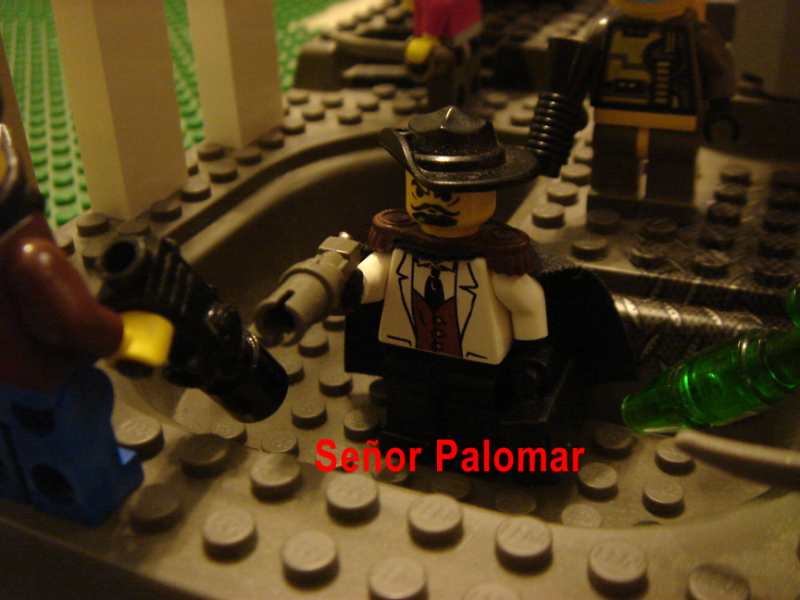 Leader of this band of space pirates, Señor Palomar. He is their hero.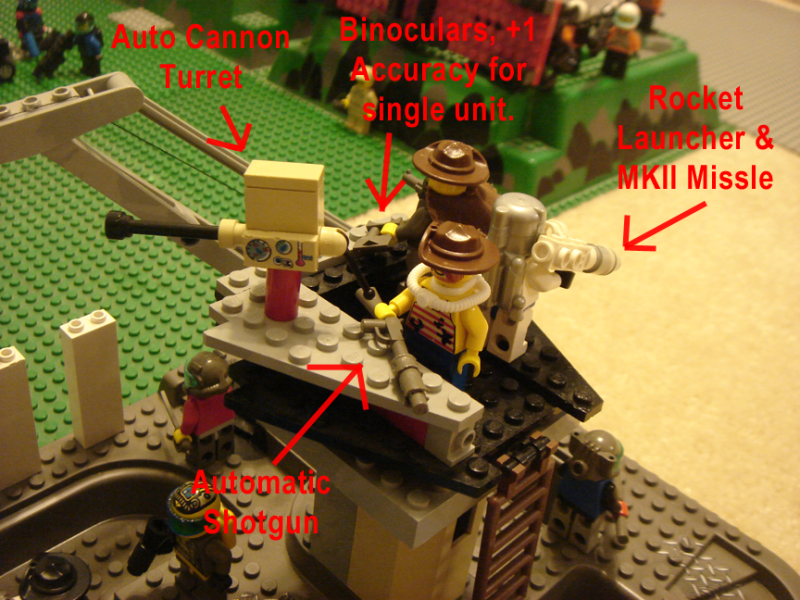 They have an auto-cannon stuck on their tower. It rotates so they can use it.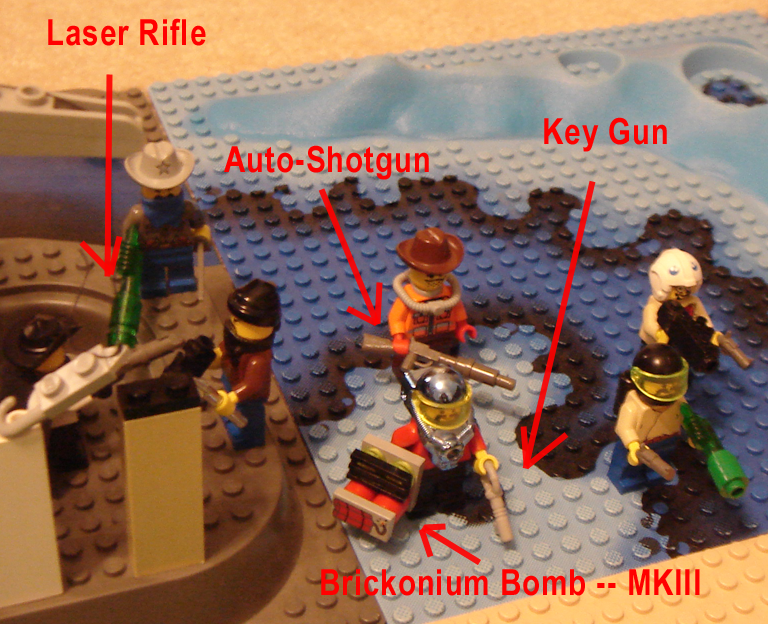 Brickonium bombs are MKIII explosives. They're sure to cause some fun. >:D



The Space Ninjas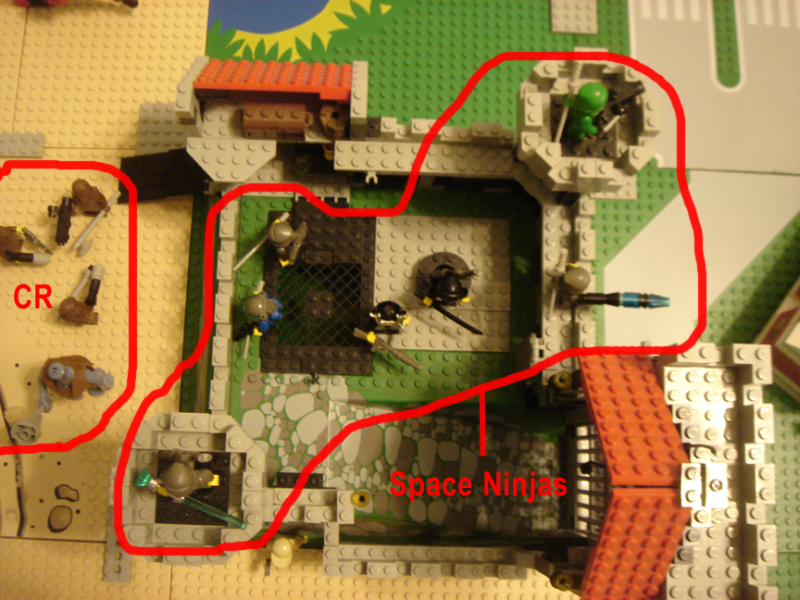 Ninjas in space. They've gone high tech and carry some better weapons than just shuriken, though the Katana remains a favourite. This is the second of the mini-teams. They'll want to side with one of the bigger forces.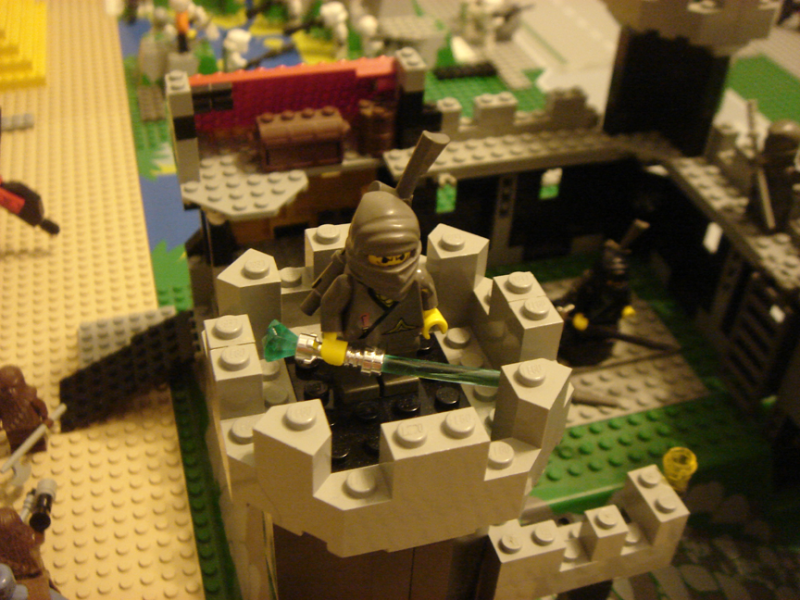 Light sabers work in place of Katanas.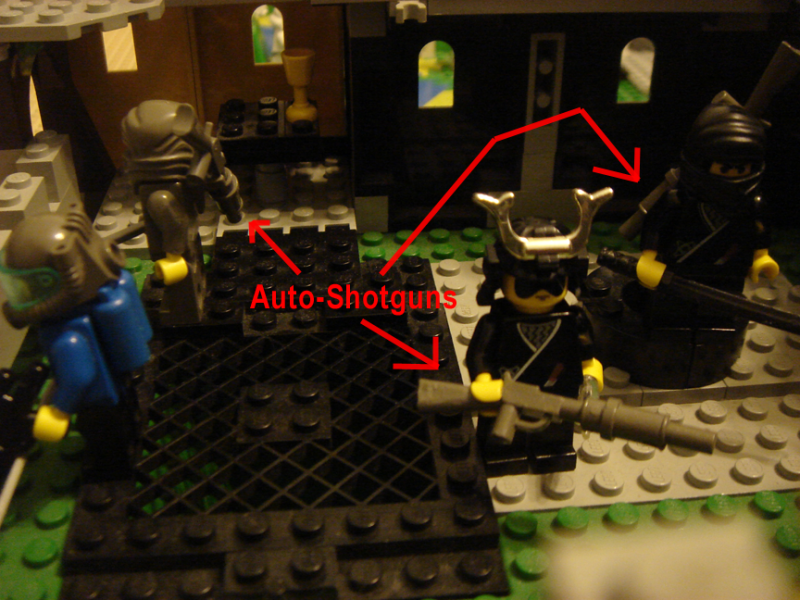 These guys also like the auto-shotguns.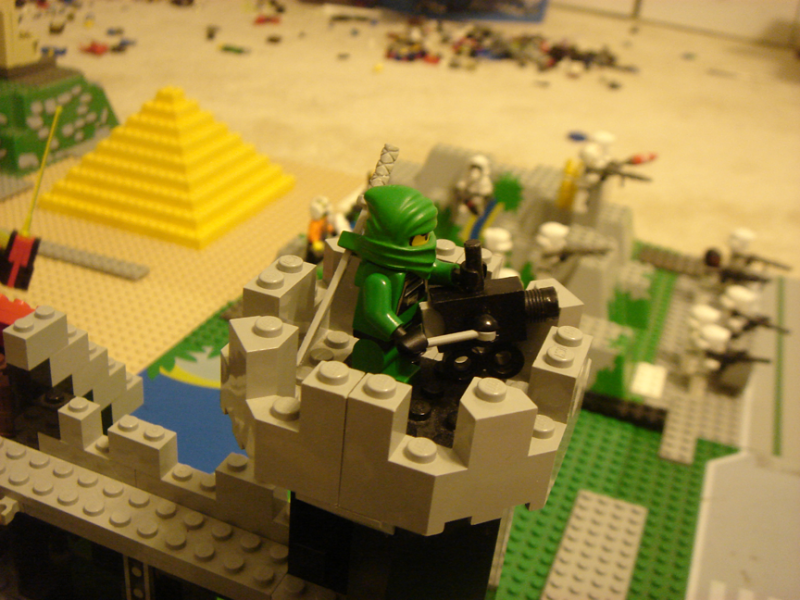 This ninja is carrying a heavy bolter.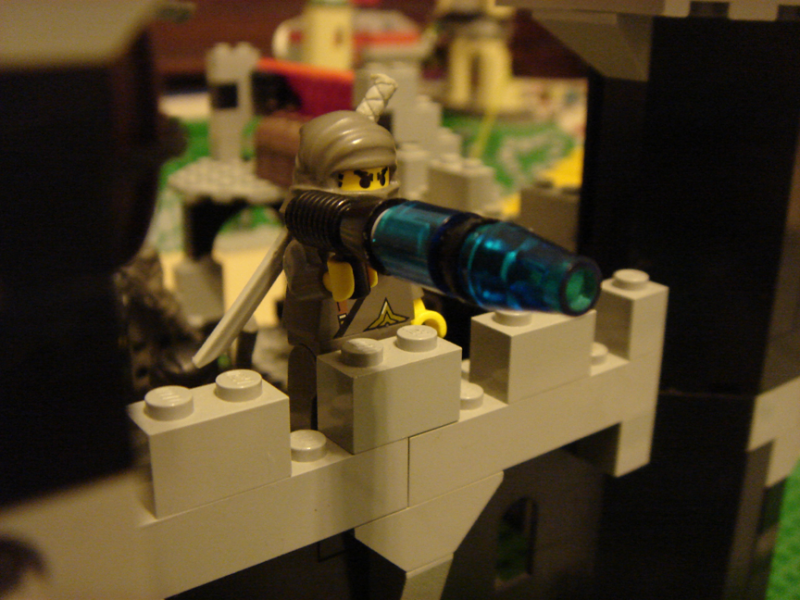 And finally, one with a rocket launcher loaded with a MKII rocket.



The Gludavians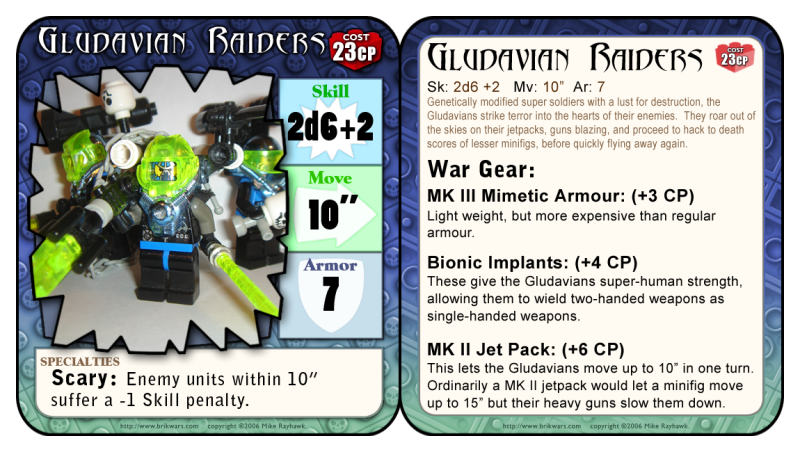 - Click for larger picture -

These guys won't start on the field. I'll talk secretly with whoever chooses them as to how they are to join the fight.



Reserve Units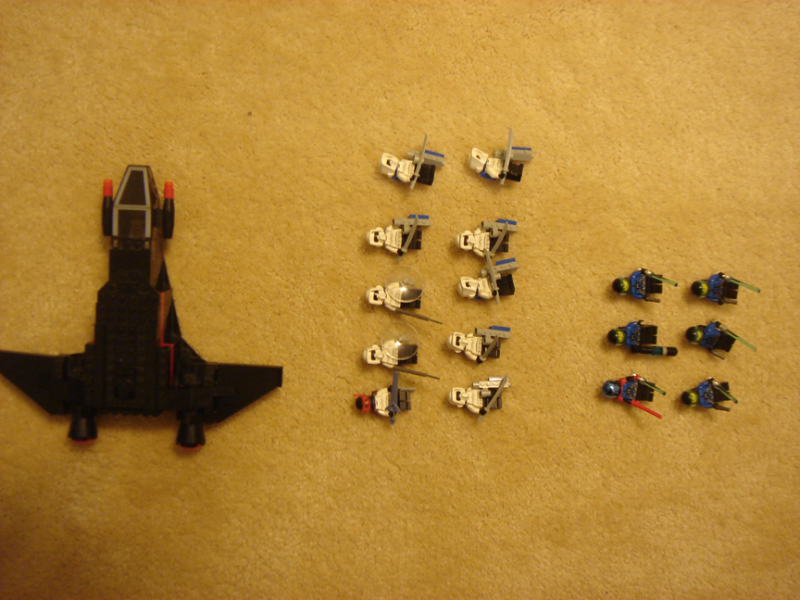 These units start off in reserve. The ten white guys are Czech-politician Super Commandos, and the blue ones are more Assyrian Commandos. Those teams can call these guys down within 10" of any friendly unit at any point in the game.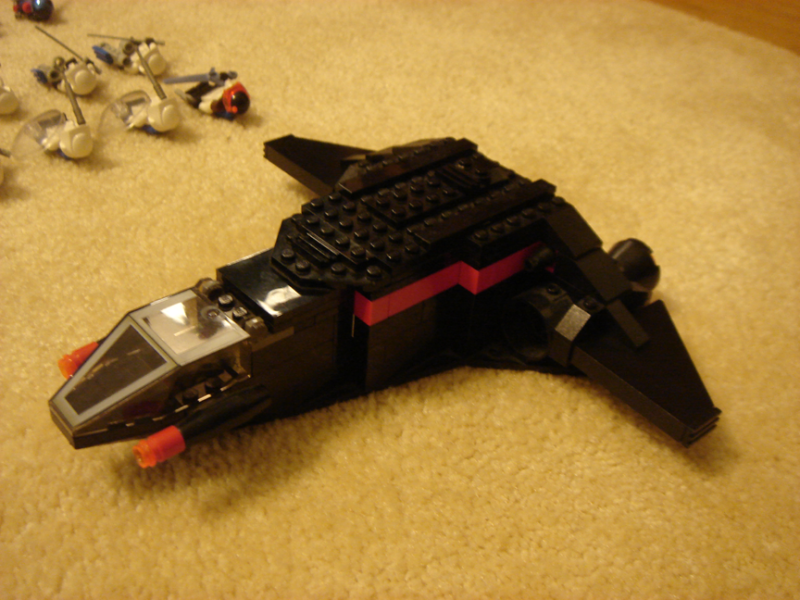 This is a ninja star-fighter. It likewise can be called in at any point, but does not have to be within 10" of a friendly unit. It is armed with two laser cannons and two heavy laser cannons.



That is it for all the teams!!

Now for signup and an explanation of the diplomacy involved...


Signup:

Assyrian Star Empire: pesgores
Assyrian Star Empire Space Force: NatalyaAF
Czech-politicians: Moronstudios
Czech Star Force: AmmoMan
Space Ninjas: Theblackdog
Space Pirates: Rody
Gludavian Raiders: Niflheim


I've split the air units from the ground units for the two main armies, but whoever chooses the Space Ninjas also controls the ninja star fighter. All air units can move 2' per turn, including the cruiser.

I request that someone who is tactically minded choose the Czech Star Force... If their ships are used wisely, the Assyrian Corvette can be taken down, but without them it's sure to destroy everything on the battlefield. Also, if any given player wants to attack it, I can give more detailed information about its armaments and systems upon request.


Diplomacy:
The Assyrians and their Space Force are permanently allied; same with the Czechs and their Star Force. The Space Ninjas and the Space Pirates can choose to ally either the Assyrians or the Czechs, but not both at the same time. If they both ally one army, then they ally eachother too. Alliances can be broken or forged at any time. The Space Ninjas and Pirates could also choose to ally no one, or to ally eachother only. The Gludavians can not choose allies. They're too scary and will be shot at by the other armies anyway. They can just go on a massive killing spree on their own time.

Note: If both of the mini teams ally the Assyrians, it's almost a guaranteed Assyrian victory (numbers, death cruiser...), but if they go with the Czechs then things could get pretty interesting.


Victory Conditions:
Every enemy unit is dead. >:D


Turn Order:
Gludavians*
Czech Star Force
Assyrian Space Force
Space Ninjas
Space Pirates
Czech Ground Force
Assyrian Ground Force

I'll post each day of fighting as though only one giant turn happened, but for the purposes of playing out the fighting, they will go in this order.

*The Gludavians will not be on the battlefield for turn 1.



Okay, that's all for this one. Once teams are chosen, we begin the fighting.