This is my first Online Brikwar.
Combat Reports:
Day 0:
http://www.brikwars.com/forums/viewtopic.php?t=1674
Day 1:
http://www.brikwars.com/forums/viewtopic.php?t=1679
Day 2:
http://www.brikwars.com/forums/viewtopic.php?t=1684
Day 3:
http://www.brikwars.com/forums/viewtopic.php?t=1715
Endgame:
http://www.brikwars.com/forums/viewtopic.php?t=1786
The Gamma Corps: Me
Backstory: The Gamma Corps is an elite division of troops that have been sent to end the Bony threat before it spreads.
Hero: Codename Saber
Vehicles: Gamma Wave Dropship
Special Ability: Bulletproof TEC armor; +2 to defense against pistol attacks
Objective: Destroy all Bonies, prevent civilian casualties.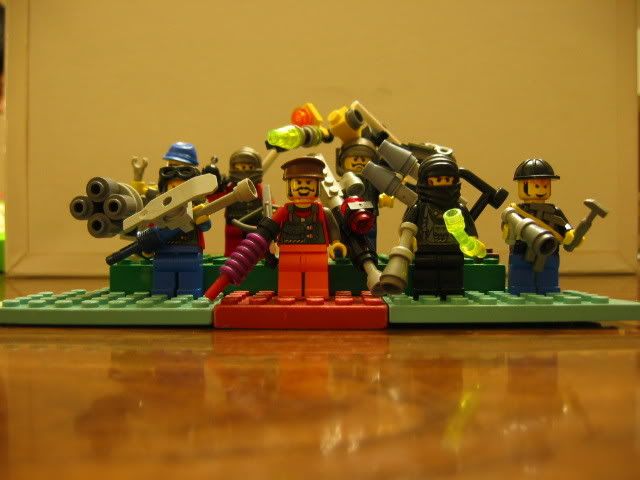 Group shot of some Gamma Corps infantry
The Megian Militia: Niflheim
Backstory: Intent on stopping the LWAR from reaching Atlanta, two Peich Blackhat Elites have recruited the local Megians, and set up a barricade across the highway.
Hero: Captain Commandopants
Vehicles: Peach Merc Assault Jeep, BWTM(BigWhiteTreadedMech)
Special Ability: Rag-tag; all troops can use weapons as bludgeons in close combat.
Objective: Protect their pile of Raw Materials and destroy any raiders.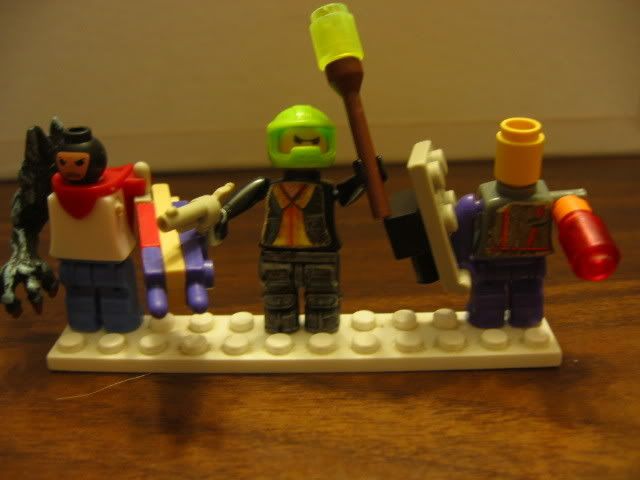 The Megian commander, Captain Commandopants, with two Megian mutant-hybrid-cyborg warriors.
The Bony Horde: silvadream
Backstory: Skeleton warriors, these horrors are infected with a fast-acting virus that turns normally docile civilians into faceless minions.
Hero: The Black Paladin
Vehicles: Cartapult, Skeleton Steeds, Land Dragon
Special Ability: Infection; When an opposing unit loses in hand-to-hand combat to a bonie, creates a no-face
Objective: Assimilate as many figs as possible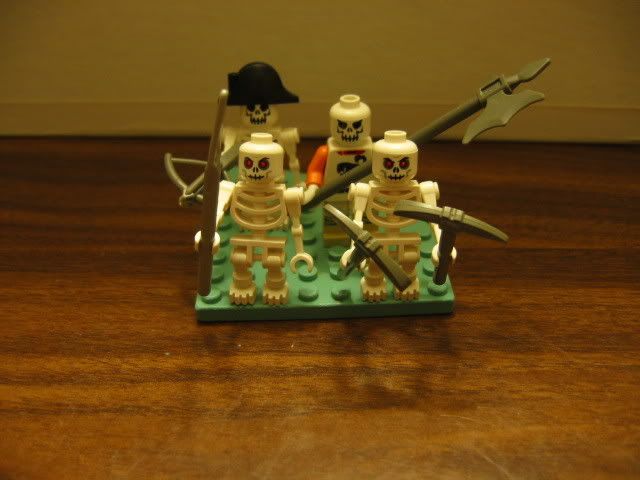 some Bony warriors
Villains, inc.: razgriz 25th inf.
Backstory: The evil supervillains of all the Lego worlds have taken advantage of the Forces of Good's preoccupation with the Peaches to band together and begin a campaign towards world domination. All they lack is a Grey Boulder of Chaos to unleash ultimate chaos.
Hero: Sam Wolton, founder of Wol-Mart
Vehicles: Quadri-Walker, Robotic AT-AT
Special Ability: Evil Backstab; Units get +5 attack when attacking units they are supposed to be allied with.
Objective: Steal Raw Materials, cause wanton destruction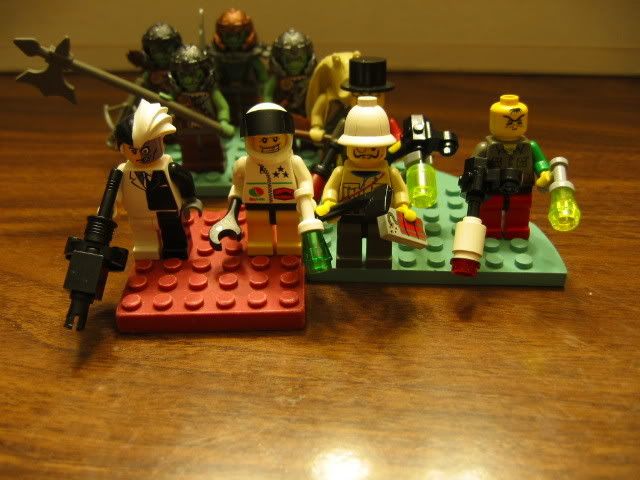 the Evil inc. infantry
The LWAR: moronstudios
Backstory: The Lego Warriors on America's Roads have captured a Peach scientist, put him in a stasis pod, and must journey to their capitol of Atlanta, where their techs can use his DNA and the captured Peachanium ore to develop a cure for the Peaches' wargas. But first, they must cross territory of the Meganian Militia, dodge Villains, inc., and keep from getting caught in the crossfire between the Gamma Corps and the Bonies.
Hero: Jeff Gordone
Vehicles: Juggernaught, Custom Choppers
Special Ability: Vehicular Mayhem; Pilots can shoot and drive as part of their action
Objective: Get the containment pods the other side of the battle field and ditch all pursuit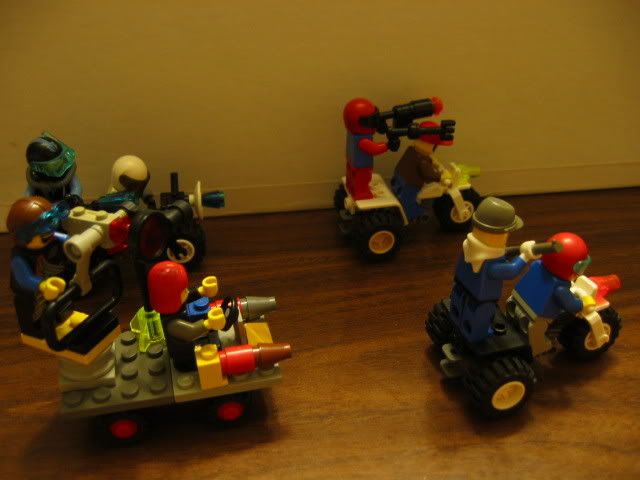 the LWAR cavalry (they have no inf.)