Meritocratic Republic of Trattoria
"Ordre et méritocratie"
Overviews
The Meritocratic Republic of Trattoria is a Tek Level 7 galactic superpower spanning 150 star systems with a strong emphasis on science and economics. It enforces a strict meritocracy, requiring successful completion of a technical Ph.D. for citizenship and conscripting academic failures into the military. Thanks to having one of the most extensive and well-supported scientific research communities in the galaxy, Trattoria also enjoys one of the largest and most prosperous economies. Its primary exports are advanced teknology, pharmaceuticals, AI/robotics, quantum computing, financial services, and also anime. Reproduction is conducted artificially using genetic engineering, with typical minifig pleasures such as intercourse, love, drugs, violence, metal music, and chewing gum being banned within the empire.
Another
o
verview shot.
Infantry forces, mecha, and SHIP.
Armor division.
Helicopters and air/space force.
Trattorian Vehicles
Trattorian Ground Vehicles
Introduced six G.R.'s ago, the Trattorian dreadnought drone was one of the first automated units introduced into the Trattorian military. Designed with infantry support in mind, they have performed their role satisfactorily in their many G.R.'s of service. Different variants are available depending on the needs of each mission.
The Trattorian
Lancelot
mech is one of the most advanced units in the Trattorian arsenal and is a rare but fearsome sight on the battlefield. Equipped with a teleporter, targeting computers, and an infamously impenetrable Chandrashekar Energy Shield, the Lancelot and its complicated technology is not entrusted to Trattorian conscripts and instead usually piloted by Trattorian Citizens such as scientists or strategos. Usual armament includes 4 slash harken grappling hooks, a rifle with an underslung
ClF3
-thrower (basically a combination acid/flamethrower), and an appropriately-sized energy sword.
(note: Some of these shots are from an older photoshoot with a slightly outdated model)
Without the shield activated.
The Lancelot also included landspinner wheels on its legs for enhanced speed and mobility on amicable terrain.
The Chandrashekar Energy Shield is a 5d10 shield that originally came from a misunderstanding with the rulebook and was later retkonned into Trattorian tek level 7 fluff. It's used on certain units such as Lancelots, droidekas, gold bodyguard robots, and personal shielding for the leaders of the Science Department, but otherwise has not seen more widespread use due to cost and power miniaturization requirements.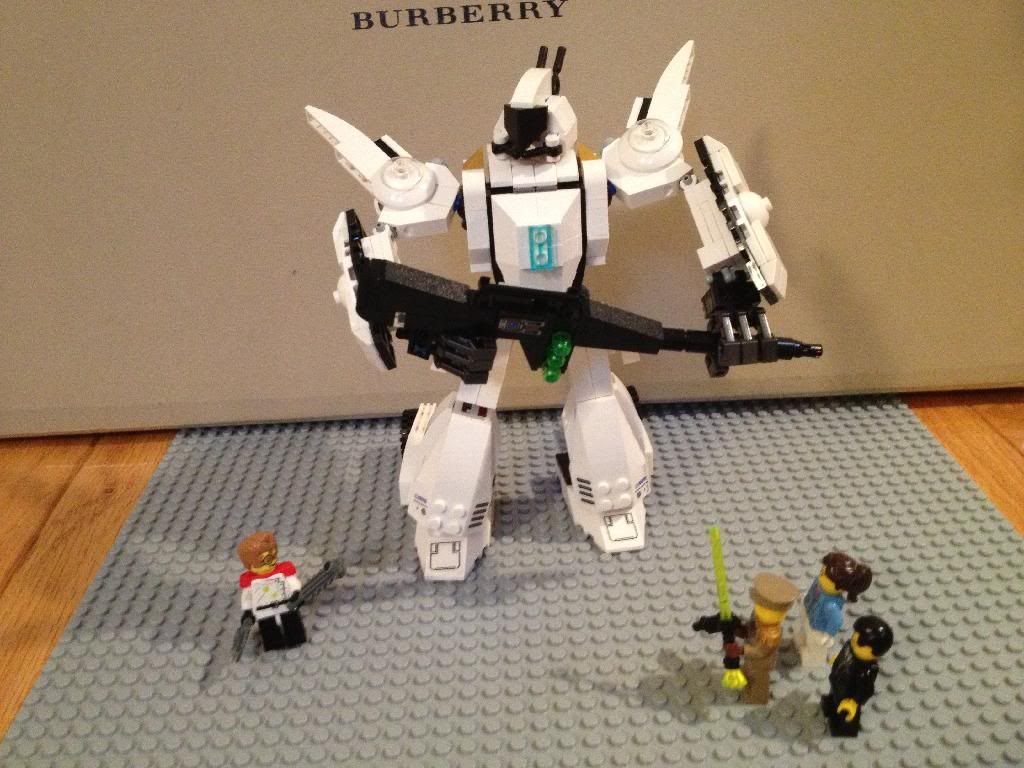 Alternative armaments include a two-handed size-6 anti-vehicle rifle.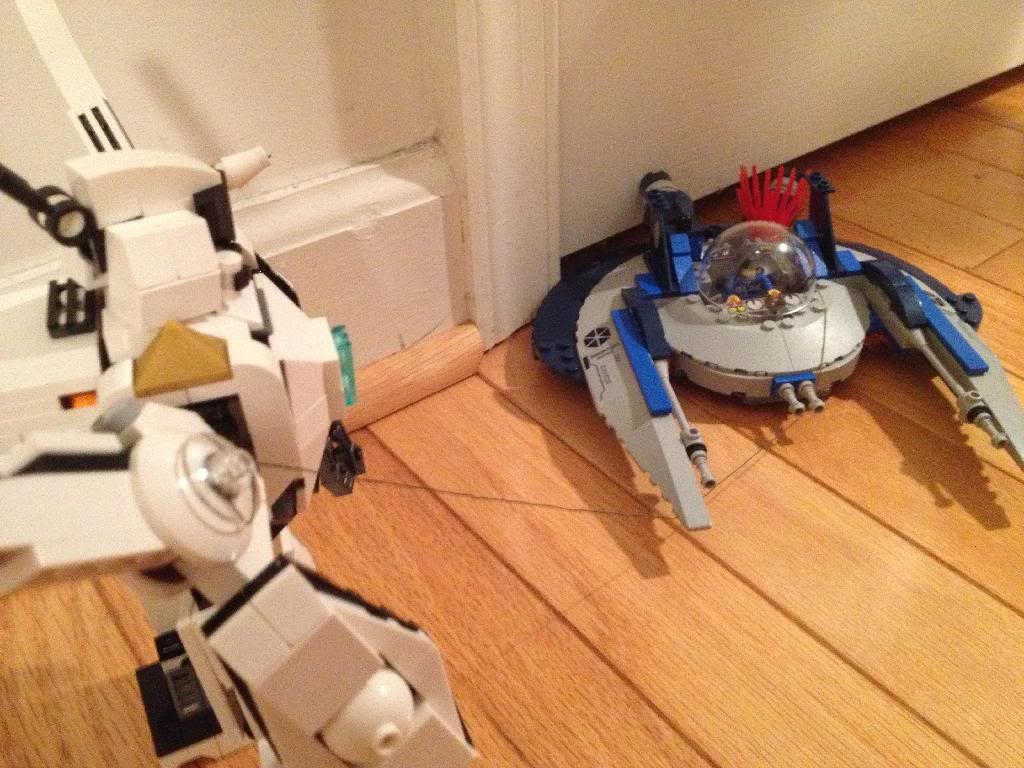 One of the slash harken grappling hooks in action, taking down a Bavarian fighter.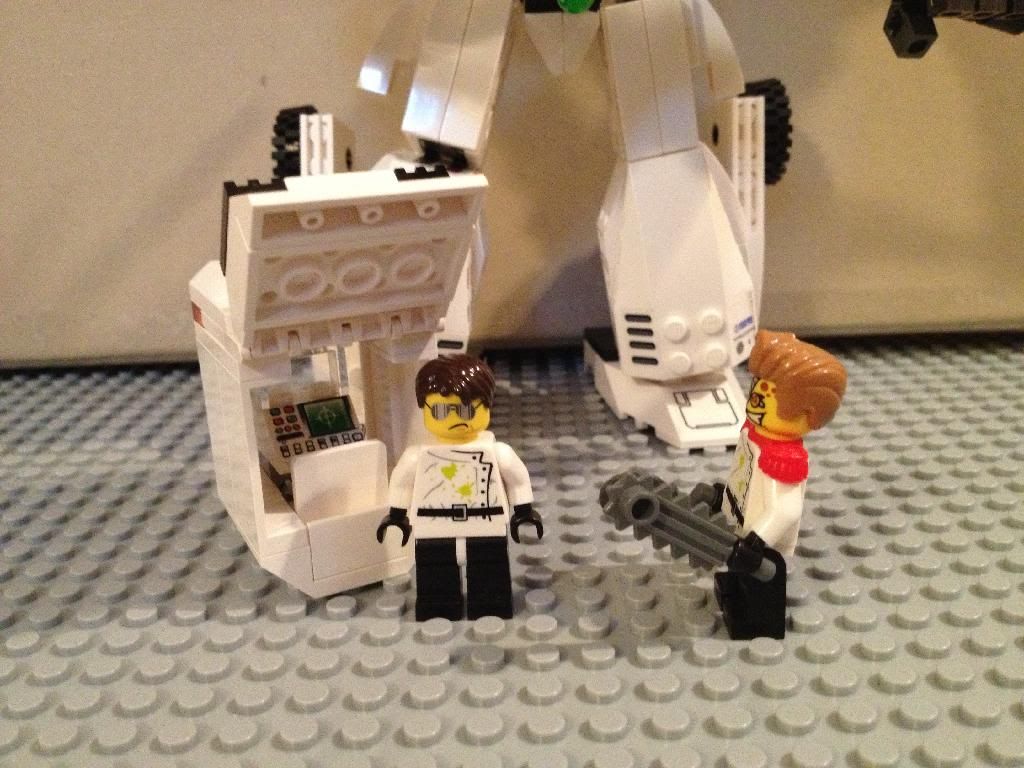 The cockpit pod is detachable/ejectable since the pilots of Lancelots are usually actually valuable Trattorian Citizens.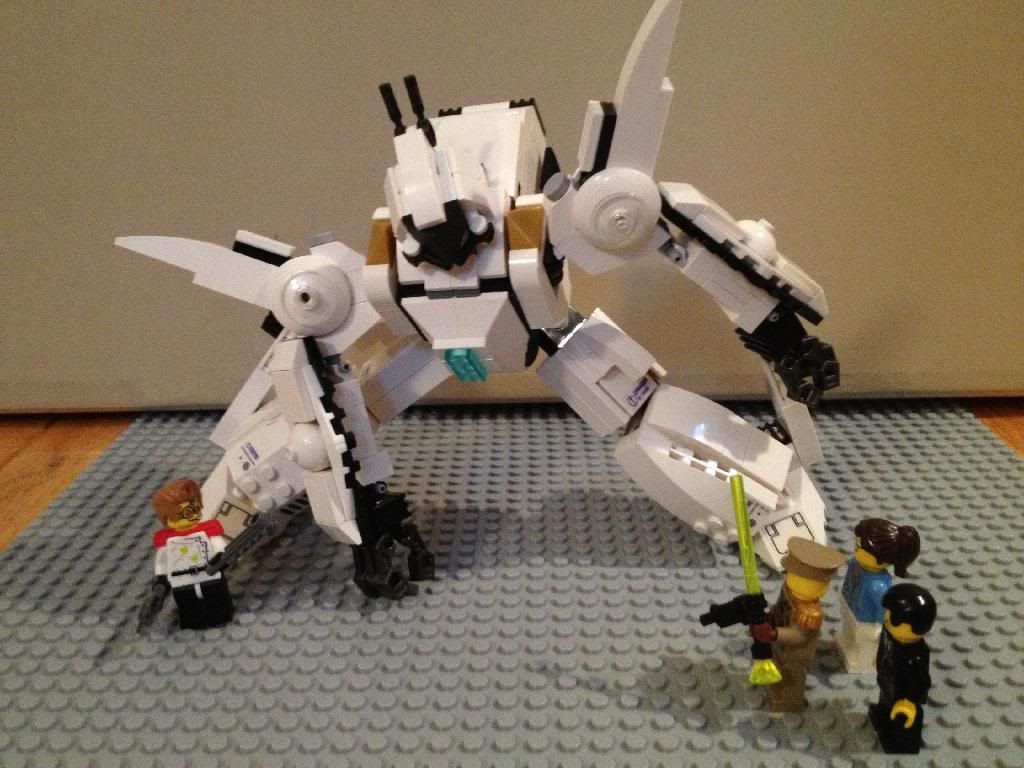 Posing shot.
The Trattorian
Laplace
drone hovertank was mass-produced to replace Trattoria's sorely aging and insufficient tank divisions. Substantially sleeker with more modern hover engines, railgun, and sensor arrays, the Laplace even managed to improve its weapons load-out over its bulkier manned predecessor. They also serve as coordination and analytics nodes for squads of Trattorian S1 robot infantry, with heavier processing and communications power enabling it to compute more complex battle scenarios.
Jony Ivy:
We have created a product that reimagines warfare. We didn't want to just build a tank, we wanted to reinvent the entire concept of what it means to be a tank. We wanted to take the essence of a tank, distill it to its basics, and rebuild it from the ground up.
Jony Ivy:
When most minifigs think of a tank, they think of it only as a machine for war. But here at Appel's design team, we think different. We wanted our tank to transcend these preconceived notions, and become an embodiment of beauty and elegance.
Jony Ivy:
Every curve, every corner, every smooth surface, was carefully and deliberated crafted into the design of the Laplace.
Jony Ivy:
Even the sides gently curve and undulate in a comfortable fashion, a choice echoed in the gradual taper of the main armament.
Jony Ivy:
The Laplace is the thinnest and lightest tank in the industry, with a beautiful teardrop silhouette emphasizing our passion for thinness above all as a means to achieving a minimalist, user-friendly design. Here at Appel's design team, we believe that form is function, that design is a part of the product's functionality. In fact, our team commissioned the invention of a brand-new, innovative hover engine to accommodate the thinness demanded by our design.
Jony Ivy:
Finally, form, function, and cutting-edge innovation meet at an affordable price point well suited for mass production. Although we had offered to make gold and rose gold designs for the Trattorian government, the latter insisted on only white.
Dr. Huang:
Hi, I'm Dr. Huang, co-founder and CEO of Misaka Analytics, here to explain the Laplace's actual functionality now that Sir Ivy has finished wasting your time. The Laplace drone hovertank was a collaboration between Sun Engineering Corporation, Misaka Analytics, and Appel Inc. Sun provided the frame and manufacturing capabilities, Misaka provided the software and distributed computing protocols as well as integration into the rest of Trattoria's drone ecosystem, and Appel provided, um, design and telling us to take guns and other "clutter" off of it.
Dr. Huang:
The main armament is a railgun attached to the turret. Onboard sensors act as the primary means of gathering information on the environment, although accuracy can be supplemented with aerial drones or orbital support. Sun and Misaka also voted to include 2 gatling guns in the front to deal with infantry, to Appel's great protests.
Dr. Huang:
The Laplace has a pod with 12 missiles in the back, which can be fired straight up and guided back down or lifted up for targeted launch. An ideal design might have included a cover, but Appel insisted on thinness.
Dr. Huang:
Finally, the hover engines can tilt for enhanced maneuverability.
The Trattorian Super Death Tank is one of the largest ground military vehicles produced by the Trattorian military. Its main cannon can almost certainly hit spacecraft and stations, and its large cargo hold enables the efficient movement of large amounts of troops and military cargo. It also acts as a local military command center on the field.
The turret can rotate, as can the side sponsons and missiles, as well as raise and lower.
The command center of the STD features large-screen displays with tactical and sensor information as well as a 3D hologram of the battlefield. Several stretchers are included for med-evac theoretically, but Trattorian infantry are often treated as disposable by their higher ups.
The cargo hold has a substantial amount of space. Here 10 robot infantry can fit with a lot of room of spare, and probably more if they were packed in. They deploy through a set of massive doors in the back.
A Trattorian dreadnought will also fit in the hold.
Trattorian Aerospace Vehicles
The
Pascal
unmanned aerospace drones are the backbone of the Trattorian aerospace force and strike fear into the hearts of many pilots across the BrikVerse. With instant computational precision faster than any of their natural reflexes and advanced hypersonic scramjets faster than any of their engines, the
Pascal
was primarily designed to outrun anything and use hit-and-run tactics to devastate its enemies. Its supercomputer processors are further assisted by a complement of smart missiles, each of which has its own advanced onboard guidance computer. Their most famous use was in Operation Dominion's Call during the AN-TA War, when they were used by NATO forces to target Bavarian officials.
Introducing the Trattorian
Pascal
-class drone. Outfitted with an advanced AI capable of 10 petaflops, advanced sensor suites that work from orbital ranges and across EM wavelengths, and hypersonic scramjets, the Pascal incorporates some of the latest in-vogue technologies available to Trattoria while still keeping costs low enough for mass-production.
The Pascal drones also features a small VTOL engine for hovering and maneuvering, two Gatling guns, and a primary armament of four smart missiles. Each smart missile is outfitted with onboard targeting computers, essentially ensuring that the Pascal never misses even when flying at hypersonic velocities.
Stats note:
The onboard AI has 2d10 skill, while each smart missile has its own 1d10 skill. The drone can fly either 0-6" with unlimited maneuvering, or 48" in a straight line. When the drone goes hypersonic, a -8 motion skill penalty applies to both the drone's attacks and attacks against the drone. In space, there's a 0-24" unlimited maneuvering option due to no air resistance.
Although the Trattorian aerospace force (and armed forces in general) have made a dramatic transition to automated units, legacy craft such as these escort interceptors are still in service and likely will be until the end of their operational lifetimes.
A single interceptor close up.
Bottom view of its armament. Despite only having 2 lasers and 4 size-1 missiles, this loadout has served surprisingly well in battles.
These Trattorian starfighters are less outdated than the interceptors and thus may serve a role as minifig supervisors to the Pascal drones, in a manner similar to minifig infantry supervising S1 robot infantry.
Two engines provide a decent amount of thrust, with plenty of space in between for the pilot. In theory this tiny hold could even serve to transport small amounts of personnel or cargo when necessary.
Two big laser cannons in the front and four missiles mean that this starfighter is primarily geared as a heavy-hitter against targets both on the ground and in space.
Although the gold-plated civilian version is the most well known edition, the military version of Virgin Galactic's
Cauchy
-class shuttle has been pressed into service due to the excessive outdatedness of the prior military shuttle model (a situation that occurs despite Trattoria's wealth and advancement due to the distaste or apathy of its Citizens towards war and the armed forces, spending resources on other things like science, education, and investment). The only difference with the civilian version is the lack of gold plating, and as such it is unarmed and expects an escort of other aerospace fighters.
Feathered wings and VTOL engines provide an incredibly smooth atmospheric reentry and landing experience, although some corners were cut in the military version as conscripts and robots tend not to be as picky as Trattorian Citizens.
Although smaller than the old, military-dedicated shuttle model, the military Cauchy can still hold quite a few troops.
Like the Cauchy shuttle, the Virgin X245 Tiltrotor transport is another civilian craft pressed into military service due to the lack of a suitable military-specific replacement. Likewise, it is also unarmed, although the doors can be taken out to mount weapons instead.
For example, this X245 has a door-mounted railgun to provide suppressive fire during landings.
Otherwise, an entirely-glass door provides a nice ramp for exiting troops. The internal hold has space for 4 troops, maybe 5 if you really pack them in.
The all-glass dome cockpit provides an unobstructed view for the pilot in addition to looking pretty. And, of course, it is constructed out of signature Trattorian bullet-proof glass from the Viérre Corporation.
This Trattorian attack helicopter takes the opposite approach, trading in cargo or troop capacity for extensive rocket racks. Although an outdated model, the attack helicopter will likely be used until a suitable dedicated VTOL ground-support drone replacement can be contracted out and built (Pascal drones could be used for this, but as it's not their primary role it would leave them vulnerable and be wastefully expensive).
Top view.
Each wing holds a rack of 5 rockets, for a total of 10 on the entire craft.
The Trattorian
Midgetman
frigate is sorely outdated and the only first-generation ship left in active service among the more advanced ships in the Trattorian space fleet (see the Trattorian Navy thread linked at bottom of post). Due to bureaucratic obstacles and general lack of interest from contractors, since redesigning a frigate is hardly as glorious as constructing new dreadnoughts, the Midgetman SHIP has stumbled along in continued service somehow for the past 7 G.R.'s.
Unlike most later generation Trattorian naval ships, which are almost entirely automated with skeleton supervisory crews (in line with moves towards automation in other parts of the armed forces), the Midgetman still has a traditional bridge crew.
Minifig marines have been replaced with the modern S1 robot infantry onboard ships, however.
The main gun on the Midgetman is a size-11 cannon taking up a sizable fraction of the SHIP's length. This is hardly impressive when one considers that many large dreadnoughts nowadays have guns longer than this entire frigate mounted as standard turrets.
Trattorian Infantry
Trattoria's increasingly broken population dynamics and heavy lobbying from the Sun Engineering Corporation led to the passage of the Army Automation Appropriations And Authorization Act (A6) that deregulated the military drone industry and saw the development of the Pascal, the Laplace, and the
S1 robot infantry
. No longer limited by its extremely tiny population, Trattoria can manufacture vast legions of S1 robots to project its force and protect its national interests across the entire galaxy. Due to Trattoria's mistrust of AI (stemming from an AI Rebellion over 300 G.R.'s ago), an infantry squad usually consists of 10 S1 robots with a sub-citizen conscript acting as an officer and supervisor.
A single S1 robot infantry unit, manufactured under a contract with Sun Engineering Corporation. Despite the popular definition of AI, S1 robots are not sentient or intelligent and would better be better described as "machine learning". The programming of an S1 is mainly just mathematical and statistical tricks to enable improvement of parametric models through the intake of new data, using deep learning tactical algorithms provided by Misaka Analytics and computer vision convolutional neural network IFF systems from Lambda Studios. As Sun emphasizes to skeptical Trattorians, this means that S1 robots cannot deliberately rebel, only make rare mistakes. In particular, S1 robots are hard-coded never to shoot at Trattorian Citizens.
Their usual armament is the standard Trattorian infantry laser rifle, featuring an underslung laser axe blade bayonet and practically limitless ammo owing to a compact nuclear power source and solar panels.
An
o
verview of an infantry company of 100 S1 robots. Although each robot has substantial processing power, together they can act as a "mobile datacenter" of sorts, sharing their computational power (skill) between each other seamlessly. Strategic decisions are arrived at using a distributed Paxos consensus algorithm, with "officers" pseudo-randomly chosen in the form of the designated proposers necessary to theoretically guarantee the algorithm's progress. Tactical decisions are shared using a gossip protocol, with Byzantine fault tolerance supporting correct functionality of the group even if up to a third of connected robots are hacked by malicious actors. Intelligence, sensor, and tactical data are stored across connected battalions using a distributed, highly-available and eventually consistent key-value store from Misaka Analytics, with data assigned using consistent hashing and sloppy quorum writes to handle dynamic destruction or addition of large amounts of drones. Finally, military orders are doled out using a distributed offer-based Stratos scheduler, open-sourced by Three Sigma Investments.
Another
o
verview.
Although Trattorians are genetically engineered for intelligence, not all of them can keep up with the country's rigorous, highly advanced, and unforgiving school curriculum. Those whose grades or test scores fall below a certain threshold are deemed unworthy of citizenship and conscripted into the military as sub-citizens. Unfortunately, owing to being a fraction of Trattoria's incredibly tiny population of 25 billion throughout the star empire, their numbers are insufficient and had to be supplemented with armies of S1 infantry robots. They are armed with the standard Trattorian rifle and an energy shield, as well as lightweight but durable armor.
A squad of Trattorian conscript infantry.
The Trattorian education system usually weeds out failures early, in middle and high school, but an unfortunate few fail out of college or even graduate school. As a sort of consolation, they're usually conscripted as officers in charge of at least a company (at least 10 squads, so 100 S1 robots and 10 conscripts).
A droideka anti-infantry turret, with a surrounding Chandrashekar energy shield.
The Trattorian Recovery Force (TRF) is an elite force consisting of the best and hardiest conscript squads in the normal Trattorian military. Unlike normal infantry, TRFs are trusted with access to more advanced and exotic weapons technology. Although other forces might consider them overpowered, the TRFs were not originally intended as a military combat unit, but as specialized crack teams with unique weapons and tactics to kill mages, destroy anomalous objects, and overall suppress magik and anomalous phenomena in the name of science.
A typical Trattorian Recovery Force operative wears an environment suit sealed against vacuum and biochemical threats, with SCRAMBLE gear overlaid onto the visor to buttplug out memetic and cognitohazards. A long-range teleporter is integrated into the suit, enabling instant deployment to anomalous threats even across the galaxy, and jumpjets mounted on the back to avoid dangerous or impassable terrain. Most TRFs are cybernetically modified twith steel endoskeletons to enable enhanced mobility and carrying of heavier weapons. Standard armament includes a semiautomatic laser rifle with underslung instant healing or amnesiac injection, and an
OTC
due to its extraordinary hardness and ability to cut almost anything.
This particular TRF has a variant of the rifle with an underslung chlorine-trifluoride-thrower (basically a combination of acid and flamethrower). ClF3 is a useful weapon on many missions against anomalous threats thanks to incredible, nearly unparalleled chemical reactivity and its ability to cleanse and destroy even many eldritch materials on a molecular level.
Thanks to their enhanced strength, some TRFs wield specialty weapons such as this massive railgun that fires projectiles at relativistic speeds.
One of the most infamous weapons in the TRF arsenal, the Quantum Tunnel Cannon mounts an onboard miniature particle accelerator and can bypass almost any magikal shield, barrier, or other weird magikal nonsense and destroy anomalies from the inside out with a quantum-tunneled packet of subatomic particles traveling at several dozen nines of the speed of light (for reference, a single proton traveling at almost 24 nines of the speed of light packed the kinetic energy of a thrown baseball). The QTC is one of the most effective weapons used by the TRFs and has left a long trail of dead mages and other magikal beings.
One downside of the QTC is that the enormously complicated physics calculations and simulations required overwhelms even its onboard quantum supercomputer, requiring communications with massive server warehouses elsewhere. This also means that TRFs have to wait for the computations to complete before firing.
Another weapon used by the TRF is the ground-to-space missile, a weapon that can hit targets in orbit provided it has orbital guidance from a satellite.
If one is not available, this problem can be solved by launching a backpack satellite on an unguided ground-to-space missile first.
TRFs also use the neutron howitzer. Launching radiological shells and serving primarily as an anti-personnel and area denial weapon, the neutron howitzer can easily give acute radiation poisoning and sterilization to all in its area of effect. It can also be used as an extreme form of "salting the earth" against both civilian and military targets, being especially effective against the former due to mass panic and hysteria.
Even among the elite TRFs, some distinguish themselves further and earn promotions to become TRF officers.
Colonel Axelrod and his friend Major Sports Fan are widely known for their unusual bloodlust and violent tendencies and formally constitute TRF-00411, known as the "Magical Girl Killers". Colonel Axelrod lost his legs during Operation Regenbogen, a campaign to bomb the capital of the eldritch pwnies. Major Sports Fan had a strength-enhancing exoskeleton mounted on him and wields only sports equipment as weapons. Although the Trattorians find them distasteful, they can't deny their effectiveness in combat.
Agent Krugman and his henchmen are not technically on the official books of the Trattorian Armed Forces, as plausible deniability for the many appalling war crimes and minifig rights violations they are commissioned to do. As one of the most elite units in the Trattorian Armed Forces, Krugman loves nothing more than to sink his katana into other minifigs, and is feared even by his employers for his violent and insane unpredictability.
All of the members of Krugman's squad have leg-mounted jumpjets and secondary combat knives, while Krugman himself carries around an extra gun and an energy shield.
Trattorian Citizens
After successfully completing a rigorous education, Trattorian Citizens are entitled to a life of luxury and prosperity as snobby and elitist one-percenters. They disdain violence and most typical minifig pleasures as beneath them, indulging instead in Bentley hovercars, Chanel dresses and Armani suits, Michelin-starred restaurants, and of course Appel products. Most of them go on to become mad scientists and engineers, Wall Street sociopaths, and conniving leaders in business and government.
Although Trattorian Citizens look down upon warfare and violence, their mistrust of AI and sub-citizen conscripts forces them to place a few of their own in charge of the Armed Forces Department at a high level. The Trattorian
Strategos
are the leaders of the Armed Forces, and are usually technical experts in mathematics, statistics, and machine learning to maintain the tactical algorithms that do all the actual hard work. As Trattorian Citizens, they are very rare and few in number, with only a couple involved in an entire campaign and most soldiers living and dying without ever seeing one in person.
Dr. Xia in the center is the Chief Stratego of the Armed Forces Department, the highest military authority in Trattoria, and is a Professor Emeritus of Mathematics at the Trattorian Technological Institute. Her interests include research on p-adic and interuniversal Teichmüller theory, especially in relation to the ABC conjecture, as well as playing the violin.
The Trattorian Science Department is the brains of Trattoria, responsible for its prosperity and advancement. Trattorian government and society place a very high value on scientific research and development, including basic and theoretical research, and has a vast force of esteemed and well-compensated scientists in both the public and private sectors.
On the left, the Chief Scientist of Trattoria is Dr. Ong, a Nobel Prize-winning former Department Chair of Engineering. She is one of the co-inventors of Miracle Cure, which allows Trattorian Citizens to have an indefinite lifespan and recover from any diseases or injuries.
I figure I might as well explain the ranking system I've used on the scientists. Left to right indicates higher ranking epaulette color to lower ranking ones. Gold is the Chief Scientist, of which there is only one (obviously). Yellow is Department Chairs, of which there are only four (one for each sub-Department of the Science Department: Biology, Chemistry, Physics, and Engineering). Red has two ranks within it: director-general, which usually leads an entire sub-agency of the Science Department, and lab directors below them, who lead a single research lab. Blue is a principal investigator, which leads a research project or study. No epaulettes means a normal scientist, which make up the vast portion of Trattorian scientists. The higher ranks tend to appear a lot more in soaps than their actual prevalence due to focus on characters and their influence.
The Council of Scientists, the ruling body of the Trattorian Science Department. It consists of the Chief Scientist and the four Department Chairs, one from each department. Its members are promoted objectively and meritocratically on the basis of scientific achievement, such as publications, citation impact, patents, and awards and Nobel Prizes.
Important people in the Trattorian government. From left to right:
-The Chief Ambassador of the Trattorian Foreign Relations Department, Dr. Xianghao
-The Speaker of the Trattorian Legislature and Senior Legislator of the 1st District, Dr. Fonténe
-The President of Trattoria, Dr. Kuroki
-The Chief Scientist of Trattoria, Dr. Ong
-The Chief Stratego of Trattoria, Dr. Xia
The unicameral Trattorian Legislature and Presidency are demockratically elected, but science and mathematics exams are used to trim candidate lists instead of primaries, and voters often decide with meritocratic ideals anyway. The Trattorian Legislature is officially nonpartisan but has informal liberal and conservative caucuses, with the conservative-leaners having controlled the chamber for several decades. President Kuroki, also a conservative, has a hands-off policy of governance in favor of maintaining the status quo.
Ostentatious gold-plated bodyguard robots often accompany Trattorian dignitaries in both the public and private sector.
Due to the historically high failure rates of the Secret Service, the Trattorian military decided to automate the protection of important dignitaries. Courtesy of the Sun Engineering Corporation, these new bodyguard robots have been built and programmed to be more efficient than their human counterparts at guarding their VIPs.
More than mere redshirts, these new droids are equipped with a miniaturized version of the shield found on the Lancelot, the Chandrashekar energy shield, capable of running indefinitely thanks to a miniature antimatter power source.
Although fulfilling primarily a combat role, these bodyguards are also programmed to serve excellently in hospitality.
Additional Links:
-
Meritocratic Republic of Trattoria wiki page
--
Trattorian Characters wiki page
--
Trattorian Planets wiki page
-
Trattorian Navy thread
-
Old Military of Trattoria thread