My first forum battle and 2nd BrikWar...
Turn 1:
http://www.brikwars.com/forums/viewtopi ... 1309#51309
Turn 2:
http://www.brikwars.com/forums/viewtopic.php?t=2467
Turn 3:
http://www.brikwars.com/forums/viewtopi ... 5547#55547
Turn 4:
http://www.brikwars.com/forums/viewtopi ... =blockwars
Turn 5:
http://www.brikwars.com/forums/viewtopi ... =blockwars
Turn 6:
http://www.brikwars.com/forums/viewtopi ... =blockwars
Turn 7+8:
http://www.brikwars.com/forums/viewtopi ... 1801#61801
The Fight for the Crown of BlockWorld!
The Crown of BlockWorld is an ancient artifact beyond the laws of all things natural and can grant the wearer limitless power and lifeforce...
But now the wearer has been found...
The wearer (or the King of BlockWorld) will defend his shiny golden hat at all costs...
Six warriors from BlockWorld and further out will fight their way to power...
Descriptions:
Site: The Void - a blank space - nothing there but 7 warriors and their groupies... OK i was lazy!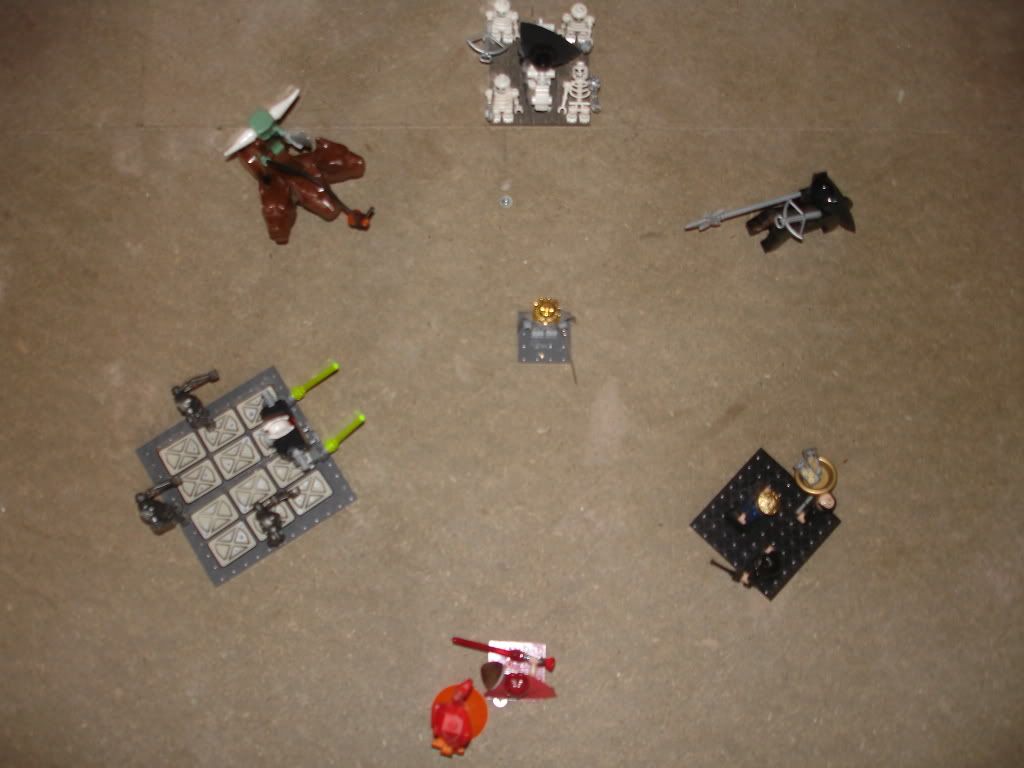 Players:
The King of BlockWorld:
Type:Warrior/Supernatural
Weapons:The Fabled Sword of BlockWorld, Supernatural Crown Powers(posess, Life Drain(only affects groupies), Teleport, Energy Beam, Invisiblity, Shield(protects 100% for 1 turn), Self Destruct(may kill self and all others within 10inches, Crown and Sword Survive))
Abilities: 1 heroic feat per turn, Powers(as above), +1 to every roll
Description:Bearer of the Crown and Sword of BW, been alive 1000 years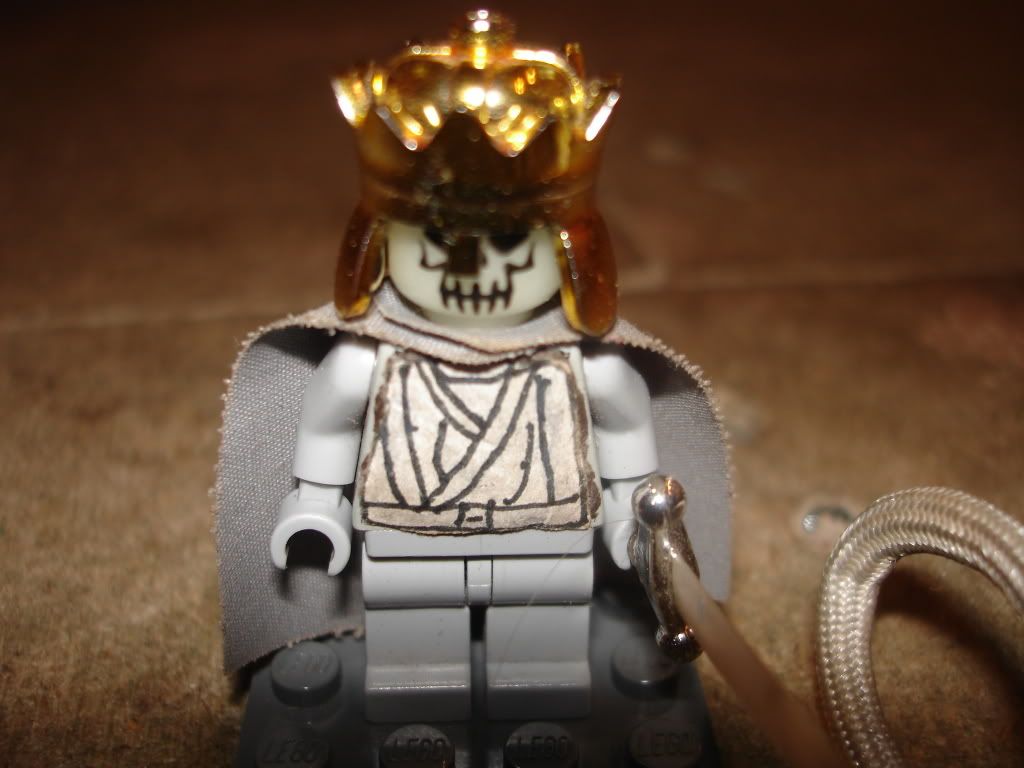 General Gravious:
Type:Drone/Warrior/Cyborg
Weapons: Dual Space-Swords
Abilities: +1 to every attack and Move roll, 3 Drone Groupies
Description:A former bounty hunter turned drone warlord - from 2039 AD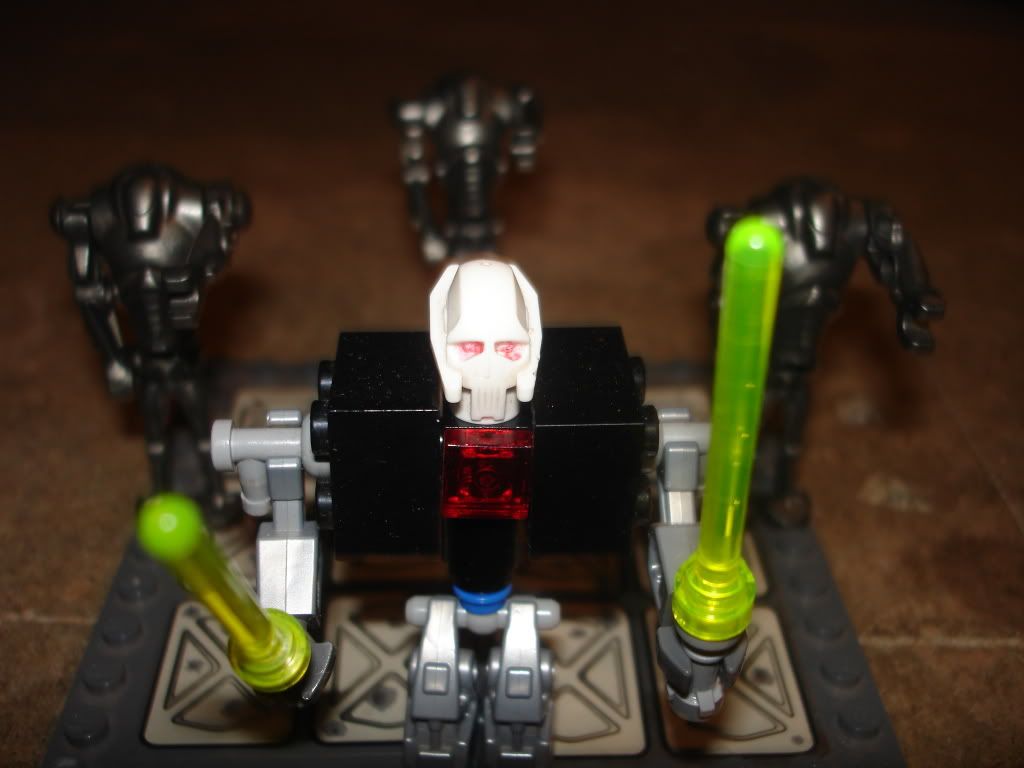 Black Guardian:
Type:Warrior
Weapons:Crossbow, Staff of The Black Council
Abilities: 1 shadow horse with +1 to move, Tourment(-2 to every roll on target), 1 heroic feat per turn
Description: he Is THe BLACK GUARDIAN!!!!!!!!!!!!!!!!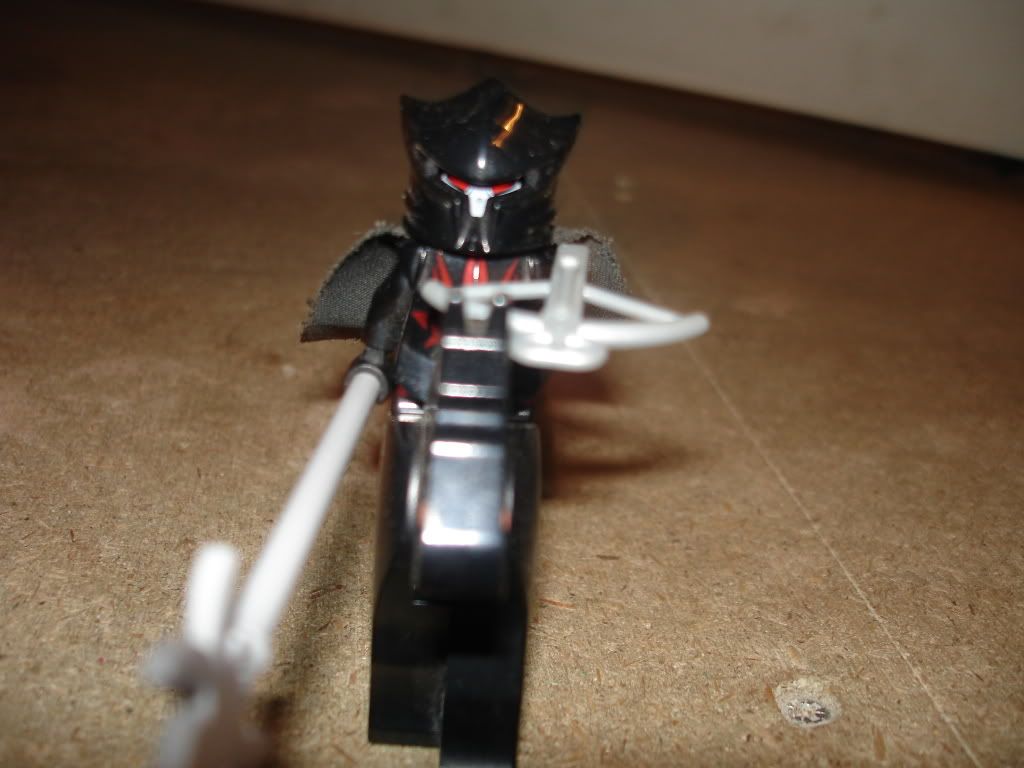 Lord Fenix:
Type:Warrior/Pyromancer
Weapons: Ruby Space-Sword, Fire beam
Abilities: +1 to every attack roll, The Phoenix, 1 heroic feat per turn
Description: Posessor of The Ruby Space-Sword - from 2020 AD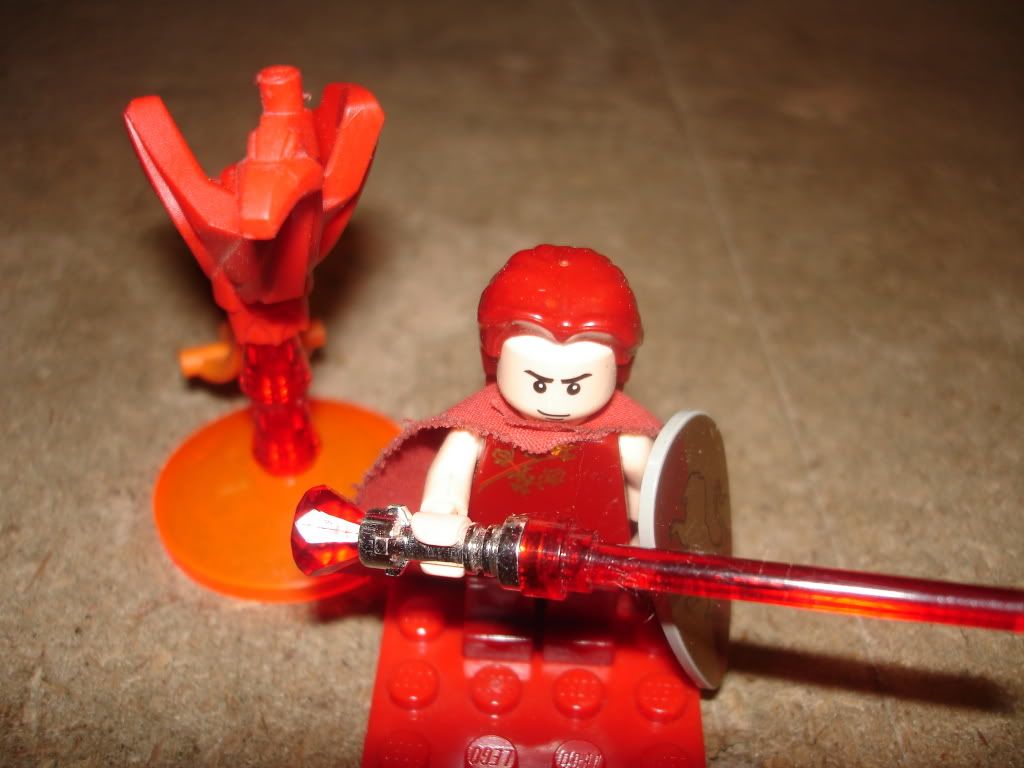 Dr
aa
k K
aa
rd:
Type:Orc/Warrior
Weapons: Whip, Sword
Abilities: rides a 3 headed dog, 1 heroic feat per turn
Description: The strongest Orc, feared by all goblins, mounted on a 3-headed dog!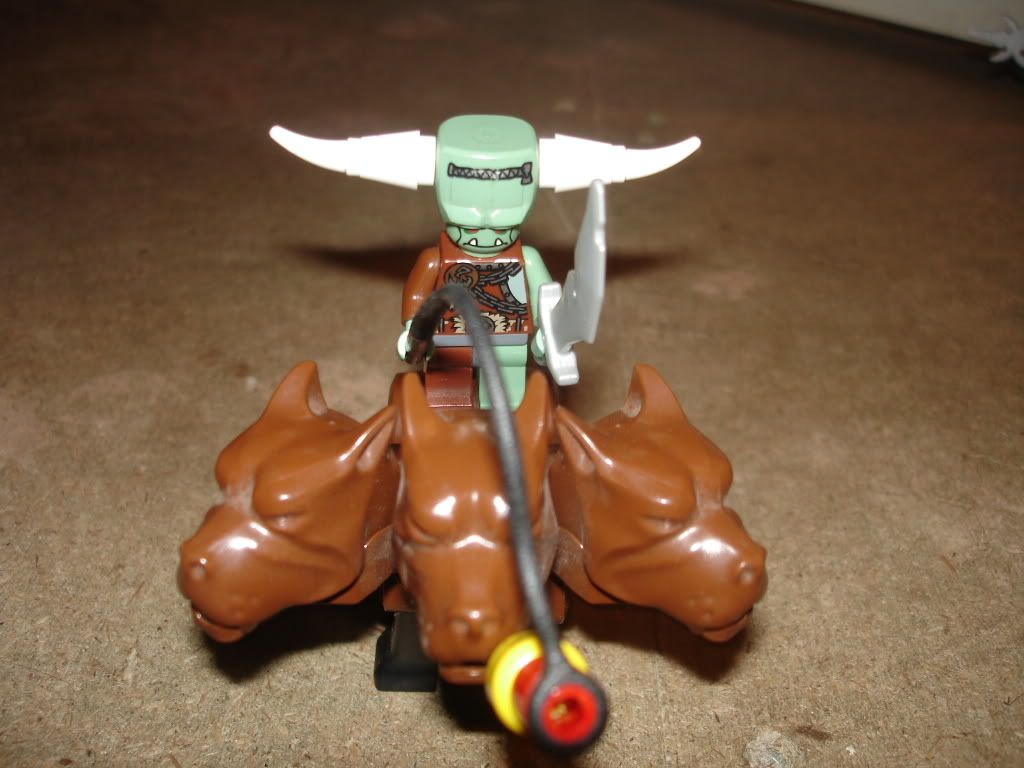 Mr Skul:
Type:Skeleton/Warrior/Necromancer
Weapons: Sword
Abilities: Necromancer powers(revive allied players and skeleton groupies),rides a skeleton horse, 4 skeleton groupies, -1 to all rolls per 3 turns.
Description: Once a normal minifig in medieval times but decided to become a necromancer and rose an army of the undead and was burned for witchcraft but he survived to today and he can't live much longer without the crown.
Bucky McBucks
Type: Bachelor/Dictator
Weapons: unknown whether he has a weapon in one of his two suitcases
Abilities: Bribe, Barter(can attempt to buy an item off anyone including the Crown), Butler(+1 to his, agents and McBucks movementwhile grouped), Agent(+1 to McBucks bribe and barter roll)
Description: Owner and founder of Starbucks and he is never seen without his Butler named Parker and Agent Creamy Vanilla and he thinks he can buy the crown off The King...He is also prepared for assasination attempts and his store is funded by the US Army.
The Terminator AND A Dalek
Type:Terminator/Heavy Gunman AND Alien/Conquerer
Weapons: Rifle, Machine Gun AND Laser, Plunger
Abilities: +2 extra health, 1 heroic feat per turn AND Fly, +1 regenerate per 3 turns, +3 to move, Immune to ordinary bullets
Description: The Terminator is in many movies and has a franchise based on him, near impossible to kill, a man of few words, his main catchphrase is Hasta La Vista, Baby!. AND Main enemiy in longest running Sci-fi show, almost impossible to kill, It's main catchphrase is EXTERMINATE!!!
Extra Rules:
The King gets his powers from his Crown... Remove the Crown to remove his powers... Wear the crown (takes a roll to see if you are worthy) and you will get access to his powers. Alliances are only aloud if the are formed by Bucky McBucks. Once all other players are dead the remaining player must put on the Crown by 1. removing it from the dead body(roll needed) and 2. put it on for victory (roll needed). Players are aloud to leave the match but cannot rejoin. All groupies count as normal minifigs unless stated. The Phoenix can shoot fire and when killed can rise again after 1 turn. The Secret players can come in whenever ??? want after the first turn but cannot leave again. Bucky McBucks cannot use the Crowns powers - he just wants to melt it down into more gold. If the faction leader dies, the groupies must leave the game.
Sign-Up:
The King:RJ (me)
General Gravious:lrdofbricks
Lord Fenix:Elmagnifico
Black Guardian:MasterEcabob
Dr
aa
k K
aa
rd:501stCadians
Mr Skul:RDLC
Bucky McBucks:Warhead
The Terminator and A Dalek: ??? and ???