http://www.brikwars.com/forums/viewtopi ... sc&start=0
Round 3
Hitokiri
- Killer_Karetsu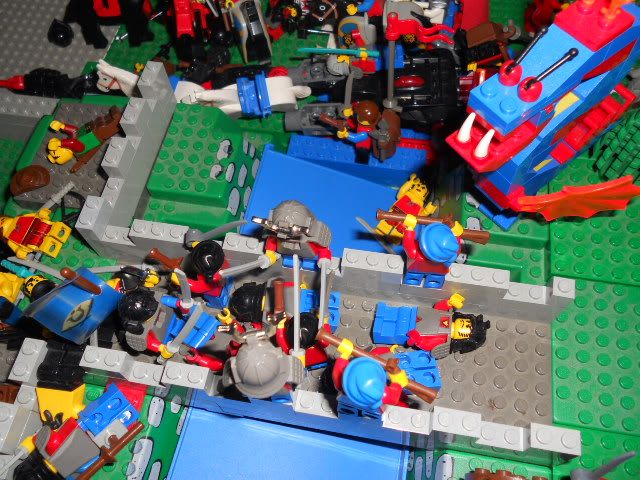 The Hitokiri mourned their dead.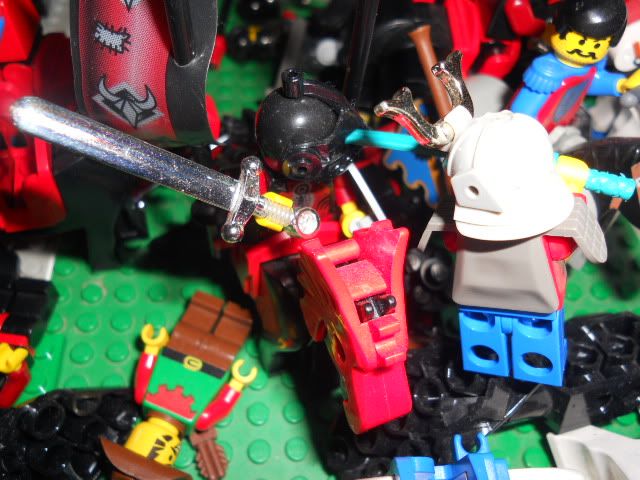 Kage, however, had his own way of dealing with his losses: he rammed his katana into a lancer's eyeslit.
Rax's Rebels
- Warhead
Mumbles proved to be more devious than he looks: It's a bomb!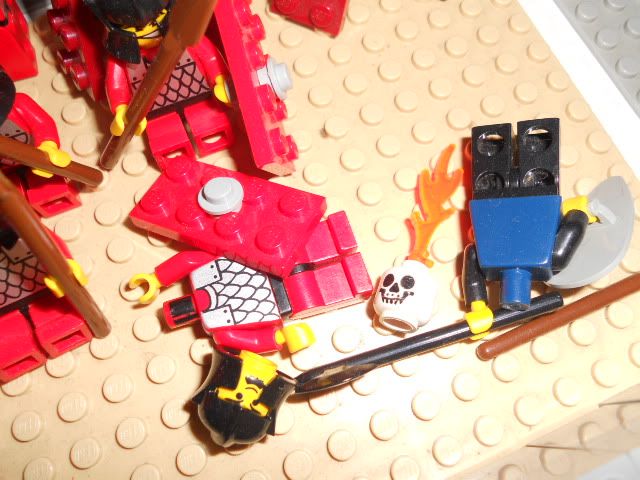 However, he didn't manage to quite throw it far enough... tic tic
Boom!
No casualties, but hey, it's an explosion.
And from the center of the flames it's power suddenly shot upwards into the sky, the flames blinding for all to look at as a figure materialized within the inferno...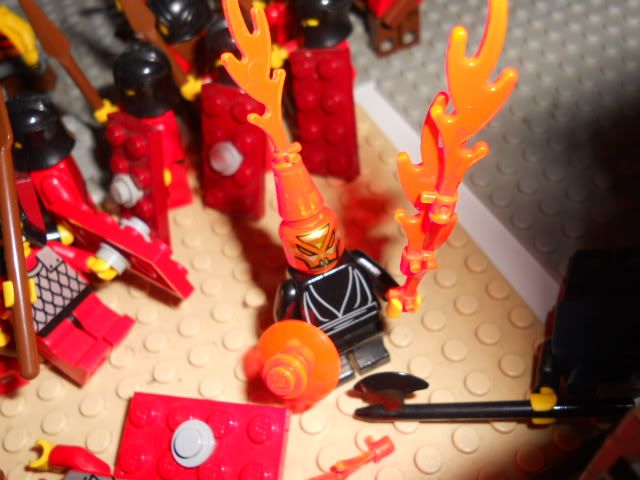 It was Inferno, a Shard of Warhead! So far his intentions remained unknown. His mere presence was disturbing though, for his kind had not been seen on Westeron (I found a name for my island, yay!) for a long time, and demons were hated creatures even if barely anyone alive was old enough to remember the struggle for freedom the ancient people of Westeron had had to wage to banish them. (You see what I meant by alternative version of Warhead? Quite honestly I think this head does look a bit like the face in the avatar)
The Von Brag puppet started living it's own life, hopping off.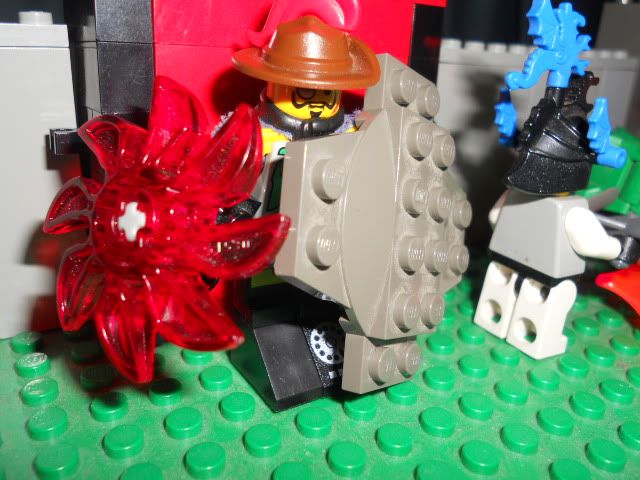 "I don't recognize this place. I was sure I'd taken the right portal. What got me here?"
"Pardon, which way is the sea?"
"Go due east from here. Hey, wait a min-"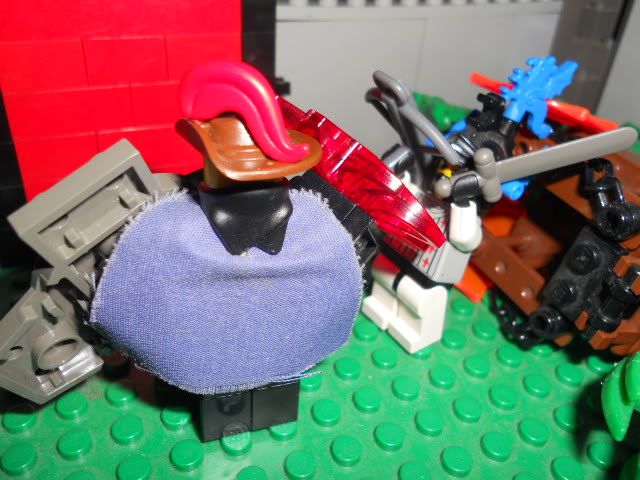 *whizz* The mana-powered RTC just barely missed the dragon rider,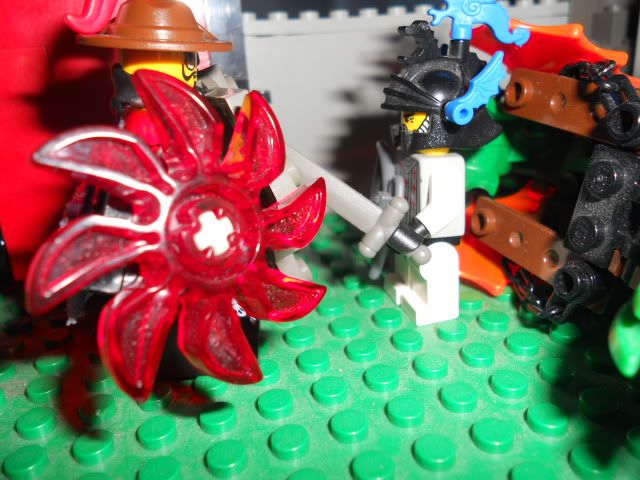 who retaliated, but couldn't get past the oversized shield Frederick had brought and found his sword slipping from his grasp after it connected.
"Wasting time..." Frederick muttered as he walked off, leaving the flabbergasted dragon rider behind.
Back to the Bulls, who pushed themselves through the gate and formed up behind it. The cavalry commander withstood both Rax as the Phalanx's attacks, but locked in combat with so many powerful warriors, there was little chance he was going to get away.
Crossbowmen struggled to form up and get in range, and the ones who managed to fire remained true to their tradition of not killing anything.
An ignited shot from the catapult did wipe out the ballista.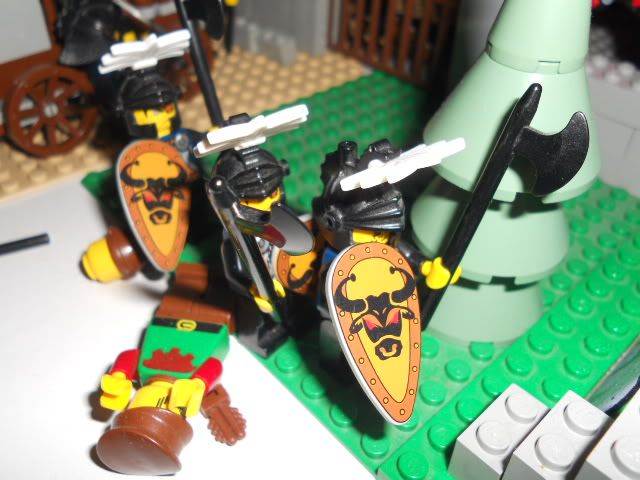 The Elites wisely fell back from the bridge, but didn't drop their guard.
Meanwhile, in the Spirit Realm...
Zahru
- Zahru II
"Well I ain't got all day, let's get this party started" Zahru jeered as he took hold of his axe-on-a-chain.
He ran a little closer, then swung it with force...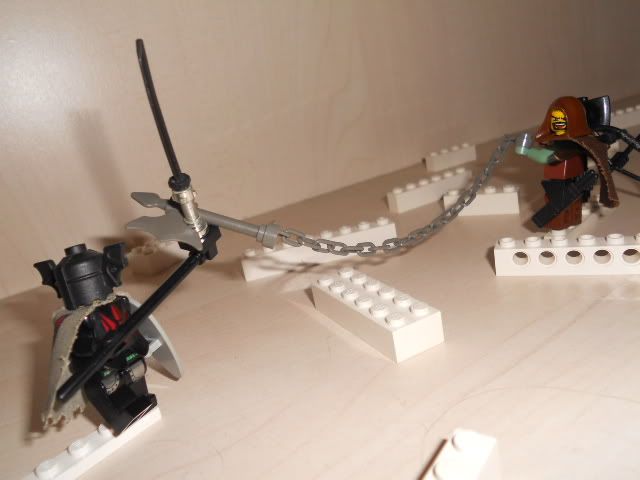 And, manipulating its course ever so slightly and then pulling it back with force, managed to make the weapon hook behind Xalen's scythe. Xalen, who couldn't allow himself to be disarmed, was pulled towards Zahru.
"HAH!" *clang* Zahru attacked Xalen as he was momentarily left defenceless, but his sword slipped off the dark warrior's armour despite his massive strength.
Sir Pablo
- Robotmonkey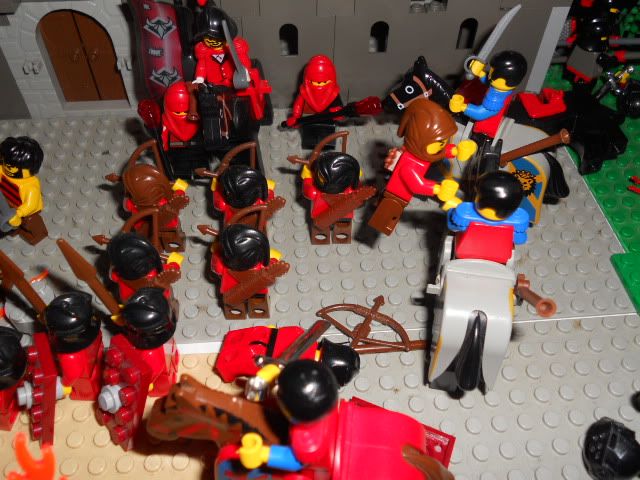 Sir Pablo wasn't going to let anyone stand in his way. He himself cut down a spearman with a powerful backhanded stroke while one of his musketeers killed an archer and the other engaged one of Alejandro's bodyguards, failing to harm her.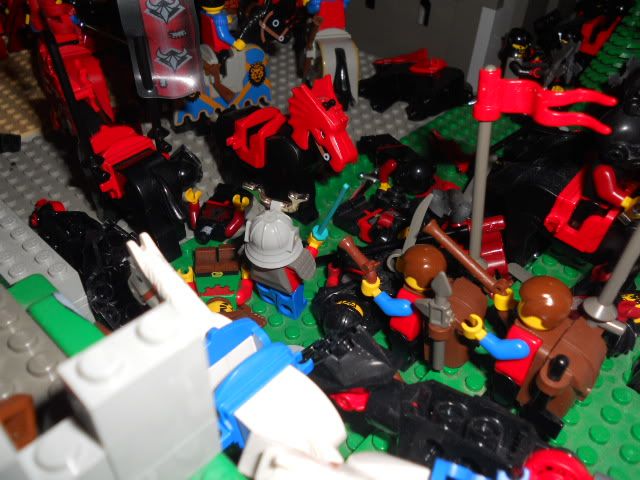 The servants struggled to keep up and since they didn't have any targets in range settled for some target practice on the nearby horses... They needed it for they both rolled 1's.
Bloodguard
- Ross_Varn
The Bloodknights pushed on as a unit, cutting down the final lancers, but not before one of their own had perished to the Falx riders.
White Dragon Knights
- Appolyon
The dragon rider shrugged off his encounter with the strange hat-and-monocle-wearing person and called the dragon over, who obeyed.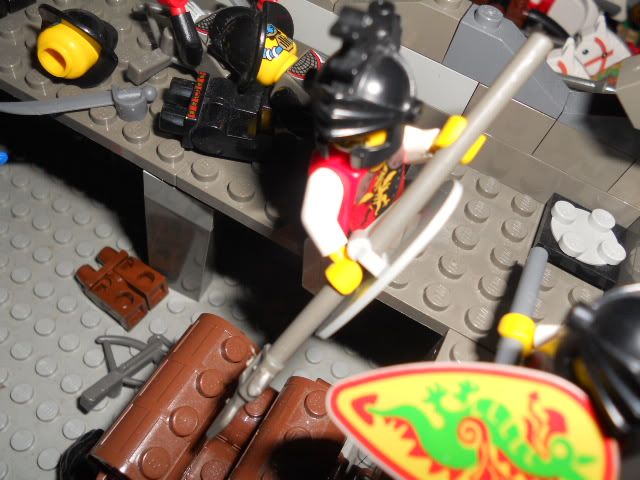 What does this crazy dude think he's doing? Pole-vaulting?
He fell just short of landing in the middle of them, but his fall still managed to disrupt one of the Telmarines.
Two more Telmarines were killed on the battlements.
The final one was engaged by another White Dragon Knight, but he held on, for now.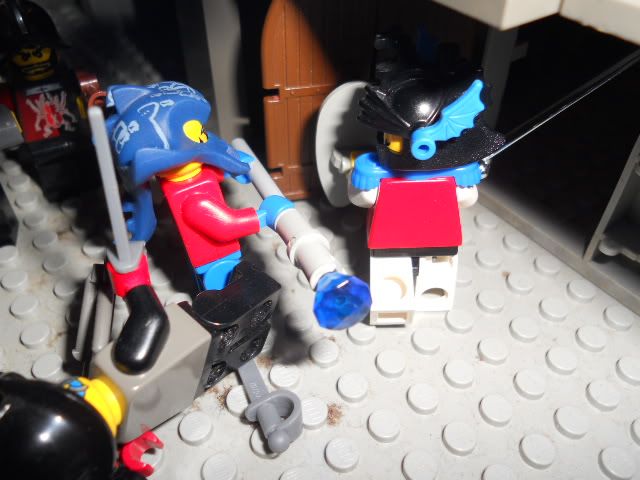 Califax charged and rammed the door open even as he drew back his sword for a strike against the summoner...
"Foolisshh mortal! You do not know what you are interfering with here!"
"In fact" Califax began as he started swinging his sword at the summoner...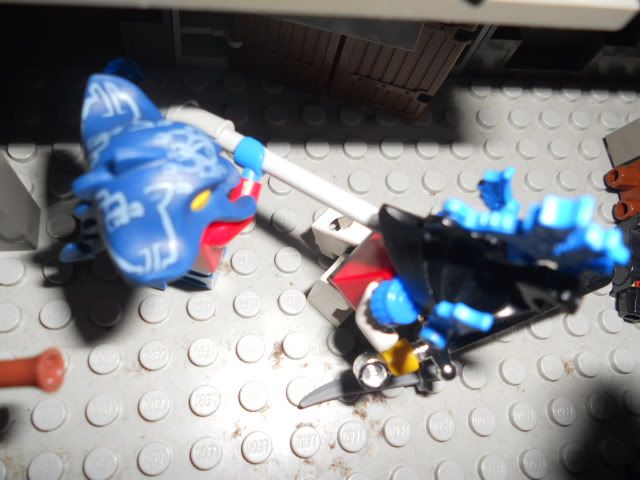 ... but he would never finish his sentence, for a terribly fumbled (2 1's!) attack roll allowed the Summoner to sidestep and bury the end of his staff in the back of his head.
"You sshhould have lisstened."
So dies Califax... The White Dragon Knights are running out of good men to lead them...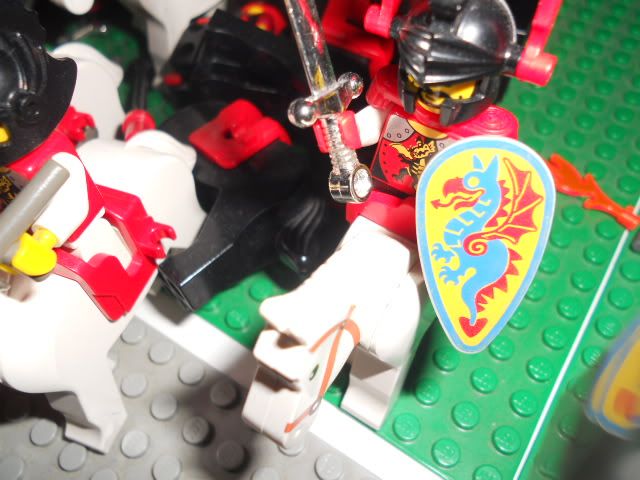 "Ha! Time to seize that dog kennel! Come on laddies, follow my lead."
Brockram tried to charge and feat-decapitate the ballista crew, but crit-failed...
... which allowed the sailors a free attack against him against which he couldn't even react, but they still managed to fuck it up
The rest of the WDK's followed, dismounting and drawing swords. Their mounts were chivarously arrayed like a living wall around them, but they didn't have enough movement to make it inside yet. Brockram (with his regular action) and a knight made short work of the sailors while they were at it.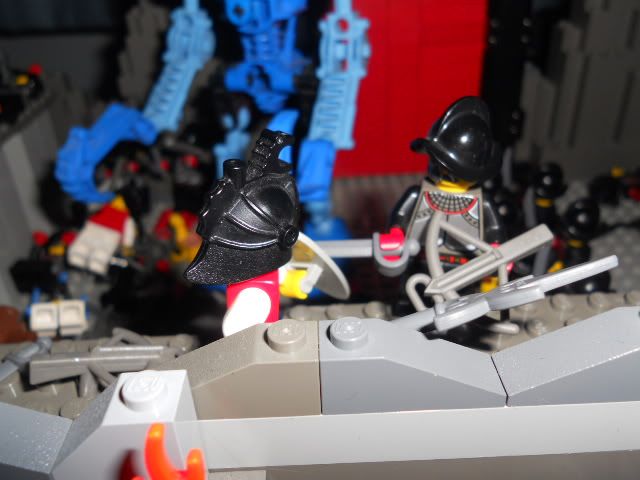 They're not doing bad for a faction that I thought had no chance of getting their objective are they?
Make sure I have all orders by Sunday evening if you haven't sent them yet