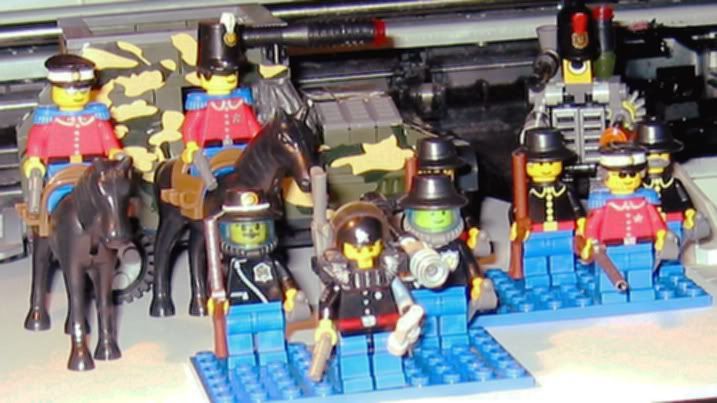 Hum, - I think my camera is playing up
Not to worry
Being out at the very rag end of the galaxy the colony worlds of the Britannian League White Sector have military problems and military solutions that are very much their own. Generally they are supplied with obsolete equipment nobody else wants or occasionally strange one-off prototypes that aren't entirely successful, - or in some cases too successful.
Most White Sector ground forces are made up of local militias which means that uniforms and equipment can be more about wot we've got, rather than wot we're supposed to have. Dinoreich is a typical example of a White Sector colony world where the local conditions have made for interesting equipment selections, - especially weapons.
With Dinosaur hunting (and related industries) being either the main or part time occupation of a good deal of the population weapons on Dinoreich are generally all about calibre; - where more is always best and owning a gun with a bore like a drainpipe can make a man the envy of his neighbours.
Dinoreich Militias have pretty much settled on the use of a .75 cal carbine as being their weapon of choice. It's a very stoutly made weapon that doesn't mind being used as a club and it can knock big holes in most targets a militia trooper might want to be shooting at. With a good naval cutlass as their backup weapon there isn't much they can't sort out in terms of matters arising while out on patrol.
Officer types and senior NCOs normally carry a .50 cal 5 shot revolver and either a sabre or a cutlass according to preference and availability.
For heavier backup a wide variety of fearsome mostly homegrown rocket launchers are employed and a trooper in the foreground can be seen holding one of these weapons at the ready.
Every militia trooper dreams of being selected to join the Star Rangers and being able to wear the Ranger Star somewhere on his uniform. Some of the troopers in the picture wear the Ranger Star with pride and to the front of the picture can be seen the almost legendary Sergeant Brass who leads the Star Rangers on their daring missions.
Interestingly modernisation might be visiting upon the Dinoreich Militia in the form of a 4 wheel drive steam powered scoutcar armed with a heavy laser cannon that was recently confiscated from a Dinosaur poaching ring. White Sector High Command has approved the use of this vehicle by the Militia which should prove interesting to say the least. Captain Cardigan (L) and Lieutenant Nicechap (R) say they aren't about to give up on their horses just yet though.